Whether you're in middle school or high school, thinking about college helps you start preparing for the type of career and life you want. While summer break is the best time to relax and forget about school, it is also an excellent time to get ahead, save money and develop skills that will help you later in life. Plus, employment experience can be an appealing quality on college applications. Take advantage of your parents' command to "get a job" by using the opportunity to benefit your future self.
Benefits of Having a Summer Job
Summer jobs open many opportunities for students as they join the workforce. You'll gain valuable insight and skills that will stay with you long after graduating high school. Plus, summer jobs look good for college. Your employment experience could go on your resume or on an extracurricular list when applying to colleges.
The advantages of having a summer job on your college applications include:
Establishes work ethic: Having a job during the summer when you could be lounging shows you have a strong work ethic and are willing to put in the effort and long hours to gain valuable work experience and earn money.
Demonstrates initiative: Taking the initiative to search, apply and interview for jobs while a high schooler illustrates that you are proactive and go after what you want. It proves your willingness to take the lead, an attractive quality to employers and college admissions.
Shows responsibility: A job requires employees to be punctual, flexible, reliable and trustworthy. Having a summer job at a young age shows you are responsible enough to possess these qualities.
Develops time management skills: Maybe you continue extracurricular activities like sports or summer school throughout the break. When you have a job on top of those obligations, you learn how to balance your time efficiently to work and meet all your other responsibilities.
Provides work experience: A summer job provides substantial work experience you can benefit from when applying to other jobs. You'll already have exposure to the workforce and understand the importance of being a good employee.
The skills you learn and develop while working during the summer help you become a more well-rounded person, influencing personal growth and your work ethic. Colleges like to see you work hard for what you want. With concrete examples of your responsibilities and motivation to succeed outside of school, many college admissions may feel confident that you would be an excellent fit for their school.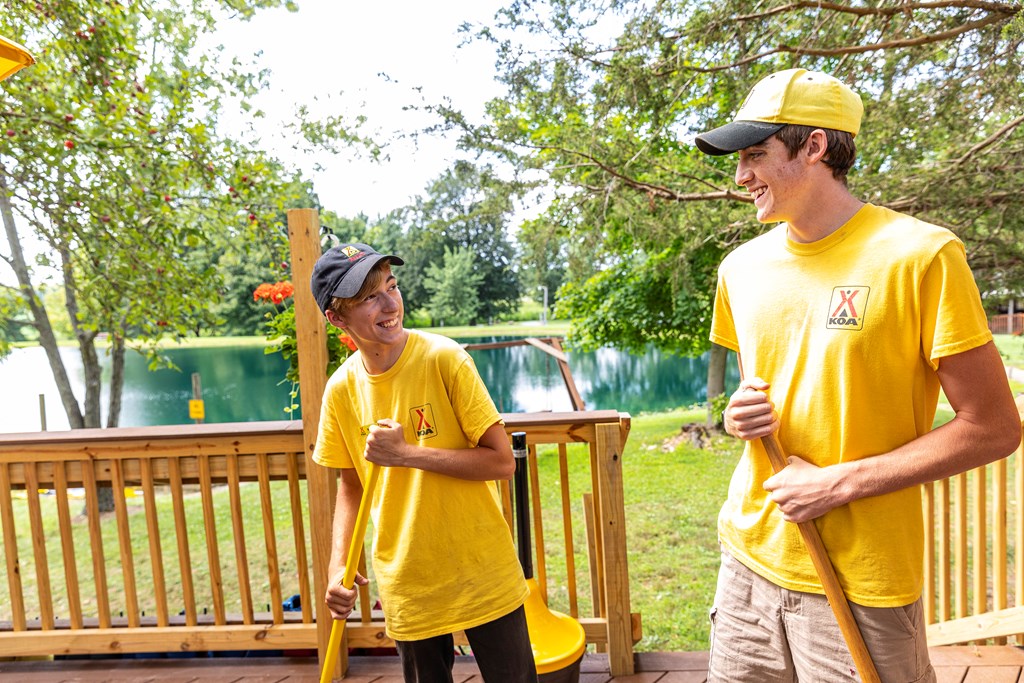 Consider Working at KOA
If you want a fun summer job, consider working at Kampgrounds of America. Depending on the campground, KOA offers various work opportunities. You can spend time outdoors and with campers, helping them with the hookups at their campsites. You could also be a recreation program assistant or a food and beverage worker. The opportunities are endless. While working at KOA, you will build a network and skills regardless of your role.
Apply Today
Ready to find a summer job that enhances your college application? Apply to KOA today!
---
About the Author: Kampgrounds of America
Kampgrounds of America is the largest system of open-to-the-public campgrounds in the world, with over 500 locations across the United States and Canada. Founded in Billings, MT in 1962, KOA's family of campground brands – KOA Journey, KOA Holiday and KOA Resort – today serve more than a million camping families each year. KOA is dedicated to "connecting people to the outdoors and each other" by providing people with a variety of camping experiences and the information they need to make the most of their camping trip. Read more of their camping and travel resources by visiting KOA.com/blog.