Differences Between KOA vs Hipcamp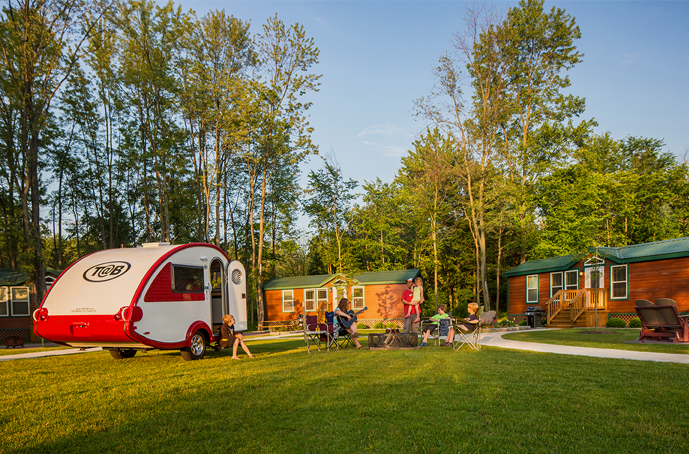 Hipcamp vs. KOA: What's the Difference?
Now, more than ever, people are looking for opportunities to connect with the great outdoors and each other. Camping has taken off as a mainstream vacation option for families and singles alike, and there are nearly countless options to choose from.
Today, online resources allow you to discover and book exclusive outdoor stays anywhere in the country. Two of the most popular are Kampgrounds of America and Hipcamp. While you have probably seen the big yellow sign advertising KOA in prime vacation spots across the U.S., the newer service called Hipcamp is gaining popularity. Both offer online reservation platforms where you can find campground and glamping options. Below is a review of these two options for planning your next trip.
What Is Hipcamp?
Hipcamp is an Airbnb type service that allows landowners to offer up all or parts of their property as private campsites. For campers looking to get away, the Hipcamp website allows you to check out host profiles and book through a few simple clicks. Because it is a bit higher brow than the usual online camping sites, Hipcamp reservations tend to be pricier than your standard fare. Unique stays include tent camping, RV parks, cabins and lots of glamping accommodations.
Advantages of KOA vs. Hipcamp
As the largest private campground operator in the country, KOA has made their reservation process easier than ever with online booking on the website or through the KOA app. Like Hipcamp, you can browse through tons of campgrounds to find your perfect stay, from rugged to relaxed. You can also choose your camping method of choice, whether it is a Tent Site, cabin, RV Site or something more unique like an Airstream, yurt or tree house.
If you are weighing the pros and cons of these two services, here are some differences you will find when choosing between Hipcamp and KOA.
Reservations
As a purely online service, Hipcamp requires that campers make their reservations online ahead of time. With most KOA campgrounds, reservations are not required ahead of time. However, it is always good to book online just to be sure there is availability at your desired campground, especially during peak season.
Safety
Because Hipcamp is a newer service, many people wonder if Hipcamp is safe. Like Airbnb, Hipcamp has adopted important safety features that keep both hosts and campers secure. One way to find a safe site is through feedback from past guests. These ratings and comments give you a detailed glimpse into what to expect at your chosen campsite.
With KOA, you never have to worry about your safety. Regardless of where you choose to stay, KOA offers standard amenities and features to ensure a safe, clean and fun experience.
Expense
With Hipcamp, the price varies by landowner. However, this service tends to be more expensive than many of even the most luxurious KOA camping options.
Dependability and Consistency
KOA got its start back in 1962 and is a compilation of hundreds of privately owned campgrounds with nearly 500 locations across North America. Hipcamp was founded in 2013 and is more of an Airbnb type service, offering private listings. This means they do not own any of the properties listed on their website. Because of this, KOA can provide standardized and consistent features that Hipcamp just cannot guarantee.
Enjoy Camping With KOA
From coast to coast, there is always a nearby KOA you can count on for consistent services, amazing amenities and clean and safe camping accommodations. Enjoy easy online booking when you explore our campgrounds to find your ideal camping experience.