By Zac Williams
This special menu will help you set an extra scary Halloween mood at your favorite KOA this season. Kids, especially, will enjoy helping prepare this easy-to-make haunted feast — sure to please even the pickiest of ghouls. With sweet treats as well as healthier snacks on the Halloween menu, every little monster will find something delicious to sink their teeth into.
---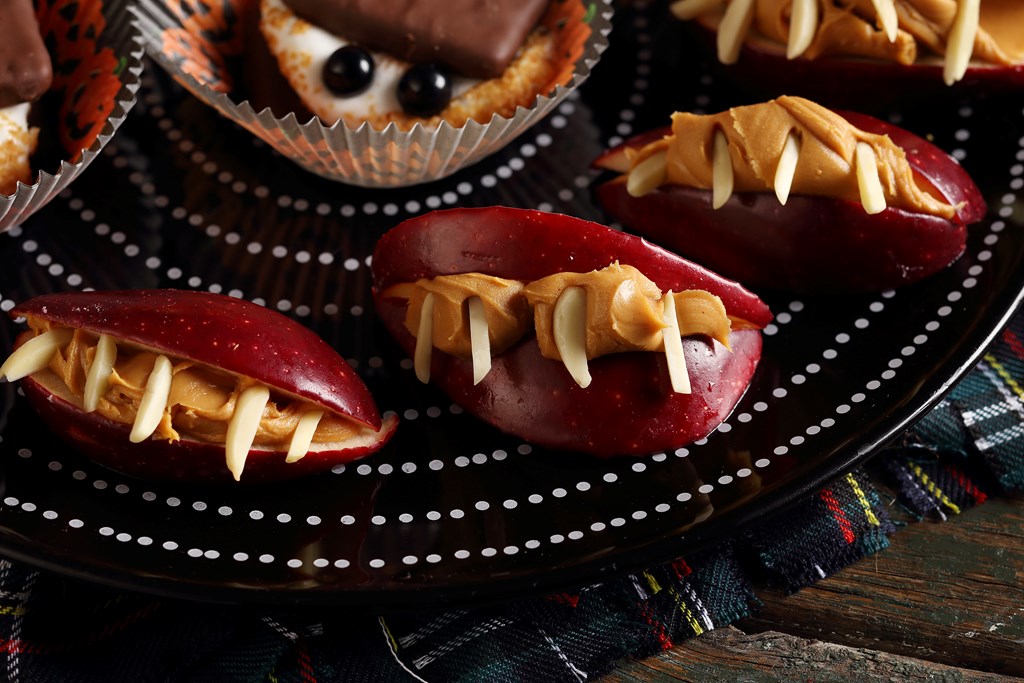 Beast Bites
Who knows what's lurking outside the light of the campfire? Better eat these treats quickly or they might eat you!
Servings: Makes 8 bites
Ingredients:
2 medium Red Delicious apples
1/2 cup creamy peanut or almond butter
½ cup slivered blanched almonds
Directions:
1. Core the apples, but don't peel them. Slice each apple into eight wedges.
2. Spread peanut butter onto half of the apple wedges. Place an apple slice on top, sandwiching the peanut butter between the two apple wedges to make a mouth.
3. Press slivered almonds into the peanut butter to make teeth.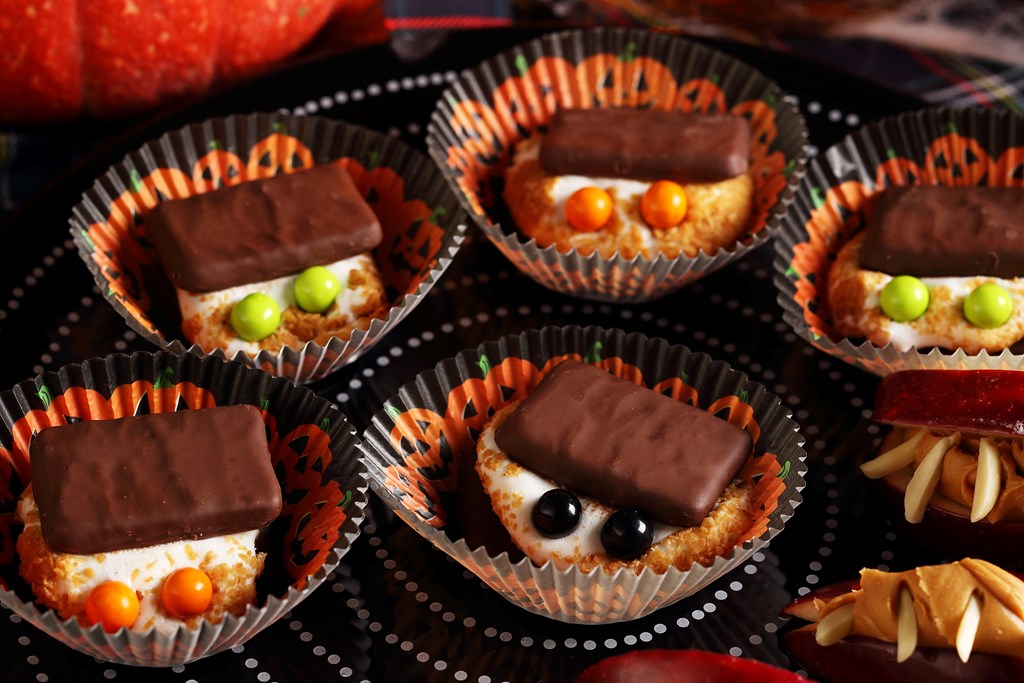 ---
S'more Monsters Please!
Not all monsters are scary. Some monsters are soft, gooey and really quite sweet. Find out for yourself by making a batch of these little creatures. You'll be asking for s'more before you know it.
Servings: Makes way too many s'mores for one person or just the right amount for six.
Ingredients:
1 package fudge graham cookies
1 package toasted coconut marshmallows
1 small package Sixlet candies
Directions:
1. Toast a coconut marshmallow over a campfire or microwave 2-3 marshmallows on wax paper for 8-10 seconds until puffed.
2. Place a toasted marshmallow onto a fudge graham cookie. Top with another cookie, pressing together slightly.
3. Add candy eyes to make your monster. Eat immediately before the s'more monster runs away.
---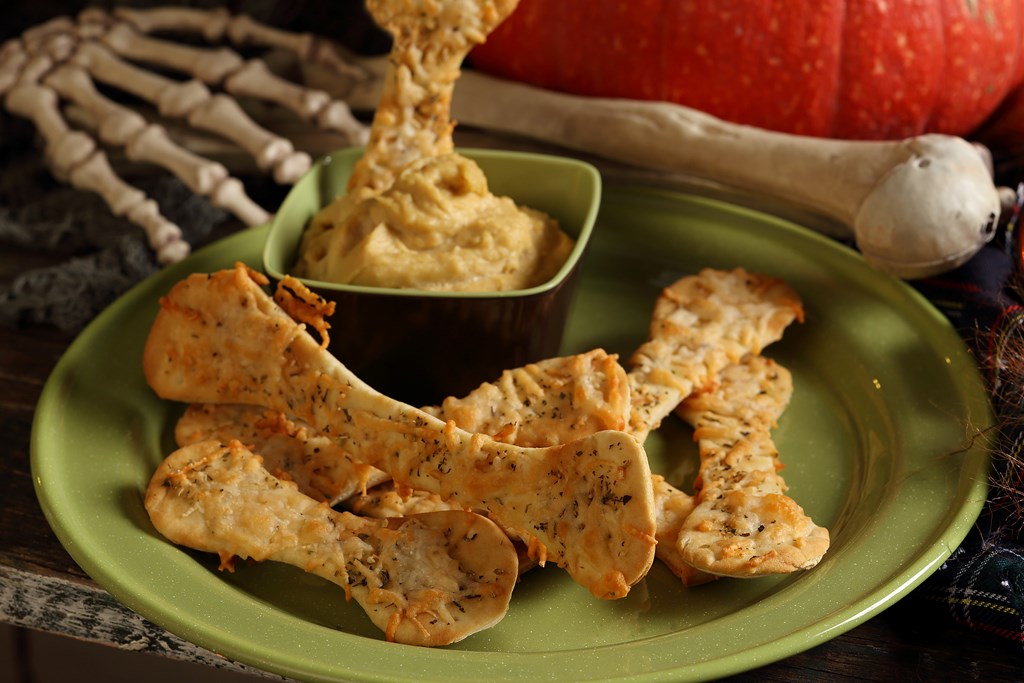 Crunch Them Bones
If you find yourself camping in an abandoned graveyard, look around. There might be a tasty bones lying around. That is, if you are a werewolf or other creepy creature in need of a snack.
Servings: 4-6
Ingredients:
4 flatbread pitas (not pocket pitas)
2 tablespoons olive oil
1 teaspoon of Italian seasoning
¾ cup grated Parmesan cheese
1 cup prepared hummus or marinara sauce
Directions:
1. Preheat oven to 425 degrees F. Line a baking sheet with foil or baking parchment.
2. Using kitchen scissors, cut various size bone shapes from the pita flatbread. Place the shapes on the baking sheet.
3. Lightly brush each bone shape with olive oil. Sprinkle with Italian seasoning and then sprinkle with Parmesan cheese. Bake for 8-10 minutes until the cheese browns and melts. Remove from oven.
4. Serve Them Bones with hummus or marinara sauce for dipping.
---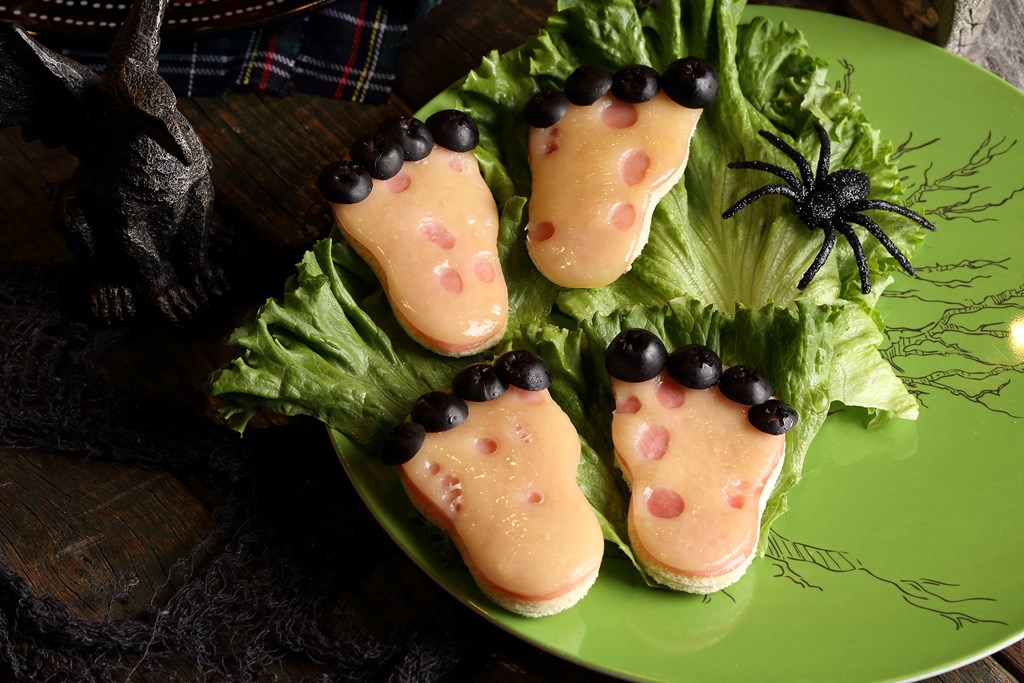 Freaky Frankenfeet
When camping in a creepy location, keep a lookout for extra large footprints. It's a sure sign you may be expecting a visit from a very large and famous spare-parts collector. You may want to tide him over with a few Frankenfeet sandwiches.
Servings: Makes 6 feet of sandwiches.
Ingredients:
6 slices thick bread
6 slices ham
6 slices Swiss cheese
1 tablespoon mustard
2 tablespoons mayonnaise
1 can black olives
Leaf lettuce
Foot-shaped cookie cutter
Directions:
1. Using the foot-shaped cookie cutter, cut out a shape from each slice of bread. With the same cutter, also cut out a foot shape of ham and of Swiss cheese from each slice.
2. In a small bowl, stir together the mustard and mayonnaise until well mixed. Spread the mixture on each foot-shaped piece of bread. Top with a cut out of ham and a cut out of Swiss cheese. Place on a baking sheet and broil on high for 6-8 minutes or until the cheese melts.
3. Decorate the Frankenfoot with sliced olives to make toes. A little mustard can be use if needed to stick on the olives. Serve immediately on a bed of lettuce.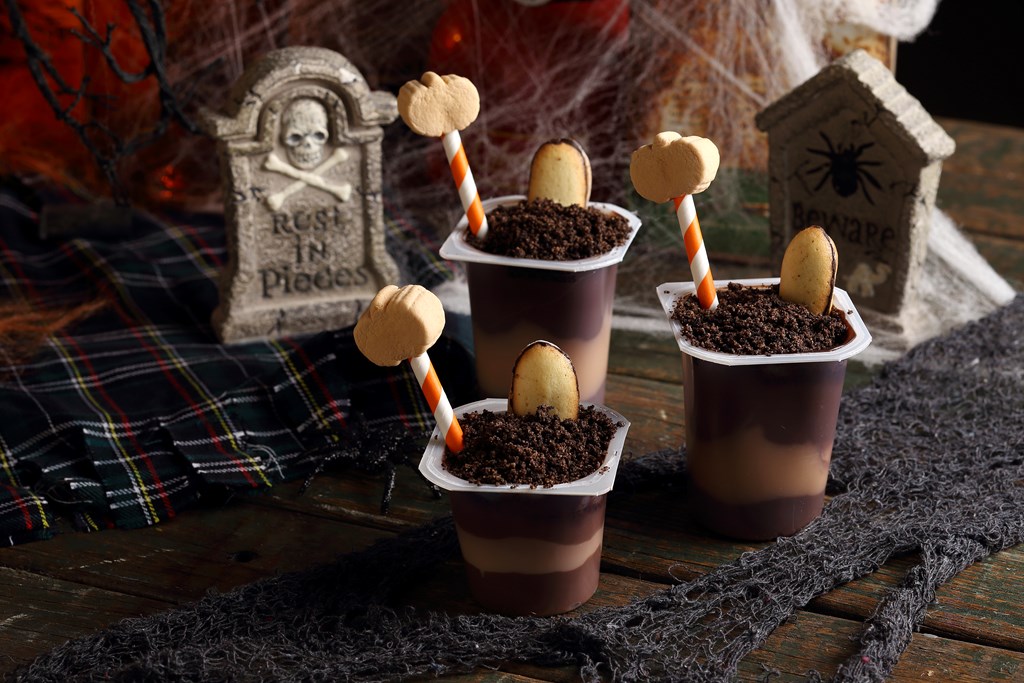 ---
Graveyard in a Cup
For a rich and delicious dessert nothing beats digging into a graveyard. These graveyard cups are for ghouls on the go, who crave a chocolaty treat!
Servings: 4
Ingredients:
4 chocolate vanilla snack pudding cups
8 Oreo cookies, finely crushed
4 mini Milano cookies
4 pumpkin flavored marshmallows (optional)
Directions:
1. Open the chocolate vanilla snack pudding cups.
2. Top each cup with ¼ of the Oreo cookie crumbs.
3. Insert a mini Milan cookie gravestone. Garnish with a pumpkin marshmallow or other candies such as gummy worms before serving.
Download a PDF of all Recipes.  And, for even more party fun add Glitter Pumpkins and Scary Pumpkin Carving to the activities.