Whether you're celebrating the holidays in the snowy north or snowbirding in the sunny southern states, this is the time of year for baking seasonal treats.
We've gathered three of our favorites Gingersnaps for entertaining and gifts:
• Sparkling 'snaps with sugar and spice
• Pecan Crescents filled with nutty, buttery goodness
• Pretty Peppermint Fudge "Brownies" filled with minty flavor
What are your favorite holiday cookies? Share them in the Comments below or with #KOACamping – we'd love to hear from you. Happy Holidays!
---
Spicy Gingersnaps
A pinch of cayenne gives these sparkly cookies extra warmth and spice.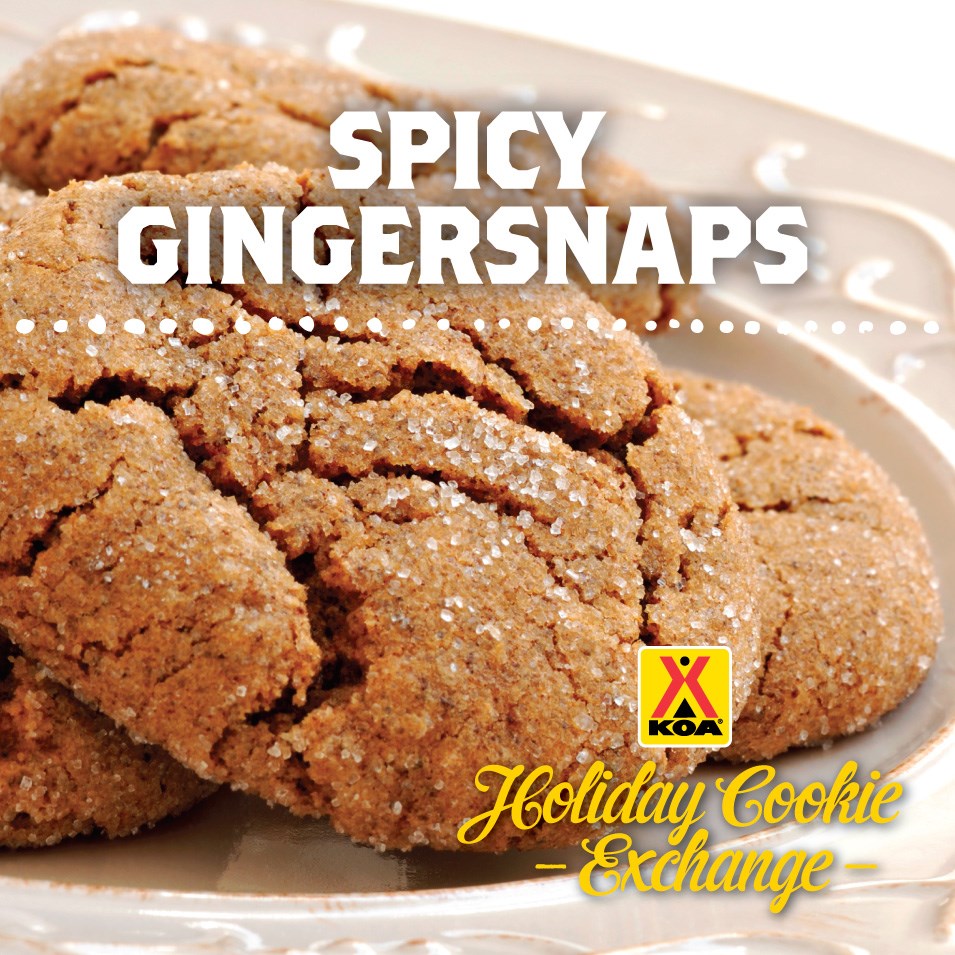 Ingredients:
2 cups flour
2 tsp. baking soda
1 tbsp. ground ginger
1 tbsp. ground cinnamon
1 1/2 tsp. ground cloves
1/2 tsp. ground cardamom
1/4 tsp. cayenne pepper
1/4 tsp. freshly grated nutmeg
1/4 tsp. salt
3/4 cup unsalted butter
1 cup dark brown sugar, packed
1 large egg
1/4 cup mild molasses (not blackstrap)
coarse or raw sugar for decoration
Preheat oven to 375 degrees. Grease or line baking sheets. Whisk together flour, soda and spices in a medium bowl. In another bowl beat butter, sugar, egg and molasses until light and fluffy. Stir in dry ingredients. Roll dough into 1-inch balls and then roll in coarse sugar. Bake for 10-12 minutes until cookies crack on top. Makes about 3 dozen.
---
Pecan Crescents
Also known as Mexican Wedding Cookies, these sweet little treats are filled with toasty, buttery, melt-in-your-mouth goodness.
Ingredients:
1 cup butter, softened
½ cup powdered sugar, plus more for rolling
1 Tbsp. vanilla extract
½ tsp. salt
2 cups flour
1 cup finely chopped toasted pecans
Preheat oven to 325 degrees. Creamy butter, powdered sugar, vanilla and salt until light and fluffy, about 3 minutes. Add flour and mix to combine. Stir in pecans. Shape into 1 inch crescents or roll in balls. Place on baking sheets and bake for18-20 minutes until bottoms turn golden brown. Cool for 5 minutes. Roll in powdered sugar while cookies are still warm and cool completely on racks. Makes about 3 dozen.
---
Peppermint Fudge "Brownies"
Perfect for entertaining or giving as gifts, this fudge recipe is so easy and so, so good.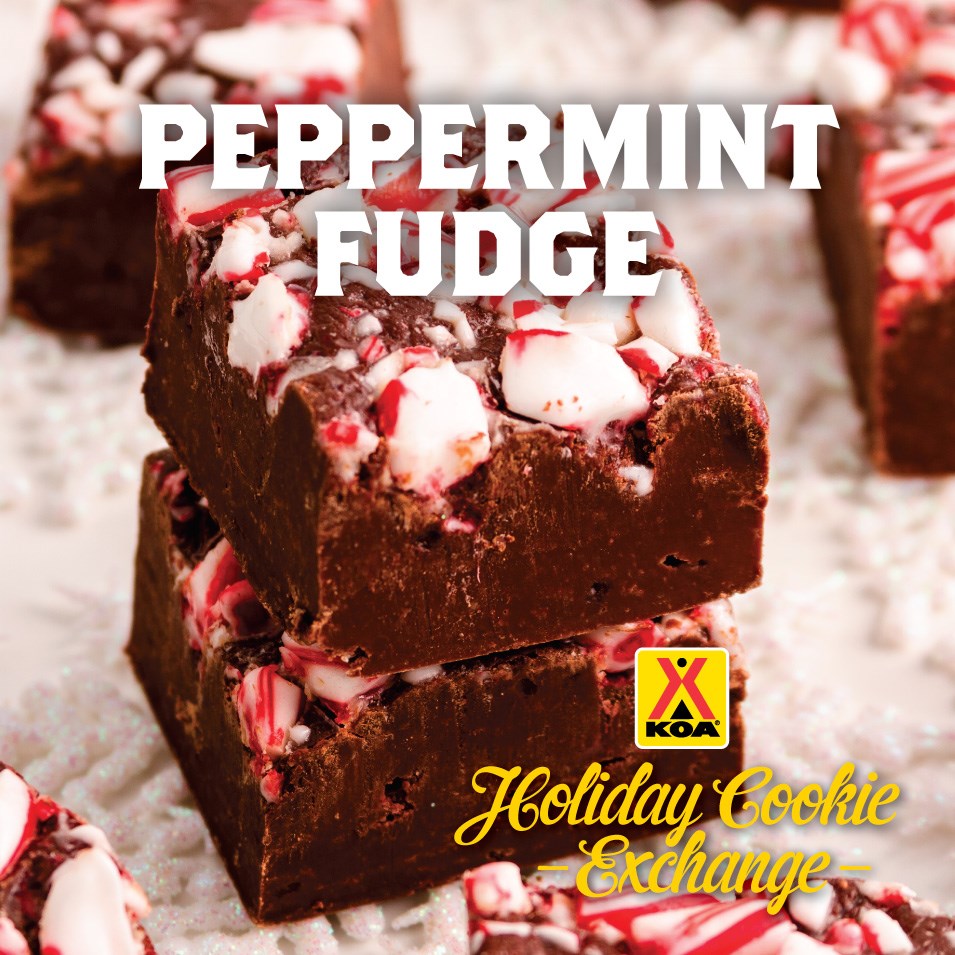 Ingredients:
¼ cup butter
1 pound semisweet or bittersweet chocolate chips
1 (14 oz.) can sweetened condensed milk
pinch of salt
½ tsp. peppermint extract
1 tsp. vanilla extract
1/2 cup peppermint candy, broken into pieces
Butter an 8×8-inch pan. Combine butter, chocolate, sweetened condensed milk and salt in a double boiler and heat just until chocolate is melted, stirring until smooth. Alternately, combine ingredients in a microwave-safe bowl and heat until melted, about 1-2 minutes, stirring every 20 seconds or so. Add peppermint and vanilla extracts. Pour into prepared pan, sprinkle with peppermint pieces and chill for at least 3 hours or overnight. Cut into squares and serve. Makes about 20 squares.
---
What are your favorite holiday cookies to eat while camping? Share them using #KOACamping.