Two American classics combine in this recipe from Ken Hess.
If you love pot pie and cheesesteak too than this recipe is for you! Recipe contributor and barbecue master, Ken Hess, created this new take on classic dishes to create a hearty fall dish you'll definitely want to try.
Cheesesteak Pot Pie
Ingredients
1 bottle Amber Ale
2 lbs Velveeta, cubed
1 cup beef broth
1-2 Tbsp bacon fat or canola oil
1.5-2 lbs beef top round, thinly sliced
8 oz cremini mushrooms, quartered
1 yellow onion, sliced
2 green bell peppers, sliced
1-2 tsp salt
1 tsp red chili flakes
1 can refrigerated biscuit dough
Directions
Preheat oven or grill to 375 degrees.
In a medium saucepan, combine beer, Velveeta and beef broth over medium heat. Whisk until cheese has melted and sauce is smooth. Keep warm.
In a cast iron skillet, melt bacon fat or canola oil over high heat. Add top round and season with salt and pepper flakes. Sear the meat well, then add mushrooms, onions and peppers. Season again with salt and pepper. Once vegetables begin to soften, cover with cheese sauce.
Top with biscuits and bake at 375 degrees for 12-14 minutes, or until biscuits are golden brown.
Extra Tip: Ken suggests using a dutch oven or covered grill in order to brown the top of the biscuits. In this video, Ken used his Big Green Egg to complete his recipe and achieve the perfect browned biscuits.
Looking for more great recipes? Visit our collection of favorite camping recipes submitted by campers just like you!
---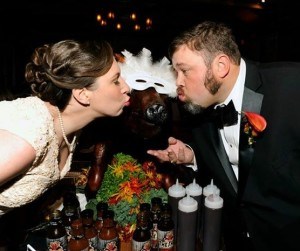 Ken and Jessica Hess are traveling the country to share their love of all things barbecue with the world. From Alabama, Ken is associate pitmaster at Big Bob Gibson BBQ and a seasoned barbecue competitor. Amassing many titles and trophies, Ken has won the World Championship of Pork four times.
---