Whether you're a first-time camper or a seasoned pro, car camping is a great way to get outside and have an adventure. Car camping provides easy access to the outdoors and allows more room for error than backcountry camping. It's fun, accessible, and is a great activity for the whole family. Let's take a look at how to camp in your car from what you should pack to the the activities you'll want to plan!
Can I Sleep in My Car at a Campground?
Many campgrounds, including some KOAs, will welcome guests who choose to sleep in their car at a campsite. It's always a good idea to call ahead so that you ensure you're reserving the right type of site for you car camping adventure. It's also important to call ahead because some campgrounds may not allow car camping or have limits on length of stay. A quick chat with the campground staff will ensure you reservation is made correctly.
Why Go Car Camping?
Car camping is great because it's a perfect way for people of all ages and abilities to get outdoors. It's also a perfect activity to use as a stepping stone to get your toes wet before taking on serious backcountry camping or other multi-day wilderness adventures.
Car camping can be a great option when inclement weather is on the horizon or when you want to bring extra gear for activities. Whatever your reason for pursuing car camping, a few helpful tips and tricks will go a long way in ensuring you have a fun and memorable trip.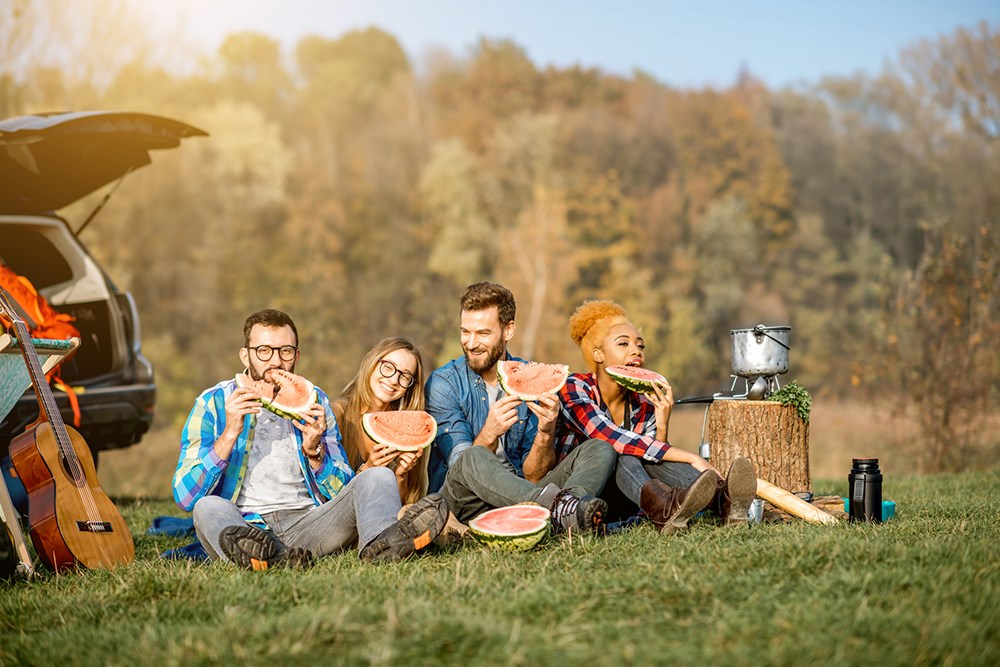 How to Prepare
Being ultra organized is the key to car camping success. Lists are your friend — and not the mental kind, but instead the kind you write down on a piece of actual paper with an actual pen. It's easier than you might think to forget something major like a sleeping bag or drinking water. Here's a very basic checklist to get you started:
Sleeping
Tent
Sleeping bag
Sleeping pad
Pillow
Clothing
Rain gear
Swim wear
Hiking boots
Sandals
Long underwear
Warm layers
Hat
Camp Kitchen
Stove
Fuel
Lighter
Firewood
Water
Cooler with food
Plates, bowls, cups & utensils
Activities
Games
Books
Hammocks
Instruments
Safety
First aid kit
Sun protection
Map & compass
Light
Toiletries
Toothbrush & toothpaste
Personal wipes
Medications
One car camping challenge for more experienced campers is to let go of backpacker's mindset. When you're backpacking, you're (obviously) carrying everything you need on your back, so saving space and weight is important.
But when you're car camping, you really don't have to rough it. It's okay to bring stuff and important to know that your ultra light backpacking gear is not the best choice for camping. Be luxurious and bring that extra pillow because, why not? Your car is doing all the work for you.
Arriving
Many first-time car campers prefer to stay in a supported campground like a state park. These places have facilities like drinking water, picnic tables, and bathrooms that can make the planning process for car camping easier and more forgiving.
Once you get more experienced, work your way up to camping along forest service roads where you'll need to bring all your own drinking water, bathroom supplies, and everything else you'll need. Unsupported car camping often offers a more isolated wilderness experience than a campground where sites are often squished together like sardines in a can. Each option has its own pros and cons, and you'll be able to choose what's best for you according to your goals and situation.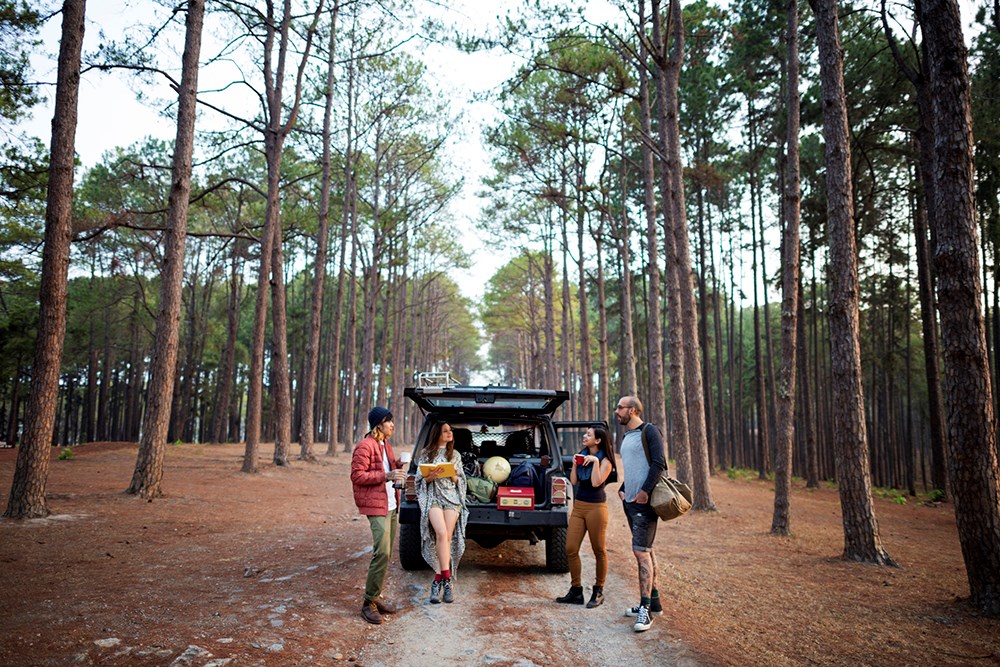 Setting Up Camp
Setting up camp while you're car camping is likely the first thing you'll do when you arrive at your destination. Give everyone in your party a job so the job gets done faster and so everyone feels helpful.
First things first: turn off the dome light in your car. Since you'll be leaving doors and trunks open to pull your gear out, it's a good idea to turn off that dome light so the battery doesn't wear down. Also be sure to find a safe spot for your keys. It only takes one time locking your keys in the car when your tent is still inside to make you designate a special place for your keys.
Another consideration is to make sure you have a full tank of gas before you head down any long dirt roads. You don't want to be caught several miles in with your tank on empty.
Car camping gives you a safe way to get familiar with your gear and develop systems that work for you with a safety net to fall back on if you can't get your tent up properly, for example. After you go car camping a few times, you'll have your camp set-up routine down pat.
Car Camping Activities
One of the best parts about car camping is deciding what you're going to do while you're away. Perhaps you're setting up camp and then planning to set off on a long day hike. When you're back at camp in the evening, maybe you'll pull out instruments and play music around your campfire.
Maybe playing cards and board games is more your style. If there's a lake or other body of water nearby, maybe you'll head out for a sunrise canoe, take an afternoon swim, or simply sit on the dock with a cup of camp coffee and enjoy the view.
The point is, car camping makes it easy to get away from the trappings of every day life and enjoy an activity of your choosing surrounded by the peacefulness of nature. However you choose to spend your time, it'll surely be special because you'll be enjoying it in an out-of-the-ordinary atmosphere.
Anyone can go car camping. It's an easy, accessible, and family-friendly way to enjoy the outdoors. With a little planning, education, and a mindset for fun, you'll be sure to have an unforgettable experience enjoying the outdoors.
---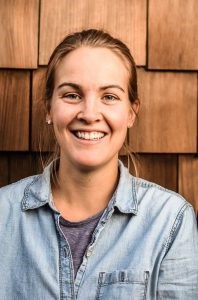 Lettie Stratton is a writer and urban farmer in Boise, ID. A Vermont native, she is a lover of travel, tea, bicycles, plants, cooperative board games, women's basketball, and the outdoors. She's still waiting for a letter from Hogwarts.
---