Who says you can't have your cake and eat veggies too? Sneak this sweet root veggie into these fun spring recipes for your family! Recipes provided courtesy of the Farmers Market Foodie. Check out her blog HERE.
Strawberry-Beet Shortcakes
Ingredients

2 C. All-Purpose Flour
1/4 C. Sugar
1 1/2 T. Baking Powder
1 tsp. salt
1 tsp vanilla
3/4 C. 1% milk
2-3 Beets, quartered
1/2 C. cold butter
3 pints strawberries, thinly sliced.
1/4 C. beet puree
2 Tbl. sugar
Whipped Cream
Directions
In a microwave safe dish with a lid, place quartered beets and cover with water. Microwave on high for 5 minutes or until a knife pierces easily. Drain water and allow beets to cool.
In a mini-prep food processor, pulse beets several times.
Take 2 Tbl. pureed beet and 1 tsp. vanilla  place in 3/4 C. milk and allow to stand long enough so the milk takes on a bright pink hue.
Meanwhile, in a mixing bowl, combine flour, baking powder, sugar and salt. Mix well.
Cut 1/2 C. butter into small pieces and work into flour mixture until butter is almost pea-sized. Making a well in the bottom of the mixing bowl begin to slowly add in the beets and milk, stirring to combine with a spatula.
Once combined, turn out on a lightly floured surface and pat down until about 1 inch thick. Cut 8 round shortcakes from dough with a biscuit cutter.
Place on an ungreased baking sheet and bake at 400 degrees for 12-15 minutes.
Macerate the strawberries with sugar and beet puree for at least one hour to allow beet flavor to mellow and strawberries to take on a dark red hue.
Slice shortcakes fill with strawberries, top with whipped cream or non-dairy whip if preferred.
Chocolate Beet Cake
Ingredients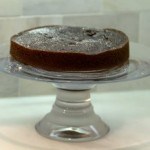 1-3/4 cups all-purpose flour
1-1/2 teaspoon baking soda
1/4 teaspoon salt
1 can (15 oz.) whole or quartered beets (not pickled) *microwave fresh peeled and quartered beets  in water until tender
1-1/4 cups granulated sugar
1 cup vegetable oil
1/2 cup milk
3 large eggs
1 teaspoon vanilla extract
1/3 cup cocoa powder
1 cup semi-sweet chocolate chips
Directions
Preheat oven to 350 degrees F. Grease a 9"x13" cake pan or 2-8" cake pans.
In a medium bowl, sift flour, baking soda, salt, and cocoa powder. Set aside.
Puree drained beets in a food processor or heavy-duty blender. Scrape into a large bowl. Add sugar, vegetable oil, and 1/2 cup milk to the pureed beets and mix on medium speed until combined. Add eggs and vanilla extract blending until completely incorporated.
Add flour mixture to the beet mixture. Using medium speed, mix until combined, at least two minutes, scraping down sides often.
Pour into baking pan. Distribute chocolate chips evenly over the top of the batter. Bake for 30 to 35 minutes or until toothpick inserted in the center comes out clean. Do not over-bake or it will become dry.
Pink Princess Pancakes
Ingredients
2 C. All-Purpose Flour
1 tsp baking powder
1 tsp baking soda
1/4 tsp salt
2 large eggs
2 C. buttermilk
1 tsp Vanilla
2 tsp. Honey
2 Tbl melted butter or margarine
Beet puree (4-5 small beets)
Directions
Pre-heat oven to 200 degrees. Combine first 4 ingredients into a sifter and sift into a batter bowl. If you don't have a sifter put into a large ziploc and shake and combine well.
Whisk eggs, vanilla, honey and buttermilk in a separate bowl. Add melted butter slowly after it has cooled slightly so that the eggs don't scramble.
 Pour egg mixture into dry ingredients and combine. Add beet puree a few tablespoons at a time until correct color and texture is achieved.
Heat griddle over medium heat. Pour 1/3 c batter for each pancake.
Keep pancakes warm in a 200 degree oven. When pancakes are cooled they fit nicely into ziploc quart-sized freezer bags. We keep several in the freezer for easy breakfast for the kids. Just remove from bag and heat in the microwave 20 seconds.
#####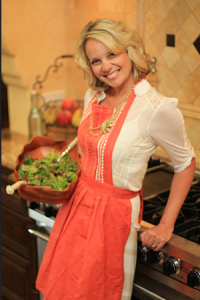 The Farmers Market Foodie didn't always camp. In fact, prior to meeting her KOA Campground owner husband "Hubs" the only kind of stars she'd slept under were the "5-Star" variety. Luckily for her, Hubs was an expert camper and he wisely made her early experiences easy, filled with plenty of wine and tasty camp side food. Now, with the two kids in tow, they camp with their RV almost exclusively during vacations. Planning and executing easy and healthy campfire food has become one of her specialties.
One of her favorite mottos is "Less is More", which applies to her camp-cooking style, but not as much to her preference for large RV's and Deluxe Cabins. Whether it's a Safari Tent, cabin or fancy RV, the Foodie has tried and tested many recipes on Hubs, the kids and their camp mates. Check out The Farmers Market Foodie blog HERE.