Camping with kids is a fun, memorable, and unpredictable experience. While it's true that kids don't need much beyond love, food, and a place to rest their little heads … the right gear can make a massive difference in terms of comfort and enjoyment on a camping trip — for them and us!
From infants to toddlers to big kids and teens, you'll find that the "nice to have" gear on your list frequently changes from season to season. For this reason, it's worth it to talk with other camping parents and friends and check in often with buy-sell-trade groups and at off-season clearance sales. That child carrier backpack that saved your life on many a hike may still look and work great when your kid's too big for it; share the love with a new traveling family.
Items that serve multiple purposes are also a boon to families packing up the truck for camping excursions. For example, a portable travel tent can pull triple duty as a bed, insect protection, and a shady spot to play on the beach.
Ready to make that camping trip sweeter for you and your crew? Without further ado, here are some gear ideas for outdoor-loving kids.
Camping Gear for Infants and Young Babies
Camping Gear for Older Babies and Toddlers
Camping Gear for Big Kids
Camping Gear for Tweens and Teens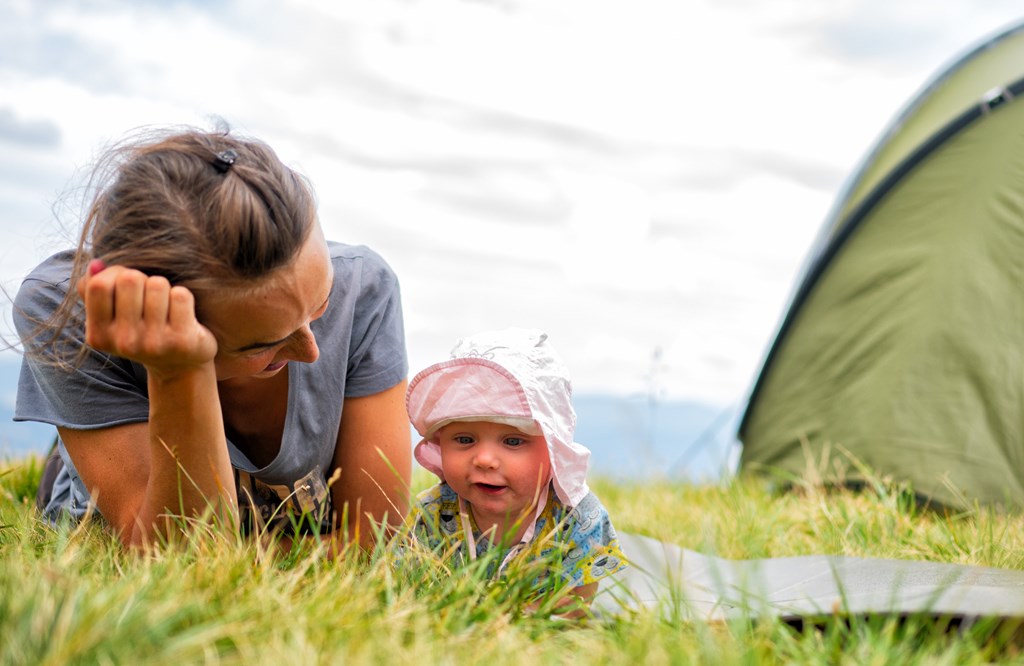 Camping Gear for Infants and Young Babies
Baby slings and soft carriers
There's a reason why baby-wearing has been a thing for thousands of years. It's convenient and soothing — keeping the baby cozy and mom or dad hands-free. And it's absolutely great for outdoor-loving parents.
Slings and soft carriers are handy because they can easily be tossed into a daypack as the family goes from car to hiking trail or sightseeing around town. With tiny babies (and even small toddlers), soft carriers are an excellent option for shorter hikes and during dinner prep and setup/cleanup times.
Since many babies and tiny toddlers can and will fall asleep just about anywhere at any time, baby-wearing lets you cuddle them while also being hands-free. Just make sure you have a carrier with mesh to keep you both cool in hotter weather. Finding a carrier that you like best may take a little research and testing. The research is worth it. Some carriers, like this one, also have a hood/sun shade/rain guard contraption that helps protect the baby's head.
Portable bottle sterilizer and cooler
It seems babies are eating (or drinking) all the time! So whatever you can do to simplify this process is a win.
If you need to keep bottles and/or food cold for your little explorer, you'll want a way to do so in a way that doesn't require too many steps or take up too much space. For babes who drink from a bottle, a portable sterilizer helps a ton with the cleanup. This one got high marks for its compact size and how well it cleans.
A small cooler to hold bottles, baby food, and slim ice packs are also great to have on hand when you're out and about and can transition to a lunch or snack bag when the baby gets a little older.
Camp-friendly diaper bag
When camping with a baby, rethink your diaper bag. There are a lot of bag styles out there, and while your daily go-to diaper bag might work perfectly for the "home to daycare to work to daycare to home" schlep, it might not be quite as convenient in a camping scenario.
For camping, you'll most likely want some kind of backpack that doubles as a diaper bag. It will be more comfortable to wear and easier to find things — like that spare diaper in the front pocket.
If you want to take the backpack-as-diaper-bag one step further, consider using a packable backpack for your baby's needs. You'll have shaved some weight from the overall "stuff" list while investing in an all-purpose daypack that you'll still be using long after the last diaper has been disposed of.
All-terrain stroller
A good stroller is worth its weight in gold for parents who are always on the move. And if your ventures take you off the urban streets more often than not, it's worth splurging on something with all-terrain wheels and a good-sized sun visor. Also, check to see how far the seat reclines, as this can accommodate an ideal napping situation!
Some of the more well-known jogging strollers are great picks even if you're not one to run for fun because their tough wheels will easily get you to most places — from city streets to hiking trails, disc golf courses, and hill country.
This is another great item to stalk on second-hand buy-sell-trade sites. It may even be worth the splurge to buy new, as many all-terrain strollers can take you from birth to age five or six (and another kid or two after that). After you push a stroller that rolls like a dream through a hilly, grassy disc golf field, you'll never again want to struggle with a bulky umbrella stroller.
Food station
So you're not going to pack the whole highchair, and it's hard and messy work to feed a kid (not to mention eat your own meal) with said kid A) on your lap or B) wandering and climbing around aimlessly. The solution? Provide the child with a just-their-size place to enjoy food alongside everyone else.
There are lots of options here, including chairs with trays that either sit on the ground or suction onto a picnic table; chairs that clamp onto a table and fold up small. A designated feeding chair will allow you to feed your amateur camper with minimal cleanup just about anywhere – at the campsite, a roadside park, or on the beach.
Bonus: Baby camping chairs are also great places for babies and young toddlers to just hang out and take in the experience — just provide them with a couple of toys, a snack, and maybe some light reading material.
For the older babies, don't forget a reliable sippy cup for water, a "no=spill" snack cup, and any other feeding essentials. Now they're ready to get nibbling in the great outdoors.
A sweet sleep setup
Let's face it: A good night's sleep for everyone is always at the top of every parent's wish list, especially on a camping trip. Some families swear by a white noise machine or app to help lull little ones to sleep – especially in an unfamiliar place. Beyond that, the sleeping setup itself is crucial.
Usually, the best way to go about it is to emulate the child's sleeping situation at home. So if you co-sleep at home, arrange the sleeping bags, blankets, and cushions to mimic this layout. If your baby or toddler sleeps in a crib, a portable travel bed can provide them with their own peaceful sleeping space. Some families will also bring a small pack-and-play for sleeping and playing (and add a fitted sheet on top for shade).
Older kids may be most comfortable with well-chosen sleeping mats and weather-rated sleeping bags.
No matter the age, don't forget plenty of safe camping lights and night lights so you can find your way around what you need and the kids aren't spooked.
Camping Gear for Older Babies and Toddlers
Hiking carrier with storage
It's a bummer to be a mile into a hike with your super independent three-year-old when they decide they don't want to walk anymore … or worse, they insist on stopping to collect a rock every two minutes. If your camping trip involves longer treks, you'll want a baby carrier with more structure – for your comfort and the kid's. Enter the hiking carrier for older babies (starting around six months) and toddlers. Some carriers are even designed to comfortably carry up to 50 pounds on the high end (think a four-year-old kid).
Hiking carriers usually have a super lightweight aluminum frame and an adjustable, ergonomic design that supports the wearer's hips and back. In addition, some carriers will have pockets for extra storage, sun shades, and foot stirrups to corral small, dangling feet.
Travel potty and clean-up kit
Ah, the potty training years! A period of time filled with promise, apprehension, small victories, and suspense. Some kids take to it quickly and have no problem "popping a squat" in a grassy meadow. Other times it's a bit trickier, and reinforcements are a godsend during this trying time.
A portable toilet has many redeeming qualities for campers with kids (and, yes, adults in an emergency). First, it helps to ease the nerves and provides consistency to a new trainee. Second, it can be a lifesaver on a long road trip peppered with traffic jams, inclement weather, and other surprises. Third, travel potties are great in a tent in the middle of the night when you don't want to wake up other children and/or trek to the public restroom.
Your camp-designated portable toilet may resemble a fancy bucket or a starter potty. Whatever design you choose, consider it one less thing to worry about.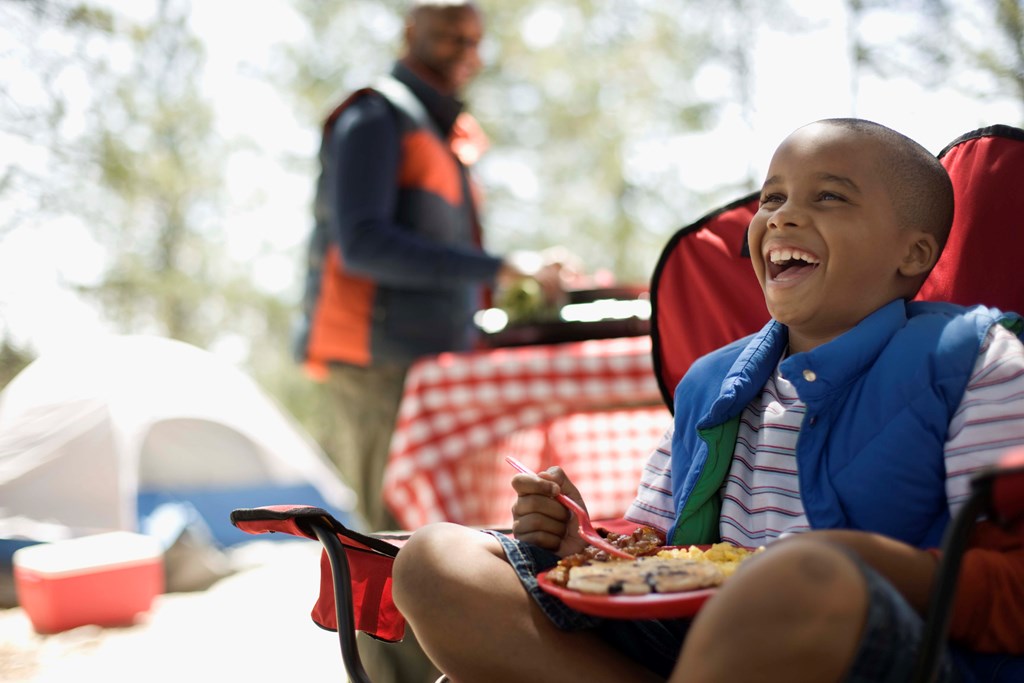 Camping Gear for Big Kids
Back to basics, toys, and games
A handful of well-chosen toys and games will go the distance to spark kids' imaginations and keep everyone entertained —  especially on a rainy night at camp. Look for toys and games that are open-ended and easy to pack. Bonus points if everyone is entertained. Things like nature-themed scavenger cards are lots of fun and get kids interacting with the world around them. Favorite card games like Old Maid and UNO are another great way to pass the time. Finally, what kid doesn't enjoy bubbles and animal figurines?
Avoid games with too many small pieces and bulky electronic plastic toys. Between hiking, fishing, biking, and exploring, the kids won't be bored. This brings us to …
An explorer pack
Don't forget to pack all the stuff that kids will use to engage with nature!
Supply the young campers with an explorer kit items like binoculars, a compass, an easy-to-use digital camera, and a magnifying glass. Throw in a trail journal with plant identification and/or a sketch notebook with a pencil, and help them keep it all together with their own backpack.
The kids will have so much fun making discoveries about tiny insects and deer in a field and navigating the hike that they won't even realize they're learning science and valuable life skills along the way.
The right footwear
Suitable footwear absolutely falls into the "gear" category on a camping trip. Consider your child's camping footwear carefully, taking into account where (and what time of year) you'll be adventuring and what activities you'll be doing as a family (frolicking in sand dunes? Skiing and sledding? Splashing in a creek?).
Getting "good enough" shoes for kids can be tempting because they grow out of them so fast. But, on the flip side, kids play hard. With limitless energy and growing feet, they'll benefit from suitable, supportive footwear as much or more than adults. Not to mention, dry, comfortable hiking feet are happy hiking feet that will likely walk a bit farther and a bit longer with (dare we say) less whining.
So do a little research into durable brands of hiking boots, winter boots, tennis shoes, and water shoes that you can be on the lookout for — even on-sale or secondhand — year-round.
Headlamps and glow sticks
As night creeps into camp, the dark can be unsettling to some younger campers. It can be upsetting to moms and dads, too, as you're trying to relax while also keeping your eyes on the kids. One helpful tip for keeping kids in sight is to have plenty of glow sticks. Glow sticks are an inexpensive way to up the safety and fun factor at the same time. As they are relatively small and have plenty of other uses at a campsite, this is an easy one to add to the list.
Wearable headlamps are another great way to prolong the fun and prevent falls after dark. In fact, every camper could benefit from having a headlamp in their pack — not just kids. It's an easy way to remain hands-free while never being caught in the dark.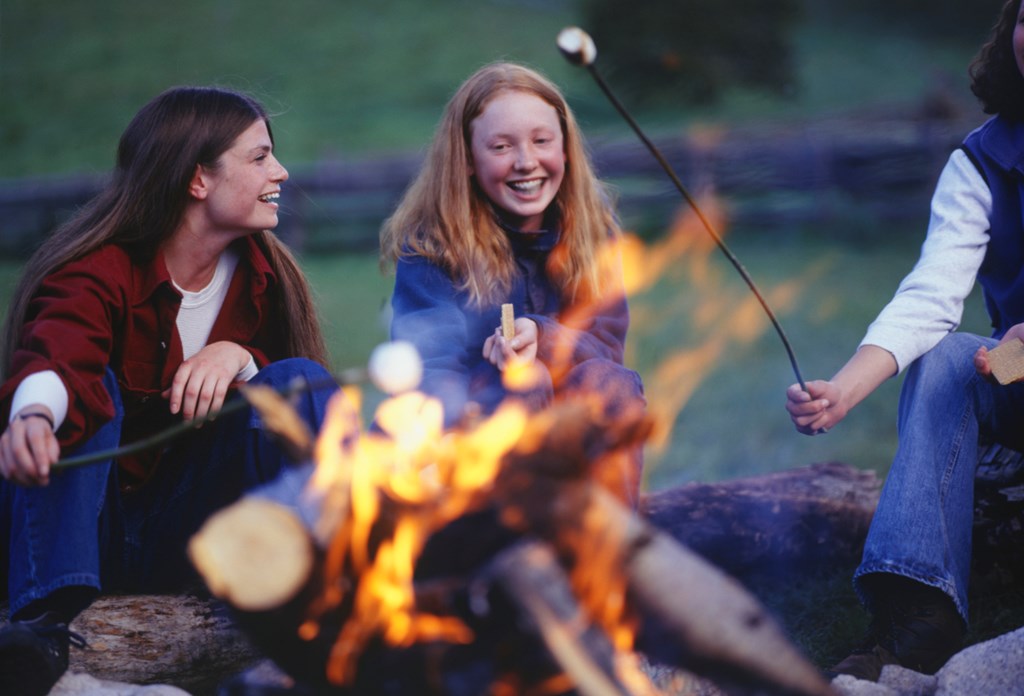 Camping Gear for Tweens and Teens
Headphones and speakers
As kids get older, they'll likely pack a lot of their stuff, if not all. But, even at this stage, there's plenty of room for surprises, comfort, and fun. Most teens and preteens love gear and gadgetry — especially if it fits with their personality and interests.
Music-loving kids (and what kid doesn't love music?) will appreciate a Bluetooth speaker to help set the tone at the campsite. Or, a pair of traditional or wireless headphones will provide them with some musical enjoyment as well as the opportunity to relax and recharge in the privacy of their own headspace.
Action cam
Older kids who are active and into exploring all sorts of natural terrain might love to take a GoPro with them on their adventures. GoPro cameras are great for trails, hiking, and outside action because they are built to be lightweight, durable, and waterproof. In addition to that, they shoot in 4K, which means your teen will be the star of their own adventure.
Just be sure to keep tabs on the battery life; the more features you use, coupled with shooting in high definition, can drain the battery faster. So before heading out, make sure to pack a fully charged device.
Camping Hammocks
Does your kid just want to "hang out"? Then a hammock is the place for them! Camping hammocks are definitely an "extra," but they are oh, so relaxing after a long hike or a filling lunch. And they are the ideal place for sleepy teens to unplug at camp.
There are some luxe camping hammocks out there — a few brands claim to accommodate up to two adults or 400 pounds — while more affordable varieties can be found at camping and warehouse stores. Most camping hammocks are suspended between trees and hang no higher than 18 inches off the ground. It makes for a great place to read, listen to music, gaze at the clouds or the stars, nap, or lie in quiet contemplation.
Camping with kids — from babies to young adults — is full of unique challenges and joys. And a lot of the gear you need or want will depend on how old your kids are. But, even at a young age, you can encourage kids to get involved with the packing and preparation of a family camping trip. They'll feel proud and in control as they contemplate and prepare what they need to spend time outdoors. (You can go through the list together before hitting the road to make sure no one accidentally missed socks and underwear).
While it's true there's a ton of "stuff" out there for kids, you don't actually need a lot to keep everyone happy and engaged on a camping trip. Sure, great gear is nice to have. But if you don't have something or forget to pack something (which you will), it's just another opportunity to laugh/learn/get inventive. Your kids will be learning and laughing with you along the way.
---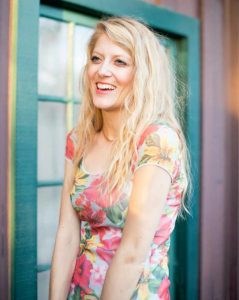 Leslie, a.k.a. Copy Girl, is a copywriter who gets butterflies from telling stories through words.
Her voice comes from a place filled with passion, dreams, and lots of sugar. "Cake over steak" is her go-to motto.
With over 10 years of experience in crafting words, and years of embarking on travels that have taken this Montana girl to some incredible places, Leslie love the adventures of both body and mind her writing takes her on.
Everywhere she goes, she takes this advice with her:
"Hold on to your divine blush, your innate rosy magic, or end up brown." – Tom Robbins, Jitterbug Perfume
To see what Leslie's up to in the writing world, visit her website here.
Kampgrounds of America, Inc is a participant in the Amazon Services LLC Associates Program, and affiliate advertising program. Some links may be affiliate links and Kampgrounds of America, Inc may get paid if you buy something or take an action after clicking one of these links.
Prices are accurate at time of publishing. Note that they are subject to change at the discretion of Amazon or their marketplace sellers.