Camping With Kids Checklist
There is nothing more rewarding than packing up the car, corralling the kids and heading out for a family-friendly adventure in the great outdoors. Camping with your kids will foster a greater sense of appreciation for nature and the world around them while teaching valuable life and survival skills. It is also the perfect occasion to unplug, unwind and make lasting memories together while exploring new areas and engaging in fun activities.
Here is everything you need to plan the ultimate family-friendly camping retreat.
Download the Printable Checklist
What to Pack
As you get ready to pack your bags, consider the following to determine your specific packing needs:
Where and when you are camping
The type of lodging you are staying in
Your planned activities
How old your children are and their specific needs
Whether you are bringing along the family pet
How primitive or accommodating your chosen campground is
Use this camping with kids checklist to guide you through preparations, but feel free to make adjustments as needed.
Site Essentials
Be sure to pack these campsite essentials:
Indoor and outdoor rugs
Foldable camping chairs
Decorative outdoor lights
At least one folding table
Plastic storage bins or totes to organize supplies
A compact multi-tool
Duct tape
Extra rope
Plastic tarps and tie-downs
A small ax or hatchet for firewood
Firestarter and kindling
Matches or a lighter
Tent or RV Supplies
Unless you are camping in a furnished cabin, you will need some of the following equipment to set up camp:
Blankets, pillows and a sleeping bag
A sleeping pad, inflatable air mattress or cot
A camping tent with stakes
A hammer or mallet
A tent fan
A tent heater
RV parking blocks
A repair kit for air mattresses and tents
Clothes and Shoes
Plan your outfits according to the season, weather forecast, camping environment and what types of activities you plan to engage in.
Be sure to include:
Layering pieces: Light layers are suitable for all seasons. Include garments such as thin long-sleeve shirts, thermals, leggings, vests, undershirts and a light jacket.
Rain gear: Rain gear is essential, no matter the season or destination. Bring an umbrella for each family member, along with portable ponchos, rain jackets, rain boots and water-resistant pants.
Weather-specific clothing: Pack weather-dependent items, like summer shorts, long pants for hiking and swimwear for warm months. Cold weather essentials include scarves, gloves, neck warmers, thick socks, winter coats and snowsport wear.
Versatile shoes: Your camping luggage should always include a pair of water-resistant boots, walking shoes and shower shoes. You might also consider snow boots, hiking shoes, flip flops, sandals and night slippers depending on the season.
Children's clothing: Camping trips can be a lot of fun, but that fun tends to be messy — bring plenty of outfit changes for your child. You should include a few stretchier pieces, slippers, long-sleeve and short-sleeve shirts and fleece sleepwear for cold destinations.
Cooking and Cleaning
Handle all of your cooking and cleaning needs with these items:
A campfire cooking grate
A portable grill
Cooking fuel, like charcoal or propane
A fire-safe dutch oven
Food protectors and shields to keep bugs away
Napkins or paper towels
Roasting forks
Food storage containers
An outdoor broom
Measuring spoons and cups
Resealable plastic bags
A camping stove
A coffee percolator or teapot
A pot and skillet, preferably cast iron
Cooking utensils, including a spatula, tongs, spoon and ladle
A knife set
Easy-to-clean or disposable utensils and dishware
A can opener
A corkscrew
A bottle opener
Shatter-proof mugs and glasses
A cutting board
A portable cooler with ice
A portable camping sink for dishes
A trash can with trash bags
Eco-safe dish soap
A tablecloth with clips for the picnic table
A dish scrubber or sponge
Heat-resistant gloves
An insulated mug or thermos
A water bottle
Jugs of freshwater or a water dispenser
A griddle
Non-stick cooking spray
Disinfectant wipes
Aluminum foil
Plastic grocery bags
You may not need some items, like a portable sink, camping stove or grill, if you are staying somewhere like a furnished Deluxe Cabin or an RV.
Food Items
Your grocery shopping list depends on what kind of recipes you plan to cook during your camping trip, but most families find success with staples like these:
Regular or instant coffee or tea
Potatoes
Grilling meats or meat substitutes
Cereal and granola
Milk or milk alternatives
Fresh drinking water
Trail mix
Pantry staples, like salt, pepper, sugar and spices
Condiments, including ketchup, mustard, mayonnaise and other sauces
Boxed pasta and pasta sauce
Hot cocoa
Nut butter and jam
Sliced bread, pita bread and tortillas
Sliced and shredded cheese
Canned or boxed soup
Macaroni and cheese
Beans and rice
Sweeteners, like honey and syrup
Fresh herbs
Lunchmeat
Instant noodles
Oatmeal
Pre-made pancake mix
Butter and cooking oil
Energy bars
Juice boxes
Chocolate milk
Nuts
Yogurt
Fresh fruit and vegetables
Comfort Items
Create a comfortable campsite with these optional items:
Extra pillows and blankets
A warm robe
Outdoor furniture
Campsite decorations
A white noise machine
Insect-repelling candles
Shade structures
Mosquito nets
Earplugs
A sleeping mask
Hand warmers
Personal Hygiene
Though it may be more challenging than you are used to, it is possible to keep yourself and your campsite clean during your adventure.
Pack the following:
Wet wipes
Hand sanitizer
Body lotion
Lip balm
Toothbrush and toothpaste
Glasses and a protective case
Contact lenses, lens case and cleaning solution
Deodorant
A hairbrush or comb
Skincare supplies
A nail file
Hair ties and headbands
Towels and washcloths
A portable laundry hamper
Shower needs, like soap, shampoo, conditioner, a loofa, razors and shaving cream
Extra toilet paper for your RV or cabin
A plastic bag for wet and dirty clothes
Cotton swabs
Feminine hygiene products
A portable mirror
A basket with a handle to carry items to and from the shower house
Shower shoes for public restrooms
First-Aid Care
Keep your family safe and healthy these first-aid essentials:
Bandages in a variety of sizes
Over-the-counter pain medications
Aspirin
Antibiotic cream
Prescription medications
Rubbing alcohol
Disinfectant wipes
Gauze
Tweezers
Sunscreen
Aloe or burn soothing gel
Bug spray
A thermometer
Blister treatment
Medical tape
Sterile pads
Safety pins
Anti-nausea medicine
Antiseptic spray
An emergency inhaler
Anti-itch cream
Elastic wrap
Splints
Eye drops
Cough drops
Cold medicine
Antacid tablets
Diarrhea medication
Medical gloves
A CPR mask and a first-aid manual with instructions
You might consider bringing an additional smaller, portable version of your first-aid kit as well if you plan to do any hiking or sightseeing.
Extra Safety Supplies
Here are some additional safety supplies that can be helpful in case of an emergency:
The address and phone number for the nearest emergency room or urgent care facility
Flares
A fire extinguisher
A field guide with information about poisonous plants, local wildlife and bite identification
Activity-specific safety items, like a snake bite kit or bear mace, if necessary
Pet Supplies
If your idea of a family-friendly camping trip includes the family pet, you will need the following gear:
A durable leash
A reflective harness
Outdoor toys
Bedding
Food and water bowls
Food and treats
An LED light that attaches to your pet's collar or harness
A pet-specific first-aid kit that includes a snake bite kit, bandages and blood clotting powder
Pet waste bags
Wet wipes for easy cleanup
A crate, if lodging in an RV or cabin
Up-to-date vaccination records
A current photo
Pet tags with your contact information listed
The phone number and address of the nearest emergency vet or pet hospital
A pet life jacket
Boots, coats and cold-weather essentials
Remember, while most campgrounds are pet friendly, it's always a good idea to know how each campground handles pets. Call ahead for specific policies, regulations and restrictions.
Recreational Gear
Camping is a great time to engage in fun recreation, like swimming, horseback riding or planned outings.
Create a camping itinerary and pack the following items as needed:
Fishing gear, including a pole, reel, tackle and bait
Hiking supplies, like a daypack and trekking poles
Binoculars and a birding guide
A plant identification guide
A kayak or canoe with paddles
A bicycle and helmet
A picnic basket and blanket
A telescope
A magnifying glass
Beach essentials, including a cooler, chair, towel and umbrella
Life jackets
Outdoor lawn games
Skis or a snowboard
A local map and guidebook for nearby attractions
Indoor fun for rainy days, like board games, cards, music, books and art supplies
Some campgrounds and public recreation facilities may have items available for rent or purchase. Research your options before making an investment!
Permits and Belongings
Keep these permits and belongings on your person or in another easily accessible location throughout your journey:
Your legal ID card
Your fishing license
A printed version of your camping registration confirmation
Parking passes where necessary
Event tickets
A copy of your RV insurance and registration
Your car insurance and registration
Vet papers for your pet
Backpacking permits for hiking trips
Reservation confirmations for events, restaurants and attractions
Your health insurance information
Your credit card and spare cash
Your cell phone and charger
Sunglasses
A portable charging port, if needed
Child Supplies
Child-specific supplies depend on your child's age, needs and interests, but these items are a good place to start:
Child-friendly first-aid supplies, like medicines, teething toys, rash cream, sunscreen and insect repellant
An outdoor playpen
A travel crib or bassinet
A current photo
Comfort items, like stuffed animals or a blanket
Baby essentials, including diapers, lotion, soap, formula, bottles and wipes
A sippy cup
A no-spill snack holder
A portable tub for bathing
A mini tent for playing
Scooters, bikes, skateboards or wagons
Sidewalk chalk
A portable high chair or booster seat
Bibs
Beach toys
Travel games for time in the car
Indoor toys, including coloring books, board games or a tablet
Baby carriers, wraps, slings or backpacks
Child-size camping chairs
A water purifier for baby formula
A portable changing station
A hands-free headlamp
A thermos full of warm water for late-night feeding
Warm hats or sun hats
A soft floor mat for playing on the ground
Bubbles
Water guns
Kid-Approved Camping Recipes
Some crowd-pleasing camping recipes and foods for kids include:
S'mores
Grilled nut butter and jelly sandwiches
Hot dogs over the fire
Macaroni and cheese
Homemade trail mix with cereal, nuts and dried fruits
String cheese
Crackers and chips
Fruit juice
Breakfast burritos
Campfire egg scrambles
Campfire nachos
Loaded baked potatoes
Campfire popcorn
Personal campfire pizzas
For best results, let your older kids help you plan the menu, prepare cooking ingredients and play an active role in cooking and cleanup.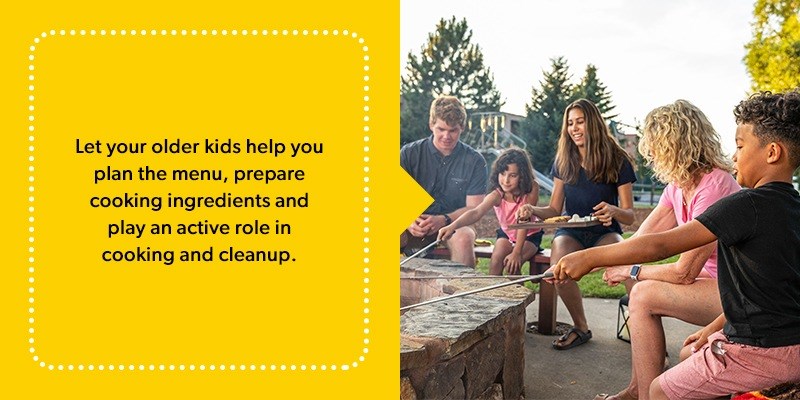 Packing Tips for Camping Trips
Save valuable space in your luggage with these packing tips:
Save space in your suitcase: Roll your clothing into individual rolls and secure them with a rubber band to save space in your luggage.
Stay organized: Use a printable checklist and make notes on it during your trip for even easier packing next time. Label bags with a name or location for easier unpacking. Start packing several days before your trip to minimize stress.
Plan for the weather: Check the weather when planning your outfits, and always prepare for worst-case scenarios.
Stock your camping kitchen: Create a menu for the week and shop accordingly. Label kitchen ingredients and prepare some foods — like chopping vegetables — ahead of time.
Keep things clean: Bring plenty of bags for wet and dirty clothes. Remember less is more — pack reusable items and re-wearable clothes.
Check firewood regulations: Do not bring your own firewood without first checking local regulations and campground rules — it is illegal or banned in many places. Most campgrounds have it available for purchase on-site.
Last in, first out: Load your most important items — like food, toilet paper or your child's toys — into the vehicle last, so they are the first things you unpack.
Remember, you can likely purchase some items, like fishing bait, extra ice for your cooler and some last-minute goods, at a campground store or nearby facility should you run out.
What to Look for in a Family-Friendly Campground
The following campground traits are crucial for a fun, safe camping trip for the whole family:
On-site restrooms with hot water
Level, spacious campsites for easy tent pitching
Laundry facilities
A playground for the kids
Friendly, helpful staff
Proximity to nearby attractions or activities
Away from road traffic, especially if traveling with a young child or fussy sleeper
You should also consider things that are not necessary for a successful camping trip but may enhance your experience, such as:
On-site amenities and activities, like an arcade, bike rentals or swimming pool
A pet park and pet-friendly sites
Electricity hookups
Furnished cabin options for more comfortable lodging
Amp connections for RV sites
Tips and Tricks for Camping With Kids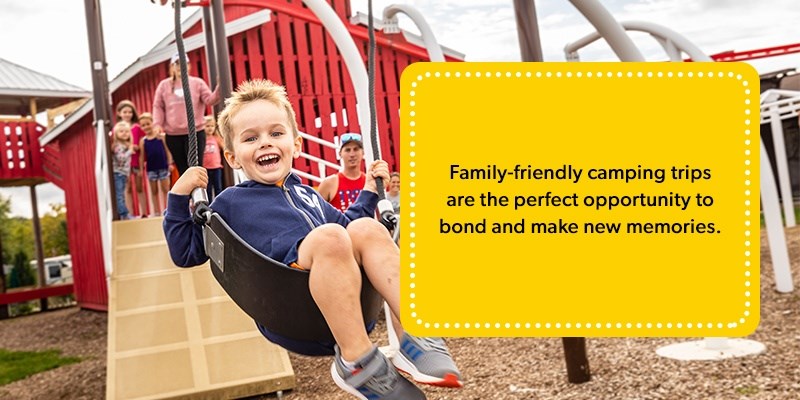 Family-friendly camping trips are the perfect opportunity to bond and make new memories.
These tips will help you make the experience as safe and stress-free as possible:
Incorporate plenty of grab-and-go snacks into your camping menu for days you plan to spend away from the campsite
Bring glow sticks and other glow-in-the-dark items to keep a better eye on the kids after dark and to use as a nightlight for overnight bathroom trips.
Use your camping trip as an opportunity to teach your kids more about the world around you, including nature lessons, outdoor classroom activities, other cultures and new experiences.
Plan several activities and games, like scavenger hunts or camping songs and ghost stories around the campfire, to keep boredom at bay.
Create a budget and stick to it while packing and planning activities.
Review proper camping etiquette with your children, including quiet hours, where not to shine flashlights and how to interact with fellow campers.
Encourage your children to see camping as an adventure. Create a countdown to help them get excited. Consider leaving electronics and cell phones at home for better bonding and less screen time.
Teach your children the importance of throwing trash away, putting a campfire out when finished and leaving nature as you found it.
If your children are too young for their own mini tent, get a large tent with separate rooms for more privacy and comfort.
Carry wet wipes wherever you go for easy hand washing before meals, wiping down public surfaces and staying clean when away from the campsite.
Practice safety rules, like swimming guidelines and campfire safety, with your children before you go.
Ask your campground about specific rules, like restricted areas, arrival and departure times and site guidelines.
Reserve a Stay at Kampgrounds of America
KOA is the ideal place to plan your camping getaway. Every campground is safe and clean, with on-site laundry facilities, a playground and a variety of ways to stay, such as Tent Sites, RV Sites, Camping Cabins and unique lodging options. Select campgrounds feature additional amenities, like games, events, activities and pet parks. The best part is that, with nearly 500 North American locations, there is always a KOA Campground near your travel destination.
Find a KOA today and start planning the ultimate family vacation.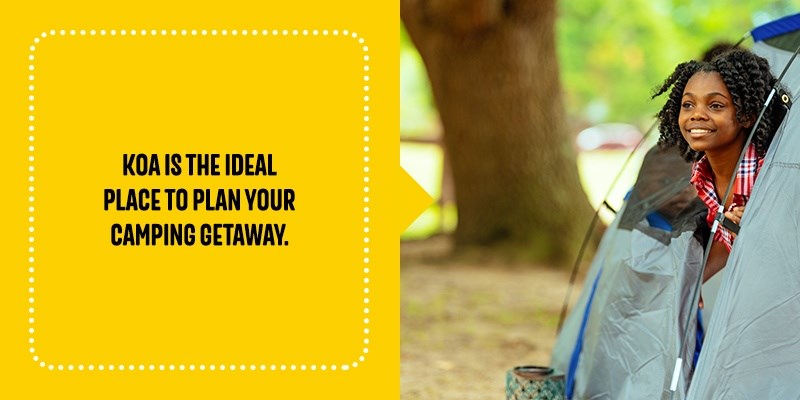 ---