Camping Recipe: Watermelon Caprese Salad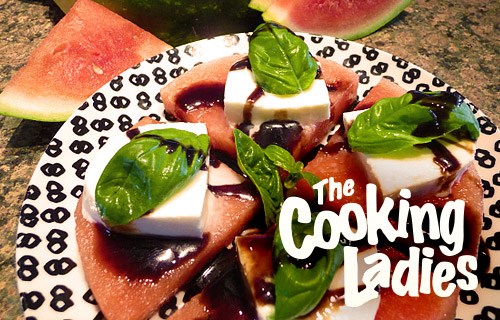 We had heard amazing stories about the Going-to-the-Sun Road in Glacier National Park in Montana. There is a KOA a short distance from the east entrance and another KOA near the west entrance to the park. Tour busses and limos are available for the drive up the alpine mountain spine but we wanted to do it in our towed car. The road has a vehicle length restriction of 21 feet and a width restriction of 8 feet.
The outside temperature dropped quickly as we climbed Going-to-the-Sun. A thick blanket of snow draped over the rocks. The road had only been open for one day when we arrived. It was mid July, the earliest that road crews could get in to clear the winter snow. A stone wall kept us from going where we shouldn't. The road was paved. Water from melting snow trickled down rock faces. The sun shone on snow-covered mountain peaks. Purple flowers poked out of crevices. Unexpectedly, a small waterfall splashed right onto the car and then, as we came out of a curve, emerald-green glacial water crashed down from the rocks high above, streamed under the road, and thundered to the river below.
At Logan Pass, the halfway mark for the Going-to-the-Sun Road, snow banks towered around the Visitors Center. Quite an experience when most of the United States and Canada was having a heat wave. We enjoyed the recipe below when we arrived, making the journey even more of a treat.
This variation on the caprese salad is one of our favorite, refreshing summer recipes. An alternative method is to cube the watermelon and the fresh mozzarella and toss them in a bowl with strips of fresh basil. Drizzle balsamic glaze over top. Balsamic glaze is available in the grocery store. It is thicker and sweeter than regular balsamic vinegar. The recipe ingredients can be prepared a few hours ahead and refrigerated in separate containers until ready to assemble. Only prepare as much of the watermelon and cheese for the number of portions required.
Ingredients
1 mini seedless round watermelon
1 fresh mozzarella cheese ball
1 bunch large fresh basil leaves, whole or cut into strips
1 bottle of balsamic glaze
Directions
Cut a slice of watermelon 1/2-inch thick. Cut the slice into quarters to form triangles. Remove the rind from the triangles. Place the triangles on individual salad plates or on a large plate for sharing.
Cut a slice of fresh mozzarella 1/2-inch thick. Cut the mozzarella slice in half, if necessary, to fit the size of the watermelon triangle. Place one mozzarella slice on each watermelon triangle.
Drizzle the balsamic glaze over the mozzarella. Garnish with basil.
Repeat procedure for the number of portions to be served.
Get a printer-friendly version of this recipe
For 20 years, Phyllis Hinz and Lamont Mackay were successful food service entrepreneurs. The sudden death of a young business partner forced Phyllis and Lamont to realize there should be more to life than working seven days a week. They sold their businesses, their houses and almost all of their possessions, bought a motorhome and set out on the highways and back roads of North America to see where life would take them. For 14 years, The Cooking Ladies, as Phyllis and Lamont are affectionately known, have combined their appetite for adventure with a quest to meet new people, see new places, sample new foods and create recipes. Today, Phyllis and Lamont are enthusiastic RVers, magazine columnists, cookbook authors, travel writers photographers, TV personalities, lifestyle and culinary event speakers, and restaurant consultants. To learn more about them or download their best-selling e-cookbooks, visit thecookingladies.com.