This is a great chili that comes together quickly at the campsite. I like to prep the veggies at home, bag them and keep them in a cooler until I'm ready to cook. I also like to prep up all the spices and sauces in a zip-top bag to add all at once. You can use any kind of canned beans you like, but I prefer Goya because it comes with a pop-top lid and nothing is worse than realizing you left your can opener at home when you are at a campfire trying to make chili.
— — — — —
Ingredients:
3 C. Chopped onion
3 C. Chopped bell pepper
1 Large zucchini, chopped
3 Garlic cloves, minced
½ C. BBQ sauce
14 oz. tomato sauce
2 Tbl. Worcester Sauce
2 Tbl. Chili powder
2 Tbl. Montreal Grill Seasoning
2 Tbl. Olive oil
1 can Goya Black Beans
1 can Goya Pinto Beans
1 can Goya Kidney Beans
½ Bottle of beer
12 oz Whole cashews
Directions:
At home, prep first 4 ingredients and place into a zip-top bag for storage in cooler. Combine the next ingredients from BBQ sauce through Montreal Seasoning and place in a double zip-top bag and into cooler.
At the campsite: In a dutch oven over a campfire or stove, add olive oil and sauté bag of veggies until onions are soft. Deglaze with ½ bottle of beer and add the second bag of seasoning and sauce. Pop the tops and drain all three cans of beans and add. Cook until boiling. Reduce to a simmer.
Serve immediately with cashews sprinkled on top.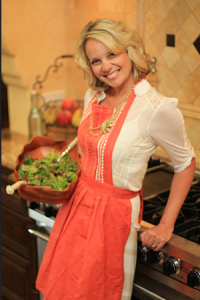 The Farmers Market Foodie didn't always camp. In fact, prior to meeting her KOA Campground owner husband "Hubs" the only kind of stars she'd slept under were the "5-Star" variety. Luckily for her, Hubs was an expert camper and he wisely made her early experiences easy, filled with plenty of wine and tasty camp side food. Now, with the two kids in tow, they camp with their RV almost exclusively during vacations. Planning and executing easy and healthy campfire food has become one of her specialties.
One of her favorite mottos is "Less is More", which applies to her camp-cooking style, but not as much to her preference for large RV's and Deluxe Cabins. Whether it's a Safari Tent, cabin or fancy RV, the Foodie has tried and tested many recipes on Hubs, the kids and their camp mates. Check out The Farmers Market Foodie blog HERE.