This is a wonderful sauce for grilled chicken or seafood. Feel free to experiment with different herbs you have on hand or in your garden. While capers are called for in this recipe and give it a nice salty, briny flavor, you could substitute from a jar of cornichon pickles if needed. Want to see what one KOA is doing to bring fresh herbs and garden produce to their campers? Click here to read more.
— — — — —
Herby Salsa Verde
Ingredients:
1 bunch Italian parsley
1 bunch cilantro
1 cup basil leaves
30 capers, drained (or if substituting, 4 cornichon pickles)
1 cup olive oil
1 lemon, juiced
Salt and pepper to taste
Directions:
Rinse and finely chop all herbs. Combine with olive oil and lemon juice. Season with salt and pepper. Store in a leak-free container. Can be made up to three days ahead.
— — — — —
Printable Version of this Recipe
— — — — —
#####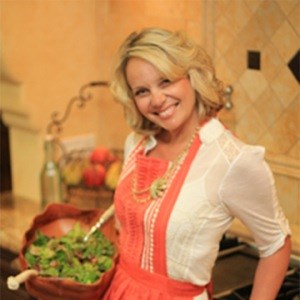 The Farmers Market Foodie didn't always camp. In fact, prior to meeting her KOA Campground owner husband, "Hubs," the only kind of stars she'd slept under were the "5-Star" variety.
Lucky for her, Hubs was an expert camper and he wisely made her early experiences easy, filled with plenty of wine and tasty camp-side food. Now, with the two kids in tow, they camp with their RV almost exclusively during vacations. Planning and executing easy and healthy campsite food has become one of her specialties.
One of her favorite mottos is "Less is More," which applies to her camp-cooking style, but not as much to her preference for large RVs and KOA Deluxe Cabins. Whether it's a Safari Tent, Cabin or fancy RV, the Foodie has tried and tested many recipes on Hubs, the kids and their camp mates.