Camping Near Houston | Campgrounds & Places to Visit in Houston, TX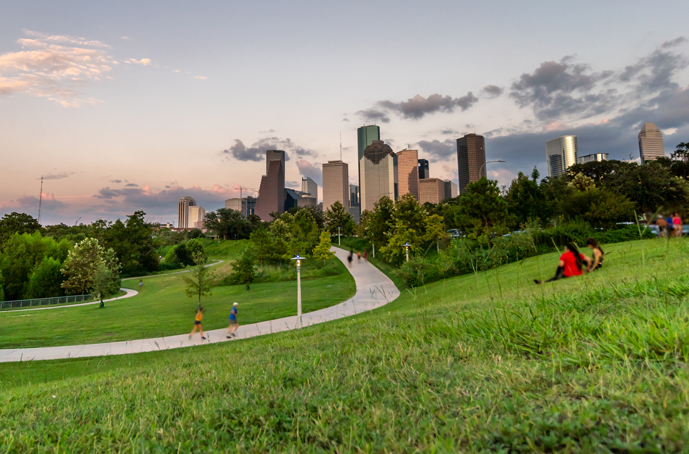 Camping Near Houston
Located just off the Gulf Coast, Houston is the fourth-largest city in the United States and attracts culture and art lovers as well as business people, alike. Houston is also a great place to visit if you're an outdoor enthusiast. With an average temperature of 69 degrees Fahrenheit in the cold weather months, anytime is a good time to plan a camping trip near Houston.
With Kampgrounds of America, your camping adventure to Houston can include endless coast, gorgeous wooded trails, plus the opportunity to explore this exciting city. Here are some great KOA campgrounds near Houston where you can enjoy exploring the great outdoors.
Places to Camp Near Houston, TX
Southeastern Texas is not just home to Houston. It also offers endless natural wonders up and down the Gulf Coast. This region boasts incredible vistas, beautiful locales and awe-inspiring wildlife all a hop, skip and a jump from downtown Houston. All you need to figure out is whether you want to rough it a little or prefer camping with all the comforts of home. These Houston, TX campgrounds have a little something for every kind of camper.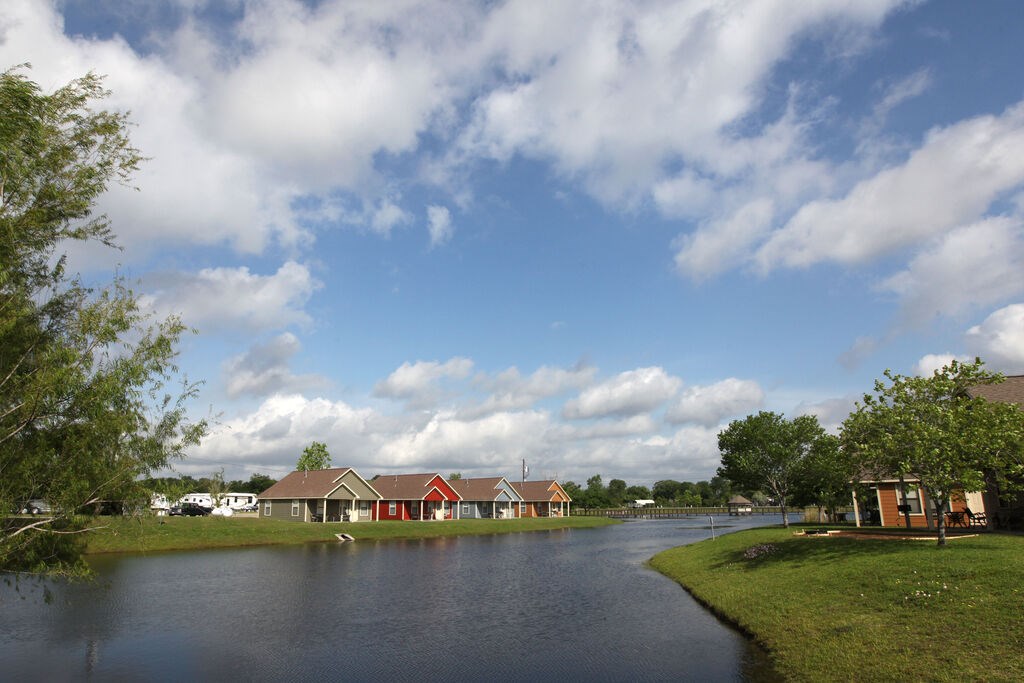 1. Lake Conroe / Houston North KOA Holiday
Just north of Houston is a gorgeous little spot tucked away from the hustle and bustle of city life. Explore the 21,000-acre sparkling lake, and take part in all types of water activities and outdoor fun when you stay at the Lake Conroe / Houston North KOA Holiday. This campground is ideal for the avid RV'ers exploring the open roads of Texas. However, there are beautiful Camping Cabins and tent sites available for those without a rig. Some of the features you'll love at this location include:
Deluxe Cabins with a kitchen, bathroom and all the comforts of home
Fully stocked fishing lakes
Kid-friendly activities such as a playground, horseshoes, pickleball and more
Relaxing heated pool and hot tub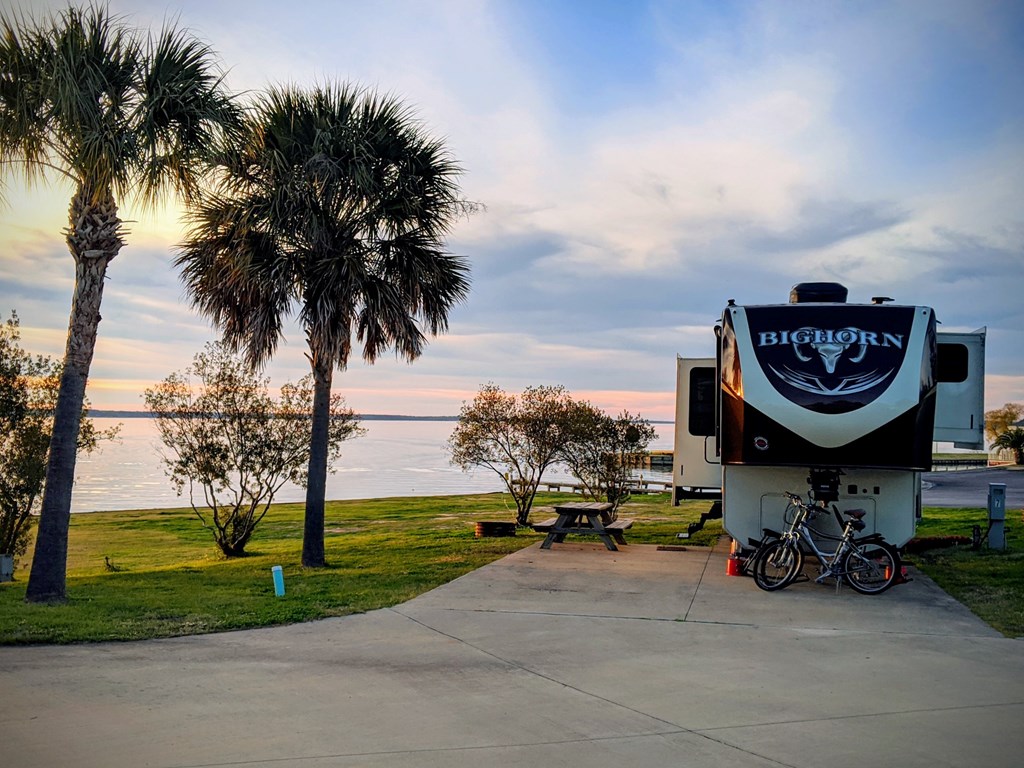 2. Lake Livingston / Onalaska KOA Holiday
Travel north of Houston to find the wonder and beauty of the Piney Woods region. Wrapped around the shores of Lake Livingston, the state's second-largest lake, is your Houston-area haven — Lake Livingston / Onalaska KOA Holiday. Enjoy all your favorite lakeside recreations, including boating, fishing and lounging on the beautiful beach. After a long day in the water or exploring Houston, unwind in the hot tub as you watch the sunset. This campground is packed with great amenities, such as:
Dog park for your four-legged friends
Clubhouse with a full kitchen perfect for hosting large parties or reunions
Themed weekends and planned campground activities
6 Top Attractions to Check Out in Houston
Houston has become a hub of interesting things to do. There's a little something for everyone in the city, so when it comes to planning a fun-filled day, there's no end of options.
1. Space Center Houston
If you're interested in the history of human space exploration, come visit one of the places where this new frontier got its start. Space Center Houston is the official visitor center of NASA's Johnson Space Center, where you can view space artifacts, watch shuttle launches and explore displays that pay tribute to the human spaceflight program.
2. Houston Museum District
Houston's jam-packed Museum District features 19 unique museums, including the Contemporary Arts Museum Houston and the Houston Museum of Natural Science.
3. Buffalo Bayou Park
Flowing through the heart of Houston is the slow-moving waters of Buffalo Bayou. Get active and explore the 160-acre green space surrounding one of the city's most prevalent features. Take the whole family to enjoy views of the Houston skyline and take advantage of a fountain and skate park.
4. The Beaches of Galveston
Just a short drive from Houston are the beautiful beaches of Galveston, TX. Soak up the sun and explore miles of endless beaches as well as the shallow, turquoise water of the Gulf Coast. The water stays warm from spring through October, so there's almost always a good time to enjoy the beach.
5. Check Out a Sporting Event
Sports fans have tons of options when it comes to seeing a sports game in Houston. From Major League Baseball's Houston Astros to the NFL's Houston Texans, you have your pick of baseball, football, basketball and even soccer games during your stay.
6. Houston's Unique Dining Scene
There are far too many restaurants in the city to name individually, which is why Houston's dining scene is becoming an attraction all its own. You have your pick of endless culinary trends, from classic Americana, southern-inspired, Tex-Mex, Asian and countless other ethnic fares.
Plan Your Stay at a KOA Campground
If you're planning a trip to Houston, make it memorable by reserving a spot at a KOA campground. KOA's campgrounds near Houston are the perfect way to enjoy all the attractions of the city while getting all the benefits of nature. Make your reservation today to get started.
---
About the Author: Kampgrounds of America
Kampgrounds of America is the largest system of open-to-the-public campgrounds in the world, with over 500 locations across the United States and Canada. Founded in Billings, MT in 1962, KOA's family of campground brands – KOA Journey, KOA Holiday and KOA Resort – today serve more than a million camping families each year. KOA is dedicated to "connecting people to the outdoors and each other" by providing people with a variety of camping experiences and the information they need to make the most of their camping trip. Read more of their camping and travel resources by visiting KOA.com/blog.
---