It seems like there's always that one group of campers at every campground or campsite. You know the group I'm talking about.
They might be loud, obnoxious, inconsiderate, or one of a thousand other annoying things. They don't have respect for others around them and are only focused on their own version of fun.
Make sure that you're following these basic camping etiquette tips on your next camping trip, and never be that group that ruins another's good time.
Camping etiquette is pretty much standard operating procedure for most people. It just comes naturally to do things like leave the campsite the way it was found, pick up litter if any is spotted, keep late night campfire conversations to a low level, and so on and so on.
Some other important tips to always keep in mind include never looking into other camper's tents, keeping flashlight beams pointed at the ground, always walking around other campsites instead of through them, and keeping pets under control.
Many people return to the same campground or campsite year after year, and a sense of camaraderie and community can begin to form. When that happens, it really is a special thing and makes camping trips more about camping. However, even if that bond doesn't form, camping etiquette is still something that every camper should exercise and that everyone else camping in the areas deserves.
When you first arrive at your campsite, try to do so quietly. I'm not saying that you have to tiptoe around and speak in whispers, but try to remember that you don't know what other campers in the area are trying to do. They could be eating a meal together or trying to sleep. Being interrupted by loud campers who are excited (and understandably so) to have finally arrived at their campsite will get under the skin of even the most understanding campers. Just use common sense in the moment — if you get to your campsite late at night, keep the celebratory cheer when the tent finally goes up to a low roar and try to avoid extended headlight use or anything along those lines.
The old adage of putting yourself in someone else's shoes is always a useful way of thinking when it comes to politness in and around the campground. It's very easy to only be focused on your immediate area or task. We all do it, but taking that small mental step back to observe the situation with a wider perspective will serve you well. That doesn't even only apply to camping, but life in general as I have come to find.
I won't bore you with a bunch of other basic tips that I'm sure you already know or could easily figure out on your own. Instead, here are a few things I have discovered while camping that fall under the general camping etiquette rules of thumb, and that other campers really do appreciate:
If you have some leftover firewood on your last day of camping, consider leaving it stacked in a neat pile near the fire pit or fire area. The next people to arrive at your campsite will have one less thing to do when setting up camp and will be incredibly thankful for the random act of kindness.
Do you have a special recipe that you take camping? If you do, consider taking some to the next campsite over and offering your cuisine to the campers there. After all, camping at a campground or campsite can be about that camaraderie I mentioned earlier. The simple act of offering some tasty food or even just inviting another group over to your campfire to enjoy the evening can lead to memories you weren't expecting to make, or sometimes even lifelong friendships.
Maintaining good camping etiquette is a great habit for all campers to get into. Always be considerate and keep up the common sense, and you're bound to be a good neighbor at your next campsite!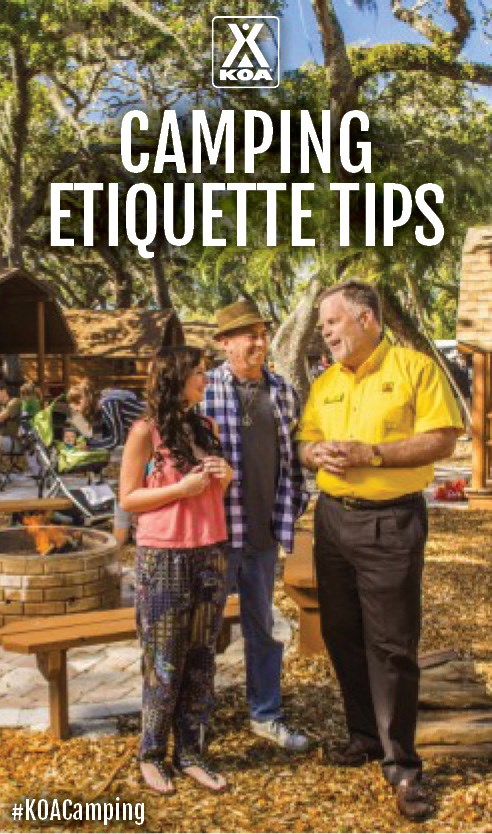 Do you have any camping etiquette or stories? If so, share them in the comments section below!
---
Writer. For Roadtrippers. For KOA. For sanity. Catcher of fish. Baseball fanatic. Proud to call Ohio home.
Brought to you by KOA and our partners at:

Save