Camping Cabins vs. Hotels for Your Next Trip
Getting ready to head out on a trip? Great! Planning some rest and relaxation is the perfect way to recoup and get energized. Plus, vacations are opportunities to create precious memories with your family. Now comes an important decision — your choice of lodgings. Although hotels are the go-to for many vacationers, Camping Cabins at Kampgrounds of America may be a surprising alternative you'll love.
The Pros and Cons of Camping in a Cabin vs. a Hotel
Everyone is familiar with hotels, but not everyone knows what staying in a Cabin is like. Here are some of the pros of choosing a Camping Cabin for your next family vacation:
Convenience: Most people settle for hotels because they are — well — nearly everywhere. However, Camping Cabins are a convenient option as well. These cozy lodgings are found at almost every KOA across the nation. That means, with nearly 500 KOA locations across North America, you're sure to find a Camping Cabin wherever your travels lead you.
More privacy: Nestled in their own cozy corner of the campground, Camping Cabins give vacationers room to breathe and a little bit of space to call your own — both essential components of a relaxing getaway. Hotel rooms are packed right next to each other with paper-thin walls. So, if you have noisy neighbors or people roaming the halls at all hours, that may mean a restless night.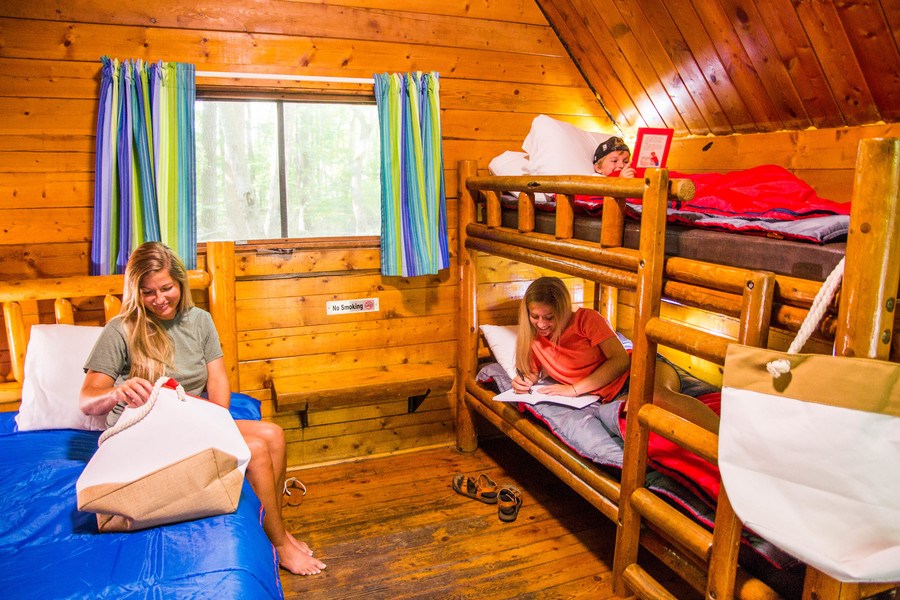 Access to the great outdoors: There's nothing quite like getting back to nature. Camping Cabins are often situated off the beaten path surrounded by the great outdoors. If you want to breathe some fresh air or enjoy a camping fire, these don't come standard with a hotel room. However, Camping Cabins allow you to spend your evenings gazing at the stars as you roast marshmallows over a campfire.
Affordability: Although the daily rate for a Camping Cabin tends to be about the same cost as your standard hotel room, you can often save some money if you're planning on a longer stay. That's because many Camping Cabins have lower weekly rates. Another way to save is by staying in a Deluxe Cabin that features a kitchenette. With a convenient space to prepare your meals, you can stock up on groceries, saving you the expense of having to eat out at a restaurant three times a day. Be sure to check with specific campgrounds to see what they have available.
Camping Cabins do have a couple of cons, but only for those who are used to vacationing in hotels:
Not within cities: If you're looking to vacation in the heart of a big city, then hotels are probably a better bet. However, if you're okay with being a bit outside the urban rush, Camping Cabins are usually just a short drive away from some of the most popular urban destinations.
No room service or maid service: If you like calling up hotel room service for your late night meals, or you want your linens changed every day, you won't find these features included with cabin camping. However, KOA is committed to providing guests with comfortable, clean surroundings. So, when you check-in, your cabin will be fresh and ready for you.
Camping Cabins and Deluxe Cabins at KOA Campgrounds
Before booking a hotel reservation for your next vacation, we invite you to consider an alternative — cabin camping at KOA. Not only do we put you near all the best local attractions, but you'll also get to enjoy the serenity and amenities that come standard at a KOA campground.
We offer two different Cabin experiences at many of our KOA locations:
Camping Cabins: If you love the rusticness of camping, but prefer to keep a roof over your head and leave the tent at home, then you'll love our KOA Camping Cabins. We put you in the middle of some lovely outdoor scenery, plus you also get to enjoy beds and electricity, which come standard.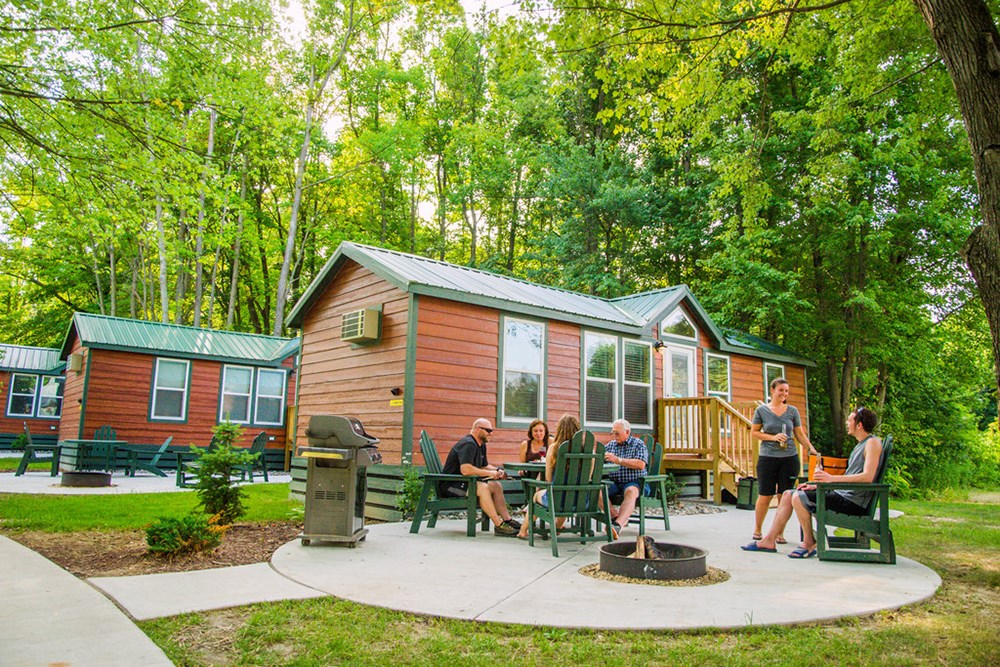 Deluxe Cabins: Our Deluxe Cabins allow you to elevate your cabin camping experience by including bonus features like a private bathroom and potentially a few added features. Some include kitchenettes, TVs, linens and more. Looking for a way to really enjoy your outdoor space? Look for Deluxe Cabins with a KOA Patio™.
We hope you're ready to try a Camping Cabin or Deluxe Cabin camping experience at a KOA campground. Be sure to book your reservation early as our lodgings tend to fill up quickly, especially during peak seasons. You can make your reservation online or give us a call today.
---