Campfire Recipes for Veggie Lovers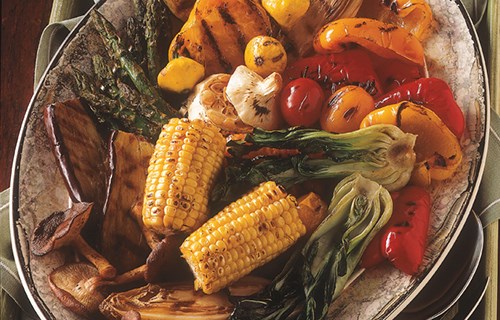 While many camping recipes feature meat — appealing to the carnivorous types — there are a whole bunch of great options for veggie lovers too. Mix in these side dishes from our friends at Weber Grills, Coleman and Pinterest to complement your meaty main dish for a tasty, balanced meal.
— — — — —
Mixed Vegetable Grill with Roasted Garlic Marinade
Serves: 6
Ingredients: 
2 heads garlic
2 tablespoons plus 1 cup extra-virgin olive oil
¼ cup balsamic vinegar
2 tablespoons red wine vinegar
2 teaspoons kosher salt
1 teaspoon freshly ground pepper
3 red or yellow bell peppers, 7 to 8 ounces each
6 pattypan squashes, about 2 ounces each
1 Japanese eggplant, 4 to 5 ounces
1 green or yellow zucchini, 5 to 6 ounces
10 asparagus spears, about 8 ounces total
1 ear of corn, husked, 7 to 8 ounces
1 head Belgian endive, about 4 ounces
4 fresh shiitake mushrooms, about 1 ounce each
1 baby bok choy, 6 to 7 ounces
2 plum tomatoes, 1 to 2 ounces each
Directions:
Remove as much of the outer papery skin as possible from the garlic heads. Using a sharp knife, slice off the top quarter of the heads to expose the pulp. Drizzle 1 tablespoon of the olive oil over each head, then wrap each separately in aluminum foil. Place on the cooking grate directly over medium heat and cook until the pulp is golden brown and tender, 35 to 40 minutes. Remove from the cooking grate and allow to cool. (The garlic can be grilled up to a day in advance.) Unwrap the bulbs and carefully squeeze the pulp into a food processor or blender, discarding the skins. Add the remaining 1 cup olive oil, the balsamic vinegar, red wine vinegar, salt, and pepper. Process until smooth. Transfer the marinade to a bowl (or lock-top plastic bag) large enough to hold the vegetables.
Cut the bell peppers in half lengthwise. Remove the stems, core, and seeds and flatten the peppers with the palm of your hand. Trim the stem ends from the pattypan squashes, eggplant, zucchini, and asparagus. Cut the ear of corn in half crosswise. Cut the Belgian endive in half lengthwise. Trim the tough stems from the shiitake mushrooms. Cut the baby bok choy in half lengthwise. Core the plum tomatoes. Place all of the vegetables in the bowl (or bag) with the marinade. Toss to coat thoroughly. Allow to marinate in the refrigerator for at least 1 hour or as long as 4 hours.
Grill the vegetables directly over medium heat. Serve warm.
© 1999 Weber-Stephen Products LLC. Recipe from Weber's Art of the Grill. Used with permission.
— — — — —
Orange-Glazed Carrots
Serves: 4 to 6
Ingredients:
2¼ teaspoons kosher salt, divided
12 medium carrots, each 6 to 8 inches long and about 1 inch wide at the stem, peeled and trimmed
3 tablespoons unsalted butter, melted
2 tablespoons honey or maple syrup
2 teaspoons finely grated orange zest
2 teaspoons balsamic vinegar
2 tablespoons finely chopped fresh Italian parsley
Directions:
1. Fill a large saucepan with water to within a few inches of the top. Add 2 teaspoons of the salt to the water and bring to a boil over high heat. Add the carrots to the boiling water and cook until tender but still crisp, 4 to 6 minutes. Remove from the saucepan and plunge into an ice bath to cool them rapidly. Then remove the carrots from the ice bath and drain.
2. Prepare the grill for direct cooking over medium heat.
3. In a large bowl combine the melted butter, honey, orange zest, vinegar, and the remaining ¼ teaspoon of salt. Add the carrots to the bowl and toss to coat them evenly.
4. Brush the cooking grates clean. Remove the carrots from the bowl and let the excess butter mixture drip back into the bowl. Set the bowl aside. Grill the carrots over direct medium heat, with the lid closed as much as possible, until lightly caramelized, 4 to 6 minutes, turning occasionally. Place the carrots back into bowl with the remaining butter mixture. Toss to coat thoroughly. Garnish with the parsley and serve warm.
©2008 Weber-Stephen Products Co. Recipe from Weber's Way to Grill™ by Jamie Purviance. Used with permission.
— — — — —
Ranch Style Veggies
Serves: 6
Ingredients:
2 medium yellow squash
2 carrots
1 tbsp vegetable oil
1 0.4 oz envelope Ranch dressing mix
2 zucchini
Directions:
Preheat camping stove. Place vegetable oil and Ranch dressing mix in a cast iron skillet and place skillet over medium heat. Mix well and add sliced carrots. Cook carrots for 4 to 5 minutes, until tender but crisp.
Add squash and zucchini and cook for an additional 4 to 5 minutes, until vegetables are tender. Remove vegetables from skillet with a slotted spoon.
The Coleman Company, Inc. has not tested these recipes and is not responsible for the outcome of any recipe you try from our application. You may not achieve the results desired due to variations in ingredients, cooking temperatures, cooking times, errors, omissions, or individual cooking abilities. Always use proper food safety precautions when preparing, storing, and transporting food.
— — — — —
Craving Even More Veggie Recipes? Click the Links Below.
Grilled Cheese and Bacon Jalapeno Poppers
Printable Version of these Recipes