Hey—we all know that campfire cooking isn't easy; in fact, it can be downright tough. Who hasn't tried to roast a hot dog only to have it come out charred on one side and raw on the other? Or attempted to get a perfect golden glow on a marshmallow, only to have it burst into flame?
So we turned to Oklahoma City camper Michelle Boykin, who has some great campfire skills for some help. Growing up, she went camping with her dad, an avid hunter, and learned how to cook over an open fire. Today, she applies those same skills as a Girl Scout leader in her daughter's troop—and of course at her favorite KOA campgrounds.
KOA: You say that you have a great way to roast corn in a campfire. What method do you use?
Michelle: You start off by pulling the husks away from the ear of corn, then folding them back. Spritz the corn using a butter spray, like the one from "I Can't Believe It's Not Butter", and then rub it with freshly-ground kosher salt and black pepper. Put the husks over the top, cover it with foil, and put in right in the fire.
KOA: So you put them right in the fire, not on a grill or grate?
Michelle: If I'm home, I might put it on the grill, but when I'm camping they go right in the fire.
KOA: Do you need to turn the cobs or move them around in the coals?
Michelle: Not really, because it cooks all at once. It's really steaming it in the foil, and the husks give it extra moisture to cook. It comes out steamy, buttery and really tender.
KOA: Okay, so now we know your secret to great corn. What else do you like to cook over the campfire?
Michelle: The Girl Scouts love it when we do a baked potato bar when we camp. I'll make queso with Velveeta and chili to top them—they taste so good. Of course, everything tastes better when you're camping, right?
KOA: We couldn't agree more. But you have to tell us how to get the potatoes done right. You know, so they're not overcooked on the outside and raw in the middle.
Michelle: The best thing I've found to do is to bake the potatoes almost all of the way through while we're at home—before we leave for camping. Once they're done, I just wrap them up in foil, put them in a Ziplock bag and pack them up. When we're ready to have them at camp, I put them back in the fire to warm them through. You get nice, crispy skins without burning them—and no more raw middles. With five kids, I've got a lot to keep my eye on while we're camping, so I try to make it as easy as I can.
KOA: So prepping before heading out to the campground is part of your secret to good campfire cooking?
Michelle: I try to do as much as I can before we leave. For instance, I chop all of the veggies I'm going to use before I get there. And if I'm going to do scrambled eggs, I don't take the eggs in a carrier—I crack them into a neoprene bottle and put it in the cooler. When we're at the campground, I shake it up and it's ready to go. It's one less thing I have to do, one less thing I have to clean and one less thing I have to keep the ants out of it when I'm at the campground.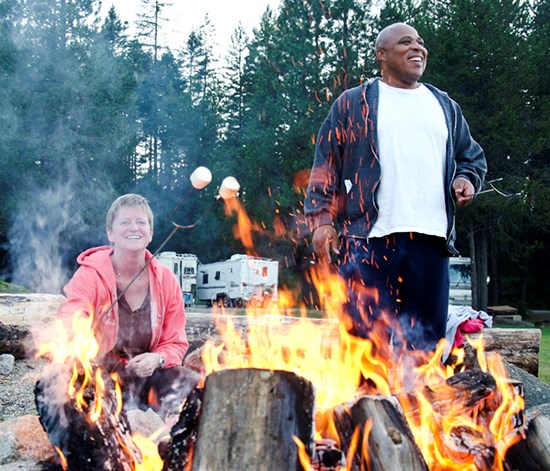 KOA: Any secrets to building a good cooking fire?
Michelle: I just build the Girl Scout Log Cabin fire. Building it up into a square gives you a good base and burns really easily. Once you have the wood really going, you can spread them out. It's steadier and easier to add to.
KOA: You mentioned you just made chocolate lava cakes over a campfire. We've got to know how you did it—they sound amazing.
Michelle: Our Girl Scouts made them at camp, and they're so good. The girls each had an orange at lunch, cutting the top off and then using a spoon to eat it. While we were getting dinner ready, we put a chocolate cake mix in a Ziploc bag, added the eggs, water and oil and mixed it all together. When I was pulling our hamburgers and hot dogs off the grill, the girls got their oranges, cut a hole in the corner of the plastic bag with the cake mix, and filled the oranges. Then we took Hershey's miniature candy bars and smushed them down into the batter while it was still soft. After we put the "lid" back on top, we wrapped it in foil and pushed them into the coals. They baked while we ate, and we just started to smell this chocolaty goodness.
KOA: And they don't burn?
Michelle: Because you're cooking it inside of an orange, there's so much moisture and the delicious orange oil. They cook pretty quickly—like cupcakes—but even though the orange might be burnt on the bottom, the cake inside won't be.
KOA: What did the girls think?
Michelle: They couldn't believe that they could do it. When they took them out, it was this mix of chocolate and citrus—it was the bomb. And when my husband heard about them, he was mad that he didn't get to try them!
KOA: Where did you get the idea?

Michelle: We scour the internet and I have a ton of camping cookbooks. Even if I'm cooking at home and see a recipe, I'll think of a new way to try it. With these, I'd heard of doing muffins in an orange and I thought, "Well then why can't we do it with chocolate cake?"
KOA: And you also cook over a campfire at home? 

Michelle: Absolutely. My husband dug a pit in our backyard, and we just hang out around the fire. During the last blizzard, we dug out the snow, started a fire and roasted marshmallows. We were just fine—snug as a bug.