Make noodles the easy way with this adaptable ramen recipe that's perfect for camping.
Ingredients
2 packages ramen noodles
1/2 cup dried mushrooms, chopped
10 large raw shrimp, peeled and deveined
1/2 cup finely chopped onion
1/2 cup finely chopped green onion
Red pepper flakes, to taste
3 cups vegetable broth
2/3 cup teriyaki
3 Tbsp vegetable oil
Directions
Place one package of ramen in the center of two 18 inch squares of heavy duty aluminum foil.
Stack these ingredients on top of the noodles in this order: mushrooms, shrimp, onions, green onions and red pepper flakes.
Pull the sides and corners of the aluminum foil upwards to form a small basket, leaving an opening at the top to pour liquid.
In a bowl, combine vegetable broth, teriyaki and oil. Distribute liquid evenly between both packs. Press foil together, leaving a small opening to allow steam to excape.
Place on grill, campfire or in a 400 degrees F oven for 15-20 minutes or until noodles are soft. Serve immediately. Makes two servings.
Customize This Recipe By Changing the Ingredients
Meats: (choose one in place of shrimp) beef, pork, chicken, fish, etc.
Vegetables: peppers, broccoli, bokchoy, snowpeas, artichoke, tomatoes, etc.
Starch: (choose one in place of ramen) rice, potatoes, couscous, dumplings, etc.
Aromatic: (choose two in place of onions and green onions) garlic, scallions, celery, carrot, fennel, etc.
Seasoning: (get creative, anything goes) coriander, cilantro, basil, parsley, salt, lemon, etc.
Liquid: (feel free to use a heavy hand with liquids) soy sauce, chicken stock, steak marinade, Mirin, white/red wine, etc.
Note: substituting ingredients – especially starches – may require adjustments to cooking time.
Camping plate courtesy of Camp Casual.
---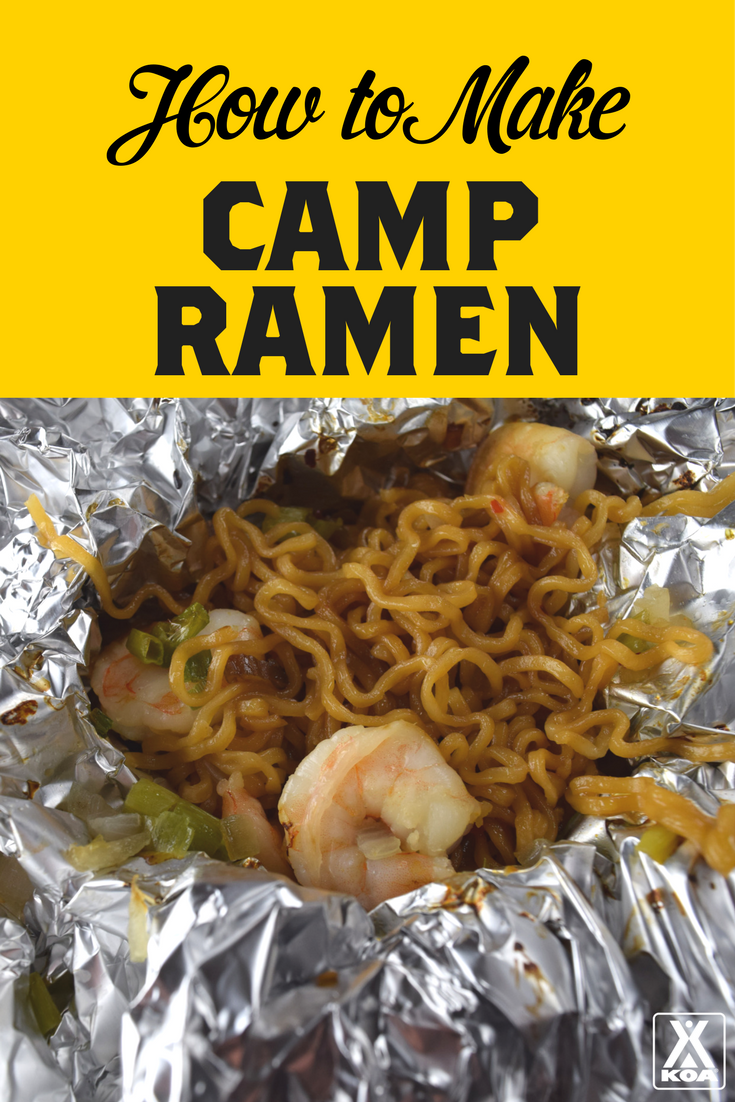 Save