Biker Friendly Camping Tips | Motorcycle-friendly Campgrounds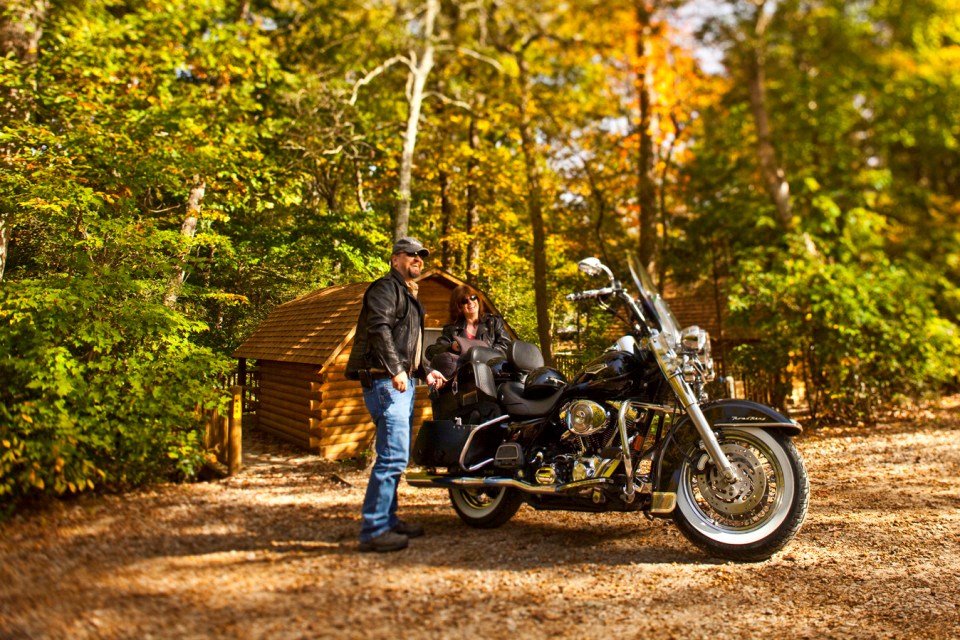 Tips for Motorcycle Camping
Whether you like weekend outdoor getaways or prefer planning grand interstate riding tours, packing the right equipment onto your motorcycle is a big part of enjoying biker-friendly camping. Motorcycle campers have a host of motivations for getting hooked on the back-to-nature experience. Whatever your personal reason for camping, the good news is you likely won't be the only one doing it from the saddle of a motorcycle.
Interestingly, loading up a motorbike with only the bare minimum of survival gear has been a popular vacation choice for riders over the years. The International Brotherhood of Motorcycle Campers is enjoying its 40th year in existence and serves as a great resource and social network for camping riders looking for the best scenic rides. In addition, there are many other online resources for information and reviews related to biker camping. Check out the National Parks Service, which is keen to give riders safety information as it pertains to the specific parks, roads and trails it oversees.
Consider these 3 types of preparation to help you get ready for your next two-wheeled camping excursion:
1. Bike Maintenance 
A motorcycle that's in top running condition is a pleasure to ride. Before you set off to enjoy your time away from home, be sure your bike is in excellent shape. And once you're on the road, regularly check things like tire pressure and headlights. Any mechanical issues that affect your connection to the road or visibility to other drivers should be dealt with as soon as they arise. You can find a helpful checklist here.

2. Essential Gear
Tents: Allstate Rider News offers and reviews from real riders, as well as information on how to camp efficiently as a rider. For example, in "Two-Wheeled Tent Camping," Joe Nettum reviews a new breed of inflatable tents. Though some riders will prefer the tried and true method of aluminum poles to prop up their tents, the NEMO company has come up with a tent that folds down to the size of a sleeping bag with internal support tubes that can be inflated from outside or inside the tent.
Whatever tent you decide to use, be sure it's well ventilated to avoid condensation buildup. Also include spare tent stakes, and if you decide on an inflatable model, pack a repair kit or even an extra inflation tube. To prolong the life of your camping equipment, bring a plastic drop cloth that fits fully under your tent. Like so many items you pack, plastic drop cloths also have a secondary use, such as covering other bags while traveling in inclement weather.
Sleeping Bags: Other than yourself, your sleeping bag is probably the most important thing to keep dry and clean on your camping trip. Wet sleeping bags can be a hassle in damp conditions and a real problem to dry out. For this reason, it's highly advisable to get a fiber filled nylon sleeping bag that dries quickly and is easy to keep clean.
Air Mattresses and Pads : Some hardcore campers will see an air mattress or sleeping pad as an unnecessary luxury. But if you suffer a lousy night's rest from sleeping on the hard ground and then have a full day of travel ahead of you, putting some padding between your sleeping bag and the earth under you might just seem like the brightest idea you ever had!

3. Packing
The decision to pack your camping equipment in soft bags or hard luggage bags is entirely a personal one. However, there are some pros and cons of each method to keep in mind: Soft bags are often cheaper to buy; can be stored empty inside each other; and with a good assortment of bungee cords you can easily pack them onto your bike. Hard bags are designed to keep your stuff dry; they can take a beating; and they're firmly affixed to your bike. According to Roadrunner Motorcycle Touring and Travel Magazine, if you already have hard saddlebags and a top case, you should consider packing them first. The drawbacks are that soft bags can get wet and shift around when you least want them to, and hard bags once detached leave mounting brackets exposed that many riders don't like.
Whichever method you choose, keep maps, rain gear, money and your camera in easily reachable pockets once you're packed. For soft bag users, keep these items in freezer bags that ensure waterproof protection.
Cliff Boswell, founder of the International Brotherhood of Motorcycle Campers (IBMC), sums up the spirit of motorcycle camping best. "In a world increasingly dominated by concrete, steel and glass, we keep our sense of perspective by getting up close and personal with wind, bugs, grass and trees."
This guest post comes from the editors of The Allstate Blog, which helps people prepare for the unpredictability of life.