The Best Weekend Getaways in Ohio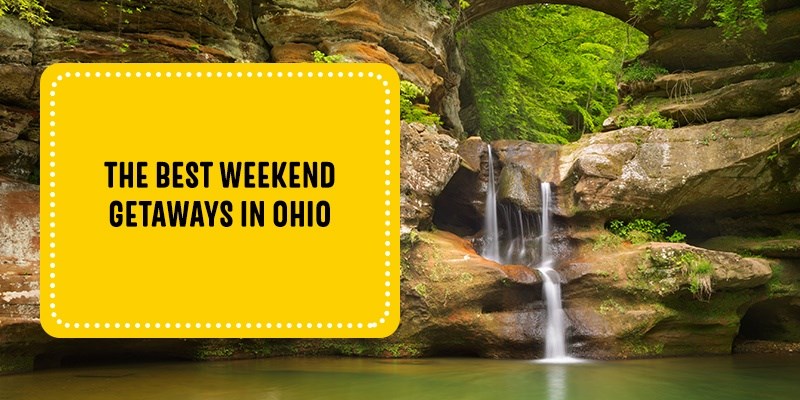 Ohio is a convenient Midwestern state for many vacationers to spend a relaxing weekend of shopping, sightseeing and recreation. Bordered by Lake Erie and the Ohio River and brimming with natural forests, you will have plenty to do outdoors on your visit to the Buckeye State.
Depending on your reason for traveling, you might want to check out family-oriented venues, watch local sports or even find a cozy, romantic niche to spend time with your significant other. Here are some ideas for fun weekend trips to Ohio.
The Best Family-Friendly Weekend Getaways
If you are traveling with kids, you are probably thinking about ways to keep them entertained and happy on your trip. Ohio has a variety of stops just for them. Check out these family-friendly places to explore.
1. The 16 Sided Barn in Freeport, Ohio
The stone and lumber used to build the original structure in the 1920s were taken directly from the farm's property, making it a fascinating lesson in historical agriculture. Inside this recently restored, 60-foot high barn is a grain silo. The friendly owners welcome visitors who are curious about pre-industrial farm life.
Kids will love walking into the big, red barn with its unique structure and exploring the Skullfork Covered Bridge outside. The bridge tunnels over a creek and overlooks a centuries-old trail leading into the forest. The 16 Sided Barn makes for a history lesson that little ones can see and experience.
2. The A & R Alpaca Farm in Circleville, Ohio
Located minutes from Deercreek State Park, A & R Alpaca Farm is a fun place for kids to meet and pet gentle farm alpacas. The knowledgeable owners sell their own Alpacas, board the animals for traveling farmers and offer breeding services locally. The farm is open to all visitors, even if you would rather look than buy, and will allow you to interact directly with the alpacas in their pens.
Get plenty of pictures of your kids playing with these amusing animals, but you might want to avoid mentioning that some of them are up for sale. Their soft fur and cute faces will quickly capture hearts.
3. Adventure Zone in Geneva-on-the-Lake, Ohio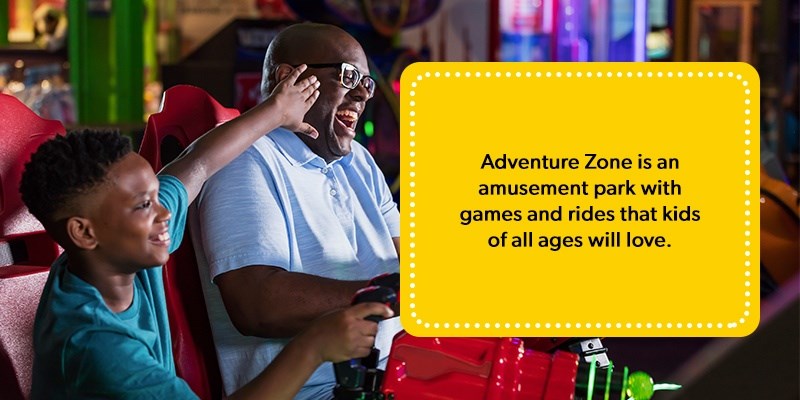 Adventure Zone is an amusement park with games and rides that kids of all ages will love. The park boasts light-hearted entertainment like an arcade, merry-go-round, goofy golf courses and batting cages. For your daring young ones and teenagers, find the attractions with more excitement, such as the Kid's Adventure Krawl, go-carts, bumper boats, climbing wall and bungee jumps.
When you get hungry, there is a snack bar loaded with treats. The birthday party deals also make this a promising destination for a weekend trip when it is your child's special day.
4. Akron Zoo in Akron, Ohio
The 35-acre Akron Zoo is home to more than 700 animals. Exhibits include numerous endangered species, with the Mike & Mary Stark Grizzly Ridge and Curious Creatures being a few of the most popular areas. The zoo also contains the Lehner Family Zoo Gardens, which have thousands of native plants from different regions for your kids to see.
There is a train to ride for easy transportation between sections of the zoo. Before you go, remember to check out the carousel featuring many kids' favorite exotic animals, and give them a chance to have a ride. Ohio has many zoos with great features, but this non-profit is one of the most visited.
5. Blue Sky Farms in Marysville, Ohio
If your family would enjoy picking farm-fresh blueberries, head over to Blue Sky Farms in the pastoral outskirts of Marysville. With five harvestable acres, you can find the ripest fruits. Get enough blueberries to bake into a pie, pancakes and pastries — or just to have as a healthy snack on your drive home.
Blueberry picking season runs from about July to August, but you can always check to see if the farm is open before you visit. The owners will also arrange appointments.
6. Jump & Jack's in West Chester, Ohio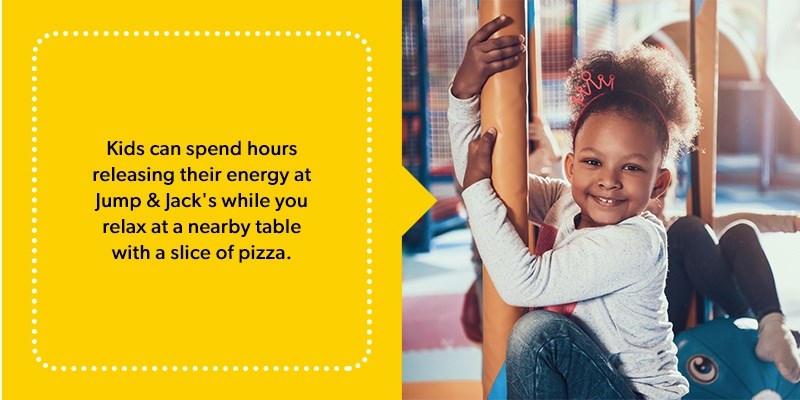 Sometimes a playground is all that it takes to keep kids ages 11 and under entertained, but what if it is raining, or the temperature outdoors is uncomfortable? Stop at the multi-level indoor playground to let your kids play on the inflatable slides and mingle in the play areas.
Kids can spend hours releasing their energy at Jump & Jack's while you relax at a nearby table with a slice of pizza. Jump & Jack's also has a location in Cincinnati.
7. The Center of Science and Industry (COSI) in Columbus, Ohio
This museum's highly creative interactive displays will get kids interested in hands-on learning about math and science. A few of the popular exhibits include the Big Science Park and the planetarium. The Atomic Café also serves themed food, like peanut butter and jelly sandwiches in the shape of pianos.
The Center of Science and Industry houses special events sometimes, so check the website for information. Buy tickets to attend one of the family-oriented venues that your kids will really appreciate, or stop by for a few hours of exploring.
8. King's Island Amusement and Water Park in Mason, Ohio
Named the largest amusement park in the Midwest, visiting King's Island is a must if you are staying close to Cincinnati or in a nearby town. With all kinds of rides for children and exciting roller coasters for the big kids, this park has a little bit of everything.
King's Island includes the Soak City Water Park, which is equipped with water slides, wave pools and lazy rivers. The stationed lifeguards and other staff make sure everyone has a fun, safe time. King's Island also partners with local and chain restaurants, so your kids will have plenty of food stops to choose from as you explore the park. Grab some snow cones as a special treat for your family, and go shopping for toys at the boutiques and gift shops.
The Best Weekend Getaways for Sports Lovers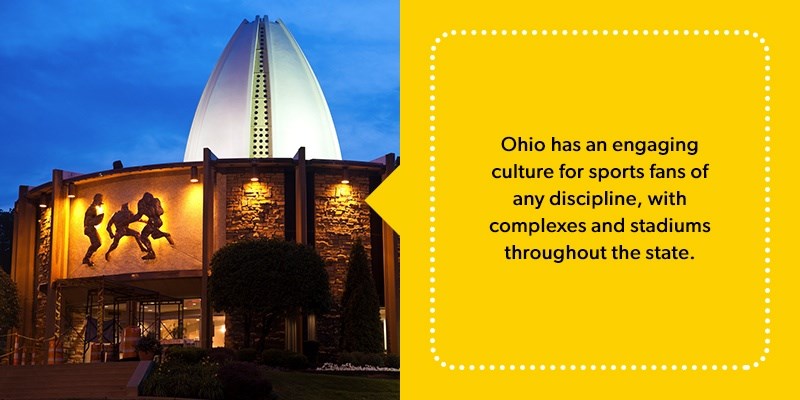 Ohio has an engaging culture for sports fans of any discipline, with complexes and stadiums throughout the state. Keep reading to get some ideas for weekend trips to Ohio that will fulfill your passion for your favorite sports.
9. Game On! Sports Complex in Cincinnati, Ohio
Want to get in some exercise while you participate in your varied interests? The Game On! Sports Complex has a variety of ball courts — everything from designated areas to play basketball to volleyball. There is also a dance studio and a gym with punching bags, aerobic equipment and a fully-stocked weight room.
If you are waiting on your traveling partner to finish getting a workout in, go to the lounge area that overlooks the soccer field. You can relax with access to the Wi-Fi and television for a while while you are taking a break.
10. The Pro Football Hall of Fame in Canton, Ohio
One question that people commonly have about the Hall of Fame is why its location is in Canton. The National Football League, which was originally called the American Professional Football Association, was founded in Canton. The Canton Bulldogs were the first champion team of the NFL for two consecutive years.
This museum and exhibit hall has a rich history to share with curious fans. Each year, the best players in football are honored in the Hall of Fame. Come find the most admired and talented names in the sport's American history.
11. The Great American Ball Park in Cincinnati, Ohio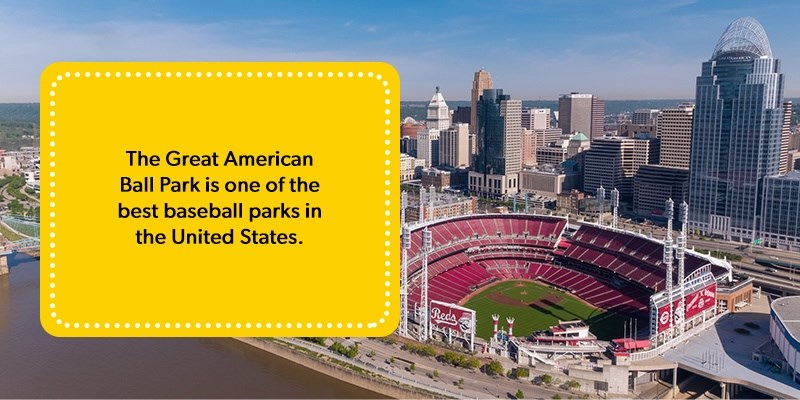 Whether you are rooting for the Cincinnati Reds or the opposing team, the Great American Ball Park is one of the best baseball parks in the United States to watch a game. Additional features include non-gameday events, a family zone and even a museum dedicated to the Reds. Come experience America's old pastime while you are in Ohio, and grab some food from the snack stand if you get hungry.
12. The Ohio State University Ice Rink in Columbus, Ohio
The Ohio State University ice rink was renovated to meet the NHL's standards as a hockey stadium fairly recently. It has full capacity seating and hosts the Ohio State Buckeyes women's hockey team. Come watch a game, or stop by when the rink is open for some ice skating practice.
13. SportsPlex in Fairborn, Ohio
SportsPlex hosts Dayton's top indoor soccer complex, and you or your kids can participate in the open field sessions. Your family and friends can play here for a drop-in game of soccer by renting a field. Have a good time playing a mock game or getting some practice drills in. The field will be open even in heavy rain or cold weather.
14. Top Flight Fishing in Grand River, Ohio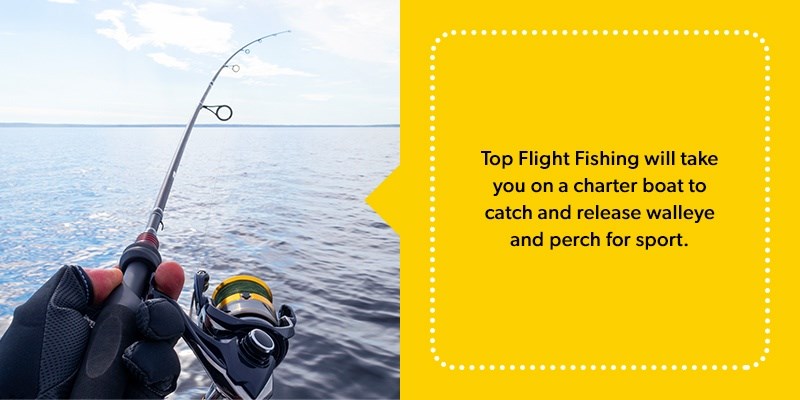 If angling your sport of choice, come visit the freshwater fishing culture around Lake Erie. Top Flight Fishing will take you on a charter boat to catch and release walleye and perch for sport. You can also save your fish to eat, and one large fresh-caught perch is enough for a satisfying meal. Just coat the fish in butter and herbs and coal-grill it.
The staff will make sure all anglers follow regulations that keep Lake Erie's fish populations high. They will also help beginners get started. A day out on the water with fellow anglers makes Grand River a relaxing place to visit.
15. Bruce Lee Legends of Martial Arts Hall of Fame in Columbus, Ohio
Although taking a day trip to a martial arts studio is generally out of the question, if you are a fan of kung fu, you can find an unusual museum dedicated to Bruce Lee in Columbus. The Bruce Lee Legends collection is owned and operated by Joon Choi, a martial arts instructor who has taught in Ohio for many years. Among the movie memorabilia, you will see some rare and one-of-a-kind items.
16. Lincoln Tower Park Soccer Field in Columbus, Ohio
Do you have a love for soccer or just a curiosity about the design of the field? Head over to Lincoln Park at the Ohio State University to play on the professional quality soccer field, as long as a team practice is not going on. The university has a number of fields where amateurs can freely explore and play.
This is the best place in Columbus to bring your cleats and your own soccer ball. Practice kicking some goals on the turf with your family or friends, or observe a college practice.
17. Lindner Family Tennis Center in Mason, Ohio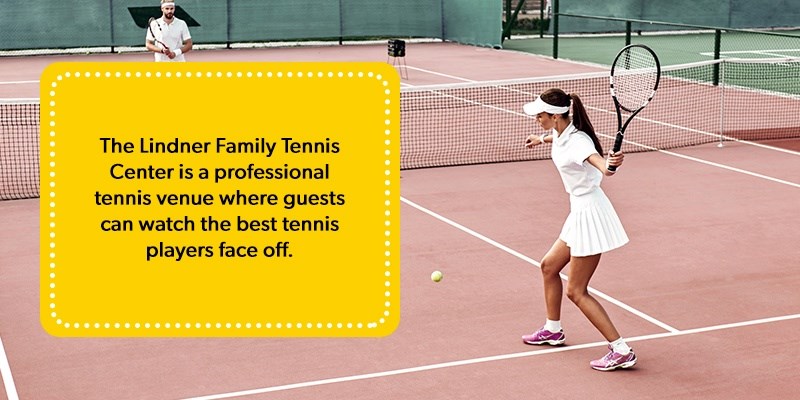 Want to watch a championship tennis match on your vacation? The Lindner Family Tennis Center is a professional tennis venue where guests can watch the best tennis players face off. Check the scheduled events for both men's and women's matches, and sit in the stadium seating eating snacks among the audience. Cheer for your favorite players down on the colorful field below.
The Best Romantic Weekend Getaways in Ohio
Are you traveling with your partner for your anniversary or just to get away and be alone for a while? Ohio has many great locations for quiet sightseeing activities and more crowded entertainment outings. You have plenty of options, depending on what you are looking for. Read more below about fun weekend getaways in Ohio for couples.
18. Hocking Hills State Park in Hocking County, Ohio
The expansive Hocking Hills State Park has more than enough dreamlike scenery to set a romantic mood. The park's six hiking areas feature winding trails through the woods where you will discover natural caves and waterfalls. Spend a day hiking with your partner on one of the longer trails and see popular areas like Old Man's Cave, the largest cave in the park.
The park is beautiful on any route you take. Ash Falls is one of several waterfalls where couples enjoy taking photos near the cliffs. Pack a lunch for two and eat under the open sky at one of the designated picnic areas, but make sure you properly dispose of any leftovers or litter.
19. The German Village in Columbus, Ohio
For a slice of German culture in the Midwest, visit this neighborhood in Columbus with your partner to view the authentic European architecture and try some delicious cuisine. The local restaurants serve dishes like schnitzel, German sausage and cream puffs. You can also take a walk in Schiller Park, named for the poet Friedrich Schiller.
You might be lucky to visit during one of the annual events like the Haus und Garten Tour or German Village Oktoberfest. Before you go, find a few imported souvenirs in shops like the Red Stable German Village Souvenirs & Gifts.
20. Lake Erie Canopy Tours in Geneva-on-the-Lake, Ohio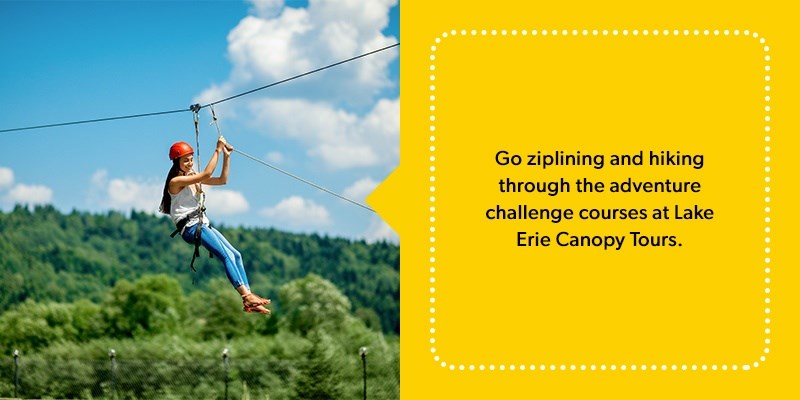 For an exciting outing in the wooded area around the lake, go ziplining and hiking through the adventure challenge courses at Lake Erie Canopy Tours. With sky bridges that are several stories above the ground and impressive lake panoramas, the supervised activities here are great for couples who live for active recreation.
Go on the adventure ropes while wearing safety harnesses and cross Lake Erie attached to a zipline. You and your partner will feel like you are flying as you glide to the other side of the cable.
21. The Rock and Roll Hall of Fame in Cleveland, Ohio
Is rock and roll a favorite genre? Take a self-guided tour through the Rock and Roll Hall of Fame with your music-loving sweetheart. Here you will see the biggest names in the history of rock and roll on the walls — like The Beatles, The Rolling Stones, David Bowie, the Supremes, Michael Jackson and so many others.
With the museum's special exhibits and displayed music collections, you will have plenty of chances for snapshots. Even the building is something to behold with its unique pyramid shape and the rows of displayed artistic guitars. After learning more about famous musicians, head to the ROCK sculpture outside, which makes a good place to take pictures.
22. Eden Park in Cincinnati, Ohio
Visit this large but secluded park near the Mount Adams neighborhood, and you will feel like you are walking through an oasis in the heart of a big city. Eden Park sits on about 186 acres, with footpaths arranged through the magnolias, sculpture gardens and tall groves that are especially beautiful in full bloom. Take your partner here for a quiet stroll for some beautiful views of the city's art.
The park's attractions include the Krohn Conservatory, Cincinnati Art Museum and Cincinnati Playhouse in the Park. A visit to Eden when the weather is nice is the perfect way to end a busy weekend of exploring Cincinnati together. Step out of the big city to get a little fresh air with your partner.
23. Gervasi Vineyard in Canton, Ohio
What better romantic escape than a free tour of the Gervasi Vineyard, where you can taste local wine with your partner? Visitors are allowed to explore the scenic grounds. You will see Tuscan-inspired villas and a charming farmhouse among the grapevines. Visit for the wine and stay to take in the views.
After your tour ends in the perfect romantic atmosphere, stop to eat at a nearby restaurant or stay in The Crush House for pasta, soup, salad and more wine. You can also order your favorite wine from the vineyard at Gervasi's Italian Bistro, along with upscale Italian cuisine that will leave you feeling pampered.
24. The Levee House in Marietta, Ohio
Visit historic Marietta to see the only surviving original riverfront structure among the modern buildings, where delicious American fare is served. Dine outside on the patio with the Ohio River in the background, or enjoy the cozy atmosphere indoors. The food is chef-prepared and reasonably priced, making this an affordable weekend getaway in Ohio that you will be happy you experienced as a couple.
25. Amish Restaurants in Berlin, Ohio
If you will be touring Amish Country, where life runs a little more slowly and carefully, you will regularly spot horses pulling buggies and hear what we Englishers call Pennsylvania Dutch. If you go to Berlin or one of the other locations in Ohio where Amish communities are flourishing, get away with your partner for a private dining experience.
Sit down for a nice, homecooked meal at one of Berlin's Amish restaurants to enjoy the best of the culture. On the menus, you will find mashed potatoes, fried chicken, corn on the cob and other favorite dishes of the prairie. Enjoy the simple life with a taste of the Amish dressing and a slice of pie baked from scratch.
Book Your Weekend Getaway With Kampgrounds of America Today
Going on a weekend trip to Ohio? Consider staying at one of the many KOA locations while you spend time in the Buckeye State. Our campgrounds offer a variety of accommodations, including Tent Sites, RV Sites and Camping Cabins.
View KOA locations in Ohio to find your perfect match, and book your stay now. You can reserve a site today to stay in the great outdoors on your weekend trip. Fill out the form online to book a site, or call the phone number at a specific location.
---
About the Author: Kampgrounds of America
Kampgrounds of America is the largest system of open-to-the-public campgrounds in the world, with over 500 locations across the United States and Canada. Founded in Billings, MT in 1962, KOA's family of campground brands – KOA Journey, KOA Holiday and KOA Resort – today serve more than a million camping families each year. KOA is dedicated to "connecting people to the outdoors and each other" by providing people with a variety of camping experiences and the information they need to make the most of their camping trip. Read more of their camping and travel resources by visiting KOA.com/blog.
---