A favorite appetizer takes on an Asian flair in this grilled wing recipe.
Recipe contributor and barbecue master, Ken Hess, shows us a delicious way to make grilled wings. Want to add you own favorite flavor? Use your favorite sauce or rub prior to grilling.
Sticky Asian Wings
Ingredients
3 lbs chiken wings, skin on
4 Tbsp sesame oil, divided
2 Tbsp fresh ginger, minced
2 Tbsp fresh garlic, minced
3 Tbsp soy sauce
2 Tbsp sambal oelek
2 Tbsp rice vinegar
1/4 cup chicken stock
6 Tbsp honey
2 Tbsp Asian rub (such as Dizzy Pig's Tsunami Spin or make as listed below)
Directions
In a small saucepan over medium heat, heat 2 tablespoons of sesame oil. Add ginger and garlic, saute until aromatic.
Add soy sauce, sambal oelek, rice vinegar, chicken stock and honey. Reduce until thickened and syrupy.
Heat grill to 400 degree. Toss wings in 2 tablespoons of sesame oil and 2 tablespoons of Asian rub before grilling for approximately 20 minutes.
Brush wings liberally with glaze and cook an addition 5 minutes to caramelize. Remove from grill and garnish with chopped peanuts and green onions before serving.
Extra Tip: Make your own Asian run by combining 2 tsp onion powder, 2 tsp garlic powder, 2 tsp black pepper, 1 tsp ground ginger, 1 tsp red pepper flakes and 1 tsp sugar.
---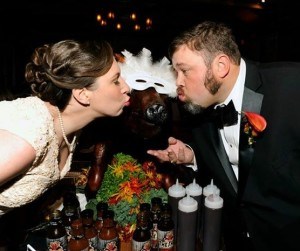 Ken and Jessica Hess are traveling the country to share their love of all things barbecue with the world. From Alabama, Ken is associate pitmaster at Big Bob Gibson BBQ and a seasoned barbecue competitor. Amassing many titles and trophies, Ken has won the World Championship of Pork four times.
---