The Ultimate Alaska Travel Guide
When you think of Alaska, you might imagine rugged icescapes, towering glaciers, snowy mountains and an abundance of wildlife. While these are certainly true of the Last Frontier, the state is also full of a variety of unique and exhilarating experiences you cannot find anywhere else.
Here is everything you need to know about planning the ultimate trip to Alaska.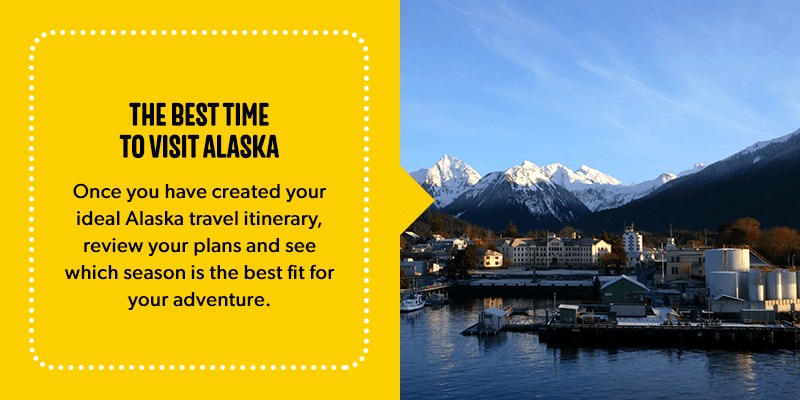 The Best Time to Visit Alaska
The best time of year to visit Alaska depends on what types of recreational activities you want to participate in, what sights you want to see and what kind of outdoor experience you want to have. Each season has something to offer visitors:
Winter: Winter in Alaska means snow, frigid temperatures and, depending on where you are at, spectacular views of the northern lights. It is a great time to take a guided tour of the landscape or try your hand at snowshoeing and skiing. The winter season lasts from November through March. If you visit during these months, plan to stay somewhere indoors with reliable access to heat, unless you have extensive experience camping outdoors in extreme temperatures.
Spring: April ushers in springtime in Alaska, and it sticks around until summer temperatures warm up around the end of May. Ice begins to thaw, and days grow longer, painting a beautiful combination of ice and spring blooms. Keep in mind that temperatures can still be very cold during the spring, so plan and pack accordingly.
Summer: Summer is peak tourism season in Alaska, due to the warmer temperatures and abundance of outdoor recreation opportunities. From May through mid-September, people flock to the Last Frontier to hike and enjoy the sights. It is also the best time to go fishing for ever-popular king salmon and halibut. Expect comfortable daily temperatures between 60 and 80 degrees, as well as long, sunshine-filled days.
Autumn: Autumn is a quiet season in Alaska, and locals refer to it as the "shoulder season" due to the minimal crowds. Those who visit during the fall are met with sweeping views of autumnal trees and snow-covered mountains — a sight definitely worth seeing.
Once you have created your ideal Alaska travel itinerary, review your plans and see which season is the best fit for your adventure. For example, if your goal is to visit Alaska for fishing trips and trail hiking, summer is the perfect time to go. If you dream of seeing the aurora borealis and love the idea of waking up to sparkling snowfall, plan a winter excursion. Those traveling with a tighter budget or who crave a quiet experience will likely enjoy autumn the most, while spring is best suited for sightseers who do not want to choose between summer and winter scenery.
Best Places to Visit in Alaska
Alaska is a diverse state, making it perfect for tourists of all types — solo travelers, vacationing families and friends looking for a unique travel experience. Choose from family-friendly activities in one of the state's popular tourist regions, or pack your schedule full of scenic experiences. Alaska is also home to several fun-filled cities that provide plenty of dining and cultural opportunities.
No matter what you are interested in, you will find it in Alaska. Here are some of the best places to visit on your next vacation.
Best Vacation Spots in Alaska for Families
Alaska is divided into several different regions. Because of their climates and family-friendly offerings, the southcentral, southwest, inside passage and interior regions of the state are ideal for family vacations.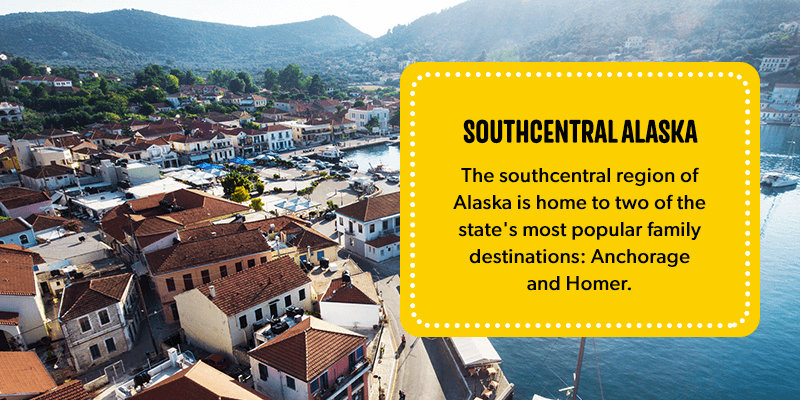 Southcentral Alaska
The southcentral region of Alaska is home to two of the state's most popular family destinations: Anchorage and Homer. Each one is filled with museums, restaurants and learning opportunities for the whole family:
Anchorage: City life and outdoor adventure — who says you need to choose between them? A visit to Anchorage will show that you do not have to spend the day hiking to encounter some of the state's wildlife. Kids will love petting reindeer on a guided tour at the local Reindeer Farm. You can also spend the day at the Alaska Zoo, which has exhibits featuring polar bears, tigers, wolves, snow leopards and much more. Witness the region's natural habitat at the Alaska Botanical Garden, which is full of vibrant flower gardens, outdoor classrooms and walking trails.
Homer: A few hours south of Anchorage is Homer, a small city near Kachemak Bay. Here, you and your family can learn more about aquatic wildlife at the Islands and Ocean Visitor Center, or connect with nature at the Center for Alaskan Coastal Studies. Before you head to out on your adventures, fuel up with local produce and goods at the Homer Farmer's Market.

Southwest Alaska
Kodiak is a great family-friendly city in southwest Alaska, largely because it is home to the largest fishing port in the state. Charter a local fishing boat for a deep-sea catch, or pack a picnic and head to a comfortable roadside fishing spot.
In addition to plenty of fishing opportunities, you can also:

Inside Passage Alaska
The Inside Passage is a coastal part of Alaska whose islands have been shaped by enormous glaciers over the course of thousands of years. It is here you will find Juneau — Alaska's capital city — and Skagway, a small city inside Klondike Goldrush National Historic Park:
Juneau: With snowcapped mountains and beautiful coastline along with thriving arts, dining and cultural scenes, you could spend an entire vacation in Juneau and find something new to do every day. Head to the slopes for ski lessons, or spend the day learning about the area's rich mining history at Last Chance Mining Museum. Downtown Juneau consists of several different areas, including waterfront docks, historic sites and tours, local shops, restaurants and day hikes. Juneau is also home to the Alaska State Museum, which has changing exhibits on everything from historical movements to weaving and sculpture art.
Skagway: Skagway is a tiny town located at the top of the Inside Passage, but it is packed full of family-friendly fun. Small shops, boardwalks and restaurants dot the streets, set against a natural backdrop of snow-capped mountains and lush hillside. Explore Klondike Gold Rush National Historical Park, or hike to nearby Smuggler's Cove for a gorgeous view of the area. You can also take a train or tram ride through the surrounding area for a one-of-a-kind view of the region.

Interior Alaska
Fairbanks, found in the interior region of Alaska, is one of the state's bigger cities — and one of its most beloved. Whether it is the city's love of ice or the proximity to the aurora borealis, something about Fairbanks feels distinctly Alaskan.
See for yourself when you:
Best Scenic Places to Visit in Alaska
National parks, wildlife preserves and coastal islands provide endless opportunities for scenic exploration in Alaska.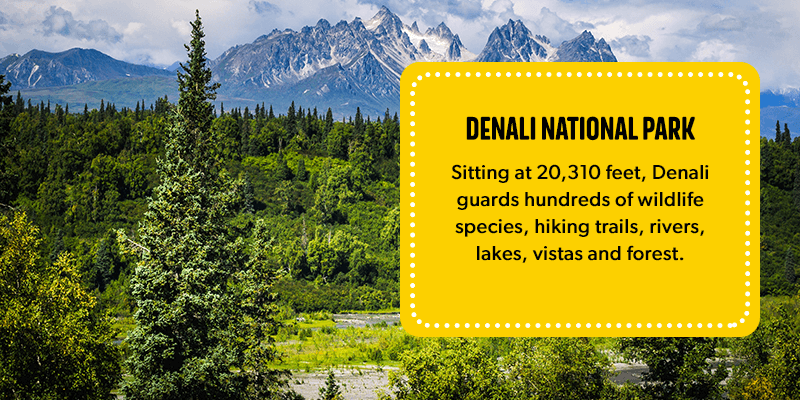 1. Denali National Park
Denali National Park is where you will find Denali — formerly known as Mount McKinley. It is North America's tallest peak and is a part of the Alaska Range, the 600-mile arc of mountains that borders Alaska and Canada. Sitting at 20,310 feet, Denali guards hundreds of wildlife species, hiking trails, rivers, lakes, vistas and forest. Before you explore the park, stop by the Visitor's Center and pick up a Denali Discovery Pack for the kids. These packs are free to check out for the day. Inside are activity guides for the park, a discovery journal, modeling clay, a water specimen jar, a wolf track mold and casting compound, binoculars and other tools to help your little one feel like an explorer.
As you journey through the park, keep an eye out for wildlife, including the big five:
Moose
Caribou
Dall sheep
Wolves
Grizzly bears
If you want to experience the park by bus, use the Savage River Shuttle to enjoy a relaxing view from your window as you make your way to one of the most popular areas of the park.
2. Kenai Fjords National Park
Kenai Fjords National Park lies at the edge of the Kenai Peninsula and is considered "the place where mountains, ice and oceans meet." This is more than a catchy slogan — it refers to the nearly 40 glaciers that flow into the park's Harding Icefield and collide with blooming wildflowers and mountainside.
Highlights of Kenai Fjords include:
If you are traveling with children, grab an Art for Parks backpack so they can paint and draw the scenes they encounter along the way.

3. Kodiak National Wildlife Refuge
If you are looking for a place where you can enjoy untouched nature, miles away from the noise of cities or industry, look no further than the Kodiak National Wildlife Refuge. It is 1.9 million acres of preserved wildlife habitats, spruce forest, dense thickets, wetlands, grasslands and tundra. No matter where you are in the refuge, you are never more than 15 miles away from the ocean, and the park is not accessible via road system. This means you can explore and enjoy the sights and sounds of the wilderness with no interference.
The refuge is the homeland of the Alutiiq people, who are responsible for the current co-existence of humans and bears that have made the park famous. More than 3,000 bears live here, as well as hundreds of breeding bald eagles and fish. Animal lovers and outdoor enthusiasts love it here, as do fishers, thanks to the several lakes and more than 100 salmon streams that support all five types of Pacific salmon.
4. The Alaska Highway
If your legs are tired after a trip filled with hiking national parks and glaciers, take a load off with a scenic drive on the Alaska Highway. The Alaska Highway is a nearly 1,400-mile journey that begins in Dawson Creek, British Columbia, travels through the Yukon and brings you to rest in Delta Junction, Alaska. If you are driving to Alaska through Canada, this is likely the road you will take.
Unlike many road trips, you will not find many billboards, stores or other signs of development along the way. Instead, you will get to see the sights of the Alaskan frontier, like mountains, dense forests and wildlife. For this reason, always plan ahead before driving the Alaska Highway — you never know how far the next restaurant or gas station might be.
5. Pack Creek Bear Viewing Area
Just a short trip from Juneau is Admiralty Island National Monument, which the native Tlingít people know as "Kootznoowoo," or "a fortress of bears." It is here that you will find Pack Creek Bear Viewing Area, a hotspot for pink salmon, and, as a result, the best place to see Alaskan brown bears. In addition to bears, expect to see other wildlife, too. Admiralty Island is home to the highest known concentration of bald eagle nests in the world.
To keep the island safe for both the bears and tourists, there are strict guidelines that you must follow. For example, you need a permit to visit the viewing area during the peak season, and once you have your permit, the number of visitors allowed per day is kept to a minimum.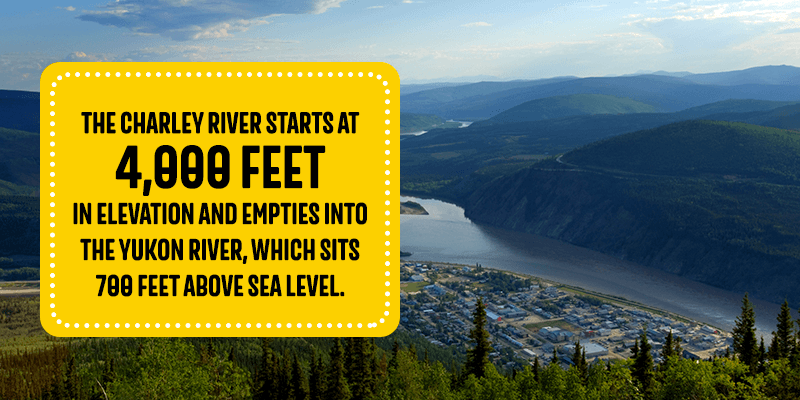 6. Yukon-Charley Rivers
Experienced rafters and history buffs cannot miss this interior Alaska experience. The Charley River starts at 4,000 feet in elevation and empties into the Yukon River, which sits 700 feet above sea level. This results in a current that moves boaters or rafters an average of four to six miles per hour. Along the way, enjoy ultimate solitude and untouched natural land, including remnants of the historic Gold Rush era.
Exploring the rivers and surrounding lands is a truly primitive experience, so make sure you check the weather and pack plenty of supplies — including food, water, thermal layers and mosquito repellant — to last you the duration of your trip.
7. Kobuk Valley National Park
Kobuk Valley National Park is unlike any other park in Alaska. Instead of chilled mountainsides and deep forests, Kobuk Valley National Park is full of towering sand dunes, herds of caribou and unique plants that you will not find anywhere else:
Sand dunes: Many who travel to Alaska are surprised to learn that inside the Arctic region are miles upon miles of golden, 100-foot tall sand dunes. The region surrounding these dunes even gets hot in the summer, sometimes reaching as high as 100 degrees. Vegetation is sparse here, but it is home to the rare purple locoweed. The locoweed only grows during June and July among the dunes of Kobuk Valley National Park.
Onion Portage: Along the eastern boundary of the park is the Kobuk River, which creates a narrow peninsula known as Onion Portage. Here, wild onions grow thick along the banks of the water.
Caribou: Twice a year, half a million wild caribou migrate through Kobuk Valley National Park, trekking through the dunes, drinking from the Kobuk River and leaving imprints of their tracks in the sand behind them.

Popular Cities to Visit in Alaska
Alaska may be known for its rugged landscapes and wintertime recreation, but you would be remiss to forego a chance to visit one of the state's urban destinations. Each city in Alaska has an entirely unique flavor, and they are an essential part of the Alaska experience.
Here are some of the most popular cities to visit in Alaska.
1. Anchorage
If your ideal vacation includes relaxing spas, cultural festivities, shopping and dining, Anchorage has you covered. Enjoy outdoor recreation without sacrificing comfort and luxury. In addition to all the amenities that make Anchorage wonderful, you still have easy access to things like dog sledding, motorcycle rentals, horseback lessons, flightseeing tours, day cruises, fishing charters, railroad excursions and so much more.
From mid-May through mid-September, watch live entertainment as you enjoy local handmade foods and gifts at the Anchorage Market and Festival, a popular family-friendly activity in the city. If you are an avid angler, plan to visit Anchorage during the annual Salmon Derby, a king salmon fishing competition that brings thousands of visitors to the area each summer.
2. Juneau
As Alaska's capital city, you can expect to find plenty to do in Juneau. The city is a great basecamp for popular tourist attractions, including viewing nearby Mendenhall Glacier and Tracy Arm Fjord. While there is plenty to do in the way of outdoor recreation, Juneau also boasts plenty of urban entertainment, including:
Several locally-owned breweries and distilleries, serving up craft beverages that utilize local Alaskan flavors
Multiple music festivals, including the Alaska Folk Festival and Juneau Jazz and Classics Festival
Local museums and walking tours that highlight the city's roots, including the Gold Rush
Numerous restaurants, mom-and-pop shops and art galleries to enjoy in historic downtown
3. Homer
Located near Kachemak Bay State Park and just a short drive from Kenai Fjords National Park, Homer is an excellent place to go if you want to visit multiple outdoor destinations in a single trip. This small city is on the tip of the Kenai Peninsula, making it a top fishing destination as well. The Homer Spit, a four-and-a-half mile strip that extends into the peninsula, is a popular stop for hiking, biking, dining and shopping. The Homer Farmer's Market is an enormous undertaking that attracts visitors every summer. It is the best place to go if you want to sample Alaskan produce, locally caught fish or buy a handcrafted souvenir before heading back home.
If you are not visiting in time to catch the farmer's market, the annual Winter Carnival includes parades, live music and street vendors.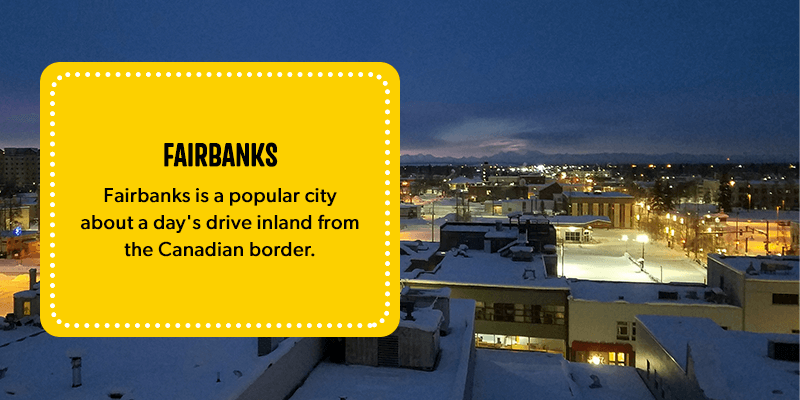 4. Fairbanks
Fairbanks is a popular city about a day's drive inland from the Canadian border. The city is loved for its eclectic sense of culture, including festivals that celebrate native heritage. Two such festivals include the Festival of Native Arts — an event featuring native Alaskan dances, artwork and history — as well as the World Eskimo-Indian Olympics, a challenging competition that grew from early residents' need to perfect their survival skills. Fairbanks is also a culinary hotspot in Alaska, thanks to its many influences, from international cuisine and traditional Alaskan fare to food trucks, cafes and more.
The city sits at 65-degrees north latitude, too, meaning it is the place to go to see the northern lights and the midnight sun. To catch the northern lights, visit Fairbanks during Aurora Season, which lasts from August 21 through April 21. April 22 through August 20 is Midnight Sun Season, when the sun never seems to set.
5. Ketchikan
Ketchikan is a thriving and artsy city that resides at the southernmost entrance to the Inside Passage. It is a hub for salmon fishing, sightseeing and vibrant cultural experiences. With regular public events held all year long, Ketchikan is the very definition of a community-minded town. During the winter, the city puts on a monthly variety show called The Monthly Grind, which features local entertainers and free entry if you bring a shareable dessert. The arts scene here is booming, thanks to the locals' constant effort to continue the traditions they have inherited. This is evident in the locally made film "The Artists," an Emmy-nominated production that showcases the creative side of the community.
In between community events and fishing trips, make time to see the local totem poles. You can spot them around local totem parks, throughout the town and at the Totem Heritage Center.
Unique Things to Do in Alaska With Family
In Alaska, there are thousands of sights to see, activities to enjoy and areas to explore. Whether you are traveling alone or with loved ones, the Last Frontier leaves no room for boredom.
These are some of the best Alaska experiences to include on your next vacation.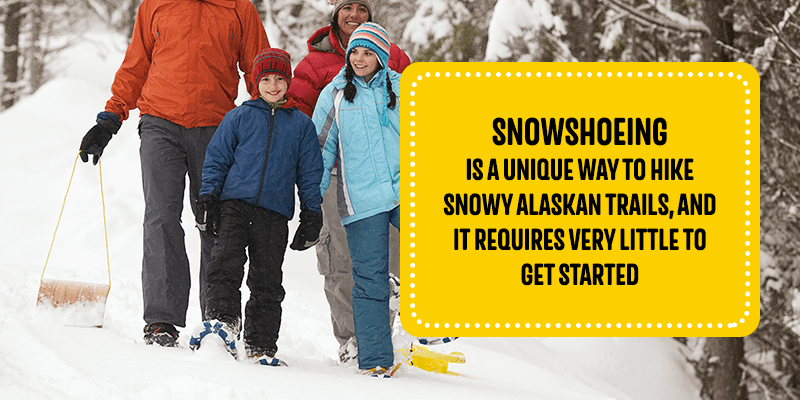 1. Embrace the Outdoors on a Guided Nature Tour
In Alaska, there is no "right way" to experience the outdoors. Whether you feel at home hiking steep mountainsides or you prefer to enjoy the sights from the comfort of a boat, you have several options available to you.
For example, you can go:
Boating: No matter where you are in Alaska, you are almost always within reach of a body of water, whether it is a lake, a river or the ocean. Consider chartering a boat or renting a kayak for a unique, on-the-water perspective of the state. There are different boat charters available depending on your goal — for example, anglers can look for a guided fishing charter, while sightseers can look for glacier-viewing expeditions.
Snowshoeing: Snowshoeing is a unique way to hike snowy Alaskan trails, and it requires very little to get started. Look for snowshoe gear at an outdoor store, and take lessons from a local company if you want to learn more about the sport.
Whale watching: Take a whale watching tour in Alaska and witness orcas, humpback whales, beluga whales and gray whales in their natural habitat. Remember, different types of whales live in different parts of the ocean. If you are searching for a specific species of whale, consult with local whale watching guides before booking your trip.
2. Go Flightseeing
Flightseeing refers to tours you take via small airplanes or helicopters, and it is one of the best ways to get a complete view of Alaska terrain and wildlife. Just like boat charters, there are different types of flightseeing tours to suit every interest. Fly around the mountain peaks of Denali or get a one-of-a-kind view of the Alaskan glaciers. Some flightseeing tours even incorporate scheduled landings on top of glaciers or near other remote points of interest that are otherwise inaccessible.
Remember to bring along a camera and an extra memory card, so you can relive the stunning views long after your trip has ended.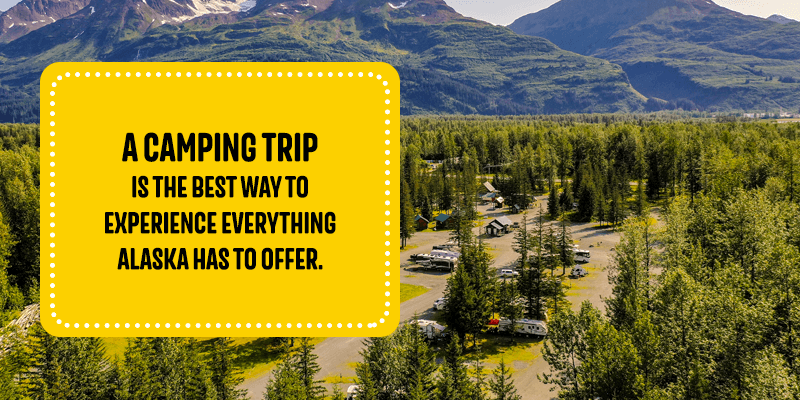 3. Make It a Camping Trip
Can you imagine anything more peaceful than waking up to the crisp chill of a bright Alaska morning? A camping trip is the best way to experience everything Alaska has to offer. Instead of looking at nature from the window of a hotel, you get to be a part of it instead. Campgrounds are some of the best places to stay in Alaska because they allow you to hear the sounds of nature around you and to make friends with fellow outdoor enthusiasts. Many places, like Kampgrounds of America, even offer on-site recreation and amenities that enhance your stay.
Look for a clean, safe campground that offers easy access to hot water and knowledgeable staff who can answer any questions you have about the area around you.
4. Go on a Fishing Excursion
With more than 40,000 miles of coastline — not to mention the hundreds of lakes and rivers scattered across the landscape — Alaska is one of the top fishing destinations in the United States. Charter a fishing cruise with an experienced Alaskan angler, or try your hand at shore fishing from one of the state's port towns and fishing communities. Depending on where you go, you can catch:
Pacific halibut
Salmon
Rockfish
Rainbow trout
Lingcod
King crab
May through September is the prime fishing season because the water is usually warm enough to prevent freezing, and many fish populations are breeding. Just be sure that you are always fishing within state and federal regulations and that you have a copy of your fishing license with you at all times.
5. Cheer on the Sled Dogs at the Iditarod Race
The Iditarod Race is a historic dog sledding competition that has been an integral part of Alaska's history for generations. Feel the excitement as you watch sled dogs and their dedicated mushers race their way across snow and ice and through forests and rivers, traveling from Anchorage to Nome. The race lasts more than a week, and it is a great way to learn more about Alaskan history and customs. During this time, there are several sled-dog related demonstrations and educational opportunities for those who want to gain a better understanding of this uniquely Alaskan tradition.
6. Attend the Alaska State Fair
The Alaska State Fair typically takes place in late summer in Palmer, Alaska, and it draws in crowds of both locals and visitors each year. It is one of the best things to do in Alaska with kids, who will love seeing livestock exhibits, riding rides, sampling different fair foods and enjoying live concerts.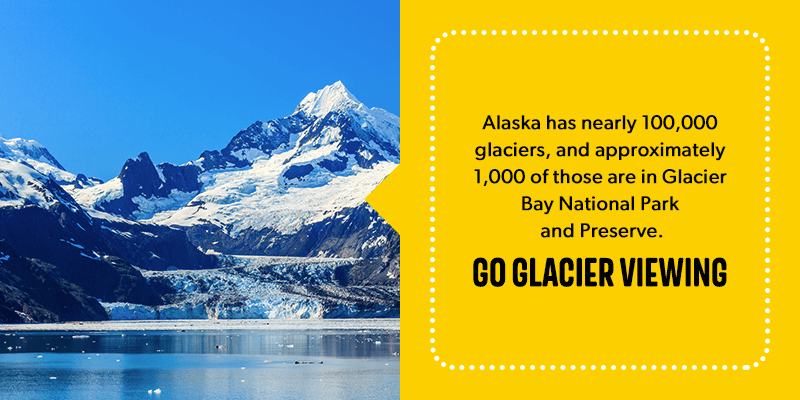 7. Go Glacier Viewing
As fresh snow falls on top of old snow, it eventually compacts into the solid ice structures known as glaciers. Those who have seen a glacier often describe them as blue-ish in color, and that is because the blue wavelength of light is the only one that reflects off the dense ice. Alaska has nearly 100,000 glaciers, and approximately 1,000 of those are in Glacier Bay National Park and Preserve.
Other top glacier destinations in Alaska include:
Mendenhall Glacier near Juneau
Exit Glacier in Kenai Fjords National Park
Twin Sawyer Glaciers in Tracy Arm
Prince William Sound
8. Engage in the Culture
One reason so many people visit Alaska each year is its rich cultural traditions. One of the best ways to experience those traditions is through food.
Examples of authentic Alaskan cuisine include:
Seafood: Alaska is a great place to get salmon, halibut, cod and crab dinners.
Frybread: Frybread is a type of dough that is fried in oil and served alongside soups or on its own.
Local berries: In addition to blueberries, Alaska has an abundance of high bush cranberries, salmonberries, lingonberries and mossberries.
Meat: Sample new meat dishes, like those made from reindeer or moose.
Sourdough bread: Sourdough has a long history in Alaska, and many restaurants feature it on their menus.
Other ways to explore the local culture include going to local museums, attending live demonstrations and listening to the stories from locals you meet along the way.
9. Learn Local History
Many historical events took place in Alaska, both before and after it became United States territory. Every village, town and city has its own history worth exploring on your journey, but some of the better-known events to take place in Alaska include:

10. Witness the Northern Lights
Alaska is one of the few places in the United States where you can see the aurora borealis, affectionately referred to as the northern lights. Because the aurora is only visible in dark, clear skies, winter is the ideal viewing time. It is typically easier to see the northern lights from the northern parts of the state, but you might be able to spot them from Anchorage or Fairbanks during particularly active nights.
If you are planning a trip to Alaska specifically with the northern lights in mind, make sure you give yourself several days to see them. It might take a few tries, but if you plan your trip carefully, you have a better chance of seeing the dark Alaskan skies streaked with vivid shades of green, blue and pink light.
6 Tips for Planning Your Trip to Alaska
Spontaneity is an important part of any vacation, but when traveling to Alaska, a little pre-planning and research can go a long way. Follow these tips, and you are on your way to a safe and memorable trip.
1. Plan Ahead
A successful Alaskan adventure requires a little bit of pre-planning to avoid hazardous weather conditions and to ensure you have enough time to experience everything the area has to offer.
Here are some tips for crafting the perfect Alaskan travel itinerary:
Plan for traveling time: Do not forget to include the distance and amount of time it takes to get from each destination. Alaska is a big state, and many of its top attractions are spread across many miles.
Incorporate rest days: If you are doing any hiking, be sure to include plenty of rest time in your schedule — especially if you are hiking mountains.
Make a budget: Use your itinerary to create and stick to a travel budget, so you do not have to spend time worrying about finances when you reach your destination. Use a trip cost calculator to help.
Pre-plan: Remember to check ahead of time for any events that require tickets, passes or reservations.
Check the weather: Always consult the weather on the day of your scheduled activity. Alaska weather can change quickly, and awareness is the key to staying safe. Incorporate a variety of both indoor and outdoor activities into your itinerary, so you always have a backup plan in the event of inclement weather.
The most important thing to remember about your travel itinerary is not to take it too seriously. While having a plan is essential for most parts of travel, never be afraid to veer away from your schedule. Sometimes, the best experiences are those that you cannot plan.
2. Consider Lodging
There are so many different ways to enjoy the Last Frontier, including campgrounds, hotels, resorts, bed and breakfasts, vacation home rentals and public use cabins. Choose a lodging option that fits your specific needs and wants. If you are looking for a true outdoor experience, KOA provides level and spacious sites for tents and RVs, as well as comfortable cabin options.
Wherever you decide to stay for the duration of your trip, remember to reserve your campsite or room as early as possible. Summer is the peak tourism season in Alaska, and availability tends to fill up quickly.
3. Pack Thoughtfully
Much of Alaska's top recreational activities take place in remote regions of the state, with little to no access to shops or supplies. That is why it is important to pack thoughtfully for your trip, and always consider the requirements of the specific activities you plan to engage in.
At the minimum, your suitcase should include:
Clothing: No matter the season, dressing in layers is the key to staying comfortable in the Alaskan outdoors. During warm months, opt for light layers that you can easily remove and replace as temperatures fluctuate. During the winter, multiple insulating layers are crucial. Always have a waterproof rain jacket and a good pair of water-resistant boots, as well as moisture-wicking socks.
Recreational gear: Take a look at your travel itinerary and note any special equipment you might need for certain activities, like hiking, fishing or skiing. You can either bring along your own gear, or rent equipment when you get to your destination. Some fishing charters and guided tours also include equipment in their ticket prices.
Miscellaneous: No matter where you go or what activities you participate in, it is a good idea to keep a reusable water bottle, insect repellant, sunscreen, sunglasses and a camera with you at all times. Store these items in a high-quality day pack that does not strain your arms or shoulders.
Remember, if you are crossing the United States or Canadian borders, there are restrictions placed on certain items. Always check with border services for an up-to-date list of prohibited items.

4. Follow All Wildlife Guidelines
Alaskan animals are as breathtaking and formidable as their surroundings. A trip to Alaska would be incomplete without seeing some of the land's native animals, but it is important to remember that when wild animals are concerned, situations can change quickly. For the safety of both you and the animals you encounter, take the time to research all recommended wildlife guidelines and regulations, including what to do if you see a bear, wolf or moose.
As you are out hiking or exploring, you should also take care to abide by any posted signs, prohibited areas and locally enforced laws.
5. Have Your Permits Ready
You might need permits or licenses for more than one activity you participate in. Some commonly required documentation includes:
Permits for day hiking and overnight backpacking in certain parks across the state
A legal passport and identification card when crossing the United States and Canadian borders
Fishing licenses for all recreational fishing and crabbing
Always check for permit requirements ahead of time, and keep a copy of each one with you wherever you go.
6. Leave No Trace
Leave No Trace is an initiative used by hikers and campers to help protect and preserve the land they use. To keep the pristine nature of the state in-tact, do your best to adopt these principles wherever you go. If everyone follows these basic guidelines, then each trail, river and mountainside will remain an outdoor paradise for generations to come.
Plan Your Alaskan Getaway Today
Alaska is full of amazing opportunities for every type of traveler. Do not leave the Last Frontier without sampling a little bit of everything the state has to offer.
Looking to try camping in Alaska? Check out KOA campgrounds in the state, from Valedz to Homer!
---