Looking to take your dog on an RV camping trip? Check out these 9 tips for RVing with dogs – From traveling on the road to campground activities for your pup. Read more here!
What's the one way you can make your already fabulous RV vacation even better?
By bringing your dog with you, of course!
And it turns out we aren't the only ones who think so. According to a Recreational Vehicle Industry Association study, furry friends serve as excellent companions on the road for 61% of RV owners.
When you're a dog lover, keeping your four-legged friend at home while you travel the country in your RV just doesn't seem right.
Thanks to the comforts of home that RVs offer, bringing Fido with you is quite simple, and will prove to be a wonderful addition to your trip.
However, bringing your pup with you is a bit different than bringing along another human, and thus, there are some rules that you should be aware of, and abide by to ensure that both you and your furry friend have the best trip possible.
Here at KOA we love dogs just as much as your next dog lover, and because of our love of these creatures, we're sharing the following tips for RVing with your dog.
Top Tips For RVing With Your Dog
1. Pack For Your Pup
You want to make sure your dog has all the tools necessary in order to have a great vacation with you.
Just like a human, there are certain things your dog should not travel without.
What you'll need to pack for your dog ranges from his favorite food and treats, to proof of vaccinations.
Here are some of the top things to bring:
Leash
Collar
Toys
Bedding
Non-spill food bowl
Cleaning supplies for accidents
Medication
If you're looking for a more comprehensive list, Go Pet Friendly has put together a fabulous pet packing list that will guide you through what your dog may need during your RV adventures.
2. Stay At a Campground That Is Dog-Friendly
Pet policies are something that exist at nearly every campground in the country, and they are not something to be taken lightly.
In fact, there are pretty strict rules in some places out there regarding your four-legged friends. A number of national parks don't allow pets at all, and others require that pets remain on a leash whenever outdoors.
Whatever you do, know the pet policies of where you are going.
To make things simple and stress-free, call ahead to make sure the campground allows dogs before you embark on your adventure.
Thankfully, KOA boasts a lot of dog-friendly campgrounds that will have you and Fido enjoying paradise together.
In fact, at KOA you'll find Kamp K9, where your dogs are provided a fenced area to be set free from their leash, and left to run around to their heart's content. Kamp K9 also includes cleanup stations, making things simple for you, and comfortable for your pup.
3. Buckle Up (yes, that means Fido too)
You may be tempted to let your furry friend sit on your lap while on the road, but please note that doing this is not in the best interest of your dog's safety, or yours!
Keep both you and your dog safe by putting him in a seat belt harness or a dog crate while driving. If you opt for a crate or carrier, make sure that it is secured down, and won't slide around on the road.
Whichever safe way you choose to buckle up your dog, it needs to be in the same vehicle as you. You should never put him alone in a camper you're pulling.
By practicing the above safety precautions, you will be preventing your favorite furry friend from getting injured, and also from distracting you while driving.

4. Find Local Vets
Though Fido may be up-to-date on all his shots, and may seem in perfect health when you leave on your trip, things can happen, and you want to be prepared in case they do.
Though smartphones are a great advancement in technology, and will help you find a vet on-the-go, it's a good idea to do a bit of research before you leave.
You'll want to plan your RV route so that it doesn't take you too far away from a nearby town where you can quickly get to a vet, if necessary.
You may even want to ask your hometown vet to refer you to some good docs in the areas that you're planning to travel to.
5. Incorporate Daily Exercise Into Your Schedule
Dogs need exercise. For them to sit in a car for hours on end without the opportunity to run around is basically torture.
If your RV is big enough to allow them to run around and play fetch — great!
If not, however, make sure you're finding dog-friendly parks along the way for your dog to get a break, stretch, and exert some of his energy.
Plus, this may be a great opportunity for your dog to socialize and enjoy the company of other fellow traveling pups.
Once you're at the campground, take your dog for walks, or allow them to play in one of KOA's Kamp K9 areas.
6. Be Mindful Of the Weather
If you decide to embark on an adventure for a few hours that requires you leave your pup back at camp, make sure that you are paying attention to the weather and what your dog will need.
If it's the middle of the summer and heat is high, leave your air conditioner on so that your dog has a cool place to relax.
If a thunderstorm shows up, have a safe area where your pup can feel safe, as the loud sound of thunder typically terrifies dogs. You can help lessen their fear by bringing blankets and toys from home that will remind them they are safe.
Whatever you do, never leave your dog unattended outdoors. Tying him up and leaving him alone opens up the opportunity for a lot to go wrong.
7. Prepare For Wildlife Run-Ins
When you're camping, chances are good you're going to run into some wildlife.
And sometimes, that wildlife is more than just a bird or a squirrel.
Whatever the size of your wild-creature run-in, be sure that you have control over your pet.
Regardless of how well-behaved Fido is, it is still in his blood to sniff out the animals, and track them down. And, the last thing you want is your dog tracking down a Grizzly Bear.
Keep a close eye on your dog, and know how to call him back should he decide to run off and practice his hunting skills.
Also make sure that your dog's vaccines are all up-to-date and that you've got the tools to deal with flea and tick problems.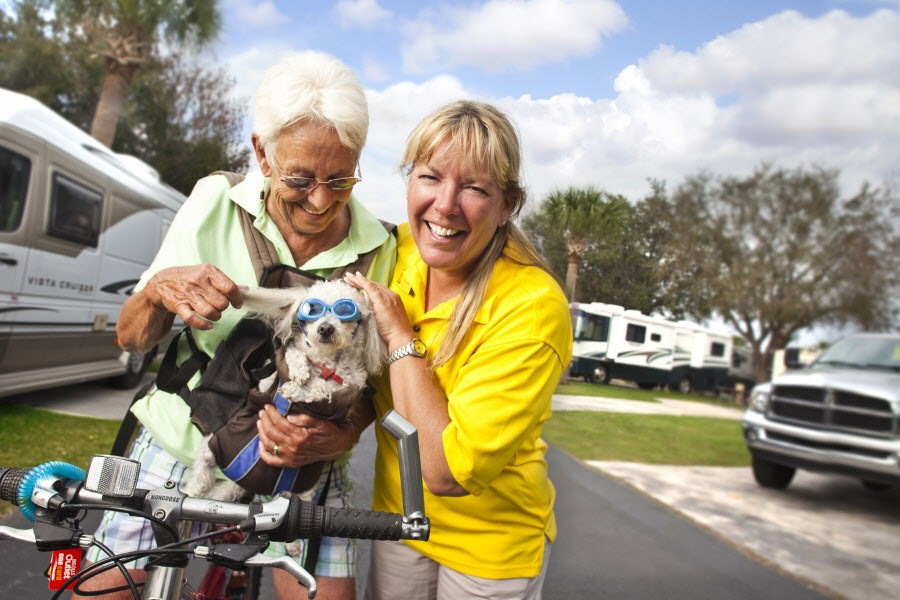 8. Be a Good Neighbor
One of the most important parts of bringing your dog along with you on your RV adventures is to always be a good neighbor.
Doing this ensures that you continue to have the privilege of bringing Fido along with you.
All it takes is a handful of negative experiences with a dog owner at a campground to ruin the fun for everyone.
To make sure that isn't you, work to keep your dog's barking to a minimum, so as not to disturb your neighbors.
Also, obey the campground's leash laws and never leave your dog's droppings on the ground — always pick up after your pup.
9. Start Small
Going from being at home 99% of the time to being out on the road in your RV for 6 months may not be the best idea for your dog.
Instead, start out with small trips and slowly allow Fido to become accustomed to traveling in your RV and being away from home.
During these shorter trips you can establish a permanent spot for your dog's food and water bowls in the RV, so they always know where to go.
This will also give you a chance to allow your dog to become used to his new sleeping arrangements, as well as traveling in either a carrier or a seat belt harness.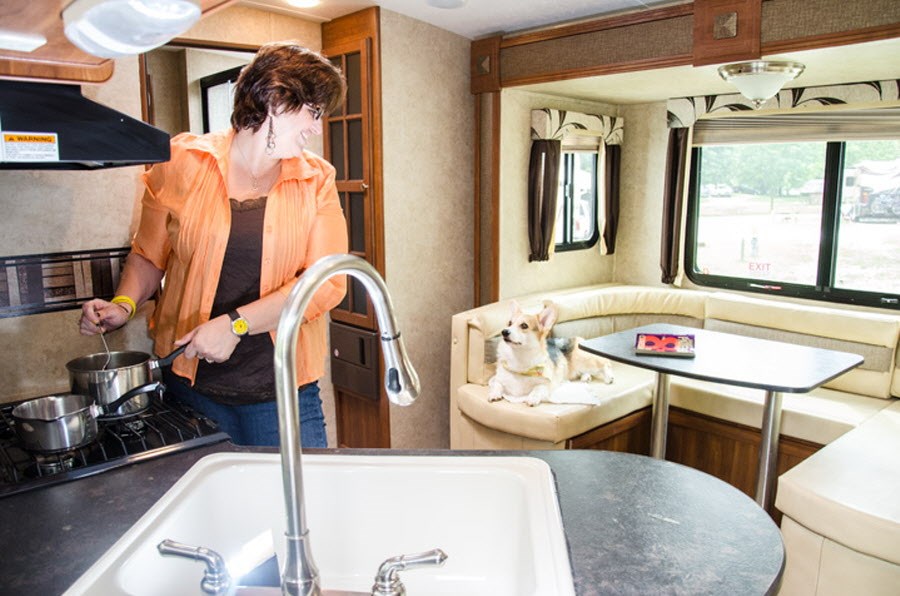 Think of all the fun you'll have on the road with your furry friend! Some of our fondest camping memories involve our pups, and we think that all dog owners should have that experience.
By simply following the above guidelines for RV traveling with your dog, you ensure that your dog remains safe and healthy, and that everyone has a fabulous time.
---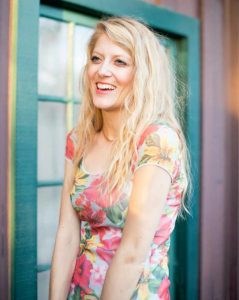 Leslie, a.k.a. Copy Girl, is a copywriter who gets butterflies from telling stories through words.
Her voice comes from a place filled with passion, dreams, and lots of sugar. "Cake over steak" is her go-to motto.
With over 10 years of experience in crafting words, and years of embarking on travels that have taken this Montana girl to some incredible places, Leslie love the adventures of both body and mind her writing takes her on.
Everywhere she goes, she takes this advice with her:
"Hold on to your divine blush, your innate rosy magic, or end up brown." – Tom Robbins, Jitterbug Perfume
To see what Leslie's up to in the writing world, visit her website here.
---