As much as we love Thanksgiving, we will also be the first to admit that sometimes you need to shake things up a bit and experience this fantastic holiday in a new light.
And what better way to do that than to take your Thanksgiving to the outdoors and camping with you?
We don't think many things sound better than Thanksgiving while camping.
However, there are some logistics involved in executing this Thanksgiving without any hitches that are too major.
Because Thanksgiving while camping in a tent or an RV is certainly not the same as at home. But that's what you're after, right?
Here are KOA's tips for making your campground Thanksgiving a fabulous and memorable one.
Tips on Planning the Ultimate Campground Thanksgiving
1. Check the Weather Forecast
The first thing you will want to know about your campground Thanksgiving is whether you will need a tarp or a canopy.
A surprise rain or snow storm will surely throw your entire Thanksgiving off, so don't let that happen.
It may be a wise idea to bring a canopy or tarp just in case, regardless of what the weather forecast says. You never know when a surprise storm could swoop in . . .
2. Plan the Meal
The next step you'll want to take for your campground Thanksgiving is the star of the show — the food!
There are a few things you'll want to take into account in regards to the food:
Whether you're doing a traditional Thanksgiving with turkey, gravy, and the whole works, or something different
How many people you're expecting
What special cooking/heating equipment you're going to need
What storage you will need for leftovers
What dishes are easiest to transport
What dishes you can make ahead of time at home
What special serving utensils you will need
Whether you are doing all the cooking, or you are having others help
3. Prep All Possible Dishes At Home
The less cooking you have to do while at the campsite, the better. In fact, we recommend cooking everything ahead of time, and simply warming things up when the big day arrives.
Because you are camping and want to able to enjoy yourself and the company, the best thing to do is to pick and cook meals in advance.
This will also make it easy to transport leftovers back home since you already have plenty of storage containers.
4. Ask For Help
Anything involved with Thanksgiving is difficult to do alone.
And doing Thanksgiving alone while camping is enough tougher.
So, don't be afraid to ask for help. Whether you're planning a small Thanksgiving with just your immediate family, or are doing something with friends and family, ask whoever will be there to help you in whatever way they can.
The more work and stress off your shoulders, the better this Thanksgiving will be for everyone.
5. Expect Things to Take Much Longer
It seems like it's a Thanksgiving tradition for dinner to happen later than planned.
This is the case even more when you're camping. Cooking over a campfire, a camp stove, or the stove in your RV is guaranteed to take more time than cooking at home.
To keep from feeling the pressure of time, get started much earlier than you think necessary and we bet you will have all the food ready just in time.
6. Pick Simple Appetizers
Since, as mentioned above, the food will take longer to cook while camping than you're used to, opt for some simple appetizers to help your "guests" stay nourished so you don't keep hearing the question "when are we going to eat?"
Another great idea is a warm drink to keep people occupied while you cook. This can be hot apple cider for the non-drinkers, and maybe hot toddies for those who like to imbibe in liquor.
(This will also keep people warm, too, which is always a bonus during this time of the year.)
7. Use Paper Plates
Yes, we said it: use paper plates for your Thanksgiving dinner.
When you've got all this cooking to do, the last thing you need is a whole slew of dishes to clean up post-dinner. This is especially true when chances are good you'll be washing those dishes in the dark.
Don't worry about any social faux-pas here — we are giving you the green light to put those paper plates to good use for your campground Thanksgiving.
8. Pick a Simple Dessert
There is zero obligation for you to serve pumpkin pie at your camp-side Thanksgiving. Anything goes while out in the wild, so we vote that you opt for something that is simple, can be premade, and is easy to reheat and serve.
Think cobblers and crisps.
Those are just as delicious as a pie, and will save you time and effort that just isn't worth expending on a pie in the woods.
All this talk about Thanksgiving has us hungry.
You too? Hop on over to our KOA recipes page where you can get ideas for the perfect food to serve at your campground Thanksgiving. With some quick, easy, and tasty dishes, you can get your Thanksgiving prepared in no time, and enjoy what is sure to be your new family tradition.
---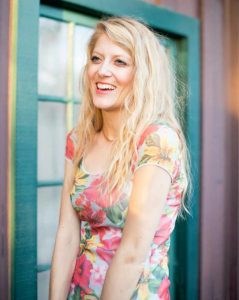 Leslie, a.k.a. Copy Girl, is a copywriter who gets butterflies from telling stories through words.
Her voice comes from a place filled with passion, dreams, and lots of sugar. "Cake over steak" is her go-to motto.
With over 10 years of experience in crafting words, and years of embarking on travels that have taken this Montana girl to some incredible places, Leslie love the adventures of both body and mind her writing takes her on.
Everywhere she goes, she takes this advice with her:
"Hold on to your divine blush, your innate rosy magic, or end up brown." – Tom Robbins, Jitterbug Perfume
To see what Leslie's up to in the writing world, visit her website here.
---