8 Great Free Road Trip Apps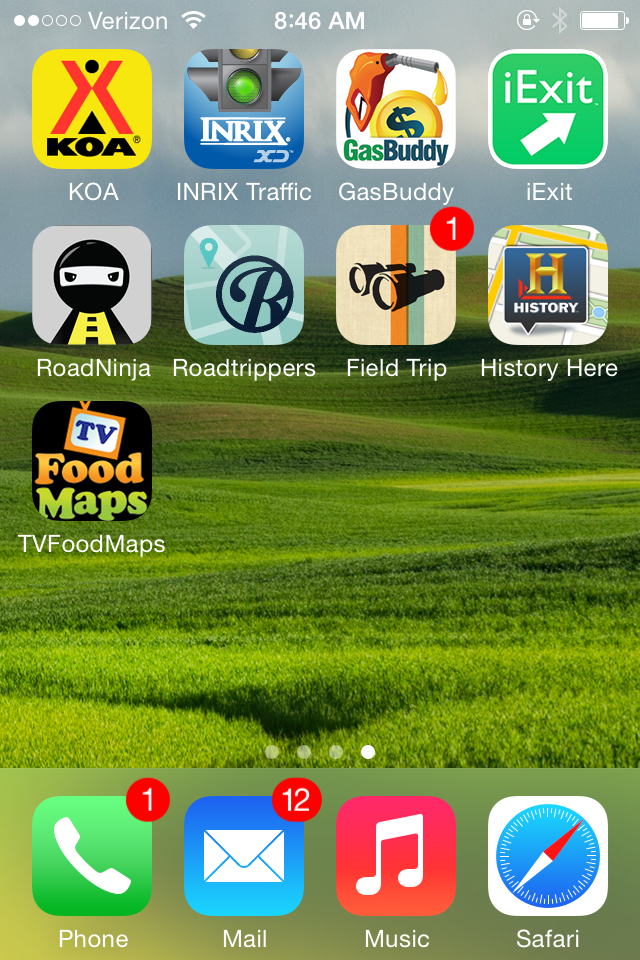 Summer is here and it's time to hit the road! We've collected eight handy apps that make traveling to your KOA destination even easier and more enjoyable. First, load up the KOA app to locate and reserve your campsite, then stock your phone with these apps to help get to your destination with least hassle and most fun!
1. INRIX
This top-rated traffic app lets you know about (and share) road alerts, traffic jams, accidents and police activity along the highways. Heading near a city during rush hour? This app will show the best route. Wondering what the road ahead looks like following a rainstorm? Have your co-pilot find out with this handy app.
2. Gas Buddy
We haven't stopped using this app since we loaded it! Find the cheapest gas in your area, anywhere in the US and Canada. The app sorts stations by distance and compares prices for regular, midrange, premium or diesel fuel at every gas station near your location.
3. iExit
This handy app lets you know what's available at upcoming exits when you're on the highway. Using your phone's GPS, it gives you updated info as you travel down the road. Need to get supplies at Wal-Mart? Find the closest restroom? Locate the nearest barbecue joint? This app will give you the answers. Search for gas, rest stops, restaurants, stores, playgrounds, truck/rv parking, Wi-Fi, even Redbox.
4. Road Ninja
Like iExit, this app lets you know what's on tap beyond every exit sign along your route. While it may not cover as many categories as iExit, it's super easy to navigate and includes more detail, including in-depth business and restaurant reviews and photos.
5. Roadtrippers
It's both a great trip planner and a resource for cool local stuff once you're on the road. You can plan a trip on their RV-friendly website then sync it to your phone for to easily navigate your route. The app is stocked with reviews and comprehensive info from local experts and travel writers, offering a large database of tourist attractions and offbeat places, plus clear directions on how to get there. We've even learned about amazing places we didn't know about in our own town.
6. Field Trip
This innovative app runs in the background of your smartphone, coordinating with your GPS and offering alerts whenever you are passing by a cool or interesting local attraction. You can tailor it to your interests whether it's historic sites, good restaurants, fun shops or cool & unique spots. Note: this app can offer some great gems, but it's also a battery hog, so use it as much as you want when you're near the charger, but you may want to turn it off when you're far afield.
7. HISTORY Here
Get the facts on history hidden along your route including amazing architecture, museums, archeology, battlefields, monuments and famous homes. Created by the HISTORY Channel, this app offers photos, video and dynamic maps that bring history to life wherever you may be traveling.
8. TV Food Maps
So much fun! Use this app to locate restaurants along your route that have been featured in your favorite Food Network and Travel Channel shows like Diners, Drive-Ins & Dives, Man v. Food and No Reservations. Two bonus apps for foodies: Urbanspoon and Yelp are great restaurant review apps to have on hand when visiting a new city or town.