7 Age-Appropriate Camping Chores for Kids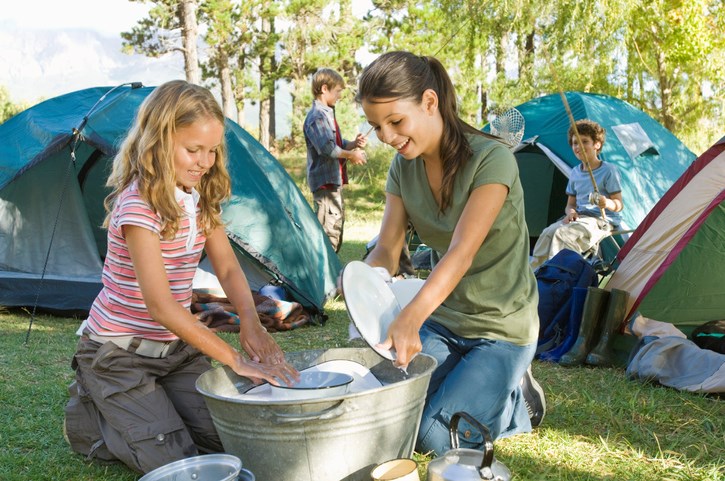 It seems counter-intuitive. But giving kids chores – things they usually whine about doing at home – while camping may actually be what they want. It gives them a sense of purpose. And they may be more apt to help out if it's on vacation and for "fun." Plus, it helps lighten your workload. Of course, camping with kids can require constant supervision. And you want to make sure the tasks you assign are like Baby Bear's porridge: just right. Here are a few examples of age-appropriate camping chores for kids ranging from toddlers to teens.
1. Help set up
Best for ages: 5+
Unless you have older kids who can help with hooking up sewer, electricity and water, yours are probably just a distraction when you first arrive at your site. But that doesn't mean they can't help you get settled. Even tasks like taking the dog for a walk to go potty, laying out the outdoor rug or unfolding camping chairs can make kids feel like they're a part of setting up. If your kids are as talented as Kelly Magelky's, they can even help build the tent. The Colorado father of two and his wife trust their 5-year-old twin boys with that very important job. If you go this route, just make sure you double check that the stakes are in nice and good.
2. Collect kindling
Best for ages: 5+
Mike Miller, editor of Wilderness Times, and his wife take their two young sons camping several times a year and have worked out a good system. The boys' main designated chore is to collect tinder, kindling and firewood. "Our older son deserves the 'firewood manager' title as he's teaching his younger brother the difference between these materials," says Miller before adding that they love to compete to see who can collect more. If you're worried about your kids wandering too far, simply set parameters, so they know where they can and can't go.
3. Pick flowers for the table
Best for ages:3+
Mandi Binder, a Montana mother of a toddler and a six-year-old, likes their picnic table to look nice. So, she puts her kids in charge of picking flowers and finding pine-cones for decoration. When the season is right, she also has them pick berries for their favorite camp breakfast: pancakes. Just make sure you're in a spot where it's OK to pick things, and that your kids know which plants are safe. The same goes for the berries! Look at it as a learning opportunity and an easy segway into teaching your kids about plant identification and survival skills.
4. Wash dishes
Best for ages: 3+
At home, we have dishwashers to do the work. But when camping, often we are the dishwashers. Kids tend to find water-based chores more fun, so play up that part and have lots of suds and bubbles. If your dishes are really dirty, younger kids, like toddlers, are probably best left to do the drying. Just make sure you're using plastic or stainless steel dishes, and you keep the adults responsible for the knives and anything sharp.
5. Hunt for trash
Best for ages: 4-11
Even if your littles hate picking up their toys at home, trash can be another story. Often, kids don't want to clean their room because they know they'll just make it messy again. But for garbage, they can understand that it's not part of nature and needs to go. Tell them to think of it as a treasure hunt. Each piece can be a prize and the kid with the biggest pile wins. "I have an eight-year-old son and a ten-year-old daughter who enjoy doing this task every time we go camping," says Elizabeth Hicks, co-founder of Parenting Nerd. "It isn't too exhausting for them, and they value it highly since it teaches the significance of environmental preservation." It's also a great opportunity to teach kids about the importance of recycling.
6. Dumpster runs
Best for ages: 10+
Remember that feeling of utter freedom when you did your first dumpster run? There's nothing quite like it. Just ask Jennifer Weedon Palazzo's 11-year-old son who is tasked with taking bagged trash to the dumpster when they camp in their Thor Axis motorhome. "It gives him a feeling of independence that he is allowed to navigate his way there and back along a different route in each different campground," says the content creator at Mom Cave TV.
7. Deflate things
Best for ages: 2+
Much like they love popping bubble wrap, kids are usually a big fan of helping deflate things. "Many of us have sleeping pads or air mattresses that require inflation to be comfortable," says Emma Wang, founder of Tent Camping Trips website. "For deflating fun, kids can roll around with the valve open and get to all the corners." Just make sure they know to wait for the green light to go. There's nothing more frustrating than spending an hour blowing air into something only to have your kid deflate it before you're done using it.
---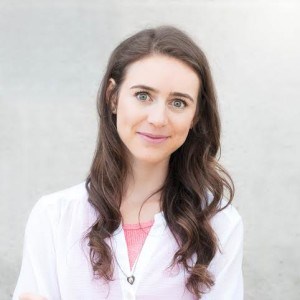 Katie Jackson is a writer and media specialist based in Montana's Big Sky Country. Living and working everywhere from New York to Nicaragua, Katie is no stranger to adventure. When she's not traveling the world (or writing about it!) she's busy chasing after a Leonberger named Zeus. Follow Katie's travels on Instagram @katietalkstravel.

---