Get spooky with these simple Halloween recipes.
'Tis time to get in the season — the Halloween season, that is!
Your kids have likely had their costumes picked out for months and are counting down the days until All Hallows Eve. We know we are certainly looking forward to the shameless over-indulgence of candy.
The great part about Halloween, though, is that all the fun doesn't have to wait until October 31.
You can enjoy plenty of Halloween fun before the actual holiday, and we are going to help you do that.
Camping in the fall is one of our favorite things to do. There are fewer bugs and fewer people; temperatures are a little bit cooler but not too cool (just cool enough to break out your sleeping bag without breaking a sweat), and you get to experience different activities.
But one of the things we love most about fall camping is that we get to fill our bellies with Halloween-themed food.
Camping is a great opportunity to try some festive food, and today we are going to share some spooky recipes for your whole family to enjoy on your next camping trip.
---
Spider Hot Dogs
Hot dogs on a cool night over a hot fire has to be one of the greatest experiences. (Okay, maybe that's a bit of an exaggeration, but we really love campfire hot dogs.)
And, when camping this fall, you can make your hot dogs even cooler — by making them spooky.
Here's what you need:
1 package hot dogs
Stick for each hot dog
How to make it:
Cut an "X"-shaped pattern at both ends of the hot dog, in towards the middle. Leave about an inch space in the middle — where you'll poke in the stick.
Hold the hot dog over the fire and watch in amazement as your hot dog transforms into an edible spider!
---
Spooky Fingers
This is a great treat to quickly make ahead of time and surprise your kids with for a snack or dessert.
They'll be cringing at the thought of eating "fingers," but will be loving the taste
Here's what you need:
8 ounces white chocolate
20 pretzel rods
20 pumpkin seeds
How to make it:
Microwave the white chocolate in 30-second increments until nearly melted, stirring occasionally.
Line a cookie sheet with waxed paper.
Spoon some melted chocolate over the pretzel to coat all but 3 inches of it — one at a time. Lay the covered pretzel on the cookie sheet and immediately press 1 pumpkin seed onto the dipped tip of the pretzel — to make it look like a fingernail.
Repeat step 3 for all pretzel rods, then refrigerate for 15 minutes.
---
Rice Krispie Treat Brains
Rice Krispie Treats are a childhood favorite of almost every adult out there. And your kids are guaranteed to love them too, especially when they're covered in red icing and when they resemble a brain!
If you've got an RV with a stove, or if you want to attempt this over a campfire, we say give it a shot! May be a bit messy, but that's part of the fun, right?
If not, these are ones you can make ahead of time as well at home.
Here's what you need:
3 Tablespoons butter
1 10-ounce bag of mini marshmallows
Red food coloring
6 cups of Rice Krispies cereal
Non-stick cooking spray
Red gel icing
How to make it:
Melt the butter in a pot over medium heat, or melt in a microwave.
Add the marshmallows to the butter, and heat until they're melted.
Add a few drops of the red food coloring.
Add in the cereal, and stir until the mixture is evenly coated.
Spray your hands with non-stick spray and scoop up about ¼ cup of the mixture. Form it into a ball, then shape it into a brain by flattening it a bit, and making an indent in the middle.
Place the "brains" onto something covered in parchment or wax paper, and let cook.
Drizzle the "brains" with red gel icing to really get that brain feeling.
---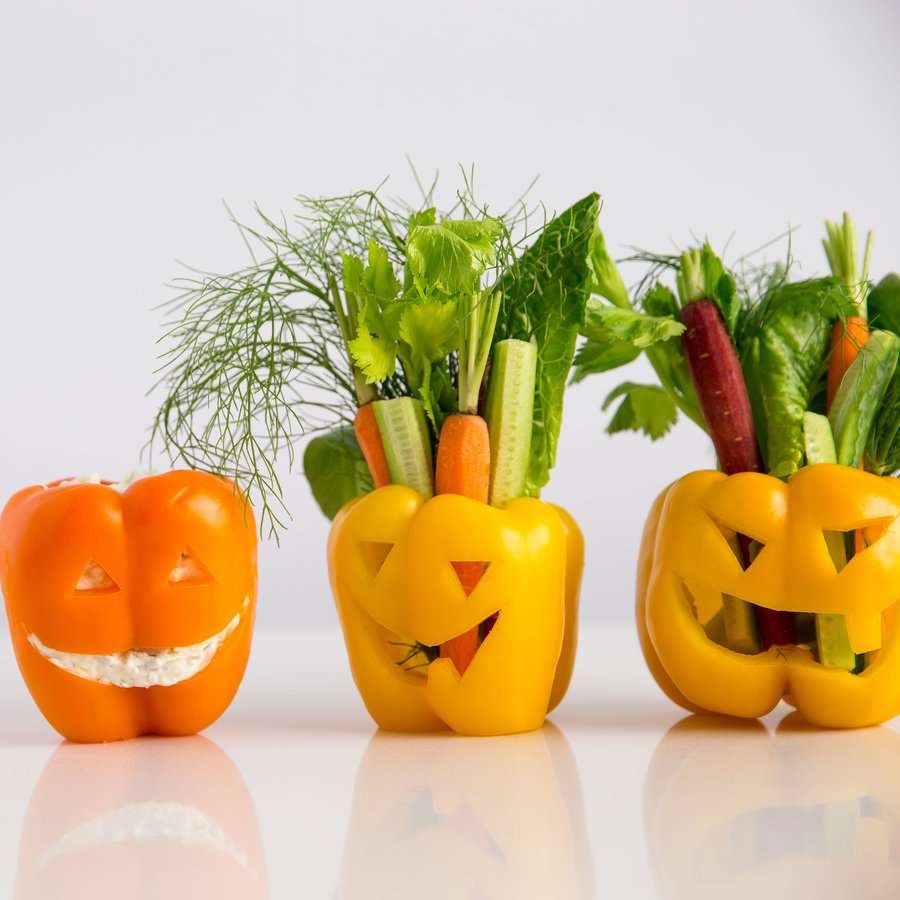 myrecipes
Bell Pepper Jack O'Lanterns with Vegetable Dip
Halloween season is full of fun and games, but also really full of sugar. Don't get us wrong — we are huge sugar lovers, but it is a good idea to throw at least some vegetables in the mix there.
And, with these bell pepper jack o'lanterns, your kids will have a blast eating veggies!
Did we mention that take almost zero effort to put together?
Everyone wins with this one!
Here's what you need:
1 large orange bell pepper (make sure it's flat-bottomed)
2 large yellow bell peppers (make sure they're flat-bottomed)
1 cup of your favorite dip
Assortment of vegetables cut into spears (ex: celery, carrots, cucumbers)
How to make it:
Core the peppers. Be sure to pull out stems, seeds, and ribs.
Spoon the dip into the orange bell pepper.
Arrange the vegetable sticks in the yellow peppers, and you're done.
---
Campfire Baked Apples
Still leaning towards the healthy side to balance all this Halloween sugar out, these baked apples are treats your kids are not only going to love eating, but also making.
The prep is quick and easy, and then over the campfire they go.
Here's what you need:
4 large apples
2 Tablespoons lemon juice
¼ cup dried cranberries
2 Tablespoons raisins
2 Tablespoons chopped walnuts
¼ tsp ground cinnamon
⅛ tsp ground nutmeg
1 Tablespoon softened butter
How to make it:
Core the apples.
Brush the inside of the apples with the ½ of the lemon juice.
Put each apple on its own 10-square inch sheet of aluminum foil.
Mix in a small bow the rest of the lemon juice, as well as the cranberries, walnuts, cinnamon, nutmeg, and ½ of the butter.
Press the dried fruit mixture into the middle of each apple
Cut the rest of the butter into four pieces.
Place one piece of butter on top of each apple.
Wrap the aluminum foil up tightly over the apple.
Place the foil wrapped apples in (or next to) hot coals and cook for 30 minutes to an hour.
---
Pumpkin Keg
Now this one isn't so much a recipe per se, but we couldn't resist.
Drinking beer out of a pumpkin? How can you get more festive than that!
**This pumpkin keg is an adults-only "recipe" as written**
Here's what you need:
Pumpkin
Tap
Beer
Serrated Knife
How to make it:
Cut the top of the pumpkin off, creating a lid.
Scoop and clean out all the insides of the pumpkin.
Use a coring tool to make a hole about 2-3 inches up from the bottom of the pumpkin. **Make the hole the same size as the tap**
Place the tap into the pumpkin, then secure and tighten the locking nut on the inside of the pumpkin.
Pour your beer into the pumpkin, pop the lid back on, and enjoy!
---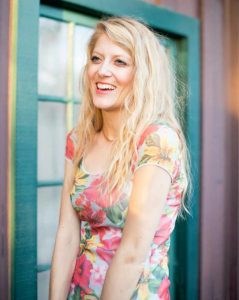 Leslie, a.k.a. Copy Girl, is a copywriter who gets butterflies from telling stories through words.
Her voice comes from a place filled with passion, dreams, and lots of sugar. "Cake over steak" is her go-to motto.
With over 10 years of experience in crafting words, and years of embarking on travels that have taken this Montana girl to some incredible places, Leslie love the adventures of both body and mind her writing takes her on.
Everywhere she goes, she takes this advice with her:
"Hold on to your divine blush, your innate rosy magic, or end up brown." – Tom Robbins, Jitterbug Perfume
To see what Leslie's up to in the writing world, visit her website here.
---