If you're thinking about taking your cat camping, you're not alone. According to KOA's recent research, nearly 60% of campers brought their furry little friends camping on at least some of their trips. On Instagram, more than 106k posts are tagged with #campingwithcats. There's even a popular account dedicated to the art (or is it a science?) of camping with cats. Still, just because it's possible doesn't mean it's easy. Unlike Fido, felines can be a bit more discerning when it comes to new environments. Cats are curious, that's a given. But they're also complex, especially when new variables like Mother Nature are introduced. Whether your kitty is a ragdoll or a Russian blue, here are a few things to keep in mind if you want to avoid any camping cat-astrophies.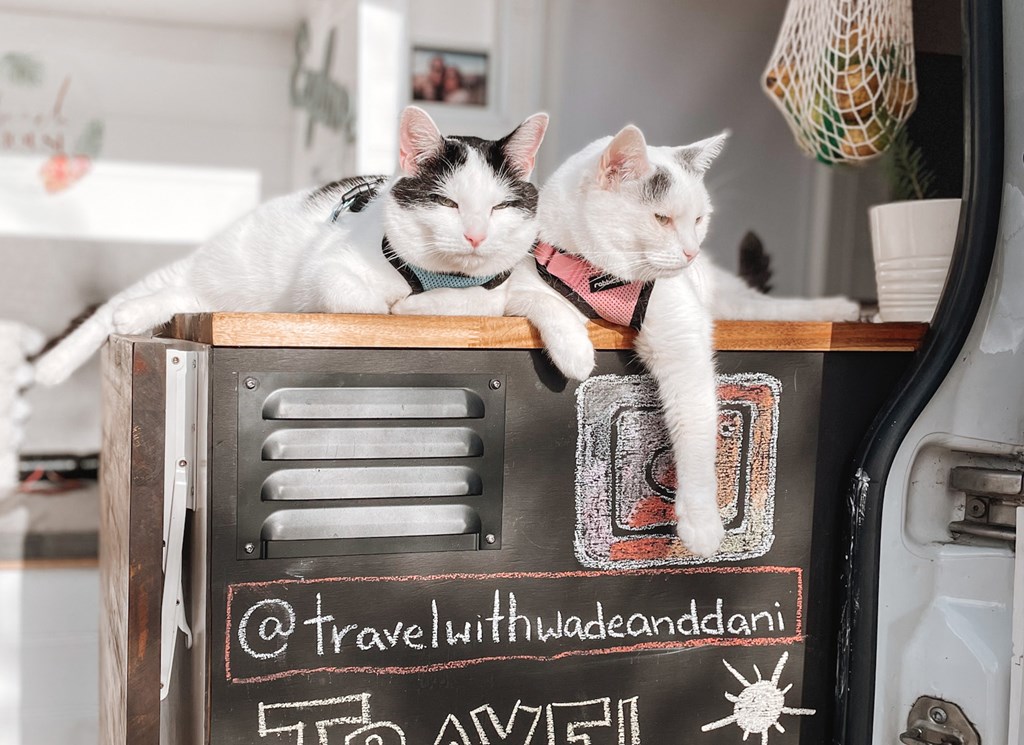 1. Know your cat, and its needs
First, determine if your cat has a purr-sonality suitable for camping. This free online Meowers-Briggs quiz from Friskies can help."From a veterinarian's perspective, camping with cats can be very risky, especially if your cat doesn't have the right temperament for it," says Dr. Chyrle Bonk DVM. "Any kitty that gets nervous outside or with different sights and sounds isn't going to like camping. You need a cat that is very outgoing without being too curious and that isn't skittish." 
You should also do research on your cat's breed. For example, Norwegian Forest Cats thrive in the great outdoors while the Sphynx is far more sensitive to the elements and shouldn't spend too much time outside. Finally, make sure your cat is up to date on vaccinations and flea, tick and heartworm prevention. It also helps to have them microchipped.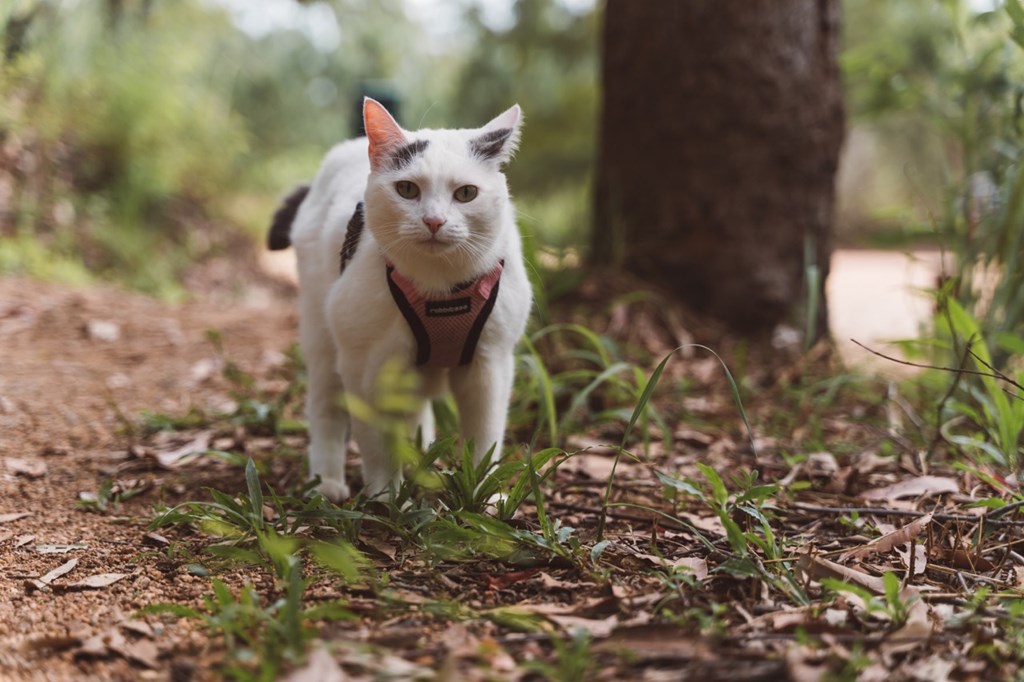 2. Practice makes purr-fect
"Cats are creatures of habit and if you have an indoor cat that never leaves the house, suddenly bringing it to a camping excursion most likely will create a lot of stress and potentially disease to your kitty," says Dr. Paola Cuevas, an animal behaviorist and Hepper's in-house veterinarian.  She recommends taking your cat on short walks, using a cat carrier backpack or a leash, to desensitize them to changing environmental conditions.
Do the same thing with drives to get them used to being in a vehicle. Wade Badby, who is currently camping full time in a converted Sprinter van, says his cat, Jon Snow, used to suffer from motion sickness. "We started with short drives and built up to longer drives; he's totally fine with it now." If your cat seems happy, and calm, when you return home, reward them with a treat. In most cases they'll start to view getting out of the house as a positive experience.
3. Pack accordingly when taking cats camping
When it comes to cats, what you pack, or forget to pack, can make or break your trip. Cuevas recommends adding a GPS tracker to your cat's harness, and if they're prone to being nervous, a calming pheromone collar. For best results use it at least a month before you head out.  According to Emily Hall, who writes about cat travel for Kitty Cat Go, you may also want to add a key ring on your cat's collar with your campsite number in case your cat ventures over to say hi to the neighbors.
If you plan on hiking with your cat, always bring a carrier backpack. Even if they don't use it most of the time it's helpful to have a safe space to put them in if there's imminent danger or they get tired. Finally, if you're tight on space, invest in a travel-sized litter box. Make sure to fill it with the same kind of litter you use at home so your cat is used to it.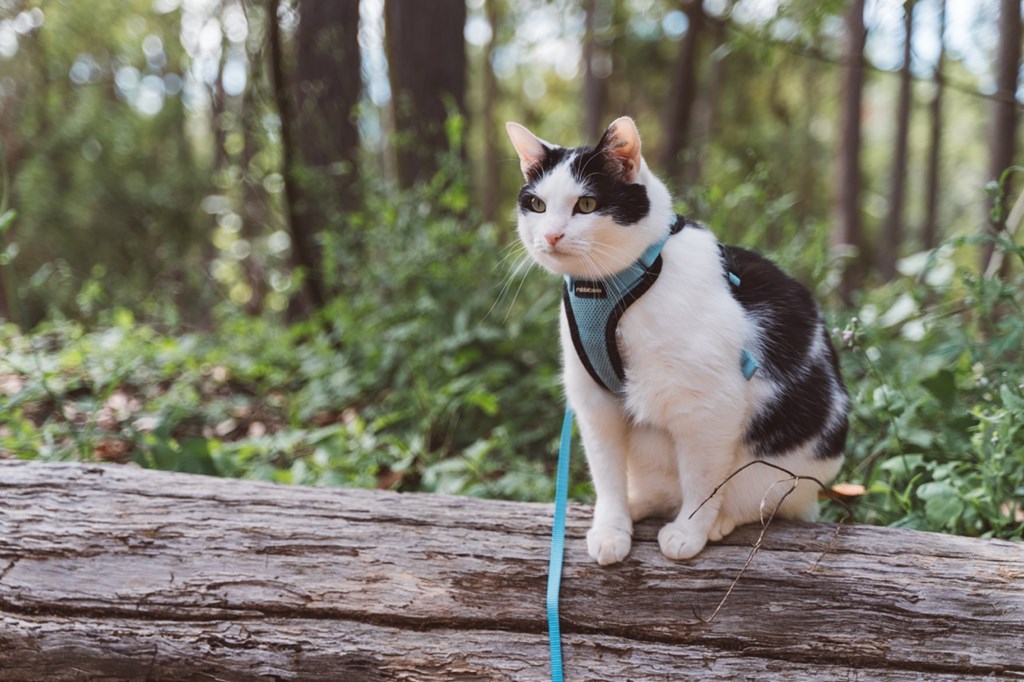 4. Keep it short, and simple
If it's your first time camping with your cat, it's probably best not to plan to be away for two weeks. "As your cat slowly gets used to camping trips, you can extend the duration gradually over time," says Dr. Maureen K. Murithi, a veterinarian at PetKeen.com. She also suggests being extra conscious of weather conditions as your cat could be particularly sensitive to extremes. Try to take your cat camping when the weather is fair, and avoid crowded campgrounds or busy times (like the 4th of July) if you can. Unless your cat is extroverted, they probably won't appreciate all of the commotion.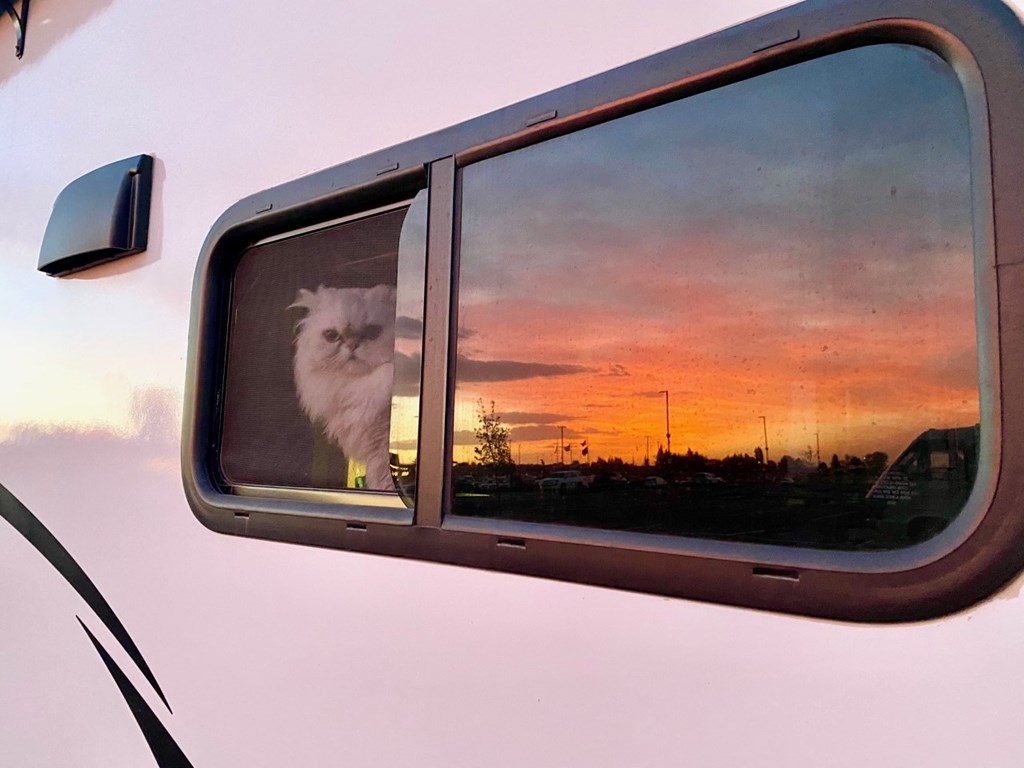 5. Note how they do
You don't have to watch your cat like a hawk, per se, but pay close attention to their behavior while camping. Janet Cutler, a Ph.D. Board Certified Applied Animal Behaviorist says cats that are stressed in a new environment may show several signs including hiding, crouching (or flattening their body) and refusing to eat or accept treats. Cuevas adds that a cat that is excessively vocal or behaving aggressively probably isn't having a good time either. They're even at risk of becoming ill. That said, give it a little time.
"Generally when we arrive at a new place our cats can take about 30 minutes to smell the new area, but after that they are running around, playing with each other and enjoying the freedom," says Badby. Krista Ann, a nomadic blogger who camps with her cat Dr. Phineas, knows "Phinny" is happy because whenever they arrive at a new campground she jumps up on her perch and surveys her new surroundings. "She likes to watch neighbors park their RVs – and judge their parking abilities," says Krista Ann. Phinny is also a fan of birdwatching and sitting around the campfire. "She'll take over the entire chair if I get up!"
---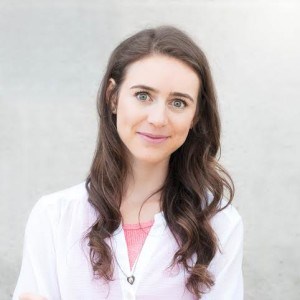 Katie Jackson is a writer and media specialist based in Montana's Big Sky Country. Living and working everywhere from New York to Nicaragua, Katie is no stranger to adventure. When she's not traveling the world (or writing about it!) she's busy chasing after a Leonberger named Zeus. Follow Katie's travels on Instagram @katietalkstravel.

---