When you're looking for a place to stay, campgrounds not located near obvious destinations might get overlooked. KOAs on the route to big cities or main attractions often are a starting point for regional activities that offer up just as much fun. A stay at a desert KOA comes with the chance to try something new like driving an ATV off-road on bumpy dusty trails. Or camp in the Ozarks and claim a section of wooded lake shore all for yourself. The following is a sampling of what KOAs off the beaten path have to offer.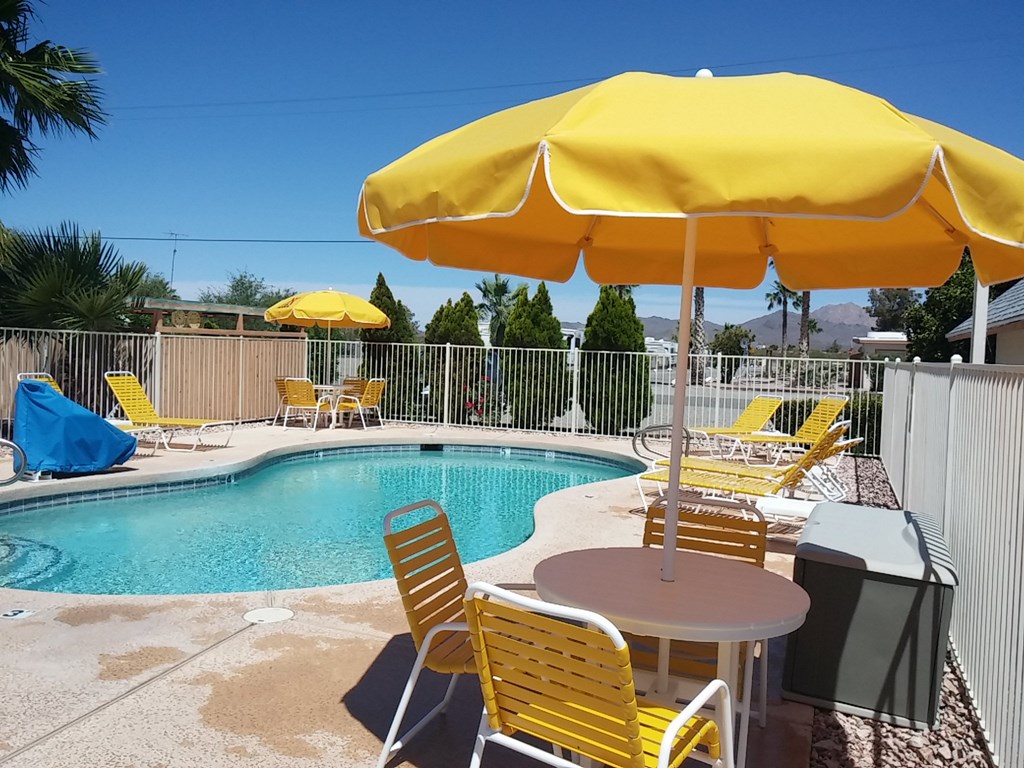 1. Salome KOA Journey – Salome, AZ
Salome KOA Journey blends into the Arizona desert setting of cactus, thorny brush and low lying hills, 100 miles northwest of Phoenix. The rugged landscape is an all-terrain vehicle enthusiast's off-road playground. Ride off from camp on sections of the Arizona Peace Trail, connecting more than 675 miles of trail throughout the state. Pass by abandoned mines, sandy dunes, and towering rock formations. Nearby Kofa National Wildlife Refuge is home to venomous Gila monster lizards, elusive Sonoran pronghorn, and Bighorn sheep. The refuge's one-mile roundtrip Palm Canyon Trail takes visitors closer to the desert flora and fauna.
2. Coleville / Walker KOA Holiday – Coleville, CA
A granite cliff wall serves as Coleville / Walker KOA Holiday's backdrop. Sightseeing around camp for a few hours isn't a bad idea. Take in views of nearby Centennial Bluff's rolling hills and watch for the 17 plus different bird species that frequent the property from goldfinches to turkey vultures. The campground location is a convenient stopover for Eastern Sierra exploration to and from Yosemite National Park and South Lake Tahoe. Travel south for a day trip to Bodie State Historic Park, an abandoned gold rush era mining town. Go back to the mid-1800s by peeking into storefront and bedroom windows and walking around rusted-out car frames. Drive north where Topaz Lake straddles the Nevada and California border. Whether picnicking on the banks or fishing for trout, the calm waters offer a chance to reconnect with nature.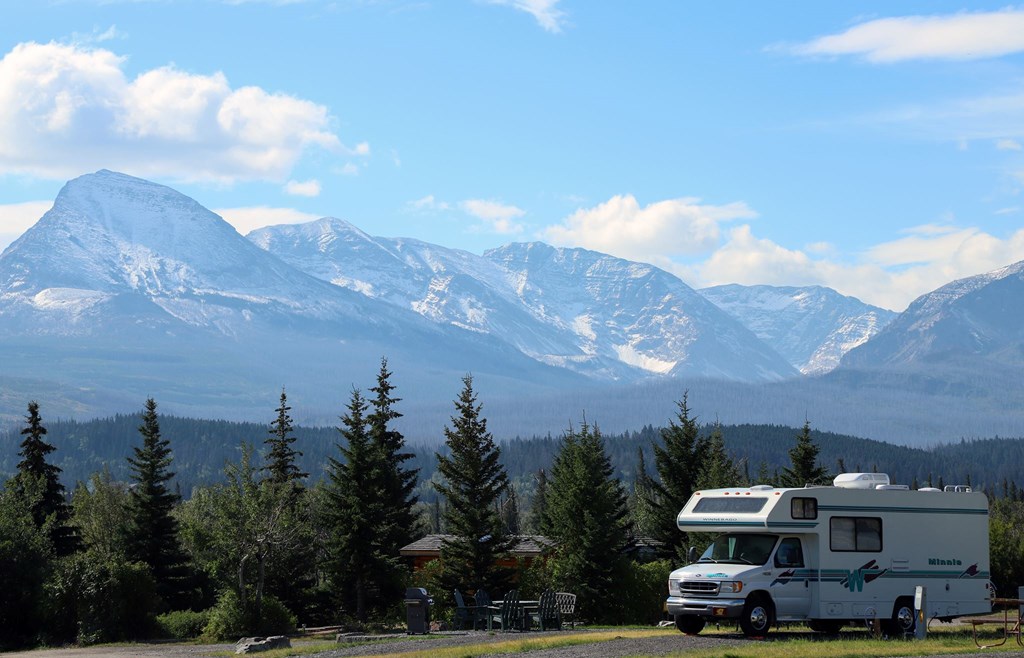 3. St. Mary / East Glacier KOA Holiday – St. Mary, MT
Wake up in a pine forest with snowcapped glacier views at St. Mary / East Glacier KOA Holiday in Montana. Learn how to maneuver a kayak or standup paddleboard in Lower Saint Mary Lake's shallows right from camp. Or hop on Going-to-the-Sun Road just a mile from camp for a two-hour drive (not including all the breathtaking stops along the way) through Glacier National Park. Stop at the Saint Mary Falls trailhead at the east end of Saint Mary Lake for a 2.4-mile roundtrip walk of the valley floor. The pointed peaks of Little Chief Mountain and Going-to-the-Sun Mountain tower over the 35-foot waterfall. Watch passing mountainsides for Bighorn sheep and Mountain goats!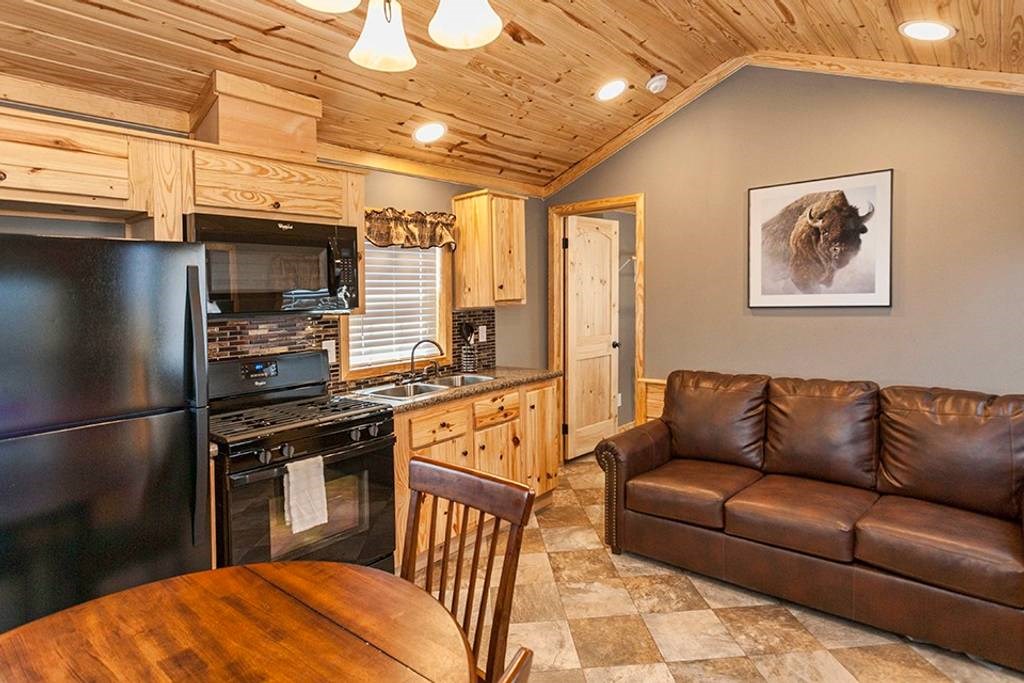 4. Dodge City KOA – Dodge City, KS
Dodge City KOA is a fun stop for families and history buffs on the way through the Kansas plains. With a waterpark and zoo located right next to the campground, kids can splash around on hot days and visit animals up close. Dodge City is known as the "Queen of the Cow Towns" and became a prairie frontier town as cowboys moved longhorn cows from Texas into the area during the late 1800s. Take a short walk from camp to the Boot Hill Museum. Go back in time at the living history museum's recreated Wild West main street, complete with a printing shop, drug store and saloon serving up cold sarsaparilla. Beware! Gunfights may break out. Stroll next door to the Boot Hill Distillery, housed in Dodge City's 1929 all-purpose Municipal Building. Try the made onsite liquors, including whisky, gin, and vodka at the distillery tasting room.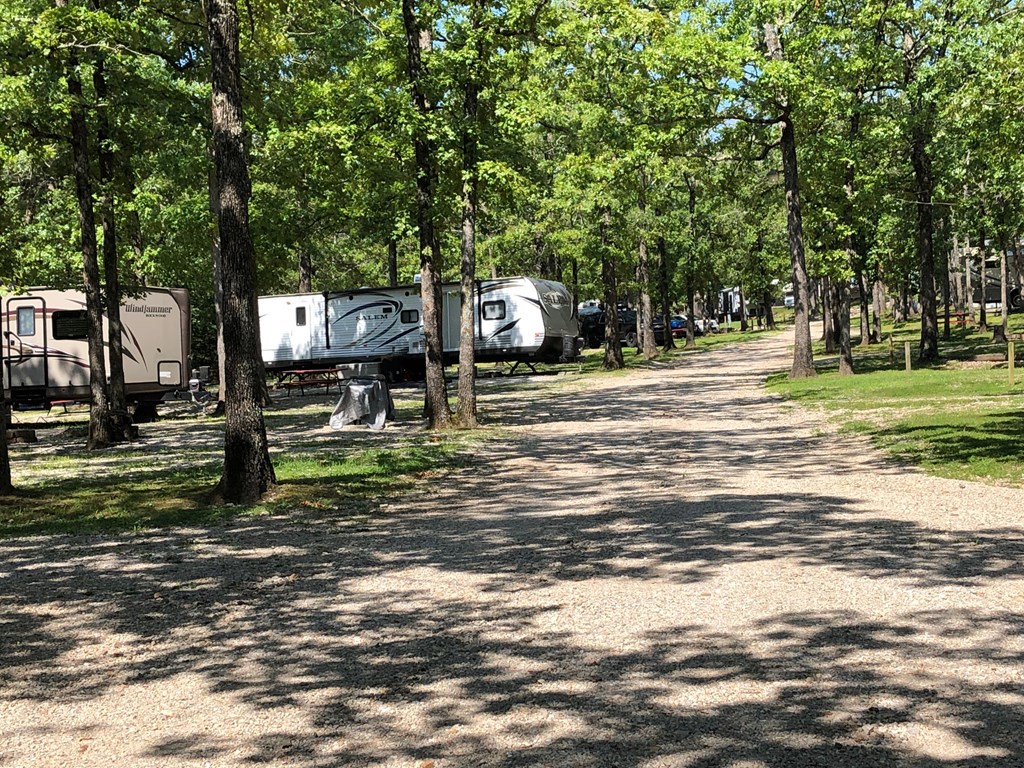 5. Lake of the Ozarks/Linn Creek KOA — Linn Creek, MO
Trees loom tall around the heavily forested Lake of the Ozarks/Linn Creek KOA campground. The winding tributaries and tree-lined shores of nearby Lake of the Ozarks host invigorating water sports and natural wonders ready for exploration. Lakeside Ha Ha State Park has many geologic features along its boardwalk trails, like a hot spring that now fills a giant sinkhole formed from a cave collapse. Other points of interest at Ha Ha State Park include walking around the ruins of a stone castle mansion and nature watching against the lake backdrop. Lake of the Ozarks' beauty runs deep, deep underground, that is. Get a view inside the earth by taking a one-hour guided tour of the lake's Bridal Cave. Roam cave passageways, gaze into subterranean pools of deep blue water and learn about how fantastical rock features like dripping cave ceiling columns formed.
---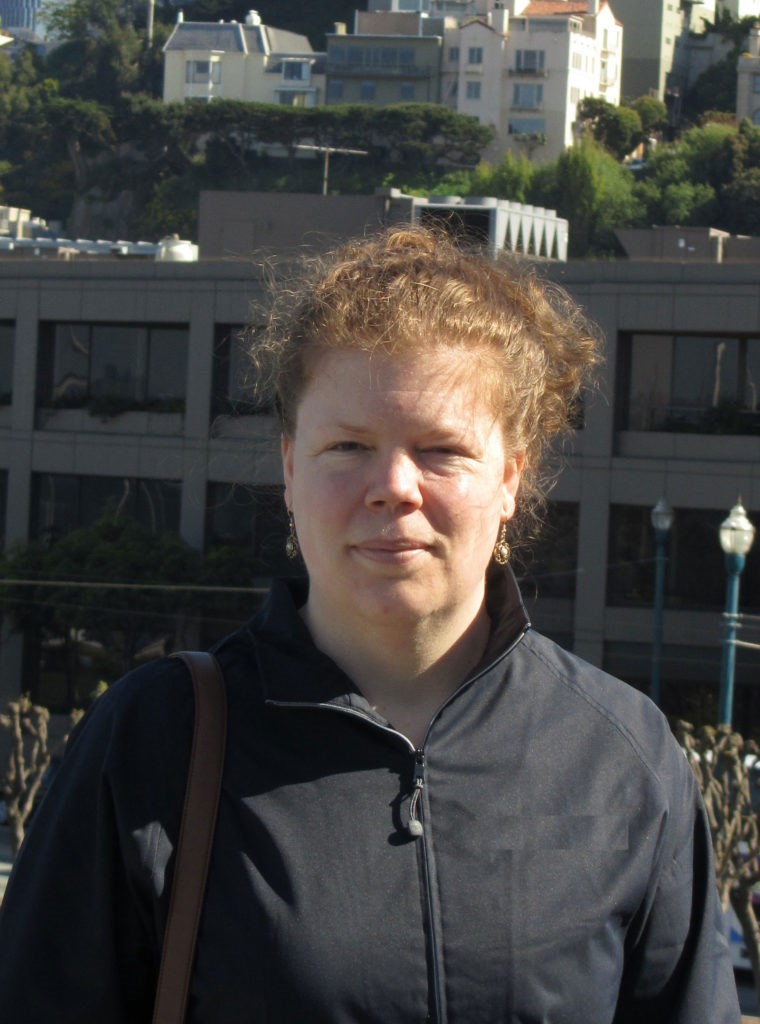 Eva Barrows is an accomplished San Francisco Peninsula freelance writer and editor. She writes for regional magazines like PUNCH and Edible Silicon Valley and is editor-in-chief of Live&ThriveCA magazine. She founded the online literary journal Imitation Fruit in 2007 and has enjoyed promoting fellow writers and artists ever since. Read more of her travel writing at www.evabarrows.com.
---