Read all about Delaware Water Gap / Pocono Mountain KOA Holiday – 2018 KOA Campground of the Year.
Delaware Water Gap / Pocono Mountain KOA Holiday is owned and operated by Robert and Elisa Prato and has been part of the 500-campground KOA system since 1979. Originally owned by Robert's father, Carmen Prato, it was love that turned him from son to owner.
Robert Prato met his wife, Elisa, at his father's KOA campground when she was 18 and he was 21, at site 32.
"I had just graduated high school and went camping in Pennsylvania for the summer before I went to college," Elisa said. "He followed me home. I went camping and the rest is history."
Robert jokes that he bought the campground from his father, Carmen, when he put it up for sale because his father wouldn't let him buy just site 32.
"I had to buy the whole place," he said with a laugh.
And with that, Robert became the second-generation owner of the Delaware Water Gap / Pocono Mountain KOA Holiday in East Stroudsburg, Pa. in April 2006.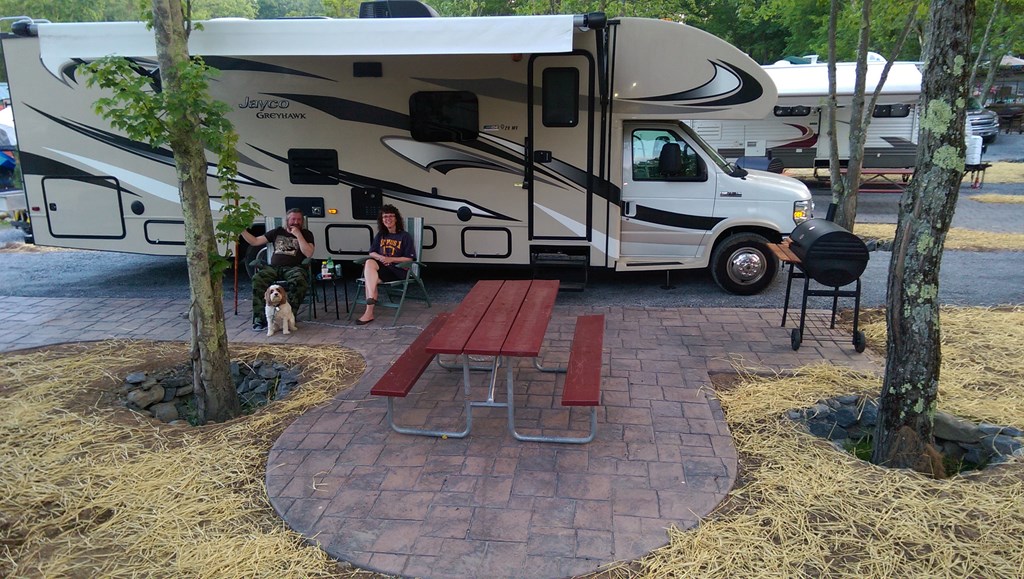 Carmen was a trucker in 1975 when a gas shortage struck the country.
"You would go to the gas station and you could only get gas on even numbered days if your license plate number ended in an even number," said Robert. "If your plate ended in an odd number you could only get gas on odd days."
The trucking company went out of business in the eastern U.S., and after 18 years as a trucker Carmen decided to sell his the family home in New Jersey and buy a campground. The family had started camping in 1970 and found they enjoyed camping at a KOA in the Poconos. When the campground came up for sale in 1979 Carmen thought it was fate.
"He came back and told me the price of the campground. It was way out of his budget. He went back more than a month later and it was sold," Robert said. "He looked around for another six months or so, but he couldn't find what he wanted."
Carmen later stopped by the KOA to meet the new owners, and was surprised to see the original owners there, Robert said. The deal had never gone through and the owner had lost Carmen's number.
Carmen purchased the campground on April 27, 1979.
"I wasn't married. I had no attachments. So I moved right in with him at the campground," Robert said.
The first thing they did was put cable TV in the whole campground.
"That was an undertaking," Robert said.
Robert was 19 at the time, and stayed to help run the place for five years before he left to start a construction company. But he said he always returned to help out.
Forty years later he is still working both businesses.
Carmen owned the campground for 27 years before Robert and Elisa bought the campground from him, owning it for the past eleven years.
Over the past eleven years, Robert and Elisa have put in new water mains and water lines, 50-amp service for customers coming in with bigger rigs and other upgrades. They have added 12 Patio Sites, 12 Deluxe Cabins, 11 Camping Cabins, a travel trailer rental, two teepees and new this year – a Conestoga Wagon, a covered wagon that is 20 feet by 10 feet wide and has a king size bed and bunk bed.
"We haven't even advertised it yet and every weekend it has been rented," Robert said.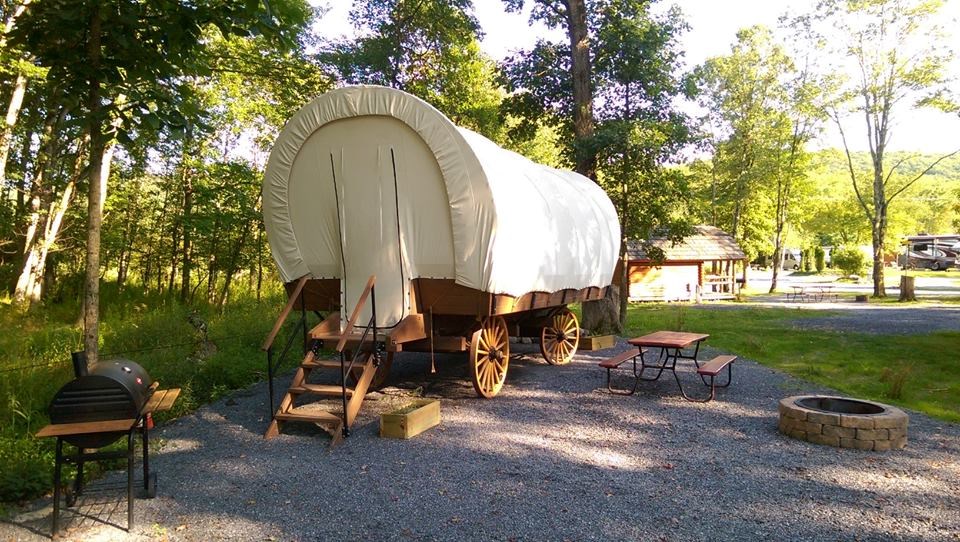 Robert and Elisa have three sons, who at this time aren't helping run the campground on a regular basis, but still come back to help out.
"When the campground needs help, its all hands on deck," Elisa said.
He said being a KOA makes running a campground easier.
"There's no other brand out there that's even close to KOA. It's a household name and it brings in business," he said. "I don't have to waste money on advertising like a non-KOA campground would have to. In my eyes they do a good job at advertising. But once the customer is at the campground, then it is all up to us to have a clean park and friendly staff.
"The key is to really listen to your customers. After 40 years in construction, people tell me what they want and I do it," Robert said. "It's very important to listen to the customer. When a customer wants something, that's what they want. They don't like the site? Change it. Move them. Figure it out. That's what I think moved us to where we are these past 11 years."
The annual KOA Campground of the Year Award is KOA's most prestigious honor and is indicative of the campground's total dedication to the wants and needs of their camping guest and their desire to enhance the Kampgrounds of America brand in the minds of campers throughout North America.
---