Whether you're stuck at home, relaxing with some friends, or out doing some fabulous camping, when five o'clock rolls around, it's time to treat yourself a bit. If drinking isn't your thing, or if you want to share your happy hour celebrations with your kids, then opt for a mocktail instead. You can still have fun with these drinks even though they don't pack the punch of alcohol. Mixing up some fun and tasty ingredients will result in drinks that will have you celebrating happy hour every hour.
Read on to get some fab recipes for delicious mocktails to make at home or bring to your next gathering.
Mocktails Recipes You're Sure to Love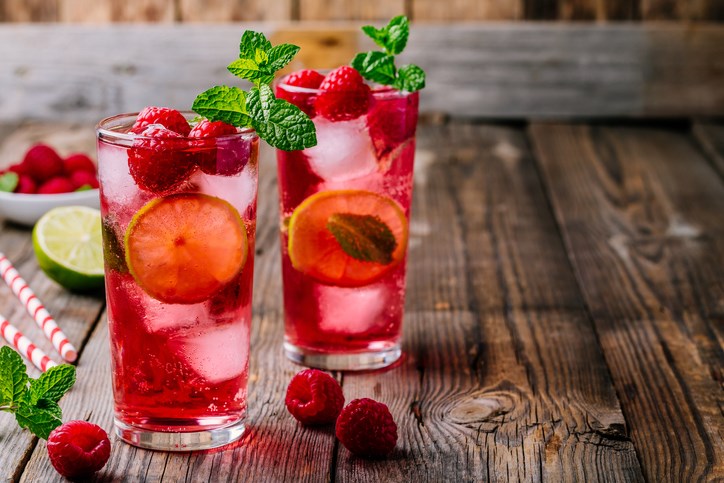 1. Raspberry Lemon Virgin Mojito
Serving size: 1
Just the word "mojito" makes our mouths water, and this virgin one is guilt-free. Few things feel more fresh than cool mojito on a warm day, so use this recipe to make your own virgin version.
What you need:
15 mint leaves
1 oz simple syrup
2 oz freshly squeezed lime juice
8 oz sparkling raspberry lemonade
Raspberries, mint, lime wedge for garnish
What to do:
Put the mint leave in bottom of a tall highball glass
Gently muddle mint
Add simple syrup and lime juice
Add handful of ice cubes
Top with sparkling raspberry lemonade
Garnish with raspberries, mint, and lime wedge
2. Frozen Peach Bellini Mocktail
Serving size: 2
Don't feel like champagne but still want the taste of a bellini? No problem. Sub apple juice and you may find yourself enjoying this version more than the real thing.
What you need:
2 peaches, peeled and sliced (fresh or frozen)
1 cup sparkling apple juice (plus more for serving)
2 tsp sugar (or sugar alternative)
1 tsp lime juice
What to do:
Place sliced peaches in freezer for 1 hour
Combine peaches, 1 cup sparkling apple juice, sugar, and lime juice in blender and blend until smooth
Pour into 2 glasses and add about ½ inch more sparkling apple juice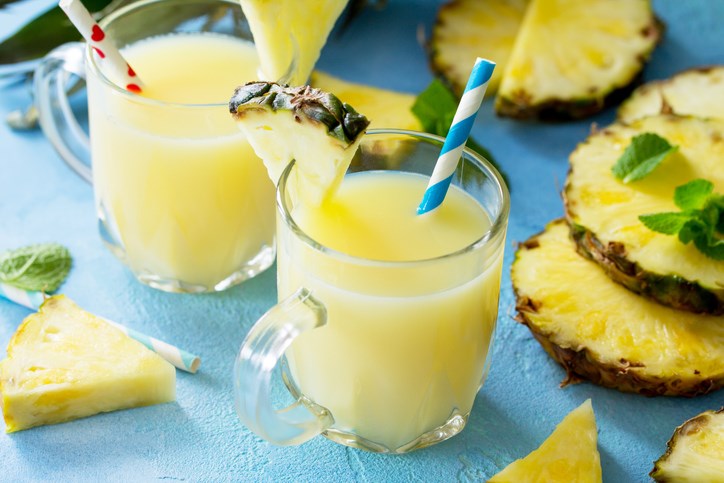 3. Virgin Pina Colada
Serving size: 4 cups
If you like pina coladas and getting caught in the rain, then get ready to enjoy a downpour of deliciousness with this virgin pina colada.
What you need:
1 cup pineapple juice
1 cup canned coconut milk
¼ cup granulated sugar
¼ cup heavy whipping cream
1 tsp vanilla extract
8 cups cubed ice
What to do:
Put all ingredients in blender
Blend until smooth
4. Rhubarb and Citrus Mocktail
Serving size: 6 cups
If you're looking to switch up your mocktails a bit and throw in some fresh and unusual flavor, then give this rhubarb and citrus mocktail a try.
What you need:
3 large rhubarb stalks, chopped
1 cup sugar
1 ½ cups boiling water
Juice from 4 oranges
Juice from 3 grapefruits
¼ cup of rhubarb simple syrup
Bunch of mint
3 cups sparkling water, cold
15 ice cubes
What to do:
Start by making the rhubarb simple syrup
Put the rhubarb, boiling water, and sugar in a saucepan over medium heat
Let cook for about 25 minutes until rhubarb is very soft and liquid has a syrupy consistency
Strain the syrup using a fish mesh sieve
Allow to cool down
Once the syrup has cooled, begin juicing the fruits
Pour grapefruit and orange juice into a pitcher
Add ¼ cup of simple syrup, mint, sparkling water, and ice
Stir to mix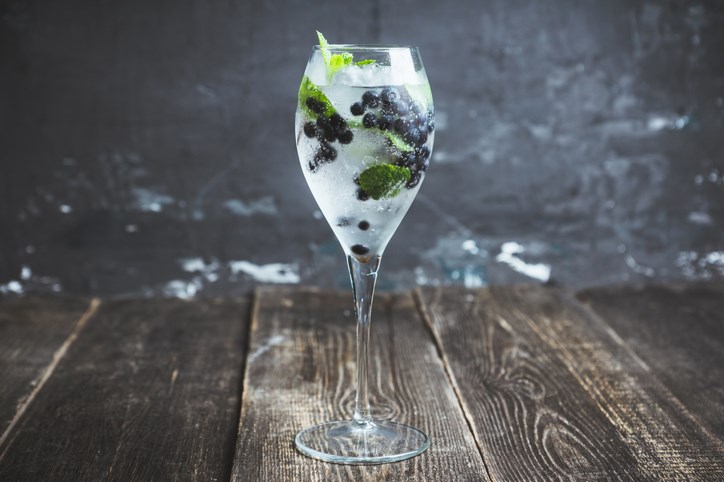 5. Blueberry Ginger Cooler
Serving size: 6
If you're looking for a cool drink on a hot day, then this is your ticket to the perfect cool down. The mix of the blueberry and ginger flavors will have your taste buds singing.
What you need:
4 ¼ cups water
1 ¼ cups fresh blueberries
1 T grated ginger
4-5 T sugar
2-3 cans lemon lime sparkling water
Ice cubes
Mint leaves
What to do:
Add water, blueberries and grated ginger to a pan on medium-high heat
Let come to a boil
Once mixture starts boiling, add sugar and mix until it dissolves
Lower the heat and mash all the blueberries
Let mixture simmer for 10-15 minutes
Remove from heat and let cool
 Once cool, cover with plastic wrap and let sit at room temperature for 2-3 hours
After 2-3 hours, strain syrup into clear bowl and refrigerate until ready to use
When ready to drink, fill ⅔ of glass with syrup, add ice cubes, then lemon-lime sparkling water
Stir to mix
6. Grapefruit Kombucha Agua Fresca
Serving size: 2
Love kombucha but want to liven it up a bit? Try this mocktail that will have you feeling healthy and enjoying some tasty flavor any time of the day.
What you need:
1 cup grapefruit juice
1 cup unflavored kombucha (ex: GT's trilogy)
1 tsp maple syrup
2 sprigs fresh rosemary
Optional: sparkling water
What to do:
In pitcher combine grapefruit juice, kombucha and maple syrup
Stir to combine
Fill 2 glasses with ice and pour drink over top
If kombucha isn't bubbly on its own, add some sparkling water
Rub rosemary sprigs between hands to release oils and pop a sprig in each glass
7. Rainbow Coconut Water Spritzers
Serving size: 4
Not only does this drink taste delicious, it also looks delicious. So if you want to have a delicious drink and a great photo to go along with it, try your hand at making this mocktail.
What you need:
Handfuls of:
Raspberries
Strawberries
Cherries
Peaches
Pineapple
Lime slices
Fresh mint
Blueberries
Blackberries
16 oz coconut water
8 oz coconut or vanilla flavored sparkling water
What to do:
Fill each glass with a bit of crushed ice then add fruit in rainbow colors
Once fruit is in the glasses, add a bit more ice and fill each class with 4 oz coconut water
Top each off with flavored sparkling water and garnish with fresh mint
8. Lemon Pineapple Kiwi Sparkling Mocktail
Serving size: 2
Get some green in your life without eating any salad. This mocktail has a beautiful green color that will have people believing you're drinking green juice, but this version actually tastes good.
What you need:
1 kiwi
3 tsp pineapple juice
1 tsp raw honey
1 can sparkling lemon water
What to do:
Peel and slice kiwi and put into food processor or blender
Add pineapple juice and raw honey (make sure honey is a liquid — microwave if need be)
Pulse or blend to make well-blended puree
Pour ¾ cup sparkling water into each glass
Divide puree and pour in each glass
9. Virgin Stone Fruit Sangria
Serving size: 6
Love sangria but want to do it without the booze? Try this virgin version that brings in some great summer fruit.
What you need:
2 cups fresh cherries, pitted and cut in half
3 small apricots, sliced
2 plums, sliced
2 cups cherry juice
2 cups ginger beer
2 cups sparkling water
What to do:
Combine all ingredients in large pitcher and refrigerate for at least 30 minutes
Serve in wine glasses filled with ice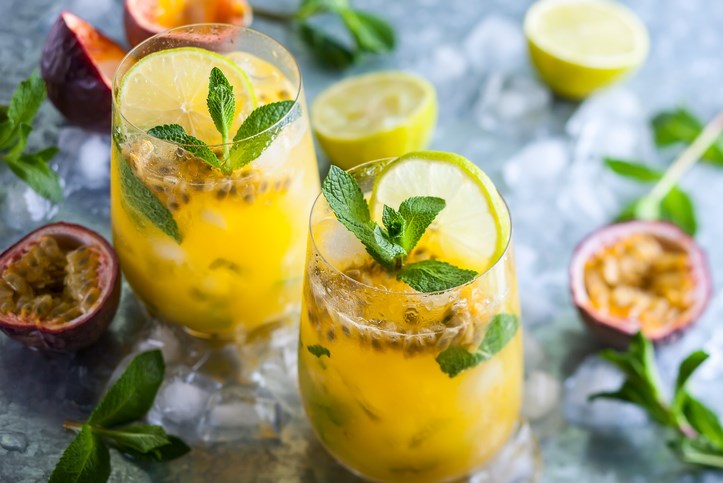 10. Passion Fruit Summer Drink
Serving size: 4
Though fresh passion fruit is preferrable, this drink still gets the same idea across with passion fruit juice from the store. Either way, this is something you'll love sipping on.
What you need:
½ cup mint leaves
2 limes, cut into ½-inch pieces
3 inches fresh ginger, cut into thin sticks
8 passion fruits
4 oranges, juiced
Ice cubes
1 cup sparkling water
What to do:
Muddle mint leaves, lime pieces and half of ginger sticks in bowl
Pour into a pitcher
Cut passion fruits in half and scoop out flesh into pitcher
Add juice from oranges and ice cubes and stir
Top with sparkling water, ginger sticks and a mint leaf
11. Elderflower Blueberry Lime Virgin Cocktail
Serving size: 1
If you are in the mood for a floral kick, give elderflower a try. This edible flower has made quite an appearance on the drink scene, so try it in this mocktail.
What you need:
2 T elderflower syrup
1-2 T fresh lime juice
Small handful of blueberries
1 cup sparkling water
Handful ice
Fresh mint
Lime slices
What to do:
Combine elderflower syrup, lime juice, and blueberries in glass
Lightly mash together with a muddler
Top with ice and lime slices
Pour over mineral water and add mint leaves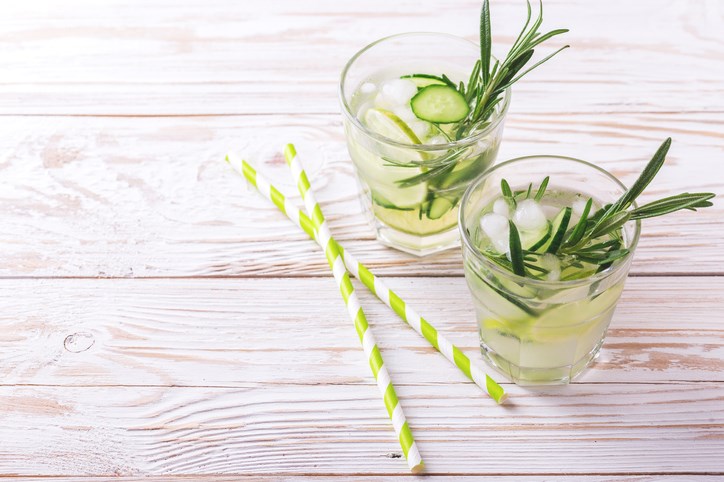 12. Mediterranean Cucumber Tonic
Serving size: 1
Looking for a mocktail that is less on the sweet side and taps more into some unique flavors? Give this one a try, and we promise you'll love how fresh it will leave you feeling.
What you need:
3 mini cucumber slices
2 tsp fresh lemon juice plus one lemon slice for squeezing
4 oz tonic water
1 sprig fresh rosemary
What to do:
In rocks glass, muddle 1 mini cucumber slice and fresh lemon juice
Top with ice, 2 more cucumber slices, tonic water, squeeze from a slice of lemon and sprig of fresh rosemary
13. Strawberry Watermelon Slush
Serving size: 4
Few things taste better than a good slushie. No matter what your age, there is something about a slushie that just hits the spot. Try this fresh homemade version to bring back great memories.
What you need:
⅓ cup lemon juice
⅓ cup sugar
2 cups cubed seedless watermelon
2 cups fresh strawberries, halved
2 cups ice cubes
What to do:
Put lemon juice, sugar, watermelon, and strawberries in a blender
Blend until smooth
Add ice and blend, covered, until slushy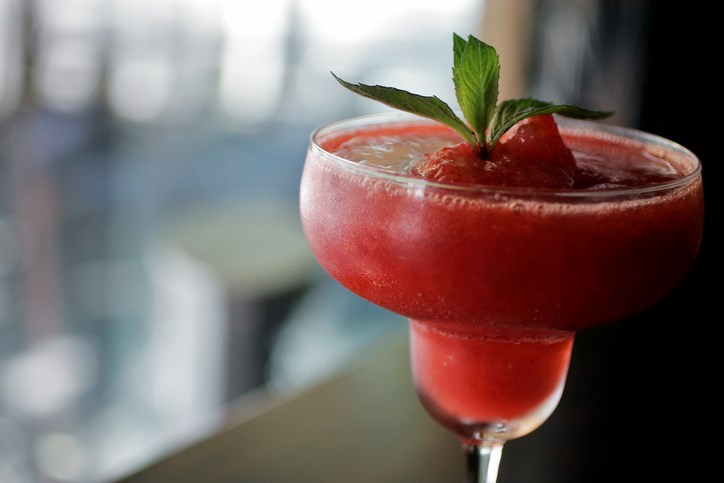 14. Virgin Strawberry Daiquiri
While we are on the subject of blended drinks, enter the ultimate blended drink: a strawberry daiquiri. Enjoy this one without alcohol just as much as the real deal.
What you need:
4 cups frozen strawberries
1 cup fresh strawberries
1 cup simple syrup
¾ cup freshly squeezed lime juice
½ tsp rum extract
1 fresh lime, thinly sliced
What to do:
Rinse, hull and slice strawberries until you have 1 cup
Squeeze fresh lime juice and slice a fresh lime for garnish
Pull out frozen strawberries and let thaw for a couple minutes
Place fresh strawberries, simple syrup, lime juice, and rum extract in blender
Blend until very smooth then gradually blend in frozen strawberries until no chunks remain
Pour daiquiri into glasses and garnish with fresh lime and strawberry slices
15. Turmeric Ginger Grapefruit Mocktail
Serving size: 2
Want to have a tasty drink but also boost your immune system? You can call those two birds with this one stone: a turmeric ginger grapefruit mocktail.
What you need:
2 cups fresh squeezed grapefruit juice (about 6 grapefruits)
2-inch piece of ginger root
1-inch piece of turmeric root
Crushed ice
Grapefruit slices for garnish
Sparkling water
Honey
What to do:
Squeeze grapefruits to collect juice
Grate ginger and turmeric in pitcher and pour in grapefruit juice along with 1-2 T honey
Mix and let sit for a few minutes
Pour juice through strainer and throw away turmeric and ginger remnants
Chill in fridge until ready to serve
Add crushed ice and pour in juice over top
Fill to top with sparkling water and garnish with grapefruit slice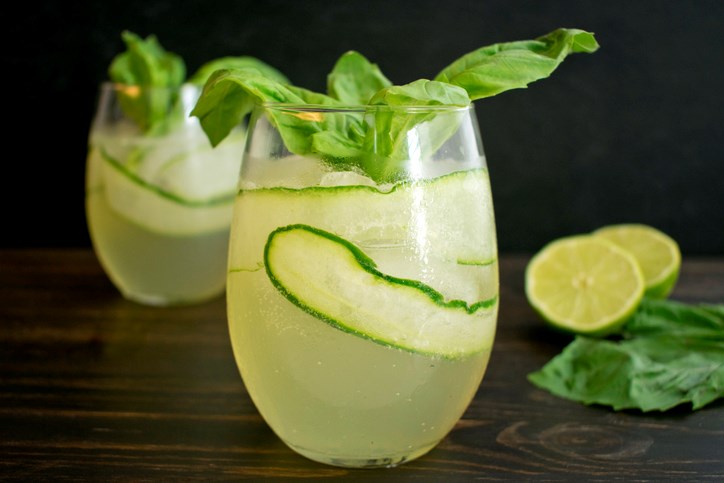 16. Cucumber Basil Citrus Mocktail
Serving size: 1
Few drinks will feel as refreshing as this one, and few will have you feeling as guilt-free thanks to all the good ingredients this one packs. You won't miss the alcohol one bit.
What you need:
1 cup basil sprigs
1 cup water
½ cup sugar
3 strips lime zest
1 oz freshly squeezed lime juice
1 oz blood orange juice
2 oz sparkling water
½ oz basil simple syrup
⅓ cucumber, cut into matchsticks
Lime slices and basil leaves for garnish
What to do:
For simple syrup, combine all ingredients in small saucepan over high heat and bring to a boil, stirring until sugar is dissolved
Remove from heat and let stand at room temperature, covered, for 1 hour
Strain syrup and throw away solids
Mix juice and syrup in cocktail shaker with a couple of ice cubes until chilled
Fill glass ¾ full with crushed ice and remaining ¼ with cucumber matchsticks
Pour citrus mixture into glass and top with sparkling water and squeeze of lime
Happy hour doesn't go away if you aren't drinking alcohol. With the above drinks, your happy hour just got a whole lot happier (and healthier, too). Let us know which recipes you try, and if there are other favorite ones you like to make at home or when you're out camping!
---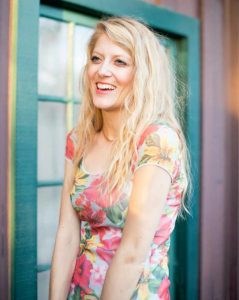 Leslie, a.k.a. Copy Girl, is a copywriter who gets butterflies from telling stories through words.
Her voice comes from a place filled with passion, dreams, and lots of sugar. "Cake over steak" is her go-to motto.
With over 10 years of experience in crafting words, and years of embarking on travels that have taken this Montana girl to some incredible places, Leslie love the adventures of both body and mind her writing takes her on.
Everywhere she goes, she takes this advice with her:
"Hold on to your divine blush, your innate rosy magic, or end up brown." – Tom Robbins, Jitterbug Perfume
To see what Leslie's up to in the writing world, visit her website here.
---