13 Ways to Make Great Memories With Your Grandchildren When Camping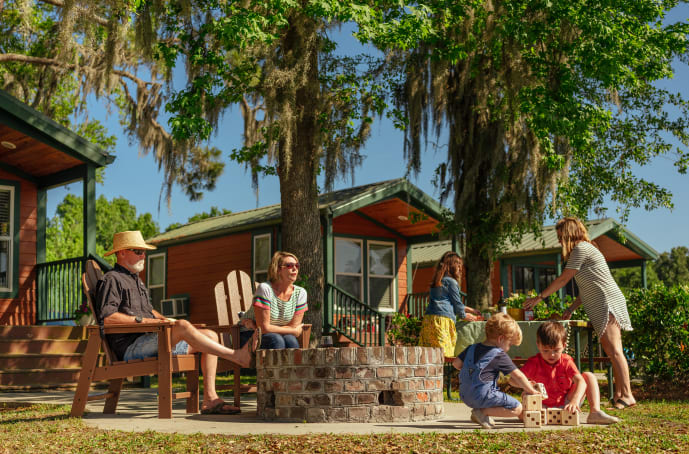 When you take your grandkids camping, you'll give them an experience that lasts a lifetime. Memories of chasing fireflies and campfire cookouts will stay with them even as they grow up and take their own kids camping. Of course, it might just take you back a few years, too.
To help give your youngest campers the experience of a lifetime, here are 13 ways to make great memories while camping with your grandkids.
1. Scavenger Hunt: Three Ways
Scavenger hunts get the kiddos moving and thinking, a double benefit to their minds and bodies. With a little creativity, you can come up with lots of variations on the scavenger hunt theme.
For example, bring along some small toys and hide them around the campsite for younger kids. Or send older kids out with a list of typical campground sites like BBQ grills and tents of a particular color. The first person that spots everything on the list gets to pick dinner.
You can also turn an ordinary nature hike into a scavenger hunt to keep antsy little ones interested. This time, create a list of items such as yellow flowers, squirrels, and turtles.
2. Geocaching
Geocaching is another type of scavenger hunt but on a much larger scale. Basically, people hide little canisters all over and you use GPS and clues to find them. Once you find it, you can leave a note for anyone who follows and read the notes left behind by others who have found the same geocache. Some KOAs even have their own geocaches hidden around the campground.
3. Start the Campfire
This one is for the older kids. A campfire is a great opportunity to teach about fire safety. Have the kids search for kindling, stack the logs, and, with lots of guidance, light the campfire. Besides learning an important camping skill, the kids will build confidence and feel a sense of accomplishment.
4. Smore's Making Contest
If you're camping with kids, S'mores are going to happen. Why not spice things up with a little S'mores making contest? Start with the basics: graham crackers, chocolate bar, and marshmallow. Then get creative with different cookies (chocolate chip, for example) for the crust and things like peanut butter cups or even sliced berries for the filling. Everyone gets to make their own and, if you're feeling brave, you can be the judge.
5. Glow-in-the-Dark Frisbee
What better way to burn off that post-s'mores energy than a game of Frisbee? You can add a new kind of fun to this time-honored game by bringing a light-up or glow-in-the-dark disk.
6. Go for a Swim
Don't forget to bring the floaties because a dip in the pool on a hot day is an absolute necessity. Good thing many KOAs have resort-style pools perfect for a swim and a relaxing lounge.
7. Camp Songs/Stories and Hot Chocolate
Camping is great for reconnecting with nature, but it's also great for reconnecting with each other. There's no better way to do it than by sipping hot cocoa around the campfire and trading stories or singing songs. All you need is a book of short stories or a list of camp songs and you're all set for an evening of fun.
8. Ride Bikes
Tooling around the campground on your bikes is a good way to while away an afternoon while you're camping. It not only gets the kids moving, but you'll get a bit of exercise yourself. So whether it's training wheels or 10-speeds, bikes are a great addition to your campground packing list when your grandkids come along. Actually, many KOAs offer bike rentals, so you don't even need to pack your own.
9. Identify the Stars
Not all technology has to be bad when you're camping—take stargazing apps, for example. With a stargazing app on your cell phone, you can identify planets, stars, and even man-made satellites in real-time. The kids will be amazed when they learn that the "star" they were watching is actually a space station.
10. Bring a "Kids-Only" Mini Tent
Give the kids a little independence with a kids-only mini tent. Even if they're bunking with you, a mini tent can be a "no grown-ups allowed" haven where they read, nap, and play on their own.
11. Jump Around at the Playground
Sometimes kids just need some time to be kids. KOA's playgrounds let them do just that. Depending on the location, your grandkids will find slides, swings, ropes to climb, and more. Plus, many KOAs feature the famous jumping pillow, a huge inflated bounce pad that's so much fun, you may want to have a go.
12. Angle for a Fish
Fishing and camping go together like chocolate and graham crackers. All you need is a couple of fishing rods and a comfy chair for hours of laid-back time with your little buddies. Don't like dealing with bait? Depending on local rules, you can use gummy worms or corn to try and snag a fish or two. Don't forget to grab a fishing license before you head out.
13. Play Some No-Equipment-Needed Campsite Games
Some of the best games are also the simplest. I Spy, Redlight/Greenlight, and Simon Says are all games you can play with no equipment. They're also great ways to distract bored little ones when you're waiting for food to cook.
You are now fully armed to take on cries of "I'm bored" or "What can we do now?" Under the guise of entertainment and fun, you will be building strong relationships with your grandchildren and making memories that will last at least until all the s'mores are gone. So what are you waiting for? Get those kiddos out camping and have some family fun.
Written by Rob Glover for Matcha in partnership with Kampgrounds of America.