We often think back to the days before smartphones as "the good ole days." And in some ways, they certainly were good. But how "good" was using paper maps and getting lost when traveling? How "good" was running out of radio stations and listening to static instead? How "good" was forgetting something on your packing list that you needed for your trip? How "good" was driving around late at night, going from camp to camp looking for an open site?
You get the picture.
There is no denying that today, most people spend more time than necessary scrolling through social media on their phones, playing games, and simply wasting time on their phones. However, there are plenty of benefits you stand to gain with your smartphone, especially when it comes to camping.
Here are the apps you will be thankful you have when you are getting ready for your camping trips, and when you are out adventuring.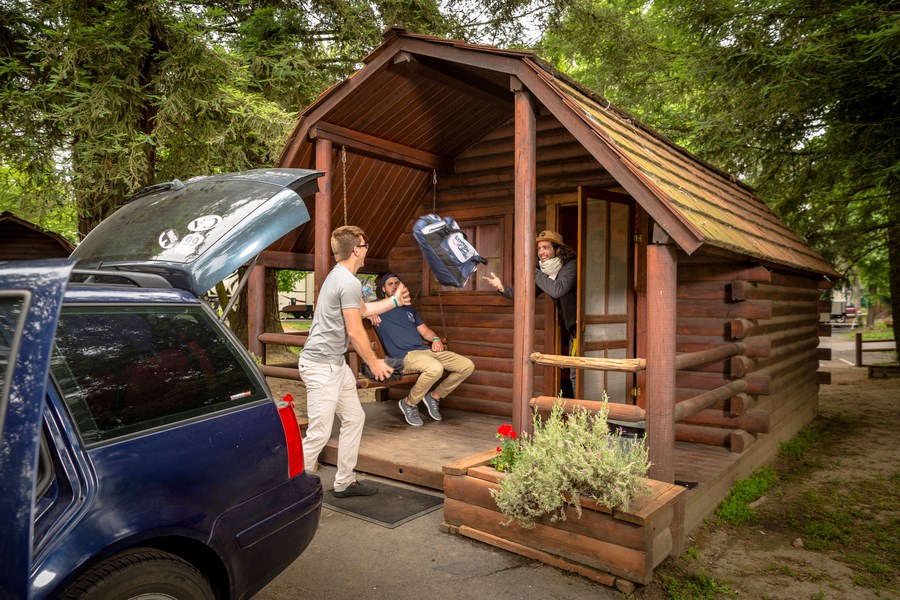 1. Packing List Checklist
Even if you are a seasoned camper, it is easy to forget some things when packing, and you may find yourself realizing what you forget when it's too late. Rather than wait for disaster to strike, instead plan ahead and download the Packing List Checklist to make sure you have everything you need before you head out the door.
This app offers a Pick Suggested Items feature that requires minimal effort for you to pack and instead essentially tells you what you need to bring.
There are a number of different categories you can choose from so that you have all bases covered when packing:
Essentials
Baby
Beach
Camping
Clothing
Electronics
Food
Healthcare
Makeup
Shoes
Toiletries
And more
You can even create your own, and use emojis to differentiate them.
Another great feature of this app is that you can sync your devices meaning that if you created the list on your iPhone, you can access it on your iPad.
Even better yet is that you can save your lists, so that you can re-use the same one, and add to it in case there is anything you realized you forgot — without having to start at ground zero.
Packing List Checklist also has a To Do vs. To Pack feature that helps you to separate between what you still need to do in preparation for your trip, and what you need to pack. Because as seasoned campers, we all know those are two totally different things.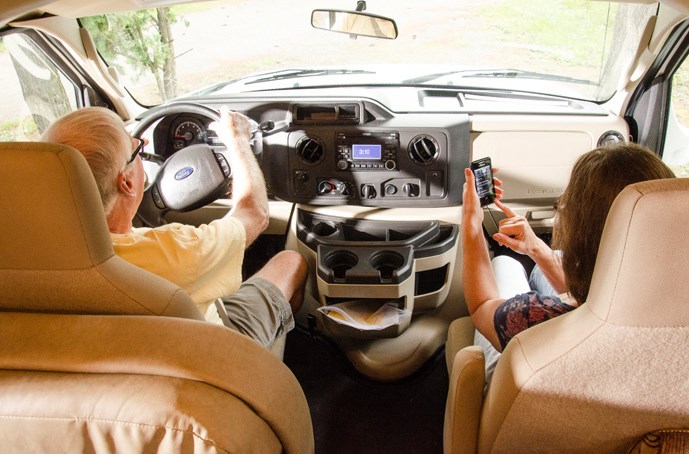 2. Google Maps
Stressing about navigation is one of the downsides of being behind the wheel of an RV or car during your camping trip. Driving is not easy, and knowing exactly where to turn when can be overwhelming.
Thanks to Google Maps, navigation just became as easy as following directions. By simply plugging in where you want to go, Google Maps automatically gives you the fastest route to get to your destination.
And if you accidentally miss a turn, no problem. Google Maps nearly immediately re-routes you to correct your mistake and take the next best turn.
Also, you are able to turn the audio on for Google Maps so you don't have to worry about looking at your phone. Instead, have the app tell you when to turn, and you can focus on keeping your eyes on the road.
A fabulous feature Google Maps has that many people aren't aware of is its ability to download maps for offline use. This is a big deal if you know you'll be traveling in some areas where service will be limited or non-existent. This is also great while you're camping and looking for trails in remote areas where service is something you don't think you can rely on.
Google Maps is the ultimate road trip and route app thanks to all the above, as well as real-time GPS traffic info that keeps you up-to-speed on what's happening right now.
3. Gas Buddy
When you are road tripping, gas is literally what keeps you going. And sometimes we know you adventurous folk head to the more remote areas where there may not be a gas station every few miles. And it's every RVer's worst nightmare to run out of gas.
But with the Gas Buddy app, you don't have to worry about any of the above. Not only does it show you where gas stations are nearby, it helps you find the cheapest ones so you can spend those extra dollars on the fun parts of your camping trip.
This app also allows you to filter your search results by brand (if you have a specific credit card) and amenities in case you need a quick shower on the road.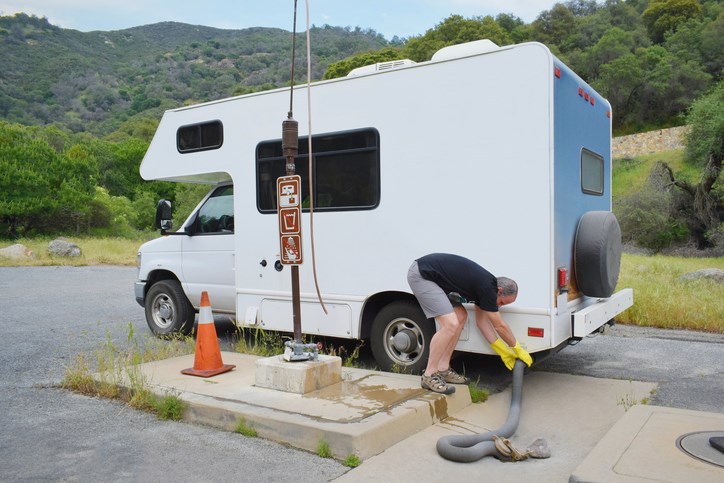 4. Sani Dumps
Though the name of this one isn't exactly poetic, it gets the job done and a very important job, at that.
This app provides you with the location of where you can dump your RV's holding tanks for those long stretches of road. KOA campsites offer places to dump, but you may find yourself needing to do it before you arrive to your campsite, and that's where the Sani Dumps app is going to be a lifesaver.
The map on this app is simple and shows you where the nearest RV dump location is, as well as what the costs associated with dumping are, the hours dumping is available, and how to contact the site with any questions.
5. CoPilot RV
Though we love Google Maps for your driving navigation, CoPilot RV is another app that provides great offline navigation but has additional features specially tailored to RVers.
CoPilot RV gets even more specific and gives you routes to take based on your RV size so that you don't risk running into low bridges or other areas that are restricted for RVs.
6. Audible
We all love road trips with friends and family, but after hours on the road, it's nice to tune them out and listen to something else instead.
And we suggest Audible. This is a great way to listen to the books that you may not have the time to read (or want to read on the road). Audible has all of the top books, as well as classics and some more obscure ones so that you can choose a book for whatever mood you're in. In fact, it is the world's largest selection of audiobooks.
Make a list ahead of your trip with books you're interested in, and once you're on the road open up Audible, and start listening.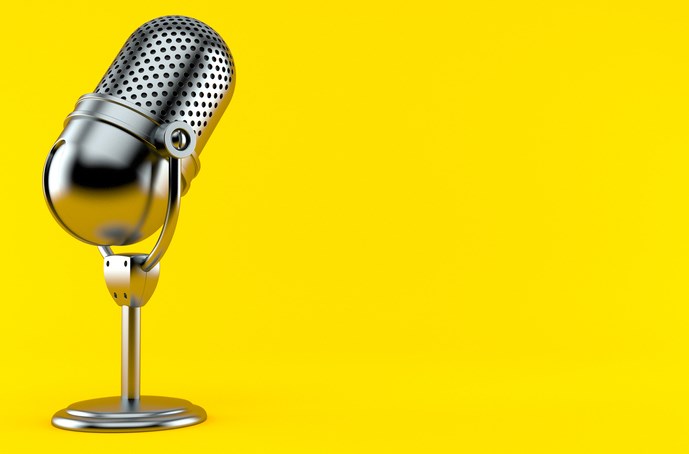 7. Podcast App
If you haven't jumped on the podcast train, then you have some catching up to do. Whether you're at home packing for your trip, out on the road, or hiking, podcasts are a great way to learn more about, well, anything and everything.
When we say there is a podcast for every topic you could ever think of and then some, we mean it. From cooking to cats and everything in between, podcasts are a wonderful way to gain new knowledge and in a way that is convenient.
You can subscribe to your favorite podcasts so that you are notified when new episodes come out (which for most podcasts is weekly). And you can download the podcasts ahead of time to listen to offline while you're in areas that don't have any service. There are lots of podcast apps out there, so do some exploring and pick your favorite.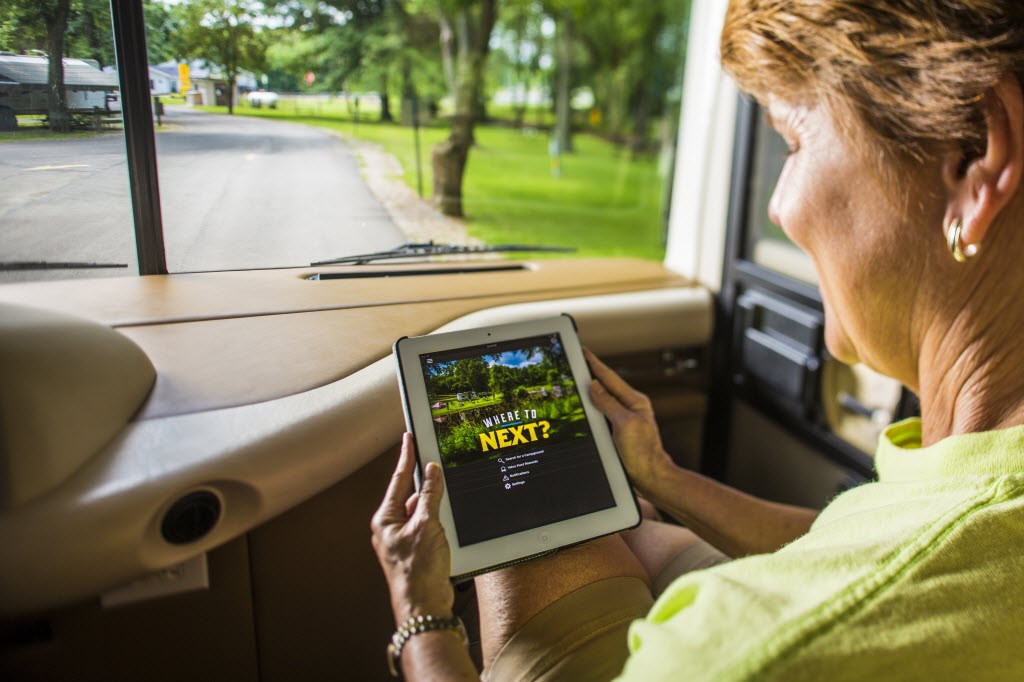 8. KOA Camping
To plan the ultimate camping trip, you'll want the KOA Camping app by your side.
With the KOA app, you'll be able to search KOA's nearly 500 campgrounds across the United States and Canada to find the perfect place for you to stay for a night, or more. You can search by city, state, nearby attractions, or by what's close to you right now.
Once you find the campground you want to stay at, you can also reserve it right there within the app, making it quick and easy to get your accommodations for the night — even when you're on the go.
When looking for the right campground, you can filter your searches for a number of different things including:
Swimming pool
Cabins
Deluxe cabins
Fishing
And many other amenities
The app provides detailed information about each of the campgrounds so you know exactly what you're booking, and what you're going to get during your stay. It also has information about what attractions are around the campsite so that you can plan your activities while staying there.
KOA's app offers offline functions, allowing you to get driving directions to the campsite as well as searches even when you're not connected.
Once you've stayed at a KOA campground and determined it is one you want to return to, the app lets you mark it as a "favorite" so that you can quickly find it again when you're ready to go back and visit. You'll also get notifications so you know when specific KOAs are offering deals and when there are special events happening.
But, most importantly, the KOA app has an emergency alert feature that lets you know of any road closures, storms, or campground emergencies that may affect your reservation.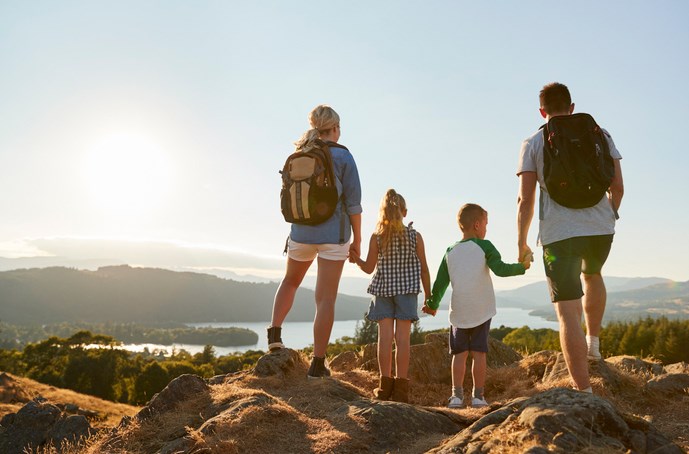 9. All Trails
When you're ready to put on your hiking boots and get out there in the wild, All Trails is the app that will get you to where you want to go.
With over 100,000 hiking and mountain biking trails all around the world, All Trails has a trail for everyone almost everywhere.
Whether you're looking for a trail that's family-friendly, one that allows dogs, one that will take you the whole day, one that will take you one hour, or one that is super remote, All Trails will have all the information to get you there.
One of the greatest features about this app is the reviews. This community is great about sharing insider tips and information about the trails, so be sure to check the reviews before you commit to hiking a specific one.
You can also utilize this app as a GPS activity tracker so that you can follow your trail once you're actually on it and keep from getting lost (we have all been there, right?). If you get your friends to also use the app, you can share your favorite hikes with them so that they can check them out too, and vice versa.
This app has an upgraded option that allows you to download the maps to use offline so that you can stay on the trail even when there isn't any cell service. This upgrade also provides off-route notifications if it sees that you are heading in the wrong direction. This can be a serious timesaver, and possibly even a lifesaver.
You can even take advantage of Lifeline that allows you to store safety contacts to let them know where you're going, and where you are on the trail. This is great for those who like to camp and hike solo.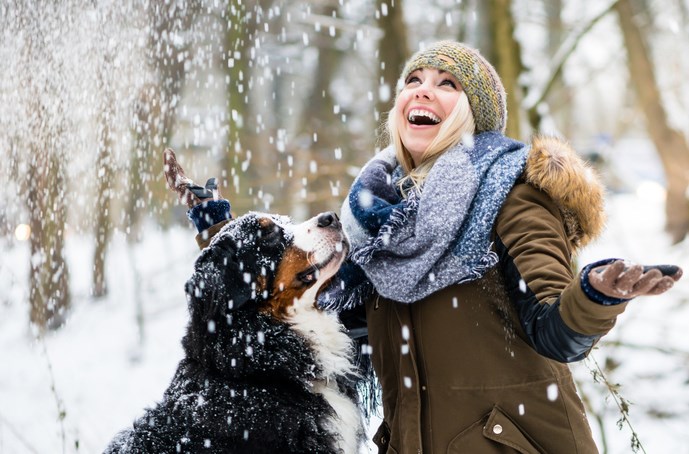 10. Accuweather
We've all had those camping trips where it's literally rained on your parade and while sometimes that can be fun, we prefer to stay out of the rain and camp when the conditions are a big more manageable.
This is much easier to do if you have the Accuweather app.
This app keeps you up-to-date on what the weather is doing where you are, or where you're going so that you can plan accordingly.
You can look up to 15 days ahead to plan your camping trip at a time that is best suited for you and the weather you're looking for. And, on the other end of the spectrum, the Accuweather app has a MinuteCast feature that updates weather information minute by minute so that you know what weather is right around the corner.
Another great thing about this app is that it will tell you how the temperature actually feels. Because we all know those times where it's said its 40 degrees outside, but really feels like 20.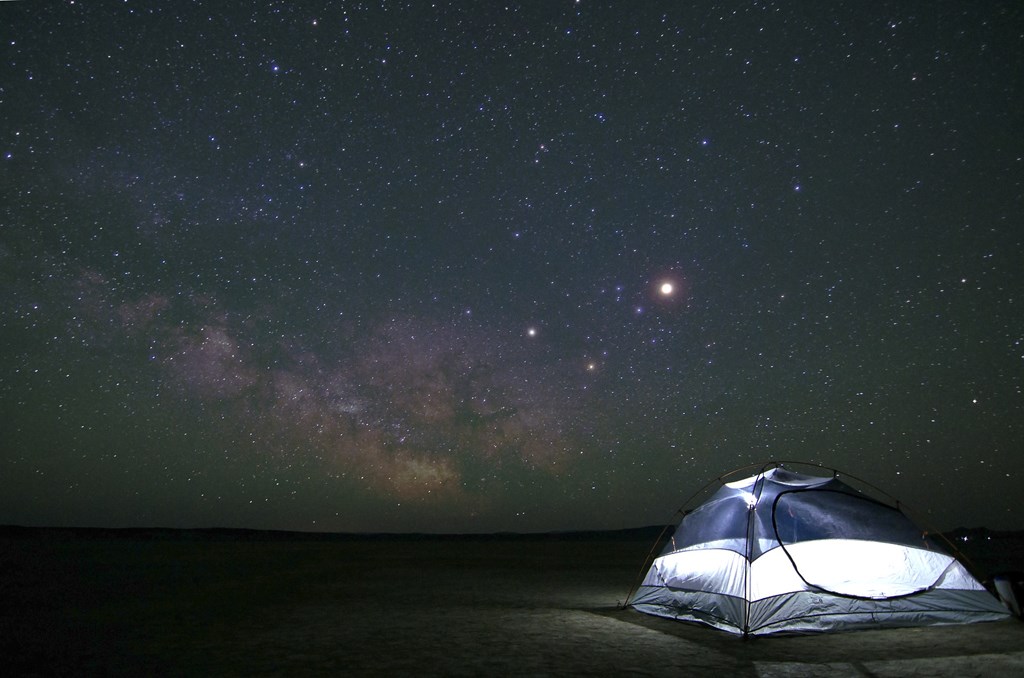 11. Night Sky
There are few better times and places to get a good look at the sky above you than while camping.
And the Night Sky app is the ideal way to learn what you are looking at. This app helps you to identify the constellations, stars, planets, and satellites up above you simply by holding your phone up to the sky.
But that's not it. This app has tons of features including:
Aurora Mapping: Find the best spots to see Aurora Borealis nearest you, along with alerts.
Night Sky Mindfulness: Add minutes to your Apple Health mindfulness count when using this app — stargazing is considered a form of meditation/mindfulness.
Planet Internal Structures: See what's inside the planets with just the click of a button.
Night Sky Quiz: See how much you know about the sky above you with this fun quiz.
And so much more
This app is a great way to get kids interested in what lies beyond Earth, but is also a fabulous way to get adults into it too!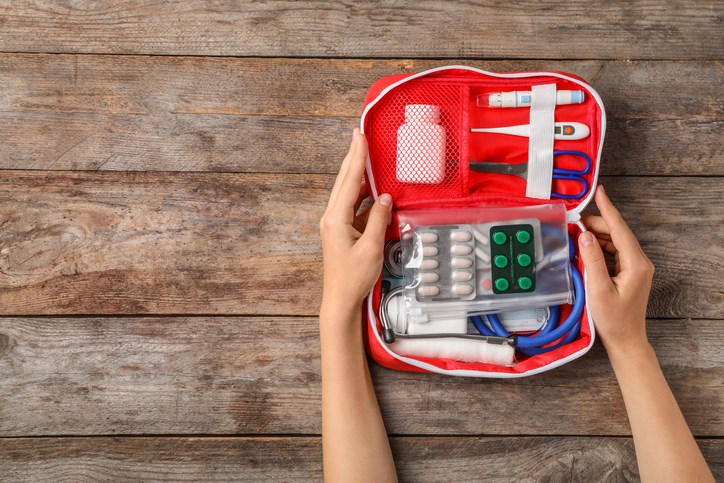 12. First Aid: American Red Cross
While all the above apps help you to plan things in advance, there are times when unexpected things happen, and you need help.
This is where the First Aid by American Red Cross app comes in very handy. If something happens and you are in need of first aid, this app gives a step-by-step guide on how to handle the situation.
There are interactive quizzes you can take ahead of time to prepare yourself for possible situations, but for the times when accidents happen, there are videos and steps to help you administer first aid.
First Aid is also integrated with 911 so that you can call for help from the app at any time.
In addition, the app provides safety tips to help you prepare for natural emergencies such as hurricanes and earthquakes.
There are surely more apps out there that will improve your camping experiences, but the above apps are ones that we just can't live without. Make sure to download the apps before you leave on your trip, and familiarize yourself with them a bit so that you can enjoy them for their convenience while you're out adventuring
---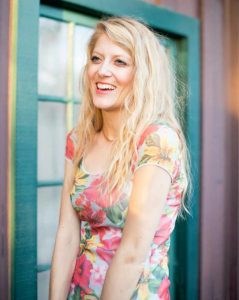 Leslie, a.k.a. Copy Girl, is a copywriter who gets butterflies from telling stories through words.
Her voice comes from a place filled with passion, dreams, and lots of sugar. "Cake over steak" is her go-to motto.
With over 10 years of experience in crafting words, and years of embarking on travels that have taken this Montana girl to some incredible places, Leslie love the adventures of both body and mind her writing takes her on.
Everywhere she goes, she takes this advice with her:
"Hold on to your divine blush, your innate rosy magic, or end up brown." – Tom Robbins, Jitterbug Perfume
To see what Leslie's up to in the writing world, visit her website here.
---