Renowned for its western history, food, museums, and its own distinct brand of Americana, Oklahoma City should find a spot at the top of your list of must-visit American cities. The state capitol of Oklahoma, this cultural enclave is filled with iconic sights and experiences, whether you're looking for chicken-fried comfort food, Native American art, or a moving memorial. If Oklahoma City isn't already on your radar, put it there. And do these 10 things when you're in town.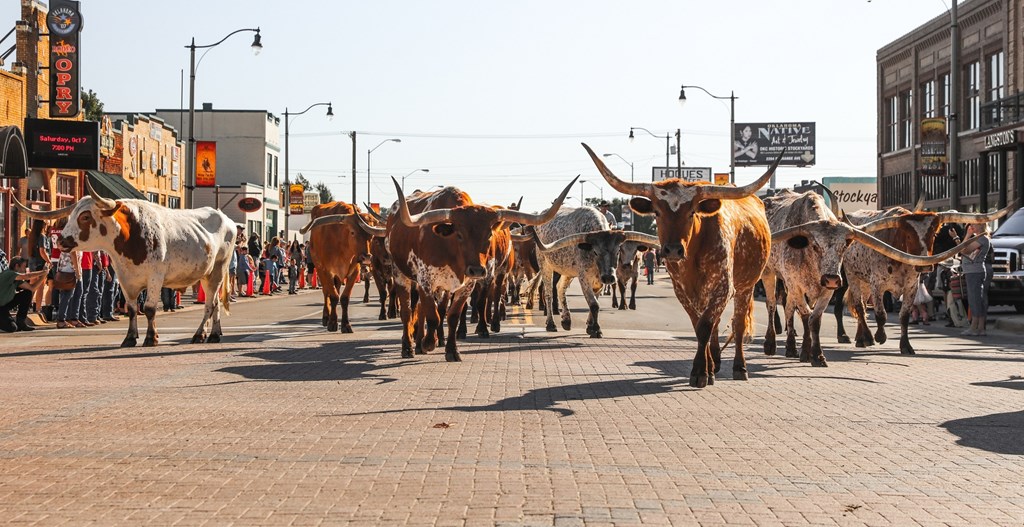 Visit Stockyards City (and Cattlemen's Steakhouse)
Oklahoma City, in a lot of ways, is a gateway city to the American west, and that lore is on full display in historic Stockyards City. This vintage district feels worlds away from the modern skyline glistening in the background; here, streets are lined with western shops, a whiskey-stocked saloon, the Rodeo Opry, and the oldest restaurant in town: Cattlemen's Steakhouse. The latter is the most quintessential American steakhouse, featuring hulking portions in cozy environs bedecked with deep booths and vintage ranching photography. Come hungry for house specialties like strip sirloin, rib-eyes, filet mignon, and chicken fried steak, or equally stellar non-beef options like fried catfish, broiled salmon, potato skins, and ham steaks with red-eye gravy. Once you're done, pick up some boots and a hat at nearby Langston's Western Wear.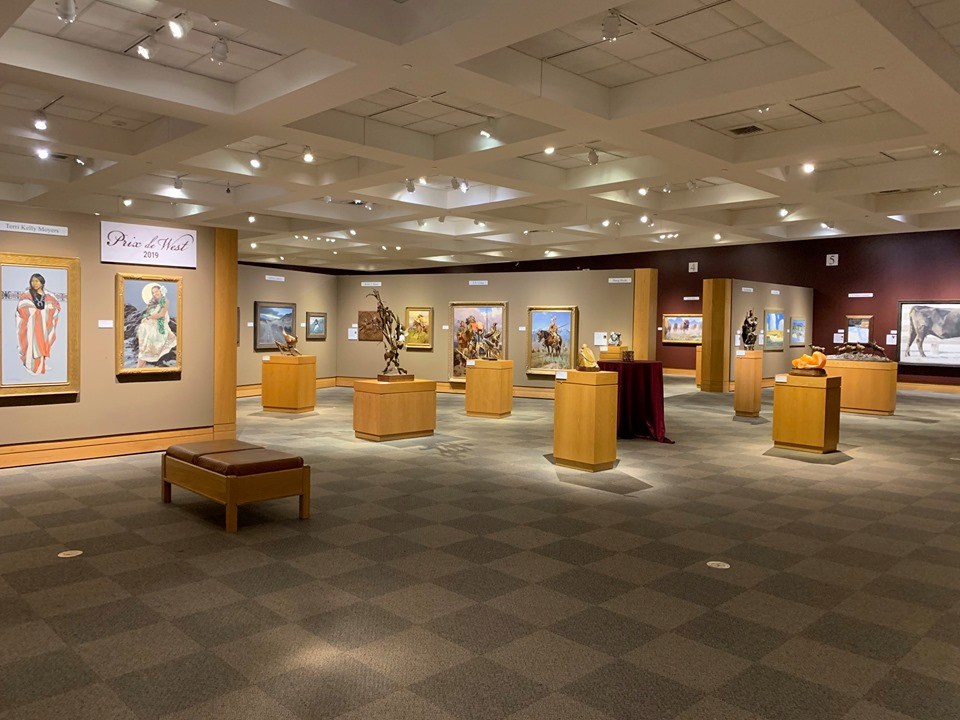 Keep the Western Theme Going at the National Cowboy & Western Heritage Museum
Oklahoma City's wild west past is certainly not confined to Stockyards City. For an immersive glimpse into this riotous era, check out the 200,000-sq.-ft. National Cowboy & Western Heritage Museum, home to more than 20,000 artifacts and art pieces by Native American peoples. For the "cowboy" part of the museum, look for tons of rodeo trophies and saddlery, plus a huge assortment of rodeo photography. And fun fact: the museum contains the world's largest collection of barbed wire! Talk about fun.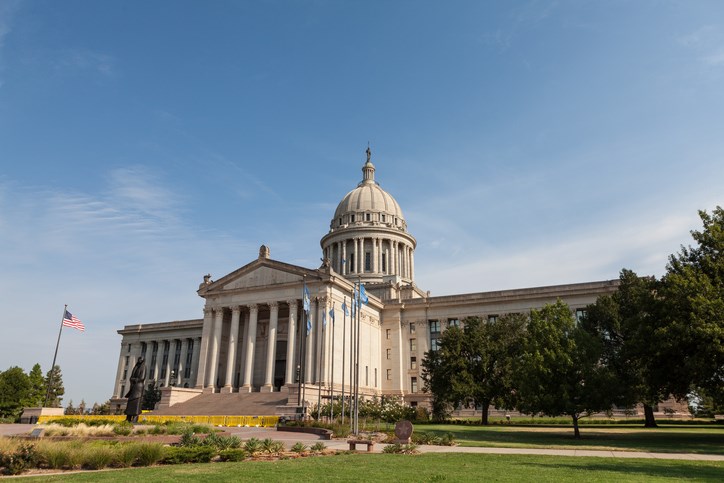 Tour the State Capitol Building
There's a lot to marvel at with Oklahoma's State Capitol building. Like the fact that this is the only capitol on Earth that's surrounded by working oil wells. And the fact that this Greco-Roman beauty comprises more than 600 rooms and 11 acres worth of space, which is filled up with stained glass, rotating artworks, and murals. The Oklahoma Veterans Memorial is also here, just on the north side of the capitol campus. You can tour the building and take it all in with a volunteer-led tour on weekdays, or via a self-guided tour.
Eat an Onion Burger
As it turns out, steak isn't the only thing this city does well with beef. Oklahoma City has its own style of burger as well, putting its own stamp on the all-American meal with something called onion burgers. Refreshingly straightforward, the ingredients are simple: ground beef, onions, and bun. Anything else, like condiments, is optional. The onions are pressed right into the patties before getting griddled, a technique that dates back to the 1920s when Depression-era cooks would stud their beef with onions as a preservation tactic. Not only did it work from a functional standpoint, but the flavor was an instant hit, and the technique stuck around. Today, local mini chains like Tucker's Onion Burgers specialize in this local staple, along with iconic spots like Sid's in nearby El Reno.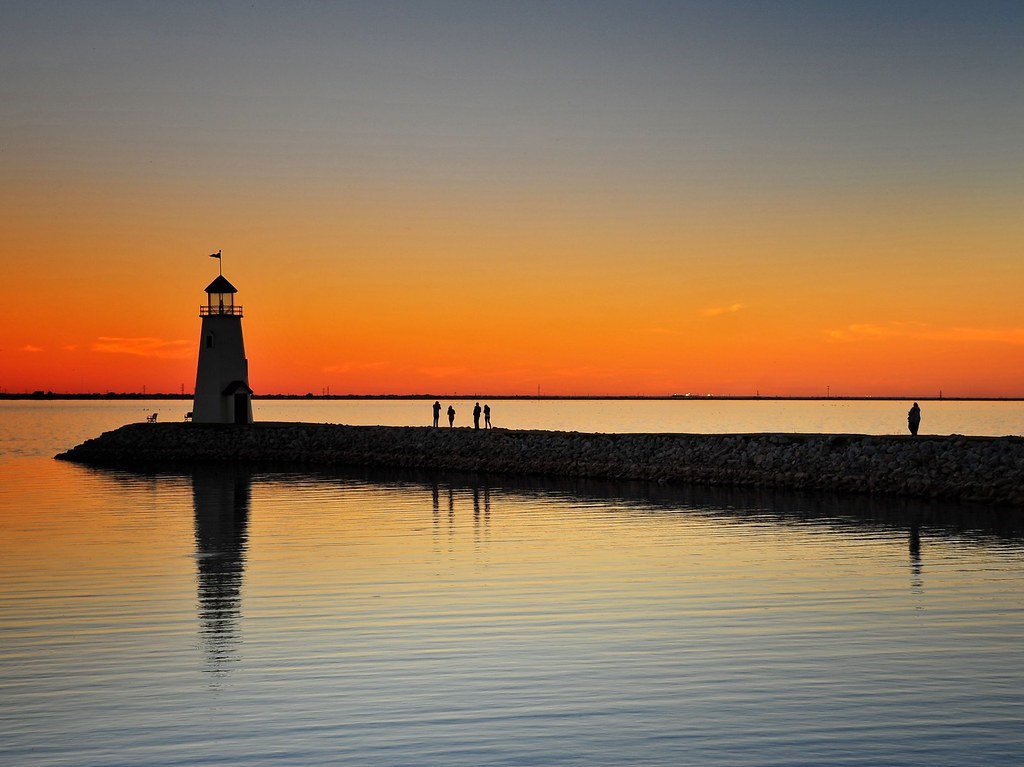 Hit the Water at Lake Hefner
With a lighthouse jutting out on a peninsula at sprawling Lake Hefner, you could be forgiven for mistaking this pristine setting for Maine. But indeed, with 17 miles of shoreline and plenty of recreational activities awaiting, the lake is a crown jewel for nature-lovers in and around Oklahoma City. While swimming is not permitted, it's a popular spot for sailing, fishing, and bird-watching. Even if you don't sail, it's fun to come watch the Oklahoma City Boat Club set sail for various regattas and races, which are accessible to the public. Aside from the water, the lake is surrounded by other activities like a bike trail, golf course, playgrounds, and picnic tables aplenty.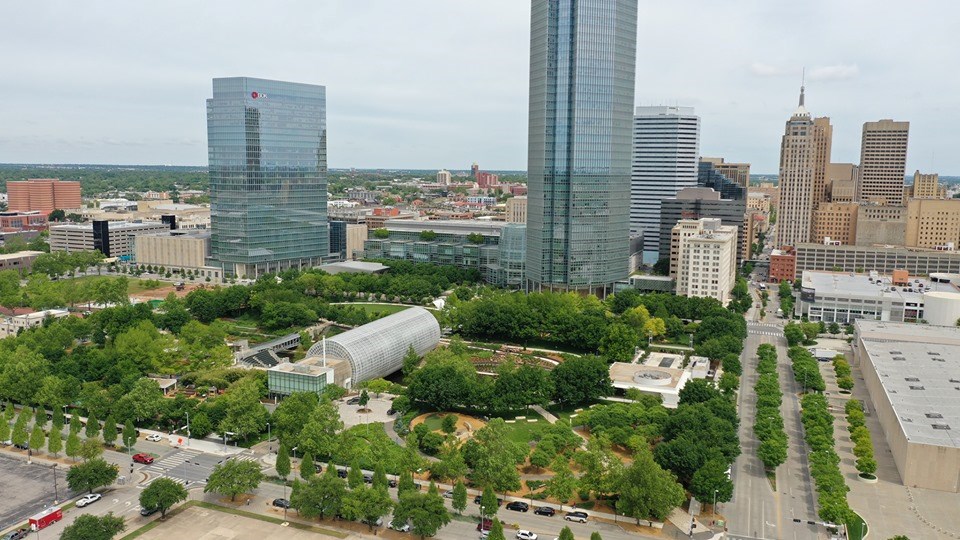 Stroll Through Myriad Botanical Gardens
Located smack dab in the middle of downtown Oklahoma City, surrounded by glistening towers and office buildings, the 17-acre Myriad Botanical Gardens is a breath of fresh air. This gorgeously landscaped haven features lush greenery, contemporary art installations, and a plant-filled conservatory that boasts everything from waterfalls to palm trees. The shimmering pond in the middle of the gardens is an apt centerpiece, with prime skyline views in the backdrop, and tiered, stadium-style grassy nooks for sitting, picnicking, and just relaxing.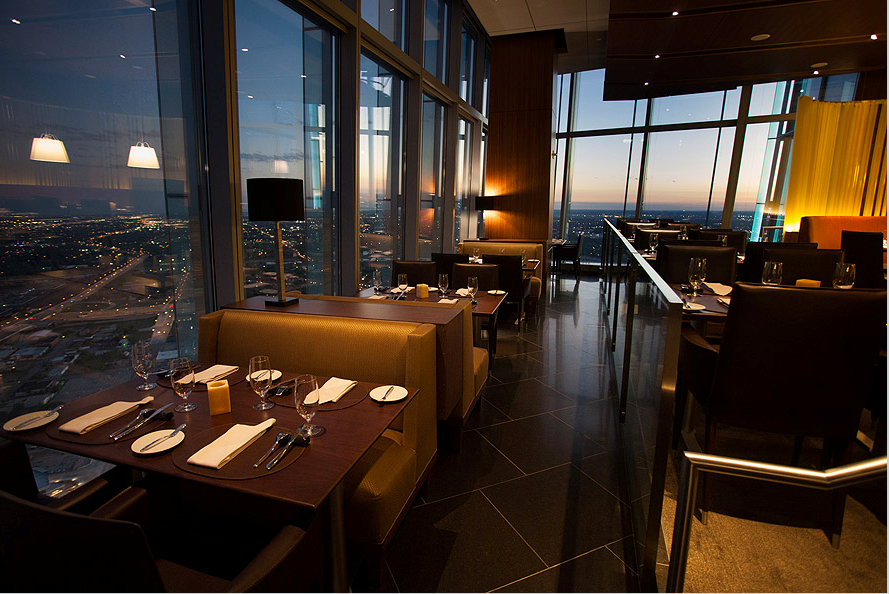 Get Drinks With a View at Vast
If it's a sweeping panorama you're after, look no further than Vast. Located on the 49th floor of the Devon Tower, the tallest in town, the views don't get any better than this. But Vast doesn't rest on its laurels, either. The food and drinks are destination-worthy in and of itself, regardless of the vista outside the floor-to-ceiling windows. Emphasizing fresh, seasonal, and often local ingredients, Vast serves the likes of braised short ribs with sweet pea risotto, free-range chicken with puffed couscous and yogurt, harissa-blackened salmon, and naturally, a smorgasbord of steaks. A lot of visitors just come here for cocktails and snacks, too, which is perfectly acceptable considering the caliber of the drinks (classic Manhattans, Aviations, and Amaretto sours reign supreme) and the snacks (sweet potato hummus, Spanish meatballs, smoked salmon tostadas).
Travel Part of Route 66
America's most iconic highway passes right by Oklahoma City en route to Los Angeles, and the area has its share of iconic roadside fanfare. Chief among them is the Arcadia Round Barn, a beloved landmark in suburban Arcadia that's instantly recognizable for its bright red paint job and striking round form. Built in 1898 by William Harrison Odor, the barn took its shape by soaking the young oak boards just enough to make them pliable. A feat of engineering, it remains the only barn with such a perfectly rounded facade. Over time, the landmark deservedly became one of the most photographed icons on Route 66; a true symbol of American ingenuity and that revered roadway that signified new adventure.
Explore Film Row
One of the most exciting and entertaining neighborhoods in Oklahoma City, downtown-adjacent Film Row (and the nearby Arts District) has some of the best restaurants, shops, cafes, and bars in town. There's the 21c Museum Hotel, which features an ever-changing free art gallery off the lobby, along with a wonderful restaurant, Mary Eddy's; a popular comedy hub called Carpenter Square Theatre, known for its whip-smart improv and musicals; the FlashBack RetroPub, an arcade bar filled with free nostalgic video games and a dizzying array of craft beers; an adorable macaron shop, Cafe Disco; and The Jones Assembly, an impeccably designed boutique music venue with a restaurant and bar serving some of the most exciting cocktails anywhere in the city—or the country at large.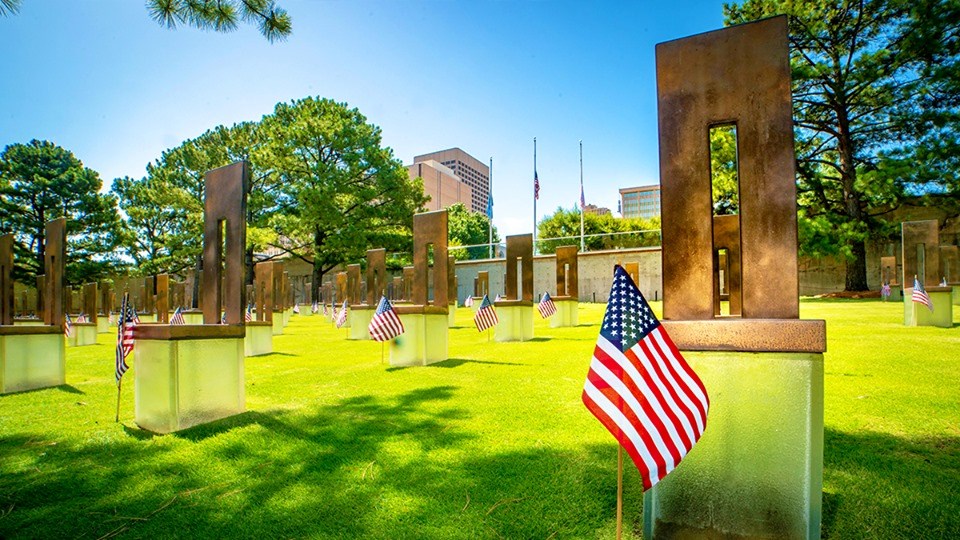 Visit the Oklahoma City National Memorial & Museum
On April 19, 1995, Oklahoma City experienced the deadliest act of domestic terrorism in U.S. history. It's an event that lives in infamy, and one that the city uses to honor the lives lost, those who helped, and the enduring force of community that emerged and persevered. Visiting the memorial, as somber as it is, feels like an important rite of passage for Americans to experience. Situated largely outdoors in downtown Oklahoma City on the grounds of the Murrah Building that was destroyed in the bombing, the memorial features a reflecting pool, a field of empty chairs denoting the victims, a survivor wall, an orchard, and gigantic arches dubbed the "Gates of Time." One of the most powerful elements is the fence. Initially installed simply as a functional fence to protect the site, visitors began leaving notes and symbols of love and hope. Nowadays, that fence features more than 60,000 items across 200 feet. Head indoors to the Memorial Museum, anchored by an interactive exhibit that tracks the timeline of events of the bombing and the resilient years that followed.
KOA Campgrounds Near Oklahoma City
Oklahoma City East KOA Holiday
El Reno West KOA Journey
---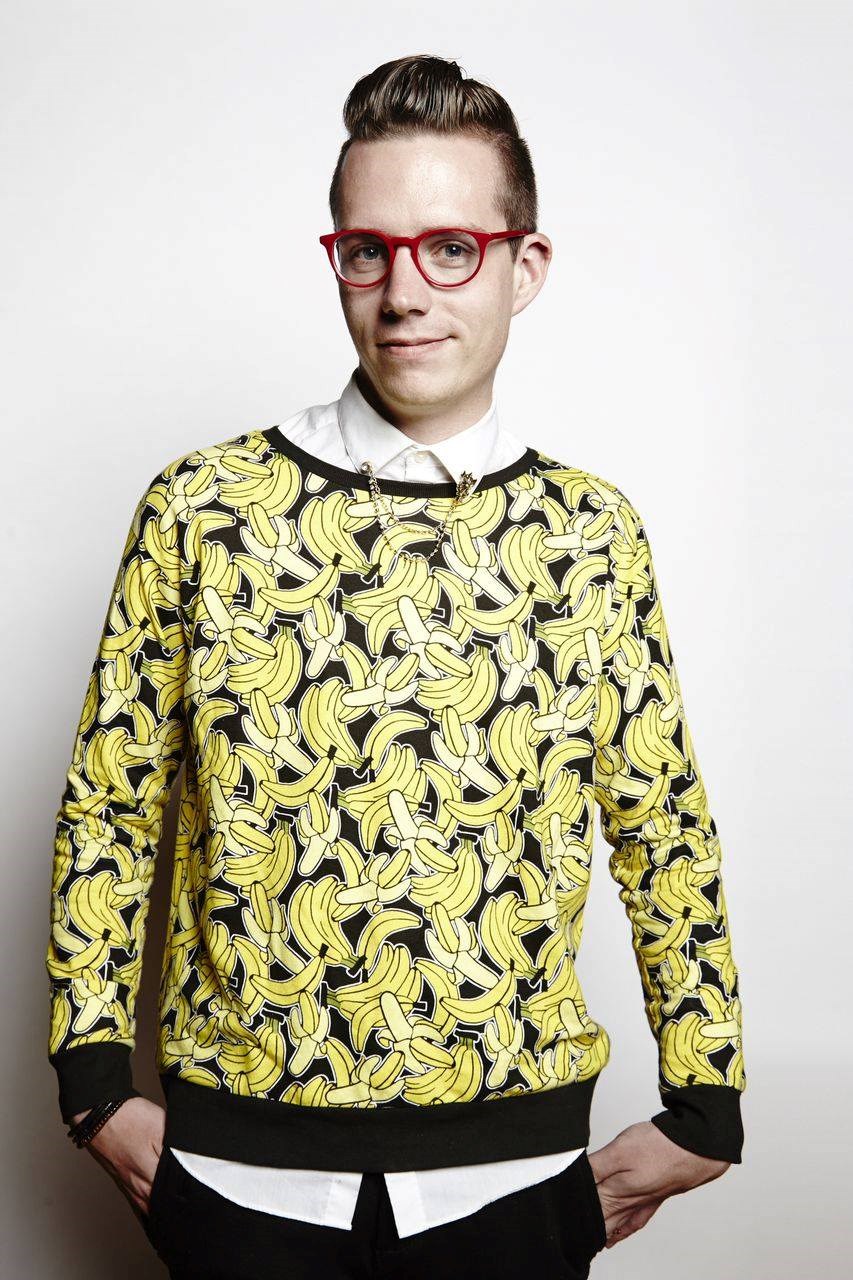 Born and raised in New Hampshire, Matt Kirouac grew up with a love for camping and the outdoors. Though he's lived in Chicago since 2006, he's always on the lookout for new adventures. He writes about travel and food for outlets like TripExpert, Money Inc, Upventur, DiningOut, Food Fanatics magazine, Plate Magazine and Zagat, and he currently serves as Chicago editor for What Should We Do?! He's the author of The Hunt Guides: Chicago (2016) and Unique Eats & Eateries of Chicago (2017).
---