10 Camping Desserts for People Who Don't Like S'mores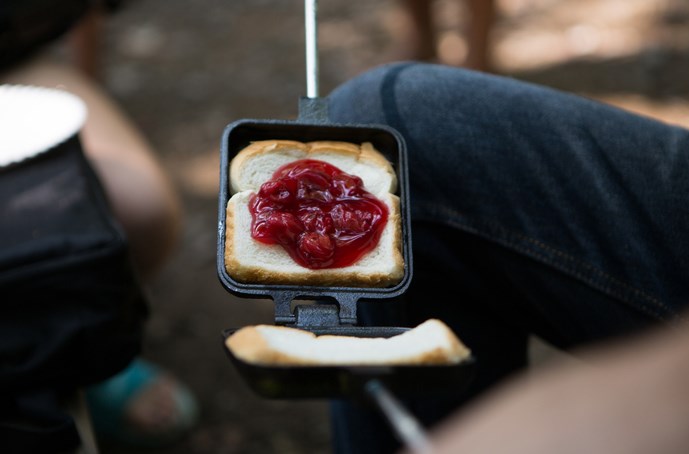 While s'mores might be the classic camping dessert there are lots of other great ways to end an evening around the campfire. Try these camping desserts for people who don't like s'mores and find a new go-to camping dessert!
It almost seems sacrilegious. But there really is a sub-group of campers who would rather go to bed without dessert than indulge in camping's signature sweet. A love for camping and a dislike of s'mores are not mutually exclusive. It could be the messiness (so gooey and sticky) that turns you off or perhaps it's dietary: you're avoiding gluten (graham crackers), dairy (marshmallows and chocolate) or sugar (all of it). The good news is you don't have to crawl into your sleeping bag sans dessert if you don't want to. Here are our favorite camping desserts that are not s'mores. (Disclaimer: even if you like s'mores, you'll probably like these too.)
ConAgra Foods
1. Popcorn
Popcorn pre-dates recreational camping. There is evidence that thousands of years ago, Pre-Columbian indigenous groups domesticated the type of maiz we use today to make popcorn. The easiest way to enjoy popcorn while camping is to pack Jiffy Pop—a popular American brand dating back to 1959. Or, you can be more eco-conscious like Steve Silberberg, founder of Fitpacking. "I do it the only-fashioned way, using a pan, oil, kernels, salt and butter buds. Doing it this way creates no trash to carry out of the backcountry." Whichever way you do it, the trick is to keep the popcorn container constantly moving so the kernels are cooked evenly. For an added sweetness, sprinkle on cinnamon sugar or toss with hot chocolate powder mix.
AndreasRecipes.com
2. Pudgy Pies
You may know them as jaffles, toasties, mountain pies or hobo pies, but for consistency's sake, we'll just call them pudgy pies. This misnomer—it's a sandwich, not a pie—is a camping tradition that reportedly comes from the Midwest. Even the National Park Service recognizes them as a camping staple and provides recipes. Once you own the cast iron toasting tool (you can get them at most camping stores), all you have to do is decide what flavors you want sandwiched between your two slices of bread (we recommend cinnamon raisin). Sarah Wilson of the travel blog, The Family Backpack, says her family uses peanut butter and chocolate, but you can also use fruit fillings like this recipe featured by Country Living.
Hello Fresh
3. Grilled Fruit
Summer is peak season for many fruits including stone fruits like nectarines and peaches. They're tasty when sliced and served fresh, but if you add some heat: voila! You have an extra sweet dessert with a subtle char. Simply cut the fruit in half, remove the pit and then butter both cut sides of the fruit. Set the butter side down on the grill. Cover and cook for about 5 minutes or until the fruit is softened and lightly charred. Hello Fresh's grilling guide recommends serving with vanilla ice cream, Greek yogurt and/or a drizzle of honey.
Eazy Peazy Mealz
4. Campfire Cones
Customization is what makes campfire cones perfect for kids. For starters, you'll need your vessel: an ice cream cone. We recommend using a sugar cone or waffle cone since cake cones crumble more easily. Next, you'll need an array of fillings. This is where the customization comes in. Set out a spread of mini marshmallows, chocolate chips, M&Ms, toffee bits, nuts, berries, etc. Once you've filled your cone, wrap it in heavy duty foil and set it on the grill grate over your campfire. In about 5 minutes, your coned concoction should be cooked. After a few minutes of cooling, it's ready for consumption! If you can't fathom eating an ice cream cone without ice cream in it, top with a scoop of ice cream.

Marigold Haske
5. S'mOreos
We love the name of this dessert as much as we love the flavor profile. All you do is take America's best-selling cookie—Oreos have been in our homes since 1912—and remove the cream so you just have the two cookie pieces. Or, you can keep the cream in: it's up to you. Toast a marshmallow, as though you're making s'mores. Since the Oreo is chocolate already, you don't need a Hershey's bar, but it doesn't hurt either. The important part is you substitute the Oreo cookies for the graham crackers. Note: the cookie to marshmallow ratio will be smaller than the graham cracker to marshmallow ratio, so these can be slightly messier to eat. If you're avoiding gluten, note: Nabisco doesn't currently make a gluten-free cookie, but other cookie companies like Glutino and Trader Joe's do.
Becky Jackson
6. Brownies in oranges
Besides the campfire cones, these may be the most Instagramable dessert on this list. In a nutshell, or in this case, an orange peel, you're basically just baking brownies inside a hollowed-out orange that you set on your campfire coals. You can also use cake batter if you prefer a less dense dessert. The most important thing to remember is that you need to wrap the orange (after filling it with prepared batter) in TWO layers of heavy duty foil. Make sure the outer layer is twisted into a hook at the top so you are baking, and grabbing, the brownie right-side up. Baking time depends on elevation and whether you use brownie or cake batter, but according to this recipe at Tablespoon.com, it should take anywhere between 30-50 minutes.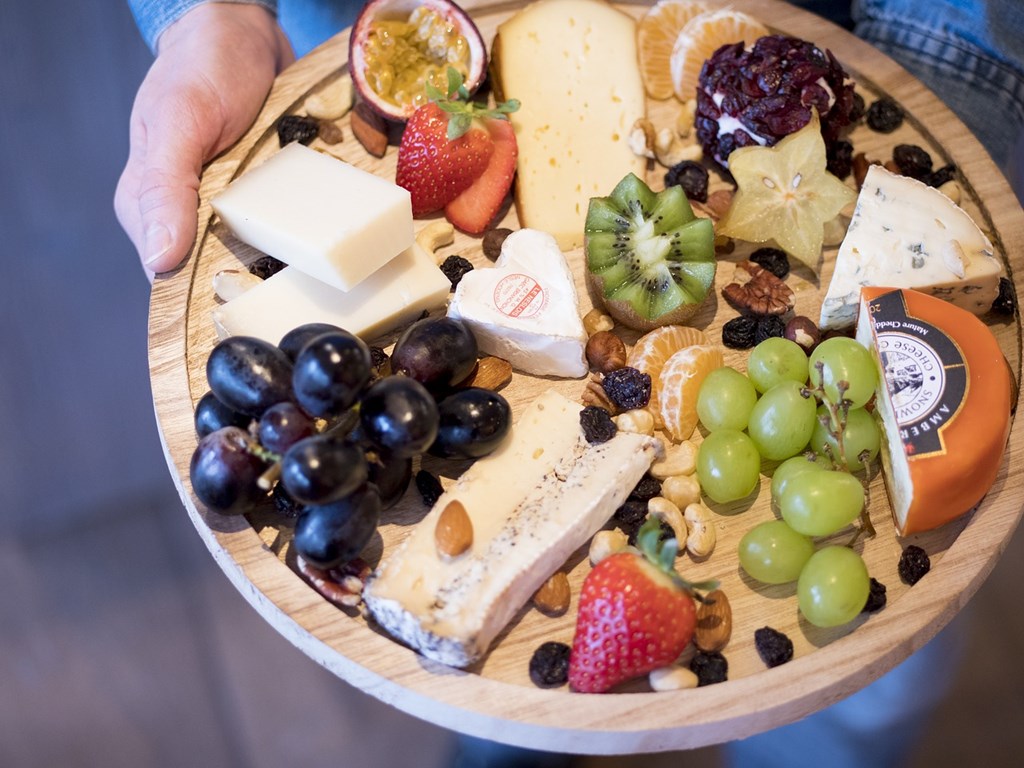 7. Cheese
You don't have to be French to appreciate this sophisticated yet simple dessert. Cheese is often overlooked for sugary sweets, but it's a great ending to a meal because it's so rich. A little piece goes a long way in the satisfaction department. Since you're camping, you'll probably have nuts, dried fruit and honey on hand. All of these are great accompaniments to cheese, as is wine and port, of course. As a general rule, most dessert cheese boards have three cheeses: one soft, one hard and a blue cheese. Also, most cheeses taste better at room temperature so take them out of your RV's fridge before you sit down to dinner.
Jack Daniel's Coffee
8. Jack Daniel's Coffee
Some of us like to start and end our days with coffee. So, this next non-s'mores dessert is drinkable. In fact, Jack Daniel's Tennessee Whiskey Coffee was awarded the Beverage Industry's "New Product of the Month" in October 2017. Don't worry: it comes in decaf so you can still get a good night's sleep. It's also non-alcoholic. But in terms of taste, you'll still experience those vanilla and caramel notes courtesy of Jack Daniel's.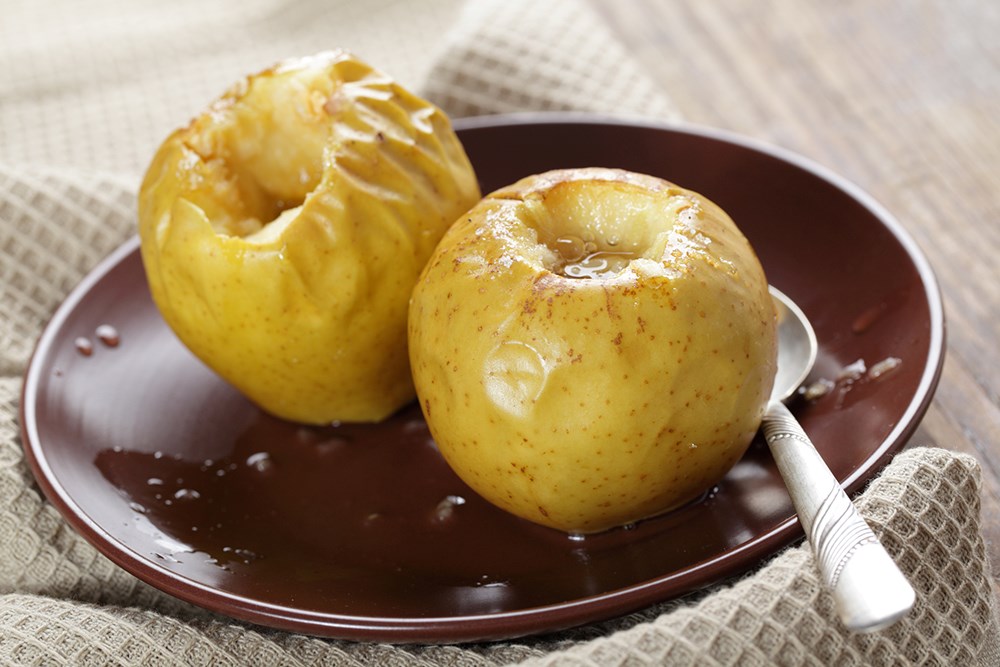 9. Baked apples
Another easy fruit-based dessert is baked apples. Simply slice your apples (according to Bon Appetit, Granny Smith are the best apples for baking), sprinkle cinnamon sugar on top and then wrap them in tinfoil to bake on your campfire coals. It should take approximately 10 minutes. Another way to do it is the cut your apples in half, hollow out the core and fill in the center with butter, nuts and brown sugar. Wrap in foil and cook on the coals for approximately 20 minutes or until they're soft and the sugar has caramelized.
Laura Bashar
10. Dutch oven anything
Entire cookbooks have been devoted to Dutch oven cooking. In fact, there's probably enough of them to warrant their own section in bookstores! The most common Dutch oven desserts are cobblers. But if you really want to get fancy or be ironic, make clafoutis—a popular cobbler-like French dessert—in your Dutch oven. The new "Camp & Cabin Cookbook" includes a tempting Dutch oven lemon blueberry clafouti recipe that the author/chef says is also a good breakfast dish.
---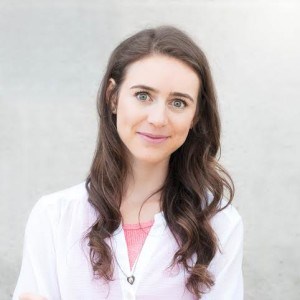 Katie Jackson is a writer and media specialist based in Montana's Big Sky Country. Living and working everywhere from New York to Nicaragua, Katie is no stranger to adventure. When she's not traveling the world (or writing about it!) she's busy chasing after a Leonberger named Zeus. Follow Katie's travels on Instagram @katietalkstravel.