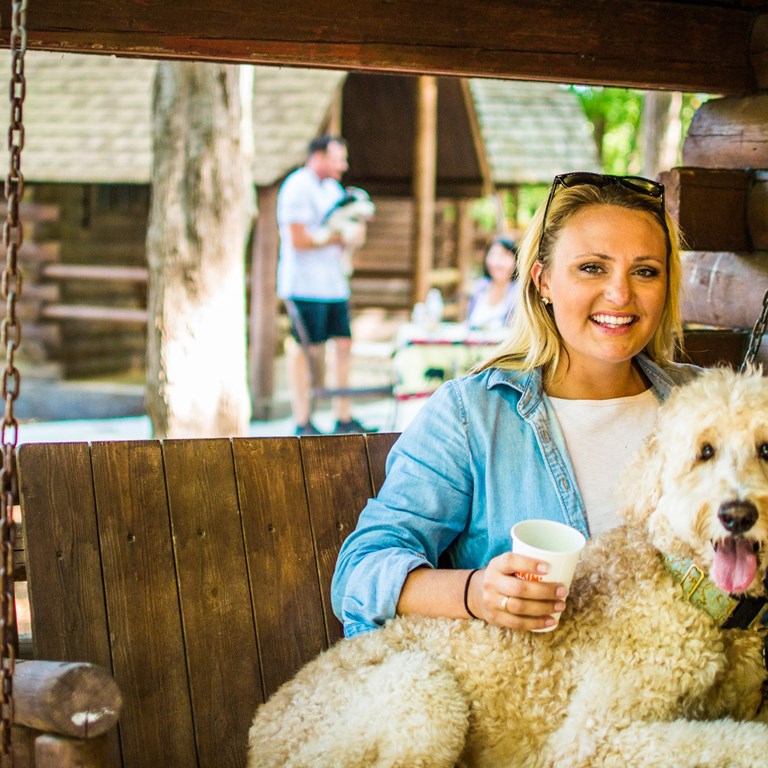 6 Benefits of Camping vs. Booking a Hotel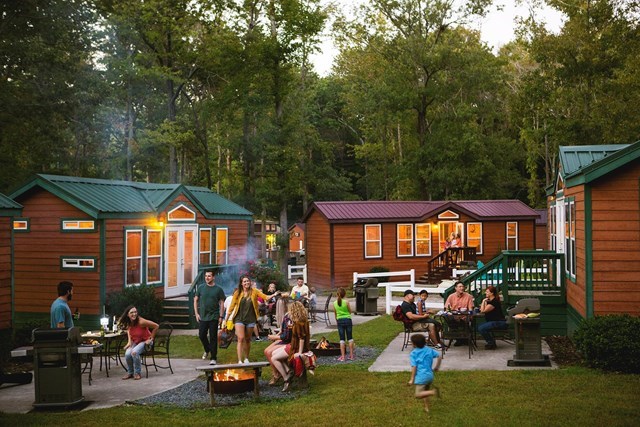 If you are planning a stay in the beautiful resort town of Virginia Beach, chances are you are looking to book one of the many hotels that line the boardwalk. However, camping in Virginia Beach is a great option if you really want a front-row seat to the fun and fabulous activities in this coastal community.
While camping may not usually be what comes to mind when you picture a relaxing and luxurious beach vacation, in this post, we will explore the many benefits you can experience camping vs. staying at a hotel in Virginia Beach.
1. Camping Is Actually a Cleaner, Healthier Option
When you camp at Virginia Beach KOA Holiday®, you can be sure of tidy grounds, comfortable cabins and fresh, clean air. While hotel rooms get cleaned with every turnaround, in our new normal reality, these locations may not be as germ-free as you would want.
Camping in the great outdoors is far safer, as it is easier to maintain distance from other campers. Plus, our campground has adapted the way we clean and run our campground to ensure the optimal safety of our guests.
2. Camping Is Budget-Friendly
A Virginia Beach vacation can be affordable, especially if you find the right accommodations. When debating whether you should stay in a hotel or go camping, consider the price tag. Whether you rough it in a tent or enjoy the creature comforts of our Deluxe Cabins, our campground is far more budget-friendly than most area hotels, and you will still be right in the thick of the area's top attractions.
3. Camping Connects You to the Great Outdoors
If you need a breath of fresh air and an opportunity to connect with the coastal charm of Virginia Beach, it does not get any better than camping. Our campground is situated among a lovely maritime forest shaded by tall trees. Plus, it is just a hop, skip and a jump from our famed oceanfront.
4. Camping Is as Luxurious as You Want It to Be
When it comes to cabins vs. hotels in Virginia Beach, you will find that camping can be just as luxurious as a hotel. There is a growing trend in the camping community known as glamping. This option is perfect if you do not want to rough it in the woods. From kitchenettes to clean showers, you can make your stay at Virginia Beach KOA as luxurious and comfortable as you want it to be.
5. Camping Includes Activities Everyone Can Enjoy
When it comes to fun-filled activities, camping definitely has a leg up over hotels. Yes, many Virginia Beach hotels come with a pool, but our campground has that and so much more, such as biking, basketball, bocce ball, hammocks, horseshoes and corn hole.
6. Camping Is a Great Way to Reconnect With Family or Friends
If you are still asking yourself whether camping by the beach is a good idea, here is one more benefit to consider — the power of families connecting. For generations, camping has been a go-to getaway that takes families out of the hustle and bustle of everyday life so that they can reconnect and have fun together. Whether you are roasting marshmallows or telling stories around the campfire, it does not get any better than camping out with the family.
Book Your Family Vacation at Virginia Beach KOA Holiday®
Whether you want to try out some glamping in a luxurious Deluxe Cabin or you are rolling through in your RV, there are so many reasons to choose a camping vacation over a hotel. Find out first hand when you book your beachside vacation at Virginia Beach KOA Holiday®.