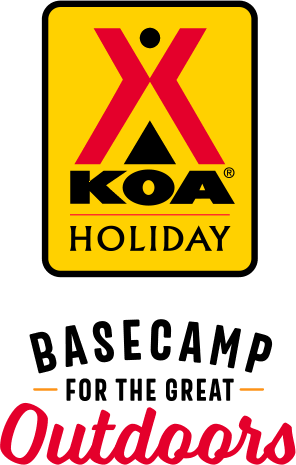 KOA Holiday Campgrounds
Whether you're exploring the local area or hanging out at the campground, KOA Holidays are an ideal place to relax and play. There's plenty to do, with amenities and services to make your stay memorable. Plus, you'll enjoy the outdoor experience with upgraded RV Sites with KOA Patio® and Deluxe Cabins with full baths for camping in comfort. Bring your family, bring your friends, or bring the whole group – there's plenty of ways to stay and explore.
KOA Holidays Feature:
RV Sites with a KOA Patio®
Deluxe Cabins with full baths
Premium Tent Sites
Group meeting facilities
Directions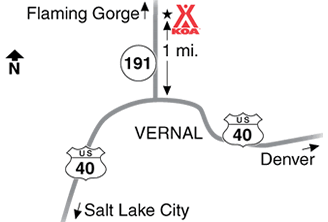 Coming from East or West on Hwy 40:
Turn North to Hwy 191 (North Vernal Ave). From there it is 1 mile after the turn-off, on your right.
Coming from North on Hwy 191:
We will be on your left, 1 mile before intersection with Hwy 40.
Get Google Directions
Jul 22, 2021
Great location for dinosaur NP, Ashley National Forest, and flaming gorge. Great RV park.
Jul 22, 2021
Nice place & friendly staff.
Jul 22, 2021
Very nice campground. Lots of shade trees and very clean. Everyone was very nice. Camp sites are a little to close together. Lots to do, pool was nice and clean. Playground was nice and close to our site. Would definitely come back.
Jul 22, 2021
We stayed in the horseshoe loop, away from activities. It was a beautiful area with very little noise. The staff all were very friendly and helpful. Pool was a great respite from north desert heat - it was clean and could accommodate families.
Jul 22, 2021
Mini golf course needs some upgrades
Jul 21, 2021
We had a good time. Decent site, close to most attractions in the area I would definitely stay here again.
Jul 21, 2021
Pool needs to be open past 8 PM in summer.
Jul 21, 2021
The deluxe cabin we stayed in and the grounds were in great shape for the most part. The mini-golf area was in need of repair, but otherwise a great place to stay.
Jul 20, 2021
Just an overnite stop. Have stayed there several times
Jul 20, 2021
Had everything we needed!
Jul 20, 2021
Spaces were very cramped.
Jul 20, 2021
Easy online booking, answered phone and helped me change reservation week before stay, easy check-in, staff was readily seen keeping facilities stocked, kids had a great time.
Jul 20, 2021
Our family loved the amenities, nice big playground, mini-golf, movie night, and dog park. Multiple bathroom locations were nice. We wish we would have stayed longer.
Jul 19, 2021
Excellent staff! Very clean store/Restrooms. If the sites were paved it would be a solid 10!!
Jul 19, 2021
Very clean. Lots to do. Families were having a great time there. Utilities were centrally located which made it easy to hook up our trailer.
Jul 19, 2021
Very nice campground and the people are so friendly. They make feel like family.
Jul 18, 2021
One of our favorite KOAs! Close to all the activities in Vernal, well kept and great service!
Jul 18, 2021
Our stay was awesome. We had the group site for camping. It was big enough for all our tents and kitchen area. We had 21 young men. Aging from 12 years old to 18. Accommodations were clean. The boys could swim or play miniature golf. The bathrooms were always clean. We use the pavilion. The host always made it accommodating for us and we thoroughly enjoyed our time. Thanks again
Jul 18, 2021
amenities were fun, clean restrooms and area. Small spaces
Jul 18, 2021
Pleased with this KOA and would stay again
Jul 18, 2021
Very nice tent site. Unfortunately too close to RV site that had unruly kids & adults making loud noises until nearly 2am.
Jul 18, 2021
Extremely kind staff. Flexible with last minute arrangements
Jul 17, 2021
We stayed at a tent site. The ground it's pretty hard, so I would recommend bringing a hammer or some thing to pound the stakes in. There are trees to provide some shade. This is a smaller campground, but still had everything that we needed. The laundry facilities, bathroom and showers are maintained well. The staff is nice, and we noticed a lot of fun activities for kids.
Jul 17, 2021
My granddaughter wanted to ride a bike with her new friend from Kentucky but she was not allowed to because she was so much bigger than her friend. She should not have been excluded because of her size. She is 10 years old. There was 30 min left but she was refused because the lady thought she was too fat. She cried her heart out. One snide comment and it ruined the whole weekend.
Jul 16, 2021
What a great camp! Helpful staff, a nice store, and the pool, mini golf, etc. were all great! We liked the "dinosaur hunt" a lot and the grounds in general are gorgeous.
Jul 15, 2021
We loved this KOA! Very laid back and friendly staff. Our site was clean and spacious. We felt like we were the only ones there. Highly recommend this KOA if you are visiting Dinosaur Land.
Jul 14, 2021
Awesome staff, reserved size site ready and clean. Staff went out of there way to accommodate some medical issues that required a longer than reserved stay. Thanks for the extra effort!
Jul 14, 2021
I could barely get past the picnic tables in the pull through sites. Staff was very friendly and helpful. Would stay there again.
Jul 14, 2021
Plenty of shade trees and grass. Reclaimed water faucets near the portable water faucets, a bit confusing. The mini-golf course was in poor shape and in need of repairs. Many clubs were damaged. Not enough toilets in the men's restroom. They get very busy in the morning hours. The restroom cleanliness was below the expected standards. The overall condition of the campsites was well kept.
Jul 14, 2021
The staff was friendly and very attentive to our simple needs. The campground was clean and the tenants complied with all the rules. I would recommend staying here again.
Jul 14, 2021
This is a cute KOA with alot of things to keep the kids busy. The management was very friendly and helpful.
Jul 14, 2021
The people of the Vernal KOA are awesome. Kinley is especially beautiful! The grounds are very well maintained. The city center is only 1 mile away. I highly recommend this KOA.
Jul 13, 2021
It is a nice place. The sites are very tight and close together. More so than I would like. The trees were very welcome providing awesome shade.
Jul 13, 2021
Great service. great facilities. Daughter really enjoyed the mini golf course.
Jul 12, 2021
Disappointed our electricity kept tripping due to low voltage. This was on Friday when very hot and campground full. Sites were too close in between. No TV.
Jul 12, 2021
This is a wonderful campground. It was perfect for a family gathering. We booked the Woody Tent for son's family, we parked nearby. Was great! Nice clean pool and fun playground for the kids.
Jul 12, 2021
Nice staff. Great facilities. Clean pool. Spacious for a KOA spots.
Jul 12, 2021
All the activities were fun. We would have liked longer pool hours.
Jun 19, 2021
Overall this is a good place to stay in vernal. Close to the center of town and 25 minutes from the Dinosaurland Quarry entrance. Staff is friendly and the grounds are clean. Some of the sites are a little tight to be considered pull through. Bathroom facilities are clean.
- ericroebuck on Trip Advisor
Aug 21, 2020
This is a good sized ( 100+/- spots) Campground with enough variety of choices to stay for almost anyone. We had a gravel back in site off a gavel road. It was mostly level, with convenient hookups that functioned properly. The pool, playground and bounce pad were well maintained, they also have mini golf. They offer cable TV (analog) at some of the sites, and their included WiFi was spotty at best - not always providing a signal that was useful, the Verizon cell service was good. They have grass between some sites and they need to water regularly. Know this Campground is in front of a trailer park, and the access road goes through the property. This is not an inexpensive place to stay (consistent with most KOAs). I find it curious that a campground chain that bills itself as a family destination now defines a family as two adults. Time was a family was defined as two adults, and up to three children. We were traveling with two grandchildren, and they charged extra for both. This is a sometimes event for us, but a young family could feel beat up on their vacation.
- VillagerRick on Trip Advisor