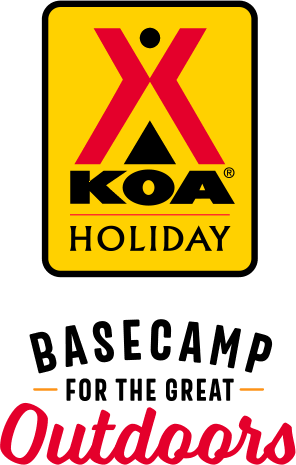 KOA Holiday Campgrounds
Whether you're exploring the local area or hanging out at the campground, KOA Holidays are an ideal place to relax and play. There's plenty to do, with amenities and services to make your stay memorable. Plus, you'll enjoy the outdoor experience with upgraded RV Sites with KOA Patio® and Deluxe Cabins with full baths for camping in comfort. Bring your family, bring your friends, or bring the whole group – there's plenty of ways to stay and explore.
KOA Holidays Feature:
RV Sites with a KOA Patio®
Deluxe Cabins with full baths
Premium Tent Sites
Group meeting facilities
Directions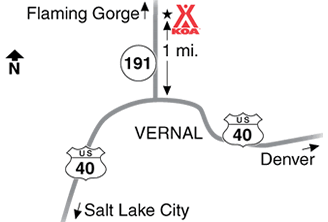 Coming from East or West on Hwy 40:
Turn North to Hwy 191 (North Vernal Ave). From there it is 1 mile after the turn-off, on your right.
Coming from North on Hwy 191:
We will be on your left, 1 mile before intersection with Hwy 40.
Get Google Directions
Oct 19, 2021
Very nice and accommodating park. Very clean and well kept up. Thank you for a great place to stsy
Oct 19, 2021
Really friendly staff and the facilities were clean and well maintained
Oct 19, 2021
Great place! Clean... big sites. Amazingly helpful and friendly staff! Tammy is super kind.
Oct 18, 2021
Very nice and staff is very friendly and helpful. Always have great time there
Oct 18, 2021
2nd time staying here. Both times were great! Bathrooms are clean and the play are was well taken care of for the kids. The place is quite at night too. We stayed in the cabin this time and the heater kept us warm
Oct 17, 2021
It was so nice having all the amenities! There was a playground, mini golf, and games. There were also things you could rent. The rv site was clean and the map we got was easy to follow! We will definitely stay here again!
Oct 17, 2021
We LOVED our stay at the KOA in Vernal, Utah. We loved the camping cabin and our kids loved the bunk beds. Our kids favorite part was the mini golf. The porch swing and fire ring were very fun. We will definitely go back to this KOA in the future.
Oct 17, 2021
Nice park will stay again
Oct 16, 2021
Very friendly. Been coming here for 10+ years. Always a great place
Oct 15, 2021
A VERY nice little campground in a very nice little town. Clean, Comfortable and convenient. The staff was exceptionally nice.
Oct 13, 2021
We had a good two night stay here at Dinosaurland KOA in Vernal, UT. Our site, FHU's Back-in was in what looked to be their newer area (Section B) and it was awesome. Very, very spacious between sites and ours backed up to some woods and a flock of Turkey's paraded through a couple of times. Being just outside of town, the campground was an ideal spot to use as a home base as we explored the area.
Oct 13, 2021
Very warm welcome from Tammy! She was very helpful! Wifi worked great, laundry was nice and clean as were the bathrooms. Thanks so much for a lovely stay. Hope we can stay longer in the future.
Oct 13, 2021
Staff totally helpful and accommodating. Nice amenities, fire pits the works. Clean spots so return the favor and clean up after yourselves.
Oct 13, 2021
Amazing service, beautiful clean campground, so much for kids to do. We'll be back next year!!!
Oct 11, 2021
Even though it was a very rainy stay, it was still enjoyable. Such beautiful country.
Oct 11, 2021
Very friendly staff. Park and bathrooms were clean. Sites are very narrow. During a busy period campers would be door-to-door.
Oct 10, 2021
Our stay at this RV Park was GREAT, and we would recommend it to anyone we know. Thank you for your outstanding professionalism, courtesy and friendly atmosphere.
Oct 09, 2021
it was great! not crowded, not far from the monument!
Oct 06, 2021
We had a beautiful cabin, clean Restrooms, friendly staff, and a grand time at the Dinosaur Park. Thank you for the most pleasant stay!
Oct 05, 2021
Excellent resupply and laundry stop. Close to town, not much road noise during the night. Clean faculties and extremely helpful staff. Would stay again.
Oct 05, 2021
Site was spacious and everything worked. Kamphost who filled our propane was delightful. The other Kamphost had a bit of an attitude when we didn't understand her directions about where to park (she assumed we had a check-in map and knew where to go, but there wasn't one for us -- office closed mid-day). Overall very nice place and people.
Oct 05, 2021
My only complaints are that the bathrooms weren't as clean as I am used to at the KOAs I have stayed at before. Also, the store is not stocked with basic amenities that people may have forgotten. Ouray KOA and Cody KOA are my favorite. Overall it was good but room for improvement.
Oct 04, 2021
I would give them a 5 but the restrooms needed better attention.
Oct 04, 2021
Enjoyed our stay.
Oct 04, 2021
Relaxing and fun thanks guys
Oct 04, 2021
Great staff, clean and well maintained.
Oct 04, 2021
Lovely place lot's of privacy. And wild life.
Oct 04, 2021
The internet could be upgraded for coverage as the signal was weak but other than that the stay was very nice.
Oct 03, 2021
Great friendly staff with a wonderful RV park, level RV spaces, and clean bathrooms.
Oct 02, 2021
Pleasant staff
Oct 01, 2021
This KOA is a wonderful RV Park with very friendly and knowledgeable staff. Lots of trees and spacious sites. However, there are permanent trailers toward the rear of the Park with barking dogs during the night. This should be addressed by the ownership. otherwise a 10.
Sep 30, 2021
It was very clean and well maintained. Only issue was our water faucet leaked and the water pressure was really low but other than that our stay was wonderful.
Sep 30, 2021
the women at the front desk was so accomadating and helpful! everything was notch clean!
Sep 29, 2021
Nice clean great staff. What you would expect from a KOA
Sep 28, 2021
One of our most enjoyable KOA's! Helpful, friendly, hard working staff. Level sites, plenty spacious for our 35' CL A and Jeep. Grassy, inviting, covered picnic table. We had a pull through, site 29.
Sep 27, 2021
Very pleasant staff. Would visit again if in area. Plenty of room for 40 Mh and 20 ft car trailer.. Close enough to town and Some outstanding out of town 4 Wheeling. N
Sep 26, 2021
We decided to try the glamping and stayed at the yurt. Yurt was ok, but the rusting living room set was very uncomfortable, chairs hard . During the night was 45 degrees and there was a tiny heater and a very thin comforter. No extra blankets or heaters. We froze, used towels to cover ourselves up. It was freezing. The place is not worth the big money.
Sep 26, 2021
The park is very nice with a great location for seeing Dinosaur National Park.
Sep 26, 2021
A very peaceful campground with just enough traffic to make people watching interesting. Lots of room to walk and explore, great store, outdoor activities and the sites were well managed to ensure some privacy. Bathrooms were spotless! Thanks!
Sep 26, 2021
Great staff friendly, nice park!
Sep 25, 2021
Friendly staff that made sure we were comfortable and let us know they were available to address any concerns. Restrooms and showers were clean. Sites were large and spaced nicely. Great location that's close to area attractions.
Sep 24, 2021
we had a very good experience at the vernal koa restrooms were clean staff was very friendly and the campground was very clean. campsites were easy to get into. We will be back again . Thanks
Oct 12, 2021
Close bathrooms were closed. 3 Washers not working Working one had an odor. Showed were clean. Lots of activities for children. Grated fire pits. Ample pull throughs. Shade over picnic tables. Good location if you're visiting Dinosaur National Monument
- BLMerce on Trip Advisor