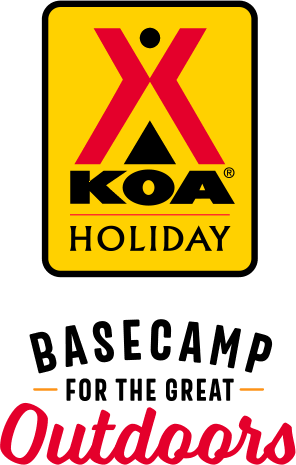 KOA Holiday Campgrounds
Whether you're exploring the local area or hanging out at the campground, KOA Holidays are an ideal place to relax and play. There's plenty to do, with amenities and services to make your stay memorable. Plus, you'll enjoy the outdoor experience with upgraded RV Sites with KOA Patio® and Deluxe Cabins with full baths for camping in comfort. Bring your family, bring your friends, or bring the whole group – there's plenty of ways to stay and explore.
KOA Holidays Feature:
RV Sites with a KOA Patio®
Deluxe Cabins with full baths
Premium Tent Sites
Group meeting facilities
Directions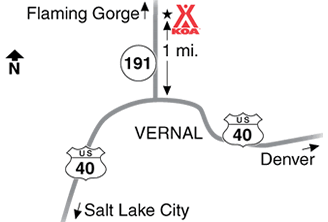 Coming from East or West on Hwy 40:
Turn North to Hwy 191 (North Vernal Ave). From there it is 1 mile after the turn-off, on your right.
Coming from North on Hwy 191:
We will be on your left, 1 mile before intersection with Hwy 40.
Get Google Directions
Apr 30, 2021
Love the camp site. Lots of trees, grass and stuff for the kids to do.
Apr 28, 2021
The lady in charge was very helpful and friendly
Apr 27, 2021
Our Patio site was very nice. The site was long (we were triple towing) , wide and with lawns and trees. The facility was clean and the staff friendly and responsive.
Apr 27, 2021
Staff was very friendly and accommodating. Facilities were all very clean. We loved staying in the deluxe cabin, and overall the whole campground was great for little kids!
Apr 26, 2021
We enjoyed this KOA and loved that they had so many activities for the kids. I would've given them a 5 gave them a 4 because there is a residential mobile/rv area behind the campground which uses the same road to enter/exit the KOA. My kids were riding bikes and were almost hit by one of the residents driving too fast entering the KOA, be careful if riding bikes.
Apr 26, 2021
Great! Only thing I didn't love was the access to the permanent residences behind the campground that residents drove through the rV park to get to. But other than that it was clean and staff was very friendly!
Apr 25, 2021
Great place with 5 star service. Super clean sites with everything we could have asked for. We'll be back soon.
Apr 23, 2021
Everything was very clean and taken care of.
Apr 18, 2021
This place was just what we were looking for! Pet friendly, convenient location, super clean bathrooms, cute cabin, extra things to do onsite, all at a good price. As a bonus, the owner and employees were super friendly. We would definitely stay here again.
Apr 16, 2021
It was great we really enjoyed our cabin
Apr 15, 2021
Great clean campground. Great people running it! It shows the owners take pride in their campground!
Apr 15, 2021
One night stopover. Repaired trailer. Everything worked fine
Apr 12, 2021
Space was OK. The ground unlevel. Really not an inspiring lot. For a deluxe space, no more special than other spaces. Vehicle noise going to the trailer park in the back day and night, annoying. The internet down a lot. The playground was OK. The non-electric bikes should be free for the kids to play on, not charged.
Apr 12, 2021
Great site and great service! Really close to many adventures and close to town. Would definitely stay again.
Apr 12, 2021
The place was clean and orderly. My kids loved the mini golf course and the jump pad area. Staff was friendly and went out of their way to help.
Apr 12, 2021
Bed bugs in camper cabin 2. Woke up in the middle of the night with bites all over my arms. The only reason I'm giving it 2 stars instead of 1 is that manager Adam was very kind, moved us to another cabin, did our laundry, and brought us blankets and even breakfast in the morning. Still, my arms itch and I'm scared we may have brought bugs home.
Apr 12, 2021
Easy phone in response and very comfortable surrounding.
Apr 11, 2021
Very nice. Hope to return for a longer stay in the future.
Apr 11, 2021
Highly Recommend. Super friendly and accommodating staff. Feels like home. This KOA has it all. Everything you need for all ages. We had a 1 1/2 & 3 year old and the park, bounce pad and mini golf were super fun for them. This was their 1st time camping and loved every minute. Clean bathrooms, fully stocked and nice store, super clean grounds. Highly recommend and will return again!
Apr 10, 2021
Friendly staff. My family really enjoyed the miniature golf. There was always kids at the playground My son had a blast. We were going stay one night ended up staying 3.
Apr 08, 2021
We had a great time. One of the nicer KOA's that we have stayed at.
Apr 07, 2021
Fun play area for the kids, clean bathrooms, and very friendly staff. We can't wait to come back
Apr 07, 2021
We loved our stay, every spot really is a good spot� so much to do there and our Grandson had a blast while we got to relax! Thank you!! We will come again
Apr 06, 2021
Nice. We've stayed before. Be nice to have to have the pool going. Would be amazing if you someday had an indoor pool an hot tub like many competing KOAs. Dinosaurland is so close to home we might come more often.
Apr 06, 2021
The location is clean and well kept. Easy access to so many great outdoor adventures. When concerns or questions arose the staff were very helpful. Had car trouble while there visiting and the KOA staff were very helpful in extending out stay and making sure we were good to go.
Apr 05, 2021
Restrooms are clean and well maintained. The playground and golf course is pretty beat up and could use some TLC. Turf on the playground and under the jumping mat would be nice as kids kept complaining about sand in their shoes.
Apr 05, 2021
Our stay at Vernal / Dinosaurland KOA was perfect. The grounds and bathrooms very clean. Not to mention the staff. The manager and the front desk attended was extremely helpful and eager to help us. Thanks for an amazing weekend. Oh, Don't forgot to rent the electric scooters. They are a great way to get to the Moonshine Arch and back. Make sure go all the way until see the sign for the Arch.
Nov 09, 2020
Very nice stay. Nice, clean, quiet and well laid out park. Only negative is the dog park could be bigger, it is really small.
Oct 31, 2020
Excellent place to stay...especially if you are travelling with children.
Oct 20, 2020
Very clean and obviously well cared for. Really great dog park too. Friendly staff. We really enjoyed it. The only setback we felt was one night there was a truck (very loud with blasting music) that drove into the permanent residence area (back of the property) no less than 7 times, starting at 10:30 at night. No one made him stop.
Oct 20, 2020
We had a great time! It was very clean and well-maintained campground. There was so much for kids to do and my son especially loved the mini golf course. We appreciated the very nice BBQ, table and chairs set, fire pit, and swinging chair at our site. It was really a great experience!
Oct 20, 2020
Nice people, nice campground. Very clean and safe.
Oct 19, 2020
Facilities very well maintained. Restrooms were very clean. We enjoyed our stay.
Oct 19, 2020
Good spot quiet and close to everything we wanted to explore
Oct 19, 2020
We had a great time. The staff was amazing. They were always helpful. The grounds and bathrooms and showers were always clean. Our kids loved all the games and play ground. We enjoyed having camp fires and family time. We can't wait to come back some time soon. Thank you for making our trip a great one.
Jul 04, 2020
Stayed here one night while migrating from home in Sedona to Portland. Selected the deluxe cabin at this KOA in the interest of social distancing during COVID-19. Worked out beautifully. Kitchen well stocked with utensils, gas barbecue, shade for outdoor sitting and dining. It was wonderful to enjoy the evening outdoors at a distance from other families doing the same. Best sleep of our whole trip! Good beds-nice to have a BR to our own. What is so stupendous about this KOA is that there isn't anything out of place, all the workmanship is pristine and everything is clean, up to date and well cared for. I am not a camper but if all KOAs are like this one I would prefer these over many other hotels. There is lots to do at the campground, the managers and staff are superb!
- Catherine K on Trip Advisor
Jun 18, 2020
A lot of work, love and care has been put into this RV park. Office staff is super, the escorts are friendly and very helpful and the support team will stop and answer any question you may have. This is a top notch place! Well groomed, mowed, watered and sanitized even the site plug ins.....Bathrooms are cleaned several times a day. Never seen a park so clean. Okay this is a nice place to just relax and enjoy. Lots of things for the kids to do, lots of space for them to ride their bikes. VERY DOG FRIENDLY. If you come you will not be sorry. We will return...
- 2013TravelinFool on Trip Advisor
Aug 21, 2020
This is a good sized ( 100+/- spots) Campground with enough variety of choices to stay for almost anyone. We had a gravel back in site off a gavel road. It was mostly level, with convenient hookups that functioned properly. The pool, playground and bounce pad were well maintained, they also have mini golf. They offer cable TV (analog) at some of the sites, and their included WiFi was spotty at best - not always providing a signal that was useful, the Verizon cell service was good. They have grass between some sites and they need to water regularly. Know this Campground is in front of a trailer park, and the access road goes through the property. This is not an inexpensive place to stay (consistent with most KOAs). I find it curious that a campground chain that bills itself as a family destination now defines a family as two adults. Time was a family was defined as two adults, and up to three children. We were traveling with two grandchildren, and they charged extra for both. This is a sometimes event for us, but a young family could feel beat up on their vacation.
- VillagerRick on Trip Advisor