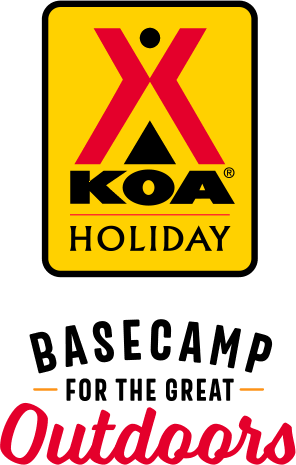 KOA Holiday Campgrounds
Whether you're exploring the local area or hanging out at the campground, KOA Holidays are an ideal place to relax and play. There's plenty to do, with amenities and services to make your stay memorable. Plus, you'll enjoy the outdoor experience with upgraded RV Sites with KOA Patio® and Deluxe Cabins with full baths for camping in comfort. Bring your family, bring your friends, or bring the whole group – there's plenty of ways to stay and explore.
KOA Holidays Feature:
RV Sites with a KOA Patio®
Deluxe Cabins with full baths
Premium Tent Sites
Group meeting facilities
Directions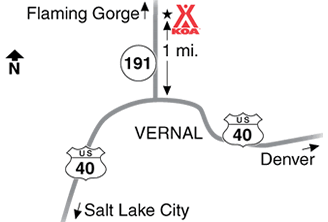 Coming from East or West on Hwy 40:
Turn North to Hwy 191 (North Vernal Ave). From there it is 1 mile after the turn-off, on your right.
Coming from North on Hwy 191:
We will be on your left, 1 mile before intersection with Hwy 40.
Get Google Directions
Nov 09, 2020
Very nice stay. Nice, clean, quiet and well laid out park. Only negative is the dog park could be bigger, it is really small.
Oct 31, 2020
Excellent place to stay...especially if you are travelling with children.
Oct 20, 2020
Very clean and obviously well cared for. Really great dog park too. Friendly staff. We really enjoyed it. The only setback we felt was one night there was a truck (very loud with blasting music) that drove into the permanent residence area (back of the property) no less than 7 times, starting at 10:30 at night. No one made him stop.
Oct 20, 2020
We had a great time! It was very clean and well-maintained campground. There was so much for kids to do and my son especially loved the mini golf course. We appreciated the very nice BBQ, table and chairs set, fire pit, and swinging chair at our site. It was really a great experience!
Oct 20, 2020
Nice people, nice campground. Very clean and safe.
Oct 19, 2020
Facilities very well maintained. Restrooms were very clean. We enjoyed our stay.
Oct 19, 2020
Good spot quiet and close to everything we wanted to explore
Oct 19, 2020
We had a great time. The staff was amazing. They were always helpful. The grounds and bathrooms and showers were always clean. Our kids loved all the games and play ground. We enjoyed having camp fires and family time. We can't wait to come back some time soon. Thank you for making our trip a great one.
Oct 19, 2020
YOUR HOST AND HOSTESS ARE GREAT PEOPLE THEY ARE DOING A GREAT JOB OF KEEPING THE GROUNDS CLEAN.
Oct 18, 2020
We enjoyed our stay at the KOA campground in Vernal. The park was well maintained, had a very clean bathhouse, and a quiet location. There was recreation for kids and camp sites to accomodate various camping styles (cabins, RV, tent with electric, etc.).The staff was friendly and helpful. We will stay here again!
Oct 18, 2020
This is a very nice park and it would be 5 stars except for terrible internet. Cable TV changed and no listings and office could care less.
Oct 17, 2020
This campground was appeared to be taken care of very well, and the staff were all very freindly and helpful. Our particular ite had it's own patio with a swing, firepit, and gas grill, both of which we used and enjoyed. The staff even delivered a couple of bundles of firewood to our site when we purchased it, which was a nice touch. Restrooms/showers were nice and kept clean, shower heads low.
Oct 17, 2020
Friendly, clean and quiet!
Oct 14, 2020
Great stay helpful staff, lots to do in the area.
Oct 13, 2020
Stayed 11 nights. Great place. We do it every year and never have a bad expeience
Oct 12, 2020
Friendly & Clean, road noise if you are towards the front. I would stay there again.
Oct 12, 2020
staff was so nice and helpful. it was quiet, beautiful and would definitely go back!!
Oct 12, 2020
Very nice , freindly staff. Clean and organized. Nice sites and freindly other campers.
Oct 12, 2020
KOA staff was very helpful when we had trouble with a collapsed support for our tent trailer. You guys are awesome.
Oct 10, 2020
Pleasant campground with lots of open space. Convenient to Dinosaur Monument. No one in office from 11 to 3, so finding site and backing in are up to the camper.
Oct 10, 2020
Nice overnight stop on way to Colorado from Grand Teton NP.
Oct 09, 2020
We got in late and they had our map and site ready. It was super easy. They called us to check in before they closed. Nice touch. We liked the patio next to the site with propane grills. Teepee and Glamping tent also look like a nice option.
Oct 09, 2020
The best kept campground we seen on our trip from Louisiana to Montana . The owners are responsive, friendly and very accommodating. We will be staying here again !
Oct 07, 2020
Outstanding front desk service and great amenities!
Oct 06, 2020
Clean, pet run, friendly
Oct 06, 2020
Nice and clean. Sheets and towels good quality. Had a great time with several family members in various cabins/RV spots. Thank you for helping us reserve spots that were right next to each other. Only issue was with heater that would not stay on - kept clicking on and off with very loud noises. Informed someone at front desk who said they would take a look at it.
Oct 05, 2020
We had such a fun stay! The grounds were beautifully kept and quiet. We will be back again.
Oct 05, 2020
The park was neat and clean and easy to access. Even though our site was a back in site, we had no trouble getting in and opening all slides on both sides of our 39' motorhome. The camp host was very helpful the night we arrived.
Oct 05, 2020
We had a great night's rest, what a nice place. I rolled in just after dark in my van with my big white dog. The fella that checked me in was awesome, as was the staff member that I talked Pyrenees dogs with in the morning. The grounds and facilities are very well kept, with many happy campers.
Oct 03, 2020
We love this KOA. This was our second time to stay here. The staff is friendly and helpful. We love the K-9 Dog Park. Every morning we watch the parade of turkeys on their route. We enjoy deer in the evenings. Centrally located between Flaming Gorge and Dinosaur National Monument. Grounds are meticulously maintained. There is nothing not to like. We will be back Fall 2021.
Oct 01, 2020
Nice cabin and campground.
Oct 01, 2020
Great stay; nice sites outside of town. WiFi a bit weak but normal for KOA. Great staff. Good value for higher end sites. Good location to base out of for touring this part of Utah.
Oct 01, 2020
Nice accommodations although wifi was inadequate -- not enough band width for even streaming a newscast.
Sep 30, 2020
Staff is extremely nice. Nice to see residents in a completely separate area. We were in the back more private area and it was fun seeing the turkeys and deer come through the campsites.
Sep 30, 2020
Clean and friendly nice grounds
Sep 29, 2020
Enjoyed all of the extra amenities. The rental bikes and playground equipment were a lot of fun for my granddaughters. The staff was very helpful during the entire stay.
Jul 04, 2020
Stayed here one night while migrating from home in Sedona to Portland. Selected the deluxe cabin at this KOA in the interest of social distancing during COVID-19. Worked out beautifully. Kitchen well stocked with utensils, gas barbecue, shade for outdoor sitting and dining. It was wonderful to enjoy the evening outdoors at a distance from other families doing the same. Best sleep of our whole trip! Good beds-nice to have a BR to our own. What is so stupendous about this KOA is that there isn't anything out of place, all the workmanship is pristine and everything is clean, up to date and well cared for. I am not a camper but if all KOAs are like this one I would prefer these over many other hotels. There is lots to do at the campground, the managers and staff are superb!
- Catherine K on Trip Advisor
Jun 18, 2020
A lot of work, love and care has been put into this RV park. Office staff is super, the escorts are friendly and very helpful and the support team will stop and answer any question you may have. This is a top notch place! Well groomed, mowed, watered and sanitized even the site plug ins.....Bathrooms are cleaned several times a day. Never seen a park so clean. Okay this is a nice place to just relax and enjoy. Lots of things for the kids to do, lots of space for them to ride their bikes. VERY DOG FRIENDLY. If you come you will not be sorry. We will return...
- 2013TravelinFool on Trip Advisor
Aug 21, 2020
This is a good sized ( 100+/- spots) Campground with enough variety of choices to stay for almost anyone. We had a gravel back in site off a gavel road. It was mostly level, with convenient hookups that functioned properly. The pool, playground and bounce pad were well maintained, they also have mini golf. They offer cable TV (analog) at some of the sites, and their included WiFi was spotty at best - not always providing a signal that was useful, the Verizon cell service was good. They have grass between some sites and they need to water regularly. Know this Campground is in front of a trailer park, and the access road goes through the property. This is not an inexpensive place to stay (consistent with most KOAs). I find it curious that a campground chain that bills itself as a family destination now defines a family as two adults. Time was a family was defined as two adults, and up to three children. We were traveling with two grandchildren, and they charged extra for both. This is a sometimes event for us, but a young family could feel beat up on their vacation.
- VillagerRick on Trip Advisor