Local Area Recreation Near Valdez KOA
There is so much to see and do while staying in the Campground.  Enjoy hiking the many trails, some with boardwalks, views of the Port of Valdez that take your breath away but most filled with the beauty only Mother Nature knows how to share.  Take an ATV (All Terrain Vehicle) into the many areas that surround the Campground for a few hours or go Sea Kayaking into Prince William Sound and get up close to huge ice bergs.  You can even experience the many recreational activities with your own personal guide, just stop by the Office on arrival and we will put you in touch.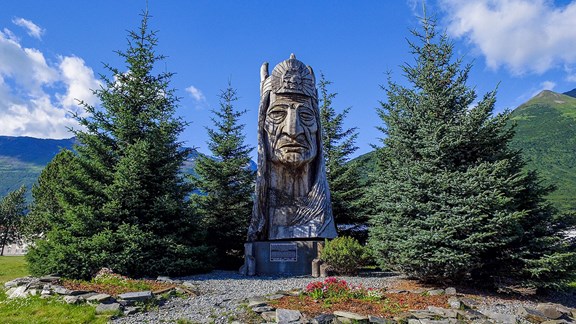 Visit The Famous Peter Toth Carving
You will find Whispering Giant number 40 here in Valdez, along Pioneer Drive, just 10 minutes from the Campground in downtown
Valdez. This one was installed in October 1981 and stands 30 feet high.  Peter Wolf Toth (born December 1947) is a Hungarian-born American sculptor, who immigrated to the United States and settled in Akron, Ohio. He later studied art at the University of Akron.  He created a series of sculptures called Trail of the Whispering Giants to honor Native Americans.  Overall, he has created more than 74 sculptures, including at least one in each state of the United States, and in several Provinces and territories of Canada.
The 74 Whispering Giants range from 15 to 40 feet (4.6 to 12.2 m) in height, and all resemble natives of the region in which they are located. Toth always donates the Whispering Giant he creates to the town he carved it in, and never charges a fee for his time. Toth used a hammer and a chisel as the basic tools to create the Whispering Giants, but on occasion he used a mallet and an axe, rarely power tools. Before starting work on a Whispering Giant, Toth confers with local Native American tribes and local lawmakers. The sculpture that is created is a composite of all the physical characteristics, especially facial features, of the local tribe or tribes, as well as their stories and histories.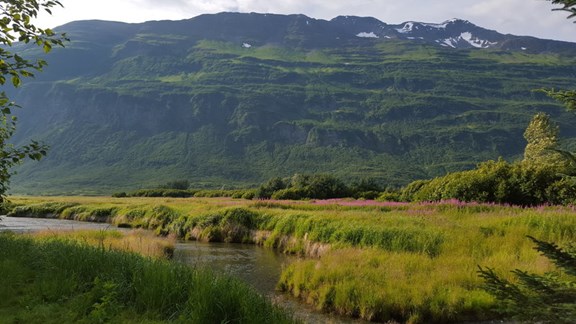 Hike The Many Trails
Adventure out from the Campground along the walking path that is in front of the Campground Entry, or explore in and around Valdez for the most accessible hiking trails in Alaska.  There are trails to suit everyone's capability, from a short, easy 20 minute trail at Dock Point or much harder trails, like John Hunter Memorial Trail, some with boardwalks and most with majestic views.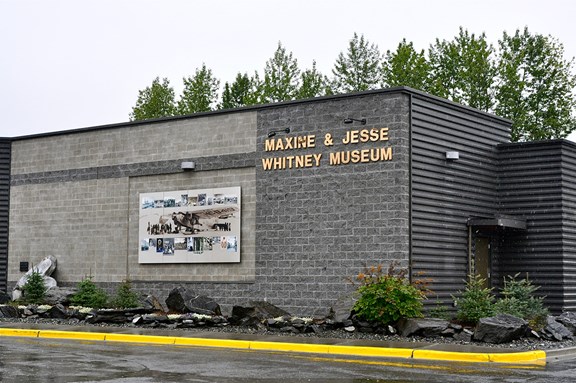 Visit The Many Museums
Learn about Valdez's history by visiting the many museums in downtown, just a 10 minute drive from the Campground.  The growth and settlement of Valdez was attributed to fur trading, salmon canning, and gold and copper mining.  During the Klondike Gold Rush of 1897-98, prospectors came to Valdez believing the Copper River and Valdez Glacier 
to be the entry to the interior gold fields.  From 1910 to 1916, copper and gold mining flourished in the area.  In the early 1970's, Valdez became the staging area for work on the lower portion of the Trans Alaska Pipeline.  Today, Valdez hosts the Valdez Marine Terminal, which is the southernmost end of the 800-mile oil pipeline. Valdez has several Museums for you to explore, so make sure you allocate a half day to experience them all. The Maxine and Jessie Whitney Museum holds the largest Alaskan native artifacts in the world and free to enter. A kind donation would be appreciated.  Visit the Office for a local Map and more information on how to experience this amazing Museum.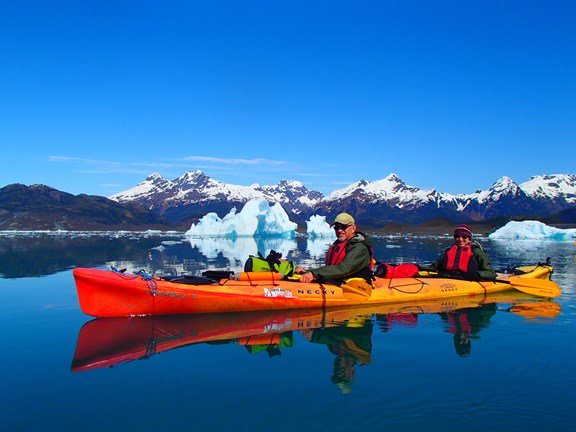 Sea Kayaking
Valdez has so many accessible, breathtaking areas to explore. Kayak to Shoup glacier and be surrounded by huge chunks of ice. Be on the lookout for cute sea otters or perhaps fish from your Kayak. Don't have a Kayak? We will put you in touch with the many tour guides that can take you into picturesque places that will make never ending memories.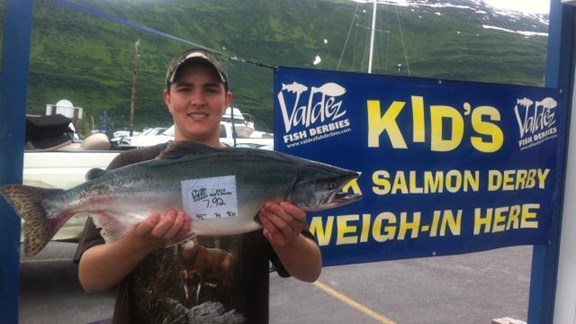 Take the Kids Fishing
Each year Valdez Fish Derby Association hosts the Kids Pink Salmon Derby. Pink salmon are a great introduction to fishing for kids.  Because of the largest pink salmon hatchery in North America, based along Dayville Road (1 mile turnoff from the Campground), these types of salmon are plentiful, easily accessible and a lot of fun for your kids to catch. Valdez Fish Derbies also puts on a barbecue and hands out prizes to the kids during the day. This is a great family fun day to get hooked on fishing for all ages.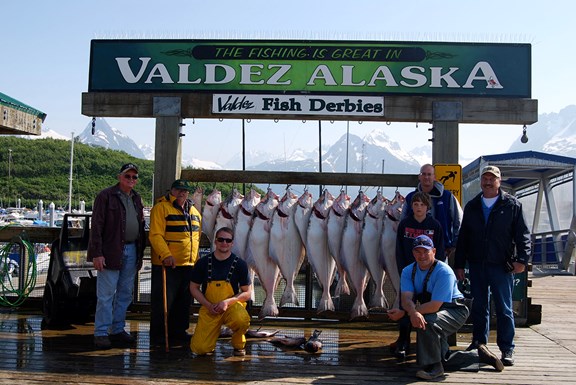 Go Deep Sea Fishing For Halibut
Valdez has many fishing charter guides ready to take you out for a fishing experience like no other in Alaska.  If you would prefer to rent your own boat, there are guides with these fully decked out with gear waiting for you to explore around Prince William Sound. Once you reach your limit, there are fish cutters down at the Harbor who will take care of your catch and you can even have it frozen and shipped back home - as long as it is in the US. Just note, while fishing in Alaska, everyone is required to hold a fishing license.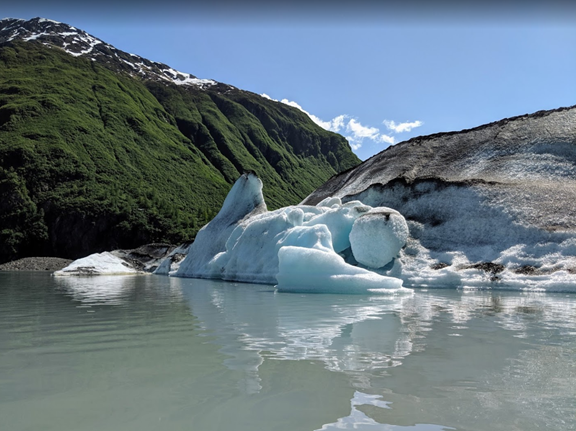 Canoe or Kayak on Valdez Glacier Lake
If  lake canoing is more your pace, then stop at the Valdez Glacier Lake and paddle up close to ice bergs and ice caves. Relax on the small beach and enjoy a picnic while taking in the majestic views of the Chugach Mountains that surround you.  You can also see Valdez Glacier from the beach as it flows down through the Mountains. Valdez Glacier Lake is only a 10 minute drive from the Campground.  Stop by the Office and we will put you in touch with Tour Guides that can assist you so you don't have to bring your own Kayak or Canoe.