Local Area Attractions Near Valdez KOA
Valdez KOA Journey, your gateway to adventure.  There is so much to see and do in Valdez and our Campground gets you close to all the action. ATV (All Terrain Vehicle) Tours, Sea Kayaking, Heli Flight-seeing Tours, Wildlife and Glacier Day Boat Cruises, Fishing Charters, Hiking, and so much more!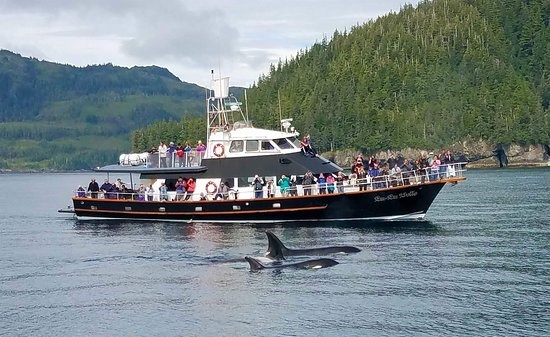 LU-LU Belle Glacier Day Cruises
Imagine being near the face of calving glaciers, watching huge chunks of ice fall into the ocean as the rumbling crack of breaking ice fills the air. Valdez has so many accessible, breathtaking glaciers to explore.  Sail up close onboard the Lu-Lu Belle Wildlife & Glacier day boat cruise to Columbia Glacier.  Spot Humpback and Orca Whales, Sea Lions, Seals, Sea Otters, Dall Porpoise during your journey to the Glacier. Guests love this cruise and agree with us when we say "THE BEST AND MOST ENTERTAINING" Day Cruise in Valdez. Stop by the Office on arrival to purchase your tickets for a day full of memories and excitement!
North Harbor Drive
Valdez, AK 99686
Valdez Off-Road Adventures
Let someone else do the driving!  Enjoy a 6.5 Mile (13 Mile round trip) ride up beautiful Mineral Creek Canyon departing from downtown Valdez. View numerous scenic waterfalls along a majestic valley winding into the Chugach Mountains. Suitable for all ages and ADA friendly.  Step back in time into Valdez's rich gold mining history! Imagine seeing bears, waterfalls and historical buildings all in the one tour!  Not to be missed during your stay.  Stop by the Office to find out more - you'll be glad you did!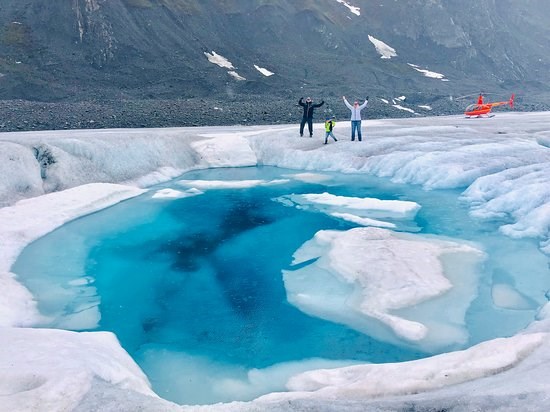 VS Helicopters Flight Seeing Tours
Panoramic view of Valdez with its sheer beauty experienced from above. See wildlife, icebergs & waterfalls from the sky. Package & custom tours to suit your needs. Take off today!   Stop by the Office for booking assistance.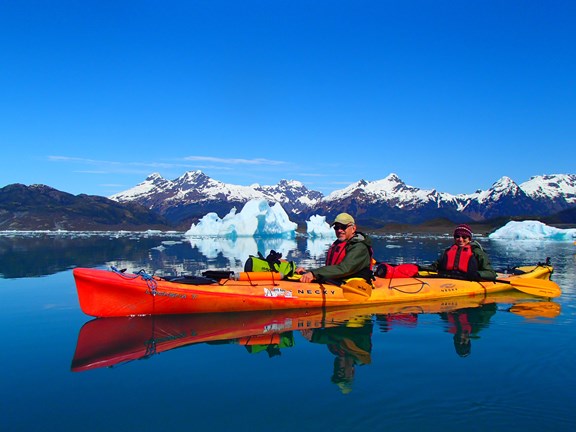 Anadyr Adventures
Valdez Glacier Ice caving, hiking & historical tours. Sea kayaking for a day or week in Prince William Sound. Experienced guides lead you to amazing scenery, glaciers & wildlife. No experience necessary.
Anadyr Adventures offers four types of trips: day trips for those with limited time in Valdez, multi-day camping trips, Mothership trips for those desiring the amenities of a support vessel, and lodge based trips offering Prince William Sound day excursions from the comfort of a remote Alaskan wilderness lodge.
Pick up your informational brochure at the office.
North Harbor Drive
Valdez, AK 99686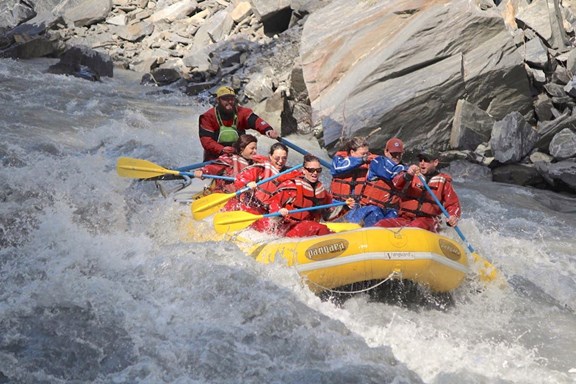 Pangaea Adventures
Join this upbeat, knowledgeable crowd, as they offer a unique means of exploring a remote beautiful corner of Alaska. Sea kayaking among icebergs in Prince William Sound, rafting the canyons of the Chugach Mountains, backcountry hiking into the depths of Wrangell-St. Elias National Park.
Pick up your informational brochure at the Office.
North Harbor Drive
Valdez, AK 99686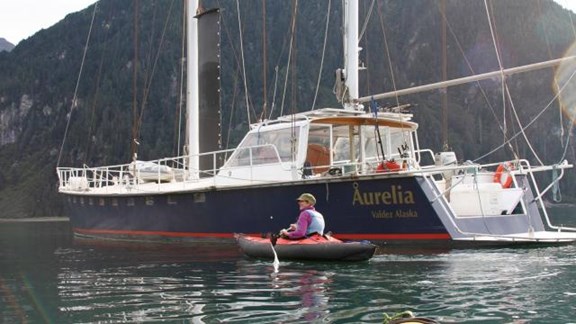 Aurelia Charters
Aurelia Charters is dedicated to providing sailors, kayakers, photographers and adventurers with an experience of pristine Alaskan wilderness that is both unique and accessible. Aurelia is an eighty foot sailing schooner with a maximum capacity of twelve guests. Sail with Aurelia and make memories!
Email inquiries: aurelia@valdezak.net
Valdez Harbor, Tour Dock 3
Valdez, AK 99686
Solomon Gulch Fish Hatchery
The largest fish hatchery in North America.  A must see when visiting Valdez, Alaska.  Spot bears feeding on the returning salmon, witness the largest and fattest sea lions ever seen in Alaska and of course, the spawning salmon as they return home to where they were born.  One mile from the Campground, turn into Dayville Road, travel along until you locate the parking lot next to the hatchery.  Step out and explore this wonderful area.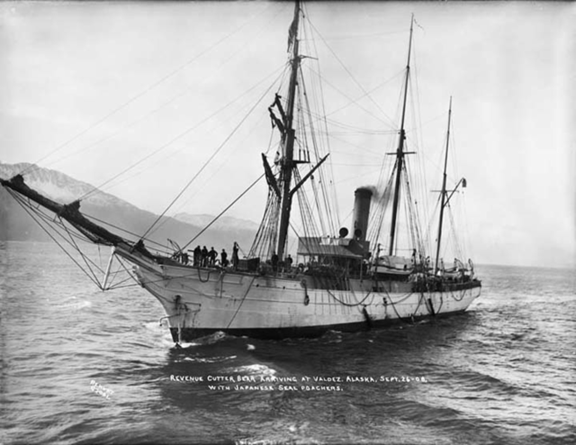 Valdez's History
Valdez is the activity center for Prince William Sound; a mix of tidewater glaciers, rain forests, and mountains.  The growth and settlement of Valdez was attributed to fur trading, salmon canning, and gold and copper mining.  During the Klondike Gold Rush of 1897-98, prospectors came to Valdez believing the Copper River and Valdez Glacier to be the entry to the interior gold fields.  From 1910 to 1916, copper and gold mining flourished in the area.  In the early 1970's, Valdez became the staging area for work on the lower portion of the Trans Alaska Pipeline.  Today, Valdez hosts the Valdez Marine Terminal, which is the southernmost end of the 800-mile pipeline. Valdez has several Museums. Stop by the Office for more information on how you can experience Valdez's history.
Wildlife!
The information provided below has been extracted from Alaska's Department of Fish & Game website.  Valdez KOA Campground is not responsible for its' content, nor errors and omissions.   For further and updated information visit www.alaskabears.alaska.gov  (Alaska Department of Fish & Game)
Alaska is bear country and one of the few places in the world where all three species of North American bears live. You may have a chance to see a bear in Alaska. But even if you don't you will never be far from one.Fast Facts to help in your hiking adventures!

Make noise so you don't surprise a bear. Stay alert and look for signs of bears.

Never approach or crowd bears; respect their "personal space."

Keep food, garbage and other attractants out of reach of bears.

Stay calm during a bear encounter, talk and wave your arms. Don't run!

Brown bears, also called grizzly bears, are found nearly everywhere in Alaska. Black bears inhabit most of Alaska's forests. Polar bears frequent the sea ice and tundra of extreme northern and western Alaska.Bears are curious, intelligent and tend to avoid or ignore people, but can be dangerous. Many bears live in Alaska and many people enjoy the outdoors, but surprisingly few people see bears and only a few of those are ever threatened by a bear.Respecting bears and learning proper behavior can help you avoid conflict.
Photo Credit: Local Photographer Bob Benda.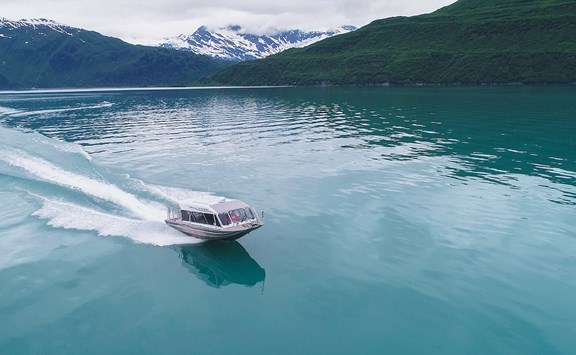 HALF DAY GLACIER JET BOAT TOURS
Half-Day Shoup Glacier Jet Boat AdventureOnly have half a day to do something cool in Valdez? Or don't really want to be on a boat all day? Then our half day Jet Boat Shoup Glacier Tour is perfect for you. Leave the Valdez small boat harbor and head west for 8 miles in our 30' covered and heated aluminum boat. Then have a blast zooming up a tidal river into the glacial lake at Shoup Glacier.Once inside the glacial lake we will idle around a large black-legged kittiwake rookery, explore the rocky outcrops and make our way toward Shoup Glacier. We normally see sea otters, seals, eagles and many other bird species on these trips, with a possibility of seeing mountain goats and black bears on the trip also.Once up to Shoup Glacier your captain will beach the boat on a glacier moraine for you to get out and walk on the glacier! We will take pictures and explore around the terminal moraine of the glacier before loading back into the boat and heading toward the harbor.This is a great half day adventure that gets you right up and on a tide water glacier.Shoup Bay is a State Marine Park due to its unique habitat and beauty and a great place to spend the afternoon.
North Harbor Drive
Valdez, AK 99686