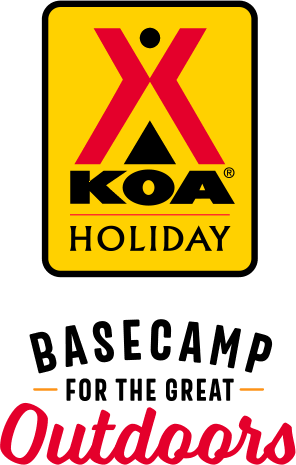 KOA Holiday Campgrounds
Whether you're exploring the local area or hanging out at the campground, KOA Holidays are an ideal place to relax and play. There's plenty to do, with amenities and services to make your stay memorable. Plus, you'll enjoy the outdoor experience with upgraded RV Sites with KOA Patio® and Deluxe Cabins with full baths for camping in comfort. Bring your family, bring your friends, or bring the whole group – there's plenty of ways to stay and explore.
KOA Holidays Feature:
RV Sites with a KOA Patio®
Deluxe Cabins with full baths
Premium Tent Sites
Group meeting facilities
Directions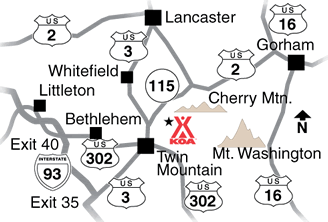 From Route 3 and 302: Go 2 miles on 3 N, take 115. KOA is on the right. From Route 2: Take 115, KOA is 10 miles on the left.
GPS: Use 372 Rt 115, Whitefield, NH 03598. N44.305143, W71.532877
Get Google Directions
Oct 13, 2020
Nice clean bathrooms and showers. Well maintained campground. Helpful, friendly staff.
Oct 13, 2020
Super clean! Awesome staff! Overall, great experience!
Oct 12, 2020
Beautiful campground. Very clean and well kept. Shower houses were the best, clean and spacious.
Oct 05, 2020
The location was perfect and close to the trailhead for hiking Mt. Pierce the next morning. The staff was waiting for us on arrival for contactless check-in. Our tent site and the restrooms were in spotlessly clean condition. The fresh coffee available in the general store the next morning was so convenient, fresh and delicious. We hope to return next summer to utilize all the other amenities!
Oct 05, 2020
Clean and beautiful camp ground. Great facilities. Checked in late without a problem, had a perfect site. Wood delivery was super fast. I will definitely be back next year!
Sep 27, 2020
Fantastic staff. Welcoming and accommodating.
Sep 24, 2020
A very pretty, quiet and well maintained KOA. It's only a short drive to Franconia Notch State Park.
Sep 21, 2020
10 out of 10 very clean, great site great people who run The campground!!! We will be back!!!!
Sep 21, 2020
Fabulous facilities and accommodations. Can't say enough positive things about the staff and experience. Would highly recommend and will definitely revisit.
Sep 14, 2020
Great place as always. Had a nice relaxing stay. Owner and staff did a great job of making a tough (covid) situation very seamless. Some activities were missed but understandable in these tough times. At least I was still able to get away without worry.
Sep 08, 2020
Great place to camp. Staff are awesome and friendly.
Sep 08, 2020
I love KOA Twin Mountain. The owners are super nice and very accommodating. The campground is always clean (bathrooms, cabins, camp store). My kids have plenty to do. Have been going there 5 years and can't wait for my next visit.
Sep 06, 2020
Great location right in the mountains, campsite was perfect, right in the woods with privacy. Staff was very helpful and friendly. Big play area for kids and nice little woods walk. Bathrooms were super clean and I didn't see another person in the bathrooms.
Sep 01, 2020
AMAZING!!! Staff was incredibly friendly and helpful. Amenities we're SUCH a bonus. Very clean campground with spotless restrooms. The heated pool, dog park, no dog fee, nightly activities, trail, snack shack, bounce thing, free WiFi, any/everything one could need in the store - overall AMAZING place! P.S. Kevin was GREAT! Very friendly and helpful. Thank you
CAMPGROUND RESPONSE / COMMENTS:
Thank you for your kind words.
Aug 31, 2020
Very nice campground with plenty of fun activities. The bathrooms were great as well
Aug 28, 2020
We live on the ocean so staying in the mountains is so exciting! Very courteous staff! We were lucky to be at site 54 which is awesome and rustic! The grounds are maintained and the facilities spotless! THank you for a great experience!
Aug 26, 2020
This one one of the nicest KOAs I have been to. If you enjoy shaded sites in the woods and not too close to each other, this campsite is for you. Lovely wooded area. Contactless check-in was easy and bookings was friendly and accommodating.
Aug 25, 2020
All the staff and near by campers were amazingly friendly and welcoming. Site was very well maintained and comfortable. Next time we are in the area and looking for a camping spot, we would definitely come back. Thanks Twin Mountain / KOA!
Aug 21, 2020
The best place!
Aug 18, 2020
I think the campsite was a great place for beginning campers with small children my kids and I are older and we do a lot of survival camping we knew that this was not what you provided but we couldn't get another campgrounds that weekend or what you provide you do a good job
Aug 17, 2020
Lots to do. Family oriented will be back!
Aug 15, 2020
Someone came to our site to complain we were too loud when we were not. Kind of made us uncomfortable
CAMPGROUND RESPONSE / COMMENTS:
We do enforce our 10 p.m. quiet hours. Voices tend to carry in our area of the mountains.
Aug 14, 2020
The tent sites were too close together, leaving us with no privacy.
Aug 12, 2020
Appreciated the contactless check in. Very friendly and helpful staff. Bathroom and showers were updated and very clean. We will be back!
Aug 11, 2020
Nice clean family campground in a convenient location.
Aug 10, 2020
we had a great weekend. lots to do; playground, to shirt decorating, pool, the train! it was busy weekend but not noisy. sites were definitely small and not much privacy but you can expect that with most campgrounds nowadays!
Aug 08, 2020
Twin Mountain KOA is an outstanding campground with a variety of site types for all interests. We stayed in the wooded tent area and enjoyed the peacefulness. The staff was professional and friendly, and we appreciated that the owner checked on us late at night during a tropical storm. The bathrooms are clean, and we enjoyed the variety of activities on site including a short hiking trail.
Aug 05, 2020
The sites are wooded and provide good feel. The restrooms are clean and store well stocked. Checkin was smooth. Site 54 tent pad can be smoothed out better, some rocks jutting out. Love the part that I can book my site online.
Oct 11, 2020
A great place to camp. Owners very personable. Very clean bathrooms. Great experience. If I had one negative thing it was the neighbors. They were loud until all hours of the night. I will be back.
- Sherri McInnis on Google
Oct 11, 2020
Clean campground with great cabins. Everyone was really friendly. The store had closed earlier than we thought it would, and an employee who was off duty was nearby. He went out of his way to help us get what we needed and opened back up for us. You can't ask for a better experience than that, really amazing
- Kevin Kronrad on Google
Oct 05, 2020
Same Wifi provider as my previous camp in RI, only 0.2Mbps for free wifi, and 3Mbps after paid $3/day. Not very fast but okay for video conference and streaming. Unbeatable foliage for the last week of Sep, both in the campground and nearby. Camp host are very professional, and always busy to keep the campground neat and clean.
- wang wooodhead on Google