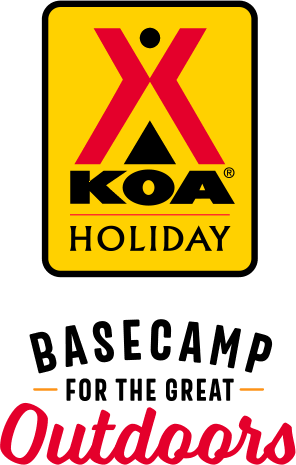 KOA Holiday Campgrounds
Whether you're exploring the local area or hanging out at the campground, KOA Holidays are an ideal place to relax and play. There's plenty to do, with amenities and services to make your stay memorable. Plus, you'll enjoy the outdoor experience with upgraded RV Sites with KOA Patio® and Deluxe Cabins with full baths for camping in comfort. Bring your family, bring your friends, or bring the whole group – there's plenty of ways to stay and explore.
KOA Holidays Feature:
RV Sites with a KOA Patio®
Deluxe Cabins with full baths
Premium Tent Sites
Group meeting facilities
Directions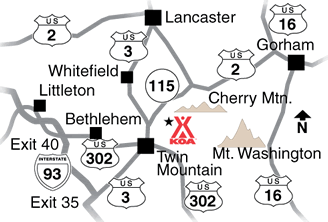 From Route 3 and 302: Go 2 miles on 3 N, take 115. KOA is on the right.
From Route 2: Take 115, KOA is 10 miles on the left.
GPS: Use 372 Rt 115, Whitefield, NH 03598. N44.305143, W71.532877
Get Google Directions
Sep 17, 2021
We stayed in one of the deluxe cabins. It was spotless, well equipped and the staff are wonderful. Already made reservations for next year
Sep 17, 2021
I wish the staff was wearing masks when indoors. Otherwise it was fine, but knowing that they're maskless in a high transmission area, I probably wouldn't return until after covid.
CAMPGROUND RESPONSE / COMMENTS:
We follow all CDC, state and local protocols. Also, the White Mountains are not considered a "high transmission" area.
Sep 17, 2021
Very pretty campground, nicely wooded sites. Wish my tent site had a level spot.
Sep 16, 2021
Diamond in the rough. Close to everything that you would want to do.cog rail is 10-15 minutes away. So is the white mountain national forest , for moose and bear watching.must also do the flume. But for the park ,very clean , quite, and the whole staff very friendly. The funny thing is… I normally don't write reviews, my wife does. That's how great of a place it was. A little pricey,well wor
Sep 16, 2021
We had a great time! We will definitely be back.
Sep 16, 2021
Did not appreciate being placed in camp site right next to playground since we arrived with two adults and no children.
Sep 16, 2021
The entire campground, except for the old RV area by Rte 115, is attractive and well maintained. The sites in "North Hill" or "South Hill" look great. However, our site was an older pull-through by dumpsters, it was VERY noisy from Rte 115 traffic at all hours, it was too close to RVs next to us and the site felt cramped. We would happily return only to rent a site in North or South Hill areas.
CAMPGROUND RESPONSE / COMMENTS:
Thanks for staying. You booked your own site on the internet.
Sep 15, 2021
Clean and Friendly!!
Sep 15, 2021
Better than expected
Sep 15, 2021
Very impressed with everything from store hours to sparkling clean restrooms and showers, to escort service (the escort even helped guide my trailer into the site), garabage pickup and witnessed a first...raking the empty site after a guest pulled out!
Sep 14, 2021
Enjoyed staying here. Friendly staff and accommodating. We will be back here next year. Beautiful area.
Sep 14, 2021
A fantastic stay and fun was had by all! Clean park and accommodations and kid friendly park. Did I mention beautiful? I will recommend this park to all!
Sep 14, 2021
Always a pleasure. Staff is wonderful and helpful when needed.
Sep 14, 2021
Was a quick stay for us, but this was a very nice campground. The sites were on the small side, but it was very clean, and the staff was incredibly nice and helpful. Will definitely go back. The playground/firepit/seating area was tremendous. It looks west and a great place to sit and enjoy the sunset while the kids play. Highly recommend.
Sep 14, 2021
The staff were very friendly. They answered all my questions regarding the cabins and how they kept from having pot holes with all the bad weather we've had this year in NH. I loved all the trees, the privacy they created for each tent site and for the cabins. I also liked that roots and limbs didn't seem to be a nuisance for the rv sites. Very nice park
Sep 14, 2021
Spent 5 days there. Just the best people working here I have met, and I have been around the whole country.
Sep 14, 2021
We had a great time. Post-labor day camping is a different experience. Very relaxing and laid back. The staff here are great and welcoming. Can't wait to go back.
Sep 14, 2021
Nice campground with lots to do for families… our site was nice and private, the showers/restrooms were clean with plenty of hot water….
Sep 13, 2021
Excellent stay!
Sep 13, 2021
Best campground ever!
Sep 13, 2021
Perfect! All the amenities are super clean and great kid activities.
Sep 13, 2021
Beautiful facility very nicely kept.
Sep 13, 2021
We love staying at Twin Mountain KOA! The staff are so friendly, accommodating, and the they keep everything very clean!
Sep 13, 2021
Had a great stay! The staff is awesome!
Sep 13, 2021
I stayed the weekend of 9/11 I am a career fire fighter and my other half is also a fire fighter. We were greated once again amazingly by the staff at this koa the owner has expressed how much he cares about police and fire and collects patches on his wall. This was our third time this year there and I knew I had to get him some patches, We did and he was very thankful. Thank U 4 your support
CAMPGROUND RESPONSE / COMMENTS:
We really appreciate you and your family, not too mention your civil service. Thank you very much for the badges and patches. I can't thank you enough.
Sep 13, 2021
All staff were very kind and helpful. It was a great first camping trip for our family. It was wonderful that the cabin had heat, we didn't anticipate the cooler weather. We will absolutely be back.
Sep 13, 2021
Easy to check in, convenient location. Used to campsites that are a bit more offset from the road to offer more privacy, but it got the job done.
Sep 13, 2021
They sold me wet wood.
Sep 13, 2021
This is a beautiful campground tucked in the mountains of New Hampshire. We were only able to stay one night but it is on our list of campgrounds to visit again when we have more time. Very, very family-oriented yet there were lots of older RVers who were very friendly and helpful to us. Wish the camping season was longer!
Sep 12, 2021
Enjoyed my stay. Nice big beautiful sites up on south hill. Has. All eminities you could ask for.
Sep 12, 2021
Great stay, as always!
Sep 11, 2021
Love this campground! Great sites, clean facilities & genuinely nice staff. Reserved for 3 nights and ended up staying 7!! Will definitely make this a destination again! Well done Brad & Bex!!
Sep 11, 2021
We had a fabulous time here. We have been to TMKOA several times before but you have made the place truly exceptional. Loved the pool. Loved the bathrooms. It was beautiful & the staff was all quite amazing & friendly. Could have done without the rain… but…. Everything else was great!!
Sep 11, 2021
Lovely campground with nice walks through the forest. Super helpful and friendly staff, too!
Sep 10, 2021
Very well kept campground.
Sep 10, 2021
The people were great, the place was beautiful and spotless. It was probably the best KOA we have been too so far. We absolutely loved it..
Sep 10, 2021
Had a wonderful stay. Everything was perfect and sooooo clean too!!! Your cleaners do such a wonderful job those guys deserve a raise for sure!!! And that beautifully painted bridge was very pretty!!
Sep 09, 2021
The team at Twin Mountain are the the best. They are responsive and maintain a clean and safe environment.
Sep 09, 2021
Clean and peaceful campground. Great place for kids to have a lot of fun.
Sep 10, 2021
Staff was super kind and helpful .Our new getaway. Olivia , Monique , and loved it. Thank you Brad , Kim , David , and Dale personally
- Boondocking Mainahs on Google
Sep 09, 2021
A Wonderful KOA! All the employees were helpful and kind!This KOA is Very clean..did laundry there !..spotless!Bathrooms..spotless
- Joan Nietzschmann on Google
Sep 07, 2021
By far one of my most favorites KOA my family has been too. Every single employee was amazing and so kind. The campground itself is gorgeous and is nestled right on the mountains. They have cabins , tenting campsites, a pool gaga ball etc. My kids had a blast!!
- Danielle Garcia on Google