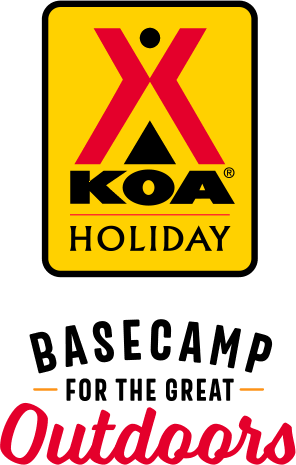 KOA Holiday Campgrounds
Whether you're exploring the local area or hanging out at the campground, KOA Holidays are an ideal place to relax and play. There's plenty to do, with amenities and services to make your stay memorable. Plus, you'll enjoy the outdoor experience with upgraded RV Sites with KOA Patio® and Deluxe Cabins with full baths for camping in comfort. Bring your family, bring your friends, or bring the whole group – there's plenty of ways to stay and explore.
KOA Holidays Feature:
RV Sites with a KOA Patio®
Deluxe Cabins with full baths
Premium Tent Sites
Group meeting facilities
Directions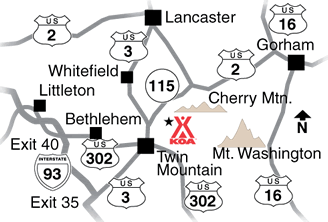 From Route 3 and 302: Go 2 miles on 3 N, take 115. KOA is on the right.
From Route 2: Take 115, KOA is 10 miles on the left.
GPS: Use 372 Rt 115, Whitefield, NH 03598. N44.305143, W71.532877
Get Google Directions
Jun 16, 2021
We really enjoyed this campground. The staff was wonderful and the kids amenities were fantastic. We were there on a weekend and enjoyed live music and an ice cream social, as well. We loved it!! The site was nice with trees in between for privacy. We like having the shade, too. We would return for sure.
Jun 15, 2021
Wonderful staff, very clean , Would stay again
Jun 15, 2021
Very friendly staff and well kept grounds. Short visit in one of the cabins which was nice except for the carpenter ants. Had 10-12 of them on us every night. Not a fun way to be woken up every hour.
CAMPGROUND RESPONSE / COMMENTS:
Thank you for staying. I wish you would have told me when you were here during your 3-night stay. But, we'll definitely get down there and check it out.
Jun 14, 2021
perfect weekend
Jun 14, 2021
It was great stay. Kids enjoy fullest here. Only negative was quiet time starts at 10 pm that is too early on camping night
Jun 14, 2021
Upon driving in I was met by 3 friendly employees/owner ready to look up my reservation, provide information and guide me to my site. Throughout the weekend they remembered my name and responded immediately to any need. I only wish the sites were a bit more removed from the campground roadway.
Jun 14, 2021
Very enjoyable. Could use more dog poop depositories located around the campgrounds. Marine staff were as expected. Semper Fi
Jun 14, 2021
Perfect location for families! Amazing patio sites.
CAMPGROUND RESPONSE / COMMENTS:
Thank you for staying.
Jun 14, 2021
This is my second time at this KOA, great service people from the man who helps bring you to the campsite and get you settled to the friendly front desk staff - great and happy employees. And the grounds, roads, playgrounds, pool and bathrooms are always clean. One of my favorite KOAs to stay at. Thank you.
CAMPGROUND RESPONSE / COMMENTS:
Thank you for staying. We appreciate it.
Jun 14, 2021
This was our first vacation since COVID. Cabin was not set up, like the last time we came - no stove, no grill utensils, no sponge, no towels, no bath mat, so we were very unprepared and had to buy a bunch of stuff at your store. The tub leaked water all over the floor, there were dirty rubber gloves in the room. No one was even acting like there was a pandemic. We paid a lot to leave early:(
CAMPGROUND RESPONSE / COMMENTS:
I'm sorry to hear about your stay. Cleanliness is our number one priority and I wished you would've told me about your issues when you were here. The cabin you reserved, however, didn't come with those items you mentioned and we don't have bath mats in any of our cabins.
Jun 14, 2021
Overall it was nice, but there was a large, disruptive party at the site across from ours and nothing was done for two hours to have them quiet down or break up. Multiple people asked them to be quiet and they didn't, until a manager came to make them disband. This is a family establishment, so I'm surprised this type of behavior is overlooked until just five minutes before quiet hours.
CAMPGROUND RESPONSE / COMMENTS:
I'm glad to hear you thought it was nice. I'm not sure what you mean by disruptive. There was a group of families talking by a fire. They weren't breaking any rules and they did disband to their sites for quiet hour when we asked.
Jun 12, 2021
We particularly would like to mention J, who helped us with a problem we had with our Apex Nano. He went above and beyond to help us ! We look forward to going back to Twin Mountain KOA!
Jun 12, 2021
Friendly, helpful staff!! Very helpful! Campground, pool, bath house and everything was always clean and beautiful!!! Would recommend to anyone!
Jun 12, 2021
The campground was clean and had the nicest and most attentive staff
Jun 12, 2021
Cleanest bathroom I have ever seen in a campground. Would be nice if garbage and dish cleaning were offered closer to tenting sites.
CAMPGROUND RESPONSE / COMMENTS:
Thank you for staying with us. We actually pick up trash from your site between 8 a.m.-11 a.m.
Jun 11, 2021
Great weekend with friends. Staff was extremely friendly and helpful. Campground clean. Will keep coming back.
Jun 11, 2021
Nice and tidy campground with level roomy sites. All employees courteous, friendly and helpful....Beautiful place and we thank you for a wonderful stay....
Jun 10, 2021
Wonderful, wooded grounds. Wish we had more time there!
Jun 10, 2021
Staff was excellent. Owner came by and introduced himself, this was great. Very clean camp.
Jun 10, 2021
Nice clean campsite. Nice people easy check in and out
Jun 09, 2021
Everyone who worked there was so nice! Very nice campground with lots to do for the family!
Jun 08, 2021
We love how friendly the staff is! The sites and amenities are very clean and they offer a lot of fun for the kids �
Jun 08, 2021
Amazing campsite with Amazing Staff!! Brad the owner could no be more hospitable!!
Jun 07, 2021
It was a great time and a great facility The staff was very friendly and helpful. Brad could not have done more to make our stay better..
Jun 07, 2021
Everyone there is amazing. This my 3rd stay at this campground in my life and it's always been amazing. I thank everyone for all their hospitality and I'm already booked again for next year!
Jun 07, 2021
This was one of the BEST campgrounds we've stayed at. The campground has lot of amenities, pool, game room, and area, everything was very clean and up to date. The staff were the most personal which really says alot to us. From the moment we checked in, we knew this campground was about to become one of our favorites. The location is perfectly beautiful, nestled right in the mountains.
Jun 07, 2021
Very friendly, pet friendly, very clean and a great time!!! All of the staff seemed to truly enjoy working there and many were staying. It seems like they treat it as a home away from home. We will be back and would recommend to other families :-)
Jun 07, 2021
Great place... we will be back!
Jun 07, 2021
Enjoyed our stay very friendly staff. Look forward to another stay.
Jun 07, 2021
Very clean, nice people, lots for kids to do!
Jun 07, 2021
Everyone was very helpful. I just thought that the units were a bit too close especially the one on my left. Great activities for kids and adults!
Jun 07, 2021
Great weekend as always with the crew at Twin Mountain! The staff and owners are always there for their campers... we love it there!
Jun 07, 2021
A little strict on the talking outside our campers after 10 PM
Jun 03, 2021
Brad and his team were absolutely AWESOME!!! The park is immaculate, the customer service so very very good! We were there with a large group and everyone in the group couldn't say enough about the way we were treated and how amazing the park was... we're going back next year for Memorial Day weekend - already booked!
Jun 03, 2021
We loved it. Clean, lots for the kids to do, heated pool. We will be going back soon.
Jun 15, 2021
This place is our favorite KOA. Beautiful sunsets, nice and very quiet at night. It's a really pleasure to sleep with the windows and roof vents open at night even on busy weekends. This place is 5 starts all the way! The staff is amazing!!!
- K9299HFronaldb on Trip Advisor
Jun 14, 2021
Great staff - friendly, helpful, and caring. Clean property - playground, dog park, bathrooms, camp sites. One of the best KOA's I've stayed at! Great!!
- Charles Jolin on Google
Jun 13, 2021
This campground was absolutely beautiful. It is so well kept and very woodsy and private. We only stayed one night on our way to our destination but we really would have loved to stay longer.
- A Relloka on Google