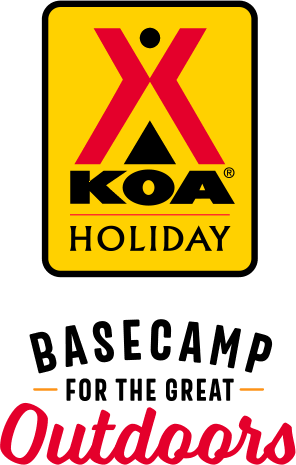 KOA Holiday Campgrounds
Whether you're exploring the local area or hanging out at the campground, KOA Holidays are an ideal place to relax and play. There's plenty to do, with amenities and services to make your stay memorable. Plus, you'll enjoy the outdoor experience with upgraded RV Sites with KOA Patio® and Deluxe Cabins with full baths for camping in comfort. Bring your family, bring your friends, or bring the whole group – there's plenty of ways to stay and explore.
KOA Holidays Feature:
RV Sites with a KOA Patio®
Deluxe Cabins with full baths
Premium Tent Sites
Group meeting facilities
Directions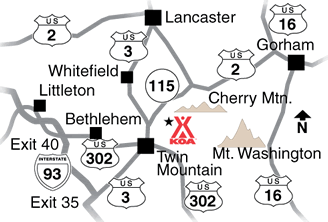 From Route 3 and 302: Go 2 miles on 3 N, take 115. KOA is on the right. From Route 2: Take 115, KOA is 10 miles on the left.
GPS: Use 372 Rt 115, Whitefield, NH 03598. N44.305143, W71.532877
Get Google Directions
Nov 03, 2020
Loved this location! Beautiful, comfortable campground. We've visited many KOAs and this is my children's favorite.
Oct 29, 2020
Appreciated the vehicle-side check-in. The campground had a great store with local items, trails, play billiards and clean. The campground is located in a beautiful area of New Hampshire. The only drawback was road noise as the campground is fairly close to the highway. I would consider staying again if I could get a site further back on the property.
Oct 23, 2020
Beautiful campground with a great location! The staff was amazing and very friendly and attentive!
Oct 17, 2020
We always enjoy our stay up in Twin Mountain KOA because people working there are so friendly and the campground is always spotless / clean.
Oct 15, 2020
Close to laundry and restrooms, convenient, friendly and helpful staff.
Oct 15, 2020
An amazing KOA campground, owners and staff are top-notch. Well kept grounds, sites, and facilities. Perfect location in the heart of the Whit Mountains. Highly recommend this campground.
CAMPGROUND RESPONSE / COMMENTS:
Thank you for staying with us.
Oct 14, 2020
We loved our stay and will be back!
Oct 13, 2020
Awesome as always, Brad and Becky do it right!
Oct 13, 2020
As usual had a fantastic time during my stay. The owners are the best host's I have come across in the KOA chain. Had some crazy weather on Saturday night ( tornado warnings. Brad the owner was out in his golf cart constantly checking on the guests. I cant wait to go back.
Oct 13, 2020
We love it there.Staff are very friendly and accommodating. Grounds are always clean and well maintained.
Oct 13, 2020
Our second stay there we had a great stay love the site and the employees that work there are so nice and friendly have a wonderful winter see you in May
Oct 13, 2020
We had a great time. We took our kids and grandkids camping and they had so much fun. The last day with the candy hunt, wagon ride and barrel ride. They were so excited to participate.
Oct 13, 2020
This was our second visit to Twin Mountain KOA. Everyone on the staff goes out of their way to make all of the guests feel right at home. Thanks to all for another great stay and see you next year!
Oct 13, 2020
I can't emphasize enough how great this KOA is! There were plenty of activities for kids, enough space to not feel like you were on top of your fellow campers and the staff was friendly and helpful. Before we even got out of our car someone drove up to us in a golf cart to check us in and show us to our campsite. Service was done with a smile and we have already booked our return in May 2021!
Oct 13, 2020
We drove in and were met by a man in a golf cart who lead us to our level spot with patio, table, and fire ring. Easiest set up we have ever had. No contact (Covid) and no fussing around trying to find level ground. No mud. No low branches. Great little store. Kind people working.
Oct 13, 2020
Super clean Bath houses. Campground staff picked up trash at site throughout the day and also make sure recyclable crates were emptied. Pick up propane tanks for fill and return, ask for firewood and deliver to your site and "charge" your site number. Would stay there again. Thank you to all the the staff. Adam, Patty, Alyssa and the dogs (Kelsea and Molly)
CAMPGROUND RESPONSE / COMMENTS:
Thank you for staying with us.
Oct 13, 2020
After reviewing campground photos, we believed we were reserving a nice, spacious site with patio. Very disappointed to find our site was extremely small, cramped and dirt/gravel -- then it rained three inches!! What a mess. Moved to a more deluxe higher ground site for our last night. Much better, but overpriced in our opinion, compared with other, nicer KOAs where we have stayed.
Oct 12, 2020
My husband and I were having a lovely week until he broke his ankle. The staff and owners could not have been more accommodating to our needs, assisting us with a mid-week black water tank empty prior to unhooking to check out, and more. Very professionally run campground. We would book another stay without question.
Oct 11, 2020
Need better wifi to get higher ratings. Beautiful area!
Oct 10, 2020
The campground and staff were wonderful! The greeter was waiting to take us to our site for contactless check-in. When we were ready to leave, an escort guided us to fill our propane tank before heading out. Would definitely stay here again! Our dog LOVED playing with the other doggies in the K9 Kamp, too! Thank you for a beautiful stay!
CAMPGROUND RESPONSE / COMMENTS:
Thank you for staying.
Oct 10, 2020
Deluxe patio site close to the highway, with trucks either grinding uphill or using jake brakes going down. Had to reposition 3 times to be able to get my trailer level (maxed out on leveling blocks) and sewer was uphill so couldn't fully empty black tank. $77 for one night and the free version of the Internet slower than dial-up, trying to force you to buy a faster service. Very poor.
CAMPGROUND RESPONSE / COMMENTS:
Sorry to hear about your recent stay. There's a lot to respond to for your one night stay. I can honestly say that your site is one of more requested sites. Lastly, we don't care if you upgrade your wifi. Nobody is "forcing" anyone to upgrade. I'm not even sure what that means.
Oct 09, 2020
We loved it. Beautiful, quiet, clean and friendly. We booked our stay for nest year! See you then.
Oct 08, 2020
Had wonderful time at the facility with super helpful staff and cleaning was really good around.
Oct 07, 2020
Had a great time here as part of our foliage trip. Campround is very well maintained. Bex and Brad as well as the rest of the staff were very accommodating. Will definately stay here if we get up this way again from Long Island N.Y.. Thanks!
Oct 07, 2020
We were greeted in the friendliest manner! The campsite and surroundings were kept incredibly clean, the bathrooms, spotless! Many great places to go in the area! Beautiful!
Oct 07, 2020
Last minute booking, very accommodating. Very clean
Oct 06, 2020
Just beautiful! We only stayed for a weekend but It was so peaceful and relaxing I felt like i took a weeks vacation. I can't say enough about it! Kind people, very accommodating, incredibly clean and service was always with a smile. Looking forward to bringing the family next year. They have so many things for children and families.
Oct 05, 2020
Excellent service & great activities for the kids! Thank you!
Oct 05, 2020
We had a good time enjoyed the musician Saturday night... the staff is clean and attentive. The weather was raw and cold but it had no bearing on the grounds itself. Thank you
Oct 05, 2020
Overall, a very nice KOA. I would definitely come back here again. My only real complaint is that there needs to be more hooks in the men's shower stalls. As it was there were three shower stalls, all had a hook on the back of the door but only one had a hook close to the shower. As far as I can see, there's no need to be frugal when it comes to hooks...the more the better.
Oct 05, 2020
Great place to stay. Great staff and musical entertainment on October 3rd 2020 was fantastic. Wonderful place to stay!!!!
Oct 04, 2020
Very nice campground, very nice and friendly folks , VERY CLEAN BATHROOMS AND SHOWERS..
Oct 04, 2020
Kevin was extremely welcoming & helpful during set up. Beautiful, private park.
Oct 03, 2020
We feel Brad and Bex have done a great job with the improvements in the campground. We always look forward to staying there. Thank you.
Oct 03, 2020
Staff was friendly and very helpful! They couldn't do enough for us. The campground is beautiful and very well maintained. Thanks for a great experience!
Oct 11, 2020
A great place to camp. Owners very personable. Very clean bathrooms. Great experience. If I had one negative thing it was the neighbors. They were loud until all hours of the night. I will be back.
- Sherri McInnis on Google
Oct 11, 2020
Clean campground with great cabins. Everyone was really friendly. The store had closed earlier than we thought it would, and an employee who was off duty was nearby. He went out of his way to help us get what we needed and opened back up for us. You can't ask for a better experience than that, really amazing
- Kevin Kronrad on Google
Oct 05, 2020
Same Wifi provider as my previous camp in RI, only 0.2Mbps for free wifi, and 3Mbps after paid $3/day. Not very fast but okay for video conference and streaming. Unbeatable foliage for the last week of Sep, both in the campground and nearby. Camp host are very professional, and always busy to keep the campground neat and clean.
- wang wooodhead on Google