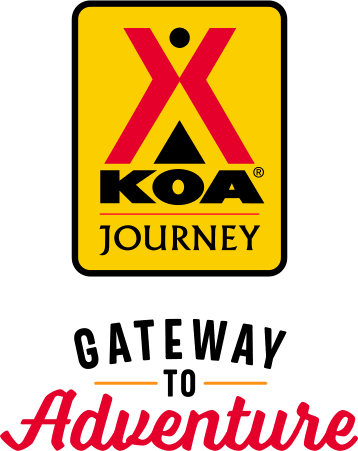 KOA Journey Campgrounds
KOA Journey campgrounds are the perfect oases after a day on the road. Whether it's along the way or a quick getaway, they've got you covered. Located near the highways and byways of North America with long Pull-thru RV Sites, they deliver convenience to the traveling camper. Pull in, ease back and take a load off.
KOA Journeys Feature:
Pull-through RV Sites with 50-amp service
Premium Tent Sites
Well lit after hours check-in service
Directions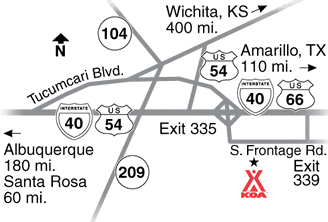 I-40 Eastbound: Exit 335, right at stop sign, left at next stop sign, 1/2 mile on right.
I-40 Westbound: Exit 335 keep left, left at stop sign, go under I-40, then left at next stop sign, 1/2 mile on right.
54 SW: Turn left at first stoplight Tucumcari Blvd (RT 66) , 2 miles go under I-40,  left at stop sign, 1/2 mile on right.
These driving directions are recommended.
If using GPS (Not recommended) the exact complete address is: 6299 Quay Road AL(most important part)
Get Google Directions
May 04, 2021
We enjoyed our 4 day stay. Nice clean, well run campground. Enjoyed walking around the campground. Some nights traffic sound from freeway was loud, depending on wind direction. Everyone that works there are very nice and friendly � Our only concern was with the trees! Most need to be trimmed or cut down. Lots of dead trees and dead branches on others. All in need of water.
May 04, 2021
This campground has great interstate access and was very clean!
May 04, 2021
Clean campground, stable electric, good water pressure and fairly level gravel spots. Although the cafe was not open to indoor dining (Covid), the staff will take your order and deliver it to your site. I'll stay here again!
May 03, 2021
View was amazing. Quiet area. Sites was easy in, easy out�
May 02, 2021
Nice grounds. Well Maintained. Have a Dinner and Breakfast here. We had the Country Fried Steak with all the Trimmings and a Slice of Chocolate Cake. The Store was not open to allow us to pick up a few needed things.
May 02, 2021
It was ok for an overnight.
May 02, 2021
Beautiful sunset and views! The manager was very helpful and polite.
May 02, 2021
Easy in and out, clean bath and showers, mostly dirt spaces but level. Stayed one night both going from Tucson AZ to Cassville, MO and returning. We will make this a normal stop for RON enroute. late arrivals? all information on front door in an envelope with map, spot number, etc.
May 02, 2021
friendly convenient simple easy access clean
May 02, 2021
Quick easy place to stay. They even had breakfast delivery, and it was very good.
May 02, 2021
We stayed 1 night. It is easy in/out right off of I-40. Long sites did not have to unhook. We were lead to our sites. We would stay again.
May 01, 2021
Had great meal delivered to RV. Courteous staff. Easy of and in 1-40
May 01, 2021
Good place to get out of the wind! Very dusty and not as nice as we expect KOA to be. People are friendly and very accommodating. Was expecting more because of the description in the KOA book. Perhaps that is why we were disappointed.
May 01, 2021
Great stay Nice management it's great to have someone at a KOA Park cook breakfast and bring it to you great job
May 01, 2021
Well maintained, good sites. Highly recommend. Will stay there again when in the area.
May 01, 2021
Great place, staff were very helpful and friendly. I would definitely come back.
May 01, 2021
Very clean! Excellent service taking us directly to our spot (excellent customer service)! Called to make reservation and she was very happy to help! Highly recommend!
May 01, 2021
Quiet park but spots are buddy spots and very close.
Apr 30, 2021
The food was a life saver also park clean
Apr 30, 2021
What a nice campground, they are doing improvements every time we stay there ! They offer dinners and breakfast ! We had the chicken fried steak mashed potatoes with 2 choices of gravy and fresh green beans it was fantastic ! great prices and what nice people we love this place !!! We highly recommend their campground .
Apr 30, 2021
Breakfast delivery was wonderful, good food, reasonable prices!
Apr 29, 2021
Just a stop over while traveling
Apr 29, 2021
easy off highway, large spot RV, staff friendly
Apr 29, 2021
It was clean, we just stayed one night on a trip and it is as everything we needed. We don't recommend buying the chicken fried steak dinner but we were happy to not have to cook that night. We will stop there again.
Apr 29, 2021
Fast and easy check-in
Apr 28, 2021
Easy pull through for our overnight stay. Wifi was strong, plenty of tv channels available via normal antenna, and hosts were very friendly and helpful! Easy off/on from interstate.
Apr 28, 2021
We enjoyed so much the whole place
Apr 28, 2021
clean park, roads need attention
Apr 27, 2021
Nice campground. Loved the feature where you could order meals!!
Apr 27, 2021
Good stop along the I-40. Recommend that the web site include cabins (not on the site but are available) for those travelers that want a little more protection from the cold ;-)
Apr 26, 2021
Passing through stayed 1 night. Very clean and well kept. Great stay.
Apr 26, 2021
Friendly staff. Clean campground in a quiet location
Apr 25, 2021
Clean bathrooms always a plus!
Apr 25, 2021
Good place to stay while passing thru the area.
Apr 25, 2021
Very nice easy on off and they have an awesome home made dinner that they deliver
Apr 24, 2021
Very peaceful, well kept up. Friendly.
Apr 24, 2021
Easy on/off i40. Nothing fancy, but clean and great if you have dogs - plenty of walking room. Owners continue to make site improvements. It's a go-to as an overnight stop. Not much in town, but the restaurant we went to served a very nice Mexican meal. We'll be back.
Apr 24, 2021
This location worked great for an overnight stay on our trip. Right off the Interstate, sites were easy to pull in. The restrooms were super clean with showers. Will definitely use again when traveling.
Apr 24, 2021
always so friendly. always so helpful.
May 07, 2021
We very much enjoyed our 1-night stay in this KOA. Very clean with level sites, a location that offers a view of distant buttes and a nice park-like setting with trees. Our 45-ft rig with tow vehicle) found it an easy place to get in and out of. We'll stay here again!
- Rhonda Mills on Google
May 04, 2021
Awesome place really spacious! Would stay again!
- Don Trenasty on Google
May 06, 2021
Good place to stop if you're traveling.
- Janie Macintosh on Google