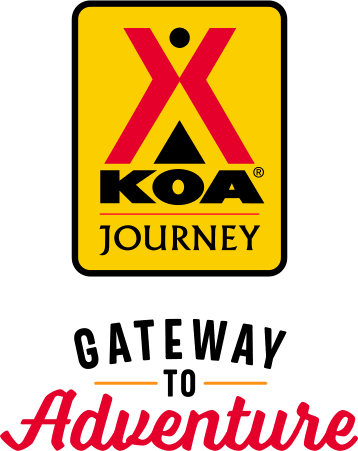 KOA Journey Campgrounds
KOA Journey campgrounds are the perfect oases after a day on the road. Whether it's along the way or a quick getaway, they've got you covered. Located near the highways and byways of North America with long Pull-thru RV Sites, they deliver convenience to the traveling camper. Pull in, ease back and take a load off.
KOA Journeys Feature:
Pull-through RV Sites with 50-amp service
Premium Tent Sites
Well lit after hours check-in service
Directions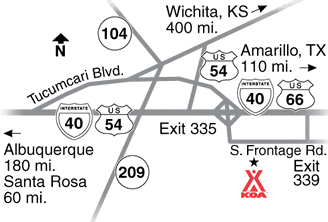 I-40 Eastbound: Exit 335, right at stop sign, left at next stop sign, 1/2 mile on right.
I-40 Westbound: Exit 335 keep left, left at stop sign, go under I-40, then left at next stop sign, 1/2 mile on right.
54 SW: Turn left at first stoplight Tucumcari Blvd (RT 66) , 2 miles go under I-40,  left at stop sign, 1/2 mile on right.
These driving directions are recommended.
If using GPS (Not recommended) the exact complete address is: 6299 Quay Road AL(most important part)
Get Google Directions
Apr 06, 2021
The site is very well maintained. The bathrooms and showers were good. The only reason for the 9 (vs a 10) is that this place is very remote.
Apr 06, 2021
Great place to stay. Nice and quiet. It was a great place to stay a night and get rest for the next day. Still had 500 miles to go.
Apr 06, 2021
Couldn't be better even without Wi-Fi.
Apr 05, 2021
It's tired, but clean. It definitely could use some updating, but is good for overnight stays. Sites have recently been kind of blacktopped (but rest of it is dirt/gravel).
Apr 05, 2021
We were there for one night on our way to the painted desert. Staff was very nice and the site was easy parking our 42' fifth wheel. Well kept campground. If ever back this way will stop again.
Apr 04, 2021
One night with late arrival, very convenient
Apr 03, 2021
Best stay of our first 3 leg journey.
Apr 03, 2021
Very friendly nice staff, clean.
Apr 03, 2021
Easy checkin, small, quiet, clean
Apr 02, 2021
overnight, 1 night only. would stay again.
Apr 02, 2021
The sites were not well kept! The only communication was a walkie talkie hanging on the office/store door. Which was never open.
Apr 02, 2021
Friendly staff , clean restrooms, beautiful facilities , very clean , convenient to i40.
Apr 02, 2021
Just a quick overnight. We didn't unhitch and we're off early the next am. Quiet and easy to get In and out.
Apr 01, 2021
Great place!
Apr 01, 2021
Only one night but very clean and pleasant helpful people
Apr 01, 2021
Had a very nice stay with you
Mar 31, 2021
The rv sites faced each other like in Mesa Verde KOA to save money most likely on utility fixtures. You share a center with picnic tables. Plus the staff wasn't around and you had to call them by radio when entering the property or requesting information while I. The park.
Mar 31, 2021
Was good, thanks
Mar 31, 2021
Typical desert campground, nice for overnight stay, good value, nice staff.
Mar 31, 2021
Place was perfect!
Mar 29, 2021
Our 3rd stay there. Like the campground. Clean and quiet.
Mar 29, 2021
Concrete site level, far enough from freeway so noise not bad. Grass not yet planted but stepping stones to utility hookups took care of that problem as ground was wet. Trees and location make for a country feel away from city. Glad to see no firepits so did not have to worry about smoke in RV. Only problem was poor wifi, far worse than other non-KOA rv parks we had been to for less money.
Mar 28, 2021
The park is nicely maintained and the rest rooms were very clean. The grounds are great but polices need adjustment. On the day of check out we were one of only two campers, we asked about a late check out and were told we would be billed $3.00 an hour. This just felt like an unfriendly policy so we rushed in order to leave before 11 am.
Mar 28, 2021
We stayed in a tent site. It was a last min decision and the workers there were helpful in finding us a spot. The bathrooms were clean. I needed quarters for the laundry room and they came right out to help exchange my money. Overall great experience.
Mar 28, 2021
There was no bandwidth on the WIFi, other than that it was a nice, neat quiet park.
Mar 28, 2021
Convenient on and off of I-40. Kitchen was being remodeled so no food was available for purchase. We had a nice deep paved space with full hookups. I thought the door entry at the office could be neater and freshened up a bit. Met 1 staff member who was very helpful.
Mar 28, 2021
Bathrooms& showers clean. Office closed. Guy who escorted us to our spot was kinda quiet & didn't elaborate or say much. He could have been friendlier.
Mar 28, 2021
It was great
Mar 27, 2021
This is the fourth or 5th time i have stayed here over the years. the people are very nice and the campground could be a great place but it is ALWAYS muddy. The pads are gravel and level but the roads and grassy areas are always a mess. Hooking up your utilities gets your shoes so soaked and full of mud you have take them off and bag them before you can get back in the coach. And try walking dog
Mar 27, 2021
Most covid-19 safe RV camp we've stayed in. Curbside check in is a definite plus.
Mar 26, 2021
A nice, clean friendly place. Because of Covid protocol not everything was available but still a great stop.
Mar 25, 2021
Nice clean park. Good playground for the kids. One of the best laundry facilities on our cross country trip!
Mar 24, 2021
Unfortunately during Covid all amenities were not available
Mar 24, 2021
Very accommodating
Mar 24, 2021
Store closed, showers very little cold water coming out if I wanted to I would not been able to stand the cold ver small dry off area
Mar 23, 2021
Great campground. Spaces are spread out with views of the mountains. Nice paved RV space. However, cable which we paid for didn't appear to work. We didn't let management know as we were leaving that morning and it takes a while for management to come up front, as everything was closed down...needed to use a walkie talkie to alert the staff we needed assistance, presumably due to Covid.
Apr 11, 2021
Nice overnight stay. Helpful staff
- Linda Goodwin on Google
Apr 10, 2021
Needs more shade, but clean bathrooms
- Penelope Goff on Google
Apr 10, 2021
Nice overnight spot right off I-40. New improvements include Pedestals and fresh Gravel. Staff was very pleasant and attentive.
- Greg Konney on Google