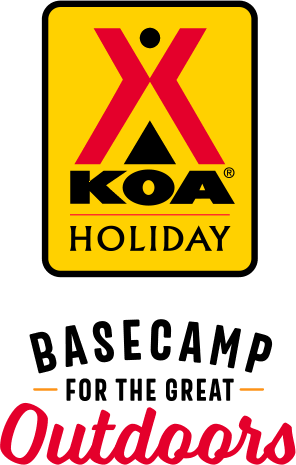 KOA Holiday Campgrounds
Whether you're exploring the local area or hanging out at the campground, KOA Holidays are an ideal place to relax and play. There's plenty to do, with amenities and services to make your stay memorable. Plus, you'll enjoy the outdoor experience with upgraded RV Sites with KOA Patio® and Deluxe Cabins with full baths for camping in comfort. Bring your family, bring your friends, or bring the whole group – there's plenty of ways to stay and explore.
KOA Holidays Feature:
RV Sites with a KOA Patio®
Deluxe Cabins with full baths
Premium Tent Sites
Group meeting facilities
Directions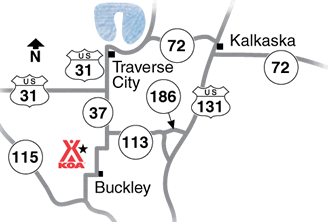 15 miles south of Traverse City, or 3 miles north of Buckley on M-37. GPS Address: 9700 S M 37 Road, Mayfield, MI 49620.  GPS: N44.545981, W85.67838
Get Google Directions
Oct 19, 2020
Great place to spend some down time. We based our trip out of here & couldn't be happier ��
Oct 19, 2020
Very Friendly Staff, Very Clean Deluxe Cabin we stayed at with a private view, Kids loved the jumping pillow, would love to come back when its not off season to explore all there other amenities.
Oct 19, 2020
We loved our stay here! We stayed in one of the deluxe cabins. It had everything we needed and it made our trip simple. Staff was friendly.
Oct 18, 2020
Very nice park close to everything Clean as always
Oct 15, 2020
Very nice! This was our second visit. The deluxe cabins are very nice.
Oct 14, 2020
Facilities were excellent. We loved our cabin.
Oct 12, 2020
Owners make sure you are number one. We had an issue with the tv in our favorite cabin and Dave kept at it until it was corrected! Thanks
Oct 12, 2020
The cabin we stayed in was excellent. It was well maintained and very clean. The staff was very friendly and extremely helpful. We will stay here again anytime we come to Traverse City or the surrounding area.
Oct 12, 2020
I always have a great time here! Very comfortable cabins and friendly staff!
Oct 10, 2020
Cabin was clean and well maintained. Campground is in a very nice setting in a wooded area near Traverse City.
Oct 10, 2020
Well organized on-line and pre-arrival, friendly welcome and helpful escort to cabin, clean (as in sparkling) cabin and bathrooms/showers, went the extra mile with the campground and staff. Relaxing and comfortable two-night stay. Definitely picturesque for fall (campground and setting)!
Oct 10, 2020
We stayed at one of your cabins it was very nice we're all comfortable very easy check-in very friendly people and highly recommend this place
Oct 08, 2020
Exceptional staff and very clean park. We were there for our anniversary and enjoyed it very much! Thank you!!
Oct 06, 2020
We rented 4 cottages for a family trip. We had a great time and enjoyed our stay. The accommodations were clean and well kept and the staff were friendly and helpful. We plan to do it again next year.
Oct 03, 2020
Clean, well kept campground. Friendly help in the office. 2nd stay at this location. Look forward to our next stay.
Oct 01, 2020
Had an excellent time visiting the area. The cabin was amazing, very clean top to bottom. Love how the cabin was tucked in the corner and felt away from everyone else. Just wish the weather would have been nicer! Great staff, clean campground.
Sep 30, 2020
Ioved it! Had a great cabin location.
Sep 30, 2020
The campground was Amazing! We loved the cleanliness and the hosts! We would suggest to anyone staying in a camping cabin to bring a thick mattress pad or egg shell cushion because the mattress was very thin and not comfortable Everything else was amazing!
Sep 29, 2020
We had a great time at the campground, outside of the acorn apocalypse that attacked our cabin during our stay, lol. We also were given advise on a hiking spot (High Rollaways) that is a hidden gem in your area, which was our best hiking location went found during our trip. Thanks!.
Sep 28, 2020
Staff was friendly and willing to help grounds were supper clean and very organized made me feel at home definitely will be back
Sep 28, 2020
We reserved a "deluxe" cabin for a family weekend getaway. The staff was very friendly and helpful. The cabin was beautiful. Park was very clean. Our grandkids, ages 6, 9 and 11 loved the playground and bounce pads! We enjoyed our stay so much, that we forgot to ask about the check out time! The staff let us stay long enough past checkout to pack and feed the grandkids! Thank you KOA!
Sep 28, 2020
Very nice campground. We stayed in the cabins. Very nice and clean and accommodating. We will be making this an annual event.
Sep 26, 2020
We stayed in the deluxe studio cabin, it was perfect for our short Stay. Although the cabin had a full bath, I did check out the public bathroom/shower area and I found it to be very well kept and clean. I highly recommend this camp ground.
Sep 25, 2020
A great place to stay! Well maintained campground. Friendly staff. Definitely will be back.
Sep 24, 2020
Friendly staff. Well kept campground. High marks all around. Will be back.
Sep 22, 2020
We had a great time at the TC KOA! We were impressed with the overall cleanliness and high level of service during our stay - we especially appreciated the text service for firewood delivery. The location was an easy drive to both the TC area and Sleeping Bear Dunes. We hope to return again soon!
Sep 21, 2020
Easy check-in/check-out process. Cabin was good-sized, very clean. Perfect spot for us to have a weekend away.
Sep 19, 2020
Love the Traverse City area. Wonderful stay.
Sep 17, 2020
Always enjoy our stay at your KOA!
Sep 17, 2020
Camp is well kept up. People are friendly and very helpful.
Sep 16, 2020
Hosts are very friendly & helpful. Campground & facilities are very clean. We're planning on another trip back there
Sep 13, 2020
Had a great time at your koa and the deluxe cabin was perfect. Everyone was very nice and friendly.
Sep 09, 2020
What a truly enjoyable, comfortable, and accommodating stay at Traverse City KOA campground. Every encounter with every staff member leaves you feeling more like family than a camping customer. The campground and facilities are immaculate; camper security and well being is obviously their main concern. It doesn't get any better than this!
Sep 09, 2020
Beautiful campground with tons of activities for kids. My son loved the train rides, putt putt, bounce pads and playground. Staff was always friendly and campground (including bathrooms) were very clean. Highly recommend
Sep 09, 2020
Deluxe cabin was fancy accomodation. Very pieceful, quiet campground. We were close to lakes, bike trails and Traverse City, so it was an perfect Labor Day weekend vacation.
Sep 08, 2020
Wonderful place. This was our second stay here. We'll be back.
Sep 08, 2020
So much fun; beautiful and clean property. Stayed in a studio cabin... again, so clean!!!
Sep 01, 2020
We rented one of the deluxe studio cabins for up to 4 people. We were impressed with cleanliness and overall appearance of the unit. Very nice and cozy. I would rent again in the future.
Sep 01, 2020
Our favorite place to camp. The kids love it here and we always wish we could stay longer.
Oct 12, 2020
An amazing campground with tons of fun activities for adults and children! They have a gaga ball pit, a dog playground, a big jumping pad, a jumping pillow, a basketball hoop, a playground with a baby swing, a train, a swimming pool, and mini golf. They have a camp store if you need anything camp related. Everything was very clean and well-maintained!
- Jessica Friske on Google
Oct 10, 2020
Nice camp sites. Lots of things for the kids to do. Great people. Would stay here again
- Kris Ashley on Google
Oct 03, 2020
The staff here are on top of it! This place has pristine sites with high quality furniture. They bring the wood right to you (we paid for wood at the camp store and it was at our fire pit before we got back) and pick up trash right from your site. They also send helpful text messages about things like the store closing soon or to remember to check your propane levels since it's cold out. They have an off leash dog park, sizeable playground, mini golf course, RC track, and more. We also especially appreciate that they maintain good safety protocols. Every staff member has been very friendly and personable. Overall great campground!
- Danielle Booms on Google