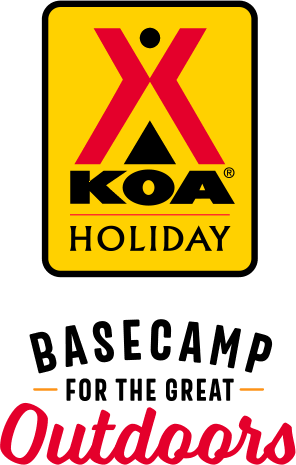 KOA Holiday Campgrounds
Whether you're exploring the local area or hanging out at the campground, KOA Holidays are an ideal place to relax and play. There's plenty to do, with amenities and services to make your stay memorable. Plus, you'll enjoy the outdoor experience with upgraded RV Sites with KOA Patio® and Deluxe Cabins with full baths for camping in comfort. Bring your family, bring your friends, or bring the whole group – there's plenty of ways to stay and explore.
KOA Holidays Feature:
RV Sites with a KOA Patio®
Deluxe Cabins with full baths
Premium Tent Sites
Group meeting facilities
Directions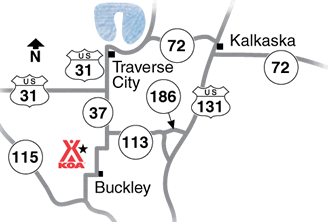 15 miles south of Traverse City, or 3 miles north of Buckley on M-37.
GPS Address: 9700 S M 37 Road, Mayfield, MI 49620. 
GPS: N44.545981, W85.67838
Get Google Directions
Oct 20, 2020
Amazing owners and very helpful staff. This KOA is kept neat and clean and is very quiet. A beautiful country setting where the fall colors are amazing.
Oct 19, 2020
This KOA is the best! Dave, Cathy, and the staff treated us wonderfully for the 4 summer seasons we spent there. Very clean and lovely park! Highly recommended!
Oct 19, 2020
Loved the campground, it was nice and quite. Its not far from town. Want to definitely come back when its warmer w the rest of the family.
Oct 19, 2020
Great place to spend some down time. We based our trip out of here & couldn't be happier ��
Oct 19, 2020
Very Friendly Staff, Very Clean Deluxe Cabin we stayed at with a private view, Kids loved the jumping pillow, would love to come back when its not off season to explore all there other amenities.
Oct 19, 2020
We loved our stay here! We stayed in one of the deluxe cabins. It had everything we needed and it made our trip simple. Staff was friendly.
Oct 19, 2020
Delightful camp site, very efficient check in, clean bathrooms. Look forward to returning.
Oct 19, 2020
Beautiful location, service was great over the phone. The place is fantastic, the campground has good entertainment options and right off the main road. Because it is the end of the season, probably not much available at the store. Clean and truly beautiful!
Oct 18, 2020
Really enjoyed our stay --- the weather could have been a bit more cooperative, but that can't be controlled!
Oct 18, 2020
Very nice park close to everything Clean as always
Oct 16, 2020
Cute place, exceptionally clean sites, even to grate on the outdoor grill was spotless! Enjoyed our stay
Oct 15, 2020
Very nice! This was our second visit. The deluxe cabins are very nice.
Oct 15, 2020
It was a nice cool weekend. Enjoyed our stay no issues. We were by the playground area. Not many kids but the whine of the jump you fans was bothersome.
Oct 15, 2020
Just stayed for 1 night and it was raining. Campground was excellent just no time to enjoy it.
Oct 14, 2020
We had a great time? Staff is very friendly and the campground is well taken care of. We were happy to see the playground and bounce pillows were available. Terrific location!
Oct 14, 2020
We had a great time. Everything was clean and well managed. Perfect location for visiting Sleeping Bear Dunes and activities in Traverse City.
Oct 14, 2020
Facilities were excellent. We loved our cabin.
Oct 14, 2020
I live locally but just wanted a little getaway by myself in the fall colors to use my camper one last time before we put it away for the winter. Very clean campground, bathrooms, showers clean and nice and the customer service is top notch. You're escorted to your site and they sent a text throughout the week with a reminder to make sure you had enough propane because of cold weather forecast
Oct 12, 2020
We found this campground to be one of the better managed KOA's we have visited. Staff was very friendly and efficient. We were able to express our great satisfaction to the owner/operator.
Oct 12, 2020
Owners make sure you are number one. We had an issue with the tv in our favorite cabin and Dave kept at it until it was corrected! Thanks
Oct 12, 2020
The cabin we stayed in was excellent. It was well maintained and very clean. The staff was very friendly and extremely helpful. We will stay here again anytime we come to Traverse City or the surrounding area.
Oct 12, 2020
Beautiful park. Had great sites.
Oct 12, 2020
I always have a great time here! Very comfortable cabins and friendly staff!
Oct 12, 2020
Great campground and staff I'll totally recommend ��
Oct 12, 2020
Small quiet campground. Sites were a little tight. Neighbor's chairs were up against our slide out while they enjoyed the fire ring.
Oct 10, 2020
Cabin was clean and well maintained. Campground is in a very nice setting in a wooded area near Traverse City.
Oct 10, 2020
Beautiful space during October when the leaves change. Large area for kids to play. Very helpful and kind staff.
Oct 10, 2020
Well organized on-line and pre-arrival, friendly welcome and helpful escort to cabin, clean (as in sparkling) cabin and bathrooms/showers, went the extra mile with the campground and staff. Relaxing and comfortable two-night stay. Definitely picturesque for fall (campground and setting)!
Oct 10, 2020
Very beautiful park. Well maintained. Nice playground!
Oct 10, 2020
We stayed at one of your cabins it was very nice we're all comfortable very easy check-in very friendly people and highly recommend this place
Oct 10, 2020
Different because of Covid, but a very nice park and will be trying to stay next summer with our sons and grandkids.
Oct 09, 2020
Campground well laid out and well maintained. Lots of trees. Great kids playground. Beautiful surroundings and 20 minutes from Traverse City.
Oct 09, 2020
Very nice and well maintained. The Covid-19 procedures were very good. Cable TV and wifi were very good.
Oct 08, 2020
Exceptional staff and very clean park. We were there for our anniversary and enjoyed it very much! Thank you!!
Oct 08, 2020
Very nice , well manicured . Our site was great ! Sites are well spaced so your not on top of each other. Staff very friendly. We'll be back.
Oct 06, 2020
Easy checkin, great site. Thanks!
Oct 06, 2020
We rented 4 cottages for a family trip. We had a great time and enjoyed our stay. The accommodations were clean and well kept and the staff were friendly and helpful. We plan to do it again next year.
Oct 12, 2020
An amazing campground with tons of fun activities for adults and children! They have a gaga ball pit, a dog playground, a big jumping pad, a jumping pillow, a basketball hoop, a playground with a baby swing, a train, a swimming pool, and mini golf. They have a camp store if you need anything camp related. Everything was very clean and well-maintained!
- Jessica Friske on Google
Oct 10, 2020
Nice camp sites. Lots of things for the kids to do. Great people. Would stay here again
- Kris Ashley on Google
Oct 03, 2020
The staff here are on top of it! This place has pristine sites with high quality furniture. They bring the wood right to you (we paid for wood at the camp store and it was at our fire pit before we got back) and pick up trash right from your site. They also send helpful text messages about things like the store closing soon or to remember to check your propane levels since it's cold out. They have an off leash dog park, sizeable playground, mini golf course, RC track, and more. We also especially appreciate that they maintain good safety protocols. Every staff member has been very friendly and personable. Overall great campground!
- Danielle Booms on Google