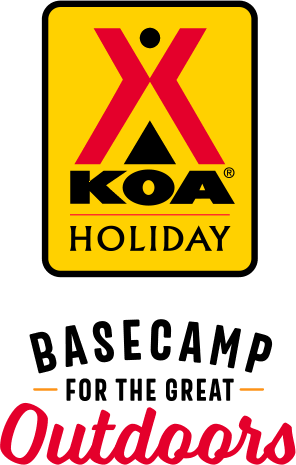 KOA Holiday Campgrounds
Whether you're exploring the local area or hanging out at the campground, KOA Holidays are an ideal place to relax and play. There's plenty to do, with amenities and services to make your stay memorable. Plus, you'll enjoy the outdoor experience with upgraded RV Sites with KOA Patio® and Deluxe Cabins with full baths for camping in comfort. Bring your family, bring your friends, or bring the whole group – there's plenty of ways to stay and explore.
KOA Holidays Feature:
RV Sites with a KOA Patio®
Deluxe Cabins with full baths
Premium Tent Sites
Group meeting facilities
Directions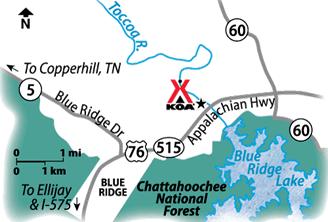 DO NOT FOLLOW A GPS!
Google may not have us accurately located!! 
  
The Blue Ridge Toccoa River Campground is at 67 Blackhawk Drive, Blue Ridge, GA 30513.

GPS Coordinates: 34.889611, -84.289669
[34°53'22.6"N 84°17'22.8"W]

From Atlanta, GA: Take 575N to 515N/5N/76E. Stay on 76E at intersection of Blue Ridge Drive (Hwy 5) and Appalachian Highway (76E). Go 2.1 miles, and pass Ingles Ingles/TJ Maxx on the left. Go approximately 1/2 mile through the next light. After passing the Exxon, get in left turn lane and turn left. Follow KOA signs to BR/TR KOA. 

Eastbound Hwy 75 (515): Proceed 2.1 miles past rt. 5/Blue Ridge Drive intersection in the town of Blue Ridge. Watch for Ingles Market/TJ Maxx on your left. Go approximately 1/2 mile through the next light. After passing the Exxon, get in left turn lane and turn left. Follow KOA signs to BR/TR KOA. 

Westbound Hwy 76: From junction of Hwy 60 proceed west on Hwy 76 for 1.7 miles. KOA on right. 

Get Google Directions
Sep 24, 2021
We loved the campground. Staff is friendly, nice level sites WiFi is awesome. We will visit often.
Sep 24, 2021
This was the cleanest campground ever, bathhouse was excellent clean and very nice. Site was very spacious. Greeters were the sweetest people we didnt arrive until 10pm and it was raining they met us and even took us to campsite and showed us where hookups were. This is a very YES!! Check it out and you can enjoy the north ga mts.
Sep 23, 2021
This was our second time and will be back in October. Love the width of the sites and I always get a pull through since I do not back well. Most other visitors are respectful of the facilities. Employees are great. very accommodating. Close to businesses (groceries and gas) is a plus.
Sep 23, 2021
Very clean Nice location Easy to get around to campsite with camper
Sep 23, 2021
We would highly recommend this KOA to anyone. We were welcomed from the minute we checked-in by the most friendly staff and escorted to our site. Not only is it exceptionally clean , it has a wonderful pool and is in a great location (next to the Toccoa River) It is also close to everything. (restaurants, grocery) This KOA has an RV repairman onsite. We will definitely stay here again.
Sep 22, 2021
Blue Ridge KOA is a great place to stay. Nice people. Nice place to stay. Bathrooms are immaculate. Our only little issue was that the water seemed to be a little stained when you first turned on the tap. This happened throughout our stay. (site #57). We would recommend Blue Ridge KOA and will return.
Sep 22, 2021
Love this campground. This was our 3rd stay here! We had great weather. And I can never say enough good things about the staff!
Sep 22, 2021
This camp ground is very clean and the folks that work there are awesome. Even tho it rained every day we were there it was still a very pleasant stay. I look forward to going back.
Sep 22, 2021
Rained a lot, not your fault. We found the river too fast for our dogs to get in. You did not have the tv channels offered that we wanted. Your station skips right over CNN. Too bad. Won't be back.
Sep 21, 2021
We camp here quite often. It's only an hour from the house. It's very clean and well maintained. Staff are always great. Kids love the playground. Lots to do in the area, but just hanging out at the campground is great too. What else could you ask for??
Sep 21, 2021
Great 4day stay. Very happy with how clean this place is.
Sep 21, 2021
This camp ground was so nice and clean. The spaces are large, so you have the room you need. We would visit again.
Sep 21, 2021
Peaceful, pretty, clean, with great staff!
Sep 20, 2021
Great stay. Very clean and great staff. We stayed on site 7 and it was difficult to back our camper in due to a yellow sign across the street. Think that might need to be moved a little to make it easier. Wish we could of picked the exact number site we wanted so we could of been next to our family camping with us.
Sep 20, 2021
Excellent campground, great staff, always present to keep the area clean �
Sep 20, 2021
Easy to get to and drive around the campground. Almost new, very clean, organized, staff was helpful and polite. Clean, fresh restrooms!! Good Friday night entertainment. Just wish there were a few more trees.
Sep 20, 2021
Cannot say enough about how great the staff is!!! We rented an RV for the weekend and had some issues with our rental. They were so helpful and made sure we had the things we needed (tire chocks, wood for leveling, a broom, so many items!). We are so thankful for their help and we were able to make some special memories with family this weekend because of it!! We will be returning again soon!!
Sep 20, 2021
Welcoming staff, nice new site!
Sep 20, 2021
Beautiful new campground (about a year old). You can get a site right by the Toccoa River. Staff is friendly and welcoming. Located minutes from downtown Blue Ridge. Definitely recommend.
Sep 20, 2021
As always, simply outstanding staff and facilities, great touch with the Friday night entertainment too!
Sep 20, 2021
The campground was amazing and very clean and quiet . Everyone we talked too was wonderful and very friendly, Fishing wasn't really all that good but overall we had a great time and enjoyed our weekend
Sep 18, 2021
Very clean campground, friendly employees, nice sites. We stayed on a river site and also took a 12 mile trip down the Toccoa River. Had a great time for our 25th anniversary.
Sep 18, 2021
We really enjoyed our stay at this beautiful, clean campground! Sites are spaced far enough apart to allow for enjoyable time sitting out on the patio. The only negative is the late check in time. By the time you complete registration and escorted to the site and then set everything up, it is too late to go anywhere and do much. This will be especially true when DST ends later.
Sep 18, 2021
It was very quiet & relaxing for both of us. Didn't catch any fish this time but maybe next time
Sep 17, 2021
We have stayed here multiple times since they opened last year. Very nice facility. Very clean and well maintained. Friendly staff.
Sep 17, 2021
This KOA is AWESOME, Check-in was top notch, lots of staff & drivers taking you to site. Very clean, bathhouse was really nice!
Sep 17, 2021
Staff was super helpful. Campground was spotless. Hosts riding golf carts all day and seeing if they can help. Spacious sites. On a beautiful deep river. One of the best KOAs.
Sep 17, 2021
Excellent campground! Sites on river are beautiful. This is our second stay and we love it. The only issue that needs to be dealt with ASAP is the signage on 76 coming in! There absolutely needs to he signage visible on the before the road before the turn!
Sep 16, 2021
Loved the location, very clean, staff was very friendly and enjoyed the food truck! We will definitely be back!
Sep 15, 2021
Excellent new campground. Must have been designed and built by an RV person. Very big rig friendly. The staff worked very hard while we were there. We will return. Especially liked the food truck and music on Friday night. Keep it up.
Sep 14, 2021
It was a very nice campground. Kids loved the playground and pool. The staff was very friendly and they went out of their way to be helpful. We will definitely stay again.
Sep 14, 2021
We were thrilled to get a riverfront site. We brought my 90 yr old Mom up as a get away from cancer treatments. She loved it, as did we!
Sep 13, 2021
My kids and I had the best time!! Everyone was amazing! We can't wait to come back
Sep 13, 2021
Super clean!
Sep 13, 2021
This is our 4th or 5th trip up to the KOA in Blue Ridge this year. Never had a bad trip
Sep 13, 2021
This was our second time staying at the Blue Ridge / Taccoa River KOA and we will be returning whenever possible.
Sep 13, 2021
Very friendly staff and beautiful location on the river. We will be back for sure.
Sep 22, 2021
The sites here are HUGE!!!! extremely clean, concrete camper site/ patio with easy hook-up points. The river sites would get a 6 star if I could!!! Must stay KOA!!!!
- Acoustic Life on Google
Sep 20, 2021
Great campground with friendly, helpful staff. Gated with constant security patrol. Located on the Toccoa river with fishing pier and steps down to the river. River is stocked by the state fisheries with trout. Great wi-fi.
- Ronnie Gamble on Google
Sep 08, 2021
Excellent place on river. Kayaks close by easy river ride 2 hours
- Jim Booth on Google