Directions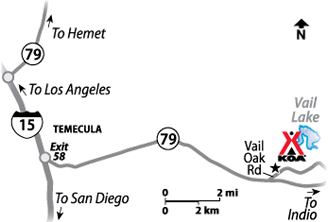 I-15 North: Take exit 58 for California 79/Temecula Pkwy toward Indio Turn East onto CA-79 S/Temecula Pkwy, continue for 8.9 miles Turn left onto Vail Oak Rd
Get Google Directions
Apr 11, 2021
Wonderful!!!
Apr 10, 2021
We love the openness and space allotted to each site. When the wind kicks up, the dirt tends to coat everything. Would be nice if they have a little more grass on the sites in the outer areas. Friendly service!!
Apr 10, 2021
My sister's family is already booked. loved it. Large sites with beautiful trees. We had a lovely view of the lake and the hills.
Apr 10, 2021
Had a really good stay/time if anything that needs to be worked on would be the miniature golf course it's looking rough also this has been the 2nd stay that we didn't get the good Sam's discount for our stay ...
Apr 10, 2021
Very nice location. A couple of complaints. First check in was very slow. 3 great great ladies taking reservations on the phone while trying to check new campers in while also dealing with campers buying products in the store. Last complaint is the golf carts being driven by young kids going way too fast on the paved roads. We almost got hit. Overall all a great location.
Apr 10, 2021
We didn't know what to expect as this was our first family camping experience. Multiple friends had recommended this place so we gave it a chance. And it did not disappoint! The views were beautiful, weather was awesome, staff were very helpful and friendly. We all had a blast and definitely will be returning and maybe making it a spring break tradition!! Thanks KOA Vail Lake!
Apr 10, 2021
They're breaker blew and ignited and it took over 12 hours to respond just to replace their breaker Their holding tanks were full and backed up my system terribly. A difficult disconnect and unhook and very unpleasant things spewing out of the ground. The landscape and town are great however.
Apr 10, 2021
We had a great time and love all the activities available. Would love to see the pool heated up a tad bit!!
Apr 10, 2021
A really great campground,, large sites and lots of activities for all ages! Lots of action going on to improve the outlying areas and restrooms. Hope you keep working on this property to make it even better it has so much potential!
Apr 10, 2021
Great Experience! Great staff!! Clean campsites
Apr 10, 2021
Such a beautiful camp ground! Love how everything is set up. Good to know which camp area is quiet and which one not so much! Great staff!!
Apr 10, 2021
Well I decided to test my truck in a lot that I thought would be open to the public since it's not blocked. Upon driving my truck to what I thought was the lake happened to have an invisible wire that cannot be seen clearly on the road that should be blocked from there. My truck was stuck my leg is injured ruptured Achilles no one would help so it's costs $225. Thanks VOA
Apr 09, 2021
Quiet, lots of things to do for all ages, great places to hike, ride bikes, and just relax! Excellent setup for RV hook-ups.
Apr 09, 2021
Stay was overall good. Weekends were crazy qith little to no supervision of kids, extremely drunk adults and security who can't do anything except call 911. Generators ran at all hours due to there being no electrical in the area I was in. Causing me ro keep my windows and door closed to keep the exhaust of neighbors rigs put of my living area.
Apr 09, 2021
We have been to so many KOA's over the years but this need work. Just our site alone I picked up over 32 pieces of trash, Example: bottle cap,both beer and water, straws, zip ties , candy wrappers, oh and the fire ring had a large coffee can filled with motor oil. We walked to the pool one evening and noticed on a bag from in-out just thrown on the road and your guy in the yellow cart drove by .
Apr 09, 2021
My only complaint is not with the campground but with the campers. We stayed at the Rincon area and campers close to us had unleashed dogs running in and out of our campsite. They also were shooting BB guns that they were allowing their children/grandchildren to shoot at the trees. We had young children and I was fearful that they might have gotten hit with a BB.
Apr 09, 2021
We had a very nice stay. We asked to extend our stay a day and they where able to accommodate us.
Apr 08, 2021
Overall, our family had a very pleasant stay. The park is very large, but it is also kept very clean. There are plenty of activities to keep you busy, or you can just do nothing but sit back and relax. The only minus are the bathroom facilities. Although they are very clean, most of them are very old and could use updating or at least some paint.
Apr 08, 2021
Loved the large spaces with lots of surrounding trees. Beautiful park!
Apr 08, 2021
Great campground, didn't have the usual KOA upkeep, but we stayed here before it was KOA and enjoyed it. Pool was ice cold but to be expected for early April.
Apr 07, 2021
Excellent facilities, clean, lots of activities to do for kids and adults. Lots of shade and size of lots have plenty of space.
Apr 07, 2021
Very nice. I would recommend to campground to anyone. Restrooms , Showers and Laundry Rooms are very clean. Very friendly staff. Easy checkin procedure.
Apr 07, 2021
We loved this park and have stayed there many times over the last 20 years with our family. Unfortunately, it has become a huge party scene. The patrons at this park seem to think they are there to drive their golf carts at high speeds all day long and blast their music and party till the wee hours of the morning. It is not pleasant nor is it relaxing. It's a shame because it could be so nice.
Apr 07, 2021
The bar tender pricilla and her blond friend made our stay much more pleasurable !!! Good customer service !!!!
Apr 07, 2021
Awesome visit again. Looking forward to seeing you guys in June.
Apr 07, 2021
Very nice, Coming back for Thanksgiving. The only negative thing was that our power box was dangerous. The panel below had fallen off completely and some improper up with the rock. Just a matter of maintenance. However it could be a serious problem for a kid jumping into bed
Apr 07, 2021
Pool/bar weren't open for spring break and we kept hearing different things "it will be open in March and heated!" on website, front desk said "not open until May" next day "not open until Fri" 3rd day one said "it's opening today!" the rest said, "no, not until Fri" or "no, it's not open until May", it was very confusing. Oaks was loud, rowdy, we loved the bike trails & upper mesa camping.
Apr 07, 2021
Chardonnay Mesa was amazing! Great views and it was so nice having a bit more space than Arroyo Seco area. It was so quiet and all campground that we passed by were super clean and ready for the next campers!!
Apr 07, 2021
Very good nice and clean , no problems.
Apr 07, 2021
Great place... Way more than I expected...
Apr 07, 2021
Nice large campsites, lots of shade plenty of room good amenities however bathrooms are a disgrace bathrooms need to be updated
Apr 07, 2021
I've been to alot of KOA's all over the US and this one just seems kind of run down like they don't put any money back into it. There isn't even a park for the kids. This park is huge I feel like it's comparable to the South Dakota KOA in size but doesn't even have a third of the things to do. There are plenty of places in the park where they could stick a playground or jump pillows or splash pad.
Apr 07, 2021
We love this campground! Great sites, bathrooms are clean, staff is amazing! Tons of things fir kids to do! The only thing is the pool... OMG it's freezing!!!!
Apr 07, 2021
Loved it �
May 07, 2021
We have been camping here for years dating back to the 80s when it was called Butterfield Stage. Sites are always clean and well maintained. Staff is always friendly and helpful.
- Michael Buck on Google
May 03, 2021
Beautiful vistas, reasonable rates, full hookups, some wifi in the right spots. Facilities are a bit tired.
- Patrick McShane on Google