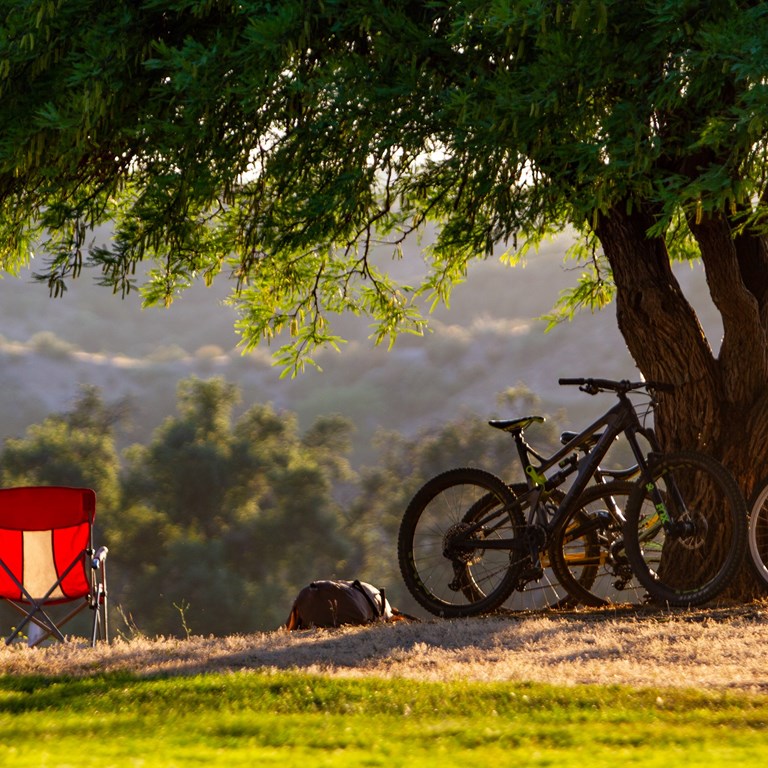 Temecula / Vail Lake KOA Reviews
We Are Open for Camping! Check here for the current status of amenities and recreation openings.
Directions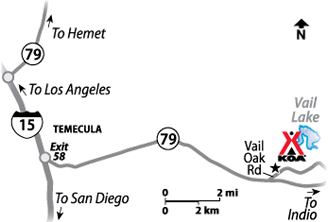 I-15 North: Take exit 58 for California 79/Temecula Pkwy toward Indio Turn East onto CA-79 S/Temecula Pkwy, continue for 8.9 miles Turn left onto Vail Oak Rd
Get Google Directions
Sep 18, 2020
Great place for a long weekend trip! Wish we would have had more time to see the wineries
Sep 17, 2020
Super friendly staff and very clean campground. We loved playing pickle ball and can't wait to return with friends.
Sep 17, 2020
To short will be back for a longer stay
Sep 17, 2020
Are stay was great the grounds were clean and the staff was very friendly and helpful .
Sep 17, 2020
WiFi didn't reach my site :( great otherwise!
Sep 16, 2020
Beautiful campgrounds and fun place for the kids. Wifi service did not work, customer service was not helpful with this. The mini golf course was not maintained, stinky and infested pond in the middle.
Sep 15, 2020
Loved the spacious sites, green grass, pools, activities and overall atmosphere
Sep 15, 2020
Personally I liked the Campgrounds and amenities even though we're much more of traditional campers. We expected to find tents only in the tent area and were a bit disappointed by the constant noise of generators. Laura-Lee was amazing and very helpful. Keep up the good work girl!
Sep 15, 2020
Everything was great, the only thing that I would have liked to have used are the old waterslides and have access to the lake for fishing from the campgrounds. Overall we had a great time.
Sep 15, 2020
Had a great time. My only complaint is the amount of wasps that kept flying around our campsites. They just wouldn't leave us alone.
Sep 15, 2020
I know that KOA has not owned this property long and I am hoping there will be vast improvements. On the positive, it was quiet and the bathroom was relatively clean. We stayed on the Arroyo side for the first time and just doesn't seem too well taken care of. It is a big space and it seems like there will be a lot to do to get it to KOA standards. Wish you well with that.
Sep 15, 2020
Unless you have some small vehicle to get to and from the pool and main activity area they are pretty far
Sep 15, 2020
What a wonderful weekend, our site was on the grass, we did not have a big beautiful tree to shade us but it did not matter. The staff is friendly and helpful, I look forward to a time when music will be playing in the bar.
Sep 15, 2020
No cell no WIFi except at the pool area which is not very close to the tent sites.
Sep 15, 2020
We had an amazing stay at vail lake KOA. I was extremely impressed how clean everything was and how friendly all of the staff was. I was also quite pleased with how they handled pool reservations and cleaned in between groups. I will definitely be back soon.
Sep 15, 2020
We had a great time. This property is very clean and well maintained. If I could recommend anything for improvement, it would be that the dog run is a teeny tiny little square of about 10x20 feet. This property is so expansive with lots of open grass areas, seems like there could be a nice grassy area fenced off so a dog could run around off leash. Other than that, it was excellent.
Sep 15, 2020
Too loud. Drunk people fighting. Security had to be called 3 times before they did anything.
Sep 14, 2020
This is Great place to just enjoy the outdoors and relax with family and friends.
Sep 14, 2020
Had a great time. Thank you
Sep 14, 2020
We had so much fun. Everything was clean and nice. Great bike trails, Huge spots for easy hook ups, nice bar, cafe, mini golf, train for kids and Tie dye. Everyone loved it 3 nights was not enough. I will say the staff in the cafe on Sunday (the girl in charge was very rude to her coworker, and the food wasn't nearly as good as it was on Friday and Saturday with the normal lady.)
Sep 14, 2020
We love camping here! There is so much to do!!!
Sep 14, 2020
We loved our stay here! Staff was super friendly and the grounds were clean and our space had plenty of shade and close to the restrooms. Can't wait to go back!
Sep 14, 2020
Enjoyed the pool and kids activities!
Sep 14, 2020
Absolutely loved this campsite! Will definitely have to bring my bike next time due to how large this place is! My husband and I really enjoyed ourselves and already booked NYE! Can't wait to bring our dogs here!
Sep 14, 2020
First time there and it was awesome, kids had a blast. We will be back very soon.
Sep 14, 2020
Get place, staff is friendly and helpful. We saw improvements and new repair projects.
Sep 14, 2020
Had a great time
Sep 14, 2020
It was a great weekend that the whole family great enjoyd! Staff was friendly and facilities were clean and safe. We wi be back!
Sep 14, 2020
Great family place
Sep 14, 2020
We had a little camp out to help 8th graders moving up to High school, it was their Church bible study group. The loved the open areas to run, play and ride their bikes. It was quite nice.
Sep 14, 2020
We loved it very relaxing
Sep 14, 2020
Great view very clean. Staff was very friendly
Sep 17, 2020
This was my first time ever taking my travel trailer to camp. So I had a lot of questions and their staff really were helpful in answering all of my questions. It's a very affordable rate, full laundry and bathroom facilities with showers that are actually pretty clean. I'm definitely coming back again. Had such an awesome time.
- Blake Van Vleet on Google
Sep 12, 2020
Great location, tons of activities and that's before you get to the lake. Fantastic campground.
- Alex Samples on Google
Sep 09, 2020
amazing place!Very quiet during weekday, full book on every weekends. We stay here almost 3 weeks. We love here so much.thanks!
- Riva Zhu on Google

Temecula / Vail Lake KOA
Open All Year
38000 Hwy 79 South
Temecula, CA 92592
Check-In/Check-Out Times
All Sites
Check-in: 1:00 pm, Check-out: 12:00 pm
Operating Hours
Sunday: Open 24 hours
Monday: Open 24 hours
Tuesday: Open 24 hours
Wednesday: Open 24 hours
Thursday: Open 24 hours
Friday: Open 24 hours
Saturday: Open 24 hours
Get Google Directions

© 2020 Kampgrounds of America, Inc.