Directions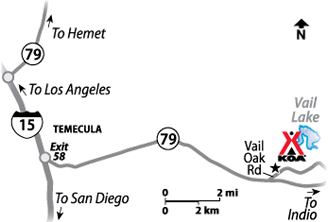 I-15 North: Take exit 58 for California 79/Temecula Pkwy toward Indio Turn East onto CA-79 S/Temecula Pkwy, continue for 8.9 miles Turn left onto Vail Oak Rd
Get Google Directions
Oct 20, 2021
Staff is awesome
Oct 20, 2021
Fun as always we will be back next year and possibly in March
Oct 20, 2021
We have been coming for the Halloween special for several years. Each year the price has gone up to now $175 a night. For that price I feel the condition of the utilities and roads don't warrant that price. There are lot holes on the roads, water pressure is so low I had to use my coach water pump to make it usable and the electrical boxes are so old that I have to use duck tape to keep the plug
Oct 19, 2021
The stay was awesome. The cost is a little high, I believe the extra activities should be included. We will keep coming back
Oct 19, 2021
Stayed for Halloween weekend. Many teenage kids kicked and punched our displays . Broke many things. Horrible time this year. Were done
Oct 19, 2021
We love camping at the Temecula KOA. We've camped there for about 7 years now. And it's one of our favorites. The Halloween weekend is awesome. The events are a lot of fun. The kids absolutely love it.
Oct 19, 2021
Love Halloween at Vail!
Oct 19, 2021
Lots of fun and activities for all ages. Please update the pool, it is freezing. Even though it's 90 degrees outside we can barely get our feet in. Once we get used to water and our feet are numb then it's not bad but no one goes in because it's so cold! Also, it would be great if there were more golf carts so no one has to drive cars in trick or treat night.
Oct 19, 2021
Great place to stay. Only complaint is lots of low hanging branches that hit the RV when driving in the Chardonnay area, not sure about other areas. Low water pressure but not a big deal. Staff is great.
Oct 19, 2021
Everything was perfect minus the WiFi not working. I called tech support the first day and they stated the issue would be resolved. Unfortunately the issue was never handled.
Oct 19, 2021
it was well planned and our new location this year was amazing
Oct 19, 2021
Thank you for another awesome stay at Vail Lake KOA! Ian and his staff are amazing - they're always welcoming, helpful and keep the camp safe and clean. We appreciate all of Ian's hard work making continuous improvements and planning fun activities for everyone. A special shout out to Elizabeth, Ricky, Hailey and Noah! See you again soon.
Oct 19, 2021
I wish we could have stayed Fri night to see all the decorations for Halloween.
Oct 18, 2021
My family and I have been camping at Vail Lake for over 14 years and enjoy every trip every year
Oct 18, 2021
Love staying at Vail Lake. All staff encountered was friendly and helpful. My only complaint is your roads. They need a little TLC. Otherwise would've been a 5 star rating.
Oct 18, 2021
We had a great time!
Oct 18, 2021
Stop hiking you're rates up. We're trying to keep my family vacation on a budget
Oct 18, 2021
We enjoy the Halloween Festival every year but price increase to 185.00 a night seems excessive n alittle greedy on park owners, it's the most expensive place I camp all year and I go to a lot of 5 star place on beach , also my hook in pedestal had the 30a plug hanging out and I called maintenance and they did duct tape the socket back in box. The roads are really bad and new rock base needs to
Oct 18, 2021
Its always a great time during Halloween. I think that the bouncers should we free for the kids. We pay to camp there and the amenities should be free and the price keeps going up. The haunted house is to expensive if you have many in your group. The pool needs heaters and the restrictions should be removed as far as limited time.
Oct 18, 2021
Site number 334 needs to be leved. It is nearly unuseable for RVs and trailers. Had to dig a 2 foot deep hole to level my trailer. Using blocks on the entrance side would have rendered my steps useless because they would have been too high.
Oct 18, 2021
While the Halloween experience is wonderful, the campground is rundown and easily shows it's age. Missing electric in the arroyo section is also tiresome.
Oct 18, 2021
Good One is our electricity went out two times. We spent 175.00 a night for the Halloween haunt weekend. We expect the facilities to work. Also, our updates told us you were heating the pool. That is not true. The pool was freezing. Serious upgrades are needed on the streets. You need to repave them. We have little grandkids on bikes. They kept crashing in the large cracks!
Oct 18, 2021
Great time, staff was amazing!
Oct 18, 2021
Hi -- We had a fabulous time as always -- I have a few questions... 1. I see you are paving the road which leads to the lake...will there eventually be access to there like it was in the past? 2. When you guys decide the winners for the site decorating, golf cart and costume contest - how are they judged? KOA employees decide or people who are staying there? Just curious... See you next year!
Oct 18, 2021
We love Vail Lake. Never disappointed �
Oct 18, 2021
As always easy checkin, family especially kids had a great time. Everyone looks forward to Halloween camping every year!!
Oct 18, 2021
Arroyo Seco needs power. It's been "in the works" for several years and still nothing. I would like to thank Tim though. We had issues with our spot and was told by a girl at the front that I was gonna have to deal with it basically. But Tim went out of his way to make things happen and have my spot moved to accommodate my trailer. He then stopped by several times to make sure we were happy.
Oct 18, 2021
It was an amazing stay!!! Can't wait to go back next year!! The only thing I would say would be shade by the pool, and more shade by the bar outdoor patio. Maybe a dj instead of pianos sat night! But, overall amazing time!! Great staff and management team!
Oct 18, 2021
My stay was wonderful very nice people. And another thing that I like about this campground is that it's very clean.
Oct 18, 2021
This is our 4th year; we always have a great time. We have always stayed in lot 30 but THIS YEAR they put us down in Arroyo which I wasn't happy because there is NO ELECTRICAL HOOKUPS there! I don't mind staying in any area, I just want electrical.
Oct 18, 2021
Reliable electricity is Arroyo is badly needed. I know it is in the works but it seems like the cabins and eco-tents are getting the attention (increase in Arroyo daily rates would increase profit significantly more than cabins and eco-tents). Also, enforcement of the quiet hours (some generators ran all night in Arroy). Otherwise, great park! Family friendly, lots of activities for adults/kids.
Oct 17, 2021
Pricing is OUT OF CONTROL!!! When it was all inclusive ,ok! But now your charging for jumpy's??? Haunted house was horrible!! Y'all charge a lot of $ for sub-par accommodations
Oct 17, 2021
The people next to us in spot 96 were outside playing their music loud and talking with a lot of their friends until after 2am on Thursday/Friday. It doesn't make us happy when the 10pm -7am quiet hours are not enforced. All rules need to be enforced evenly & fairly amongst all! They do this at California State Parks. The camp hosts drive around and remind people. You need to do the same!
Oct 16, 2021
Great property an amenities. You guys need to enforce quiet hours at 10pm. I was kept up until 1am by other campsites music and kids running around screaming. I will not be back anytime soon - we are a full time family and have seen a lot of nonsense in campsites but you had no enforcement whatsoever.
Oct 16, 2021
Lots to do! Everyone, including other campers, were all very friendly. Sites were big, bathrooms clean. Only issue was I rented a golf cart, & it wasn't inspected upon return in front of me. I didn't get my entire deposit back because they say it wasn't charged 51% or more upon return even though I think it was. I don't like that they don't check it with you there.
Oct 15, 2021
The main issue is SAFETY! During the day it is tolerable. However, at night, especially in the Oaks, on Saturday night, where children are Trick or Treating, Golf Carts, e-bikes and cars should be prohibited for a couple of hours during this activity.
Oct 05, 2021
Family goes mostly every year for 10 years now.
- Mickylene Delgado on Google
Sep 19, 2021
Awesome fun time will defiantly go back with all ages . Do yourself a favor get a membership because you will be back.
- Angelina Avitia on Google
Sep 12, 2021
Love this place. They have everything you need for a great get away.
- Patti Oxenham on Google