Directions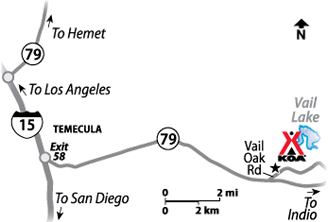 I-15 North: Take exit 58 for California 79/Temecula Pkwy toward Indio Turn East onto CA-79 S/Temecula Pkwy, continue for 8.9 miles Turn left onto Vail Oak Rd
Get Google Directions
Jul 27, 2021
Another great trip to KOA Vail Lake. Swimming pools were awesome. The piano guys Saturday night were the best. Watched all 3 hours. Thank you.
Jul 27, 2021
We had a great time but I just wish they would've been a playground for the kids.
Jul 27, 2021
The overall stay was great! Our campsite had huge ants and the staff did nothing to help with this. They said I could come purchase ant spray from their store. These ants were huge and really bothered us! This is there job in my opinion, pest control should be their issue not mine.
Jul 27, 2021
We stayed in the Oaks area which was nice. Lots of things for kids to do.
Jul 27, 2021
Great view and site! Would want to come back with more friends and have them enjoy the stay. Thank you
Jul 27, 2021
Great site for RVs and multi site gatherings. Not ideal for slightly more secluded tent camping. A lot of late night fun being had by many.
Jul 27, 2021
The staff is amazing. Had a small glitch with the reservation which they quickly resolved. Lost water due to a collision with a fire hydrant and the staff had it fixed the next morning.
Jul 27, 2021
We love camping on vail lake! There are so many activities to do there!!
Jul 27, 2021
We stayed in 378 and our power was out for half day on Saturday causing us to half to go back home a get a generator. So we could even have power. Which we paid for!! And the maintenance teams answer was it happens aluu oh t when people are using a/c. It kept causing the whole area to lose power!! Of course I know you will do nothing to fix this for the future or to even get back with me about it!
Jul 27, 2021
Great campground. Wish the bar had tables and chairs in it and also wish the lake was open.
Jul 27, 2021
Had an amazing time
Jul 27, 2021
We love being at camp site 222. Only three site and they are very large. The road was closed due to through traffic.
Jul 27, 2021
So much fun for the family. Comfortable and lovely.
Jul 27, 2021
Place is cool if you have a golf cart. Its a must since the campground is so large
Jul 27, 2021
Just a little R&R
Jul 26, 2021
Always kind staff, clean grounds and lots to do.
Jul 26, 2021
We will stay here again for sure we really enjoyed the campground.
Jul 26, 2021
The campground asphalt roads need to be redone. They are horrible with huge pot holes.
Jul 26, 2021
Stay was great site 136 is 100% not made for 40ft 5th wheel trailer so I do not recommend this spot if you have one. Caused a few hundred dollars in damage to ours. We could not change spots due to being booked.
Jul 26, 2021
It would be very helpful to book sites online through a list or map to ensure that you get an adequate site for your RV. We had to move because original site was too small. A photo of the site would also be beneficial. We did have a good time once to site issues was resolved.
Jul 26, 2021
was a great stay. wifi was a little spoty but good. need a parking area for check in . clean the tile on the edge of the pools .very dirty. besides that had lots of fun.
Jul 26, 2021
Disappointed because it felt like hardly anything was going on this time. No planned activities or nighttime activities for the kids. Mini golf had no working light to play in the dark (when it's supposed to be open until 9 pm). It had finally cooled down outside but we couldn't play. We loved Vail Lake the first time we went so much and couldn't wait to come back, but we felt let down this
Jul 26, 2021
Beautiful location clean and well kept. Sadly there is no quiet time enforcement: tents and rv's all mixed up. We were in a tent and had to listen to a group of our RV neighbors talk really loudly until 1am, then the kids went to bed and we had to listen to adults until 3am. Needless to say we left a day early and no one was authorized to reimburse me on a Saturday morning. Sad.
Jul 26, 2021
Every single employee was stellar! I was greatly disappointed by how tight the sites were to each other, and how poorly marked they were- it took 10-15 minutes of discussion and a KOA rep to figure out which pit was ours and where we should put our tent. We were also dismayed by the condition of the mini-golf course. Quiet hours weren't enforced Friday as gas powered carts were racing at mid
Jul 26, 2021
We had a large group (11campsites). Very accommodating. Pleasant. Great spave for us all to hangout
Jul 26, 2021
Loved our stay and so did my coworkers. Thank You KOA for the great experience.
Jul 26, 2021
Love this campground! wonderful family friendly activities available, clean pool!
Jul 26, 2021
Great place for the family- friendly staff , very well kept. Loved the live music and bar! Beautiful scenery and cruising around on the golf cart was definitely a highlight
Jul 26, 2021
We had a great time and loved so much about the staff and the campground. There was a good mix of facilities, amenities, and activities, but it still feels like camping. Mountain views, huge oak trees and lots of birds and wildlife. We will go back!
Jul 26, 2021
I highly suggest a ban on gasoline powered carts. We had a great trip until Friday night when around 11:45pm there were multiple carts racing around our tent sites down in Arroyo Seco. Anytime the gasoline powered carts came through our area it was quite disruptive but late at night with children was really not good…
Jul 26, 2021
One of our favorite places to camp in Southern California! :)
Jul 26, 2021
The grounds were great and plenty of activities for children, one of the most out of all of the KOA's we have stayed at. The amount of irresponsibility however from the staff and guests was outrageous. We saw two crashes, one on a moped involving an adult and child and a bike crash involving two kids. Not a single team member seemed to care as they drove by in their carts. Not coming back.
Jul 26, 2021
Fun. Clean campground and restrooms. The staff is amazing and there's literally something to do for the whole family.
Jul 26, 2021
It's was our first time at Vail lake campground and we loved it. We are looking forward to going again real soon.
Jul 26, 2021
Loved seeing improvements going on, including repaving of road in the Oaks area. Great staff. Easy check in. Keep up the good work!
Jul 26, 2021
My family and I enjoyed �� our stay to the max,the kids loved the pool the only thing they didn't like that they had to wait to go back in the pool. The restrooms were clean and kept clean it was quite at night the people around us were nice and polite and I can't wait to go back for labor day weekend. Thank you for keeping the place safe for the people that stay at your campgrounds.
Jul 26, 2021
Love this place. We always meet new campers and get new friends. Best campsite ever
Jul 26, 2021
Great time with the Family!
Jul 25, 2021
Pool needs umbrellas for shade and ground surface around pool needs to be re done it's falling apart and is a tripping/slipping hazard. Roads also are horrible and need to be redone.
Jul 24, 2021
Loved staying in the Oaks! So nice and shady. Enjoyed our time at the pool too
Jul 24, 2021
Super hot the days we were there. Pools were great, but no shade available. Some people brought their easy-ups down. I was able to change my site, because the first one was too sunny, The girl at check-in was very helpful. Would go back in the fall.
Jul 24, 2021
We've been coming here for years because we love this campground. We're pleased with the improvements that have been made during recent years and are thrilled that the bar and cafe are open 7 days a week now.
Jul 24, 2021
Great campground. Only suggestion is to update the bathrooms.
Jul 30, 2021
Had a great time. Lots of activities, mini golf was super fun, kids made crafts, pools were refreshing, and staff was friendly and helpful.
- Michael Mccluskey on Google
Jul 28, 2021
Hello everyone. This is a great place to visit for a quick getaway. Kampgrounds Of America (KOA.com) has many locations scattered across the stated, and this place will definitely be a favorite. The camp sites are spacious, and clean kept. There are plenty of activities to keep you busy, such as. Pools, BMX track, miniature golf, basketball court, volleyball, Frisbee golf, entertainment area, Bar, Food court, and gift shop. The staff regularly patrol the ground, and upkeep the amenities. It is very quiet an peaceful, visitor typically keep to themselves. Thank you for reading my post please follow me on Google maps and check out the places I visit. Thank you. 😊
- Juan Rodriguez (JohnnyMan) on Google
Jul 27, 2021
This has always been a family favorite place to camp. A bit rural and still needs some improvements it is still a great place for the kids and family
- d f on Google