Directions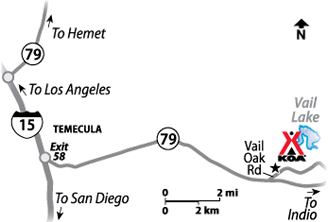 I-15 North: Take exit 58 for California 79/Temecula Pkwy toward Indio Turn East onto CA-79 S/Temecula Pkwy, continue for 8.9 miles Turn left onto Vail Oak Rd
Get Google Directions
Mar 01, 2021
This is our second visit. Staff are really friendly. Really nice property. Our only complaint is with irresponsible dog owners. There were 2 dogs left tethered to their trailer, barking non stop, no one home, for an entire afternoon. Also, dog owners need to pick up after their dogs. Everywhere there were land mines:( Especially on the grassy areas where kids were running and playing.
Mar 01, 2021
Had a great time! Only 1 suggestion: More trash cans. They got over loaded quickly and the walk was long to get to them.
Mar 01, 2021
We had never been there before and we were very impressed! We had a great site, and enjoyed all the amenities. We will definitely be back!
Mar 01, 2021
Excellent property!
Mar 01, 2021
We had a enjoyable stay except for the group across from us playing loud music past midnight. Your organization needs to charge money to people who don't turn music down after their first warning
Mar 01, 2021
Everything about the stay was great except the wifi. I paid for hours and the connection was still poor and constantly failed. It needs to be much easier to get connected with wifi in 2021. I know, we are camping, unfortunately many of us still need to be connected. This was a common complaint from everyone in our campsites, four sites. We were in the Oaks. Thank you.
Mar 01, 2021
We had a wonderful stay! The campground was clean and organized and fun. It's a beautiful place!
Mar 01, 2021
Loved our time here, the updates that KOA is doing to improve this campground is great to see. Will return soon!
Mar 01, 2021
Very nice camp ground. Clean bathroom. Lots of space between spots. ���
Mar 01, 2021
Sites are large and activites are plentiful.
Mar 01, 2021
Everyone is so kind. Beautiful grounds. Can't wait to be back in a few weekend.
Mar 01, 2021
We had a great time!
Mar 01, 2021
the campsites at Vail lake was amazing. we had a wonderful time. we will be back soon.
Mar 01, 2021
Nice size sites with sun and shade. Plenty of room for car, trailer, dog run, fire pit and picnic tables. Very animal friendly and there were awesome views. The workers were also super helpful and friendly!
Mar 01, 2021
Always a great time. Would like to see some more road work done. Our only complaint is no one follows the speed limit or stop signs, even the camp staff.
Mar 01, 2021
Staff was amazing. Resort amenities were great. Highly recommend.
Mar 01, 2021
First time staying there we loved it. I only wish that Arroyo Seco had electrical that would be the only improvement I can think of.
Mar 01, 2021
Campsites themselves nice enough -- but not near enough directional signage. Hookups need maintenance. Overall things look pretty beat up and not well maintained. It would be something special if someone just gave it some TLC.
Mar 01, 2021
We had a good stay. The only issue we had was that quiet hours were not followed . Many people ran their generators wasy past quiet hours and started them up before quiet hours ended in the morning. Other than that all was good.
Mar 01, 2021
Love the new text messaging feature. This made communicating with staff so fast and efficient! Although the campground was super busy with the Mountain bike race (which we did not know was planned for this weekend) we had a very nice time. Thanks for providing such a clean and beautiful space!
Mar 01, 2021
Staff were very friendly and informative. The restrooms were clean, a nice surprise while camping in all honesty! Also, the toilets are connected to a sewage line vs. septic so no awful smell!
Mar 01, 2021
Fun campsite for the entire family.
Mar 01, 2021
Great clean professional place, great place to spend the weekend for a quick getaway
Mar 01, 2021
Only stayed 1 night, but everything was great.
Feb 28, 2021
Great accommodations and friendly staff. They run this campground wonderfully
Feb 28, 2021
Just love It!
Feb 28, 2021
We loved our stay. Easy in and out. Loved upper Chardonnay. The view was awesome. We will be back for sure
Feb 28, 2021
The people with Vail Lake were terrific to deal with, and every one is so supportive. Met some really nice neighbors in the camp too...we'll be back!!!
Feb 28, 2021
Excellent location for wineries. Nice scenic sites well spaced with good hookups. Friendly staff...only improvement area would be slight upgrade in showers
Feb 27, 2021
Been going to vail for years have always loved this place nice to see KOA cleaning things up and putting money into the park
Feb 27, 2021
Horrible WIFI.
Feb 27, 2021
Great. Just get WiFi bumped up!
Feb 27, 2021
Beautiful campground. Well maintained. Old but very clean bathrooms. Would have preferred to have a door on each shower stall rather than a curtain. Not enough privacy. Other than that great campground!
Feb 27, 2021
Nice large and clean campground. Friendly and helpful staff. We had a wonderful stay.
Feb 27, 2021
Really love the oak trees and birds! The maintenance staff and employees at the store are very welcoming and friendly.
Feb 26, 2021
We loved our short stay! Campground was clean and kept nicely. We loved that we could take our dogs with us and look forward to visiting soon when the lake is open for fishing!
Feb 25, 2021
Great place, lots to do
Feb 25, 2021
We love this location. Close to home, but far enough out of the city where you feel "away". The thing I dislike the most is having to pay extra to secure the site of my choice. Most campgrounds let you pick a site and don't charge extra for it. If this campground did that, I would be so happy!
Feb 25, 2021
Prices are too high for the quality of the campsites
Feb 28, 2021
Fun place to camp and ride bicycles!
- Dana Van Scoy on Google
Feb 24, 2021
Beautiful
- ramon ramos on Google
Feb 22, 2021
This trip was our first to a KOA, and we were pleasantly surprised. This is full-service camping, definitely not for the backcountry crowd. The staff were very helpful and friendly, the shop has everything you forgot, and the entire campground is dog-friendly (including the shop). Our site (249 - Lower Merlot) was not very private, but was spacious, had hook-ups, and had a nice view of a little arroyo. We had a picnic table, but not all sites did. A few perks: Once checked in you can charge anything at the shop/cafe to your card on file, and they will deliver firewood right to your site! COVID note: The staff were wearing masks, and masks are required in common areas. Social distancing was expected. The cafe/bar were take-out only.
- Jackie Babe on Google