Directions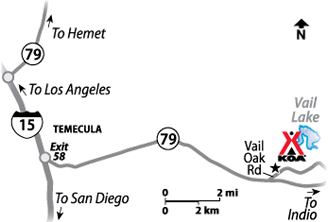 I-15 North: Take exit 58 for California 79/Temecula Pkwy toward Indio Turn East onto CA-79 S/Temecula Pkwy, continue for 8.9 miles Turn left onto Vail Oak Rd
Get Google Directions
Dec 01, 2020
Better than it has been in the past. Great decorations.
Dec 01, 2020
We have enjoyed camping at Vail Lake for a number of years now. It's always a nice place to stay. The campground is very clean and the staff is very kind. Look forward to staying again.
Dec 01, 2020
We had a great time we have been coming for years
Dec 01, 2020
Beautiful location great camp store clean restrooms and a very friendly staff.
Dec 01, 2020
We had a great time at Vail Lake KOA, what a lovely location. Were impressed with the selections in the store & enjoyed the history displayed in the Bunkhouse Bar. We arrived after dark, a bit more lighting/signage would have helped. We realize KOA has not owned this property for very long and expect to see great improvements in the future. This property has amazing potential. We'll be back!
Dec 01, 2020
Everything was great. I only wish we would have had power. Friendly staff and lots of activities.
Dec 01, 2020
My family and I love Vail! Great staff, awesome things to do. Loved the golf cart that served drinks !
Dec 01, 2020
Loved everything about the campground except for NO CELL SERVICE in Arroyo Seco. Had a medical emergency and wasn't able to call for help from campsite.
Dec 01, 2020
This was our first time camping here. We had an amazing time here. The grounds were well kept up also beautiful scenery. Loved it so much booked another stay for Christmas and new years..
Dec 01, 2020
Some staff very friendly while others not so much. As they drive by in their carts, would be nice to get a friendly smile or wave or simple hello. Some seemed to not be aware or not want to engage in any way with campers.
Dec 01, 2020
We always love our experience at Vail Lake. Marissa, Tim, and Ian always stand out to us as very helpful and friendly to work with!!! Hoping you guys plan to add electric hookups to Arroyo Seco soon!! And maybe better wifi! We rent our camping trailers VERY often to vail lake and these are comments from our renters! Thanks for the great time.
Nov 30, 2020
Lots of fun things for families to do with their children and grandchildren. We stayed in the Oaks campground and will definitely be returning again.
Nov 30, 2020
This was our kids and grandkids first time and they all loved it. Very family oriented. We've been several times.
Nov 30, 2020
Another great time had with family and friends. Arroyo Secco sites were good, not the best sites we have stayed in, too dusty,. Gravel sites would be good.
Nov 30, 2020
Love this campground. So clean. Great biking and other activities. The rangers were not overly invasive, which made it nice to relax and enjoy friends and family. Loved the drink cart...didn't need drinks but great addition to the park.
Nov 30, 2020
Best Thanksgiving ever. Love the cool weather this time of year. And leaves falling added to the ambiance. Planning on coming back for Easter. Can't wait
Nov 30, 2020
Lots of activities and amenities.
Nov 30, 2020
Is a great park so many activities for adults and kids to spend family time was so awesome. But the only reason I give a 4 was because golf cars have NONE regulations In the campground inside just by my side in Arroyo my Kid almost got Run over. Kids driving golf card and unresponsive adults like if they are racing. I sure hope this change before accident happenSome stuff super niece others rude.
Nov 30, 2020
We really like staying at Vail Lake KOA. We always have a good time! My only complaint would be that the roads are in really bad shape and people do not pick up after their dogs in the dog area.
Nov 30, 2020
Was better then I ever could have expected!!! So many activities for the kids! Beautiful clean site. Every staff member was pleasant and very helpful. Will be going back for years to come! Amazing experience!!!
Nov 30, 2020
We had a great time. The grounds were decorated really nice. We were happy that there is some spots in arroyo with power now.
Nov 30, 2020
It was wonderful. So much to do or just hang and relax. Loved it!
Nov 30, 2020
Everything was great except one thing. The folks staying across from us had a bad water leak where the hose connects to their RV. Many KOA staff went by, noticed it, and did nothing to correct or advice the campers. This continued for 3 days.
Nov 30, 2020
We really enjoyed our stay. Clean campsites. Clean restrooms friendly employees.
Nov 30, 2020
Very pleasant as always, stayed in a different area than were use to, a little windy up on the Chardonnay. Decorations were nice for Christmas Holiday, wasn't to pleased how too many people without masks in the main office town area.
Nov 30, 2020
We Love Vail Lake Koa. It is our families go to camping spot. The campground is beautiful, there are so many fun things to do, and the spots are great. Would definitely recommend to anyone!
Nov 30, 2020
Site was dirty upon check in. Had trash and left over raw chicken on the ground. Not only gross but dangerous to our dogs. Also, in the no electrical hook up area there was no enforcement of the 10-7 quiet time and generators ran 24/7.
Nov 30, 2020
Stay was great but a little disorganized with booking for the following year and the horse ride. Communication with booking wasn't communicated to all employees. Horse ride was great but time slots would have been better.
Nov 30, 2020
We love Vail Lake. I have been coming here since I was in diapers (50 years ago) and have always enjoyed it. Love that they are bringing back all the activities look forward to coming back when COVID isn't an issue.
Nov 30, 2020
We had another great time visiting again. The roads need some attention too many pot holes and cracks made bike riding dangerous. We wish you had a Bocce ball court and another pickleball ct We were disappointed that the large propane tanks were empty, we needed to fill up & couldn't. We love the activities, spacious sites, fun groups of visitors, the movie Tiki bar golf cart is a great addition
Nov 30, 2020
We had so much fun! Thank you for a wonderful weekend filled with Christmas fun. Staff was all so nice. The only thing I would change is I wish we had phone service but we survived. Lol
Nov 30, 2020
Had fun - nice campground - Spaces are good size and spaced out nicely - DEFINETELY need to fix the road in and out though, lots of cracks and road splits on the pavement making it very harsh on trailers pulling in and out but great staff, friendly and worked out good - thanks
Nov 30, 2020
I didn't like having to switch sites so often. I would have preferred to stay in one place.
Nov 30, 2020
Stay was great! Lots of space to walk around and grassy areas to play with the dogs. I just wish you could get to the lake.
Nov 30, 2020
We camp at Vail Lake often, but the holidays are always the best, with all the fun activities.
Nov 30, 2020
Nice campground with picklball,minigolf,etc. But very noisy with lots of people riding around drunk and loud in golf carts lite up with Xmas lights.Huge family groups singing and shouting. Great place for family groups though.
Nov 30, 2020
We had a great time here! Family friendly and the staff is so patient and helpful (and kind)! Also great value for the price. EVERYTHING WAS OPEN and FUN!! We are already planning a return trip!
Nov 22, 2020
First of all, I'm not a camper. I don't like sleeping anywhere that isn't in a bed. But this place is as nice as it gets for camping. They even bring you firewood in the morning if you're staying more than one night. If you get there late at night, you can buy wood at check-in for just $4 per bundle. And each spot has your own personal fire pit and picnic table! It was easy to make a fire and enjoy s'mores. Their staff are helpful, too. I was worried about checking in late and finding our way, but they are open 24/7 and gave us a map with a path to our site. Couldn't get any easier. Their bathrooms have showers (but water is freezing, so I do not recommend), clean toilets, and sinks with paper towels. The only negative is that the bathrooms have no mirrors - so bring your own. It was really as luxurious as it gets for braving the great outdoors. I wouldn't go to any other campground if it's not a KOA, because I've been spoiled. And people were friendly and quiet after hours.
- Marcella Nichols Eastin on Google
Nov 15, 2020
Staff very friendly and helpful. Beautiful camping area. Very clean
- Dawn Johnson on Google
Nov 07, 2020
Great camp ground,ots of amenities. Very well run.
- Mick Trask on Google