Directions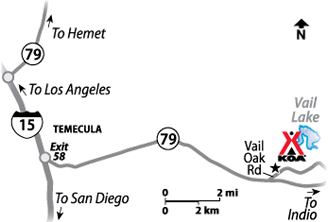 I-15 North: Take exit 58 for California 79/Temecula Pkwy toward Indio Turn East onto CA-79 S/Temecula Pkwy, continue for 8.9 miles Turn left onto Vail Oak Rd
Get Google Directions
May 12, 2021
KOA has done a fantastic job at renovating this property! We've been coming here for Mother's Day last 3 yrs and love it! Love that KOA has added the "Traditional KOA kid friendly" activities to this property (ie tye dye etc). Recommendations-love that you offered a "mother's day gift" at check in 3 yrs ago (bath bombs). No more? Also, kids would love addition of huge jump pillow o
May 12, 2021
Exceptional KOA with lots to do for families as well as rest and relax for those who wish. The closest resemblance to real camping as you can get and still have access to the amenities of an RV park. Sites are big with many offering wonderful views of the local foothills. Staff is helpful and available if needed. Very close to Temecula vineyards.
May 12, 2021
This was our first time at this resort. We had a great time camping Mother's Day weekend at Temecula KOA. The little grandkids enjoyed playing miniature golf, riding the train around the camp ground. We would definitely go back.
May 12, 2021
The site's blend together it's hard to tell which one is yours. Very dusty sites. The trees are beautiful. It would be a great place if you define the sites better with separation of a small fence or hedges. The amenities could be updated like with WiFi throughout the park. The miniature golf was in disrepair. With a few upgrades this could be a great campsite
May 12, 2021
The whole campground is wonderfully located. Spacious camping sites Look forward to using the pool the next time we visit. I think you should spend some money on paint on the old restrooms and around your miniature golf course.
May 12, 2021
The property itself was great. The staff was really nice and helpful. My biggest gripe is that quiet time is supposed to be from 10-7. There was a small "city" of RV's a couple of sites away. They were really loud. The worst part was one of them ran their generator till 2 am. It was really horrible. There was no one patrolling to make sure people weren't being disruptive to other campers.
May 12, 2021
The staff is wonderful
May 12, 2021
The market was out of basics such as plates, eggs and milk. No one managed the campground during quite hours-the obnoxious group next to us played loud music, used their generator and partied without any park management. We then moved to another site which was not cleaned prior for an additional cost.
May 11, 2021
We had a great time. Very friendly staff.
May 11, 2021
All employees I encountered were very nice and helpful. Had an issue with red ants during our stay though and flies. WiFi has very touch and go in Arroyo Seco but will definitely be staying here again. My daughter loved all the activities and ice cream shop!
May 11, 2021
We've stayed at Temecula / Vail Lake KOA several times and always enjoy our stay. Shari is wonderful and very helpful. We already have plans to return.
May 11, 2021
Great outdoors feel and so many things to do. We enjoy our stay at Vail Lake every time! We always recommend this location to our friends and family. Please continue to invest into the structure and the land. The lake access again one day would be amazing!
May 11, 2021
Great place! Nice campsite in the oaks area. Good tree coverage. Great spot for our dog and kids, lots of amenities. A little noisy with people driving around in golf carts blaring music and partying until late at night, but other than that nice trip. Pool was a little cold. We will definitely be back!
May 11, 2021
This campground has everything anyone would need without the comforts of home. Very young family oriented. Kids were having a blast! Campground did quiet after 10-10:30pm with reminder from staff. We had one person in our group that needed first aid and they came immediately. The pool area was clean. We enjoyed our weekend in Temecula with family & friends. Thank you.
May 11, 2021
It was very expensive to have no power, it was very dangerous to commute back and fourth with all the children darting in and out of traffic
May 11, 2021
Love how clean and fun this place is. Always enjoy staying here.
May 11, 2021
We had a blast staying at the campground for Mother's Day weekend! I gave 4/5 stars because of the koa guards came every night but Sunday to bother us about our generators being on in the non power section. I have to leave my generator on because it sources my fridge which I keep my medication in and I'm pregnant and have to make sure my medicine stays cold. Other than that we had an amazing t
May 11, 2021
Love each time we stay here at vail lake, and can't wait til our next trip!
May 11, 2021
The park was very clean. Staff at this KOA was exceptionally cordial and accommodating. The relaxed atmosphere of guests and staff was so nice. The grounds were so beautiful with many different areas to chose from.
May 11, 2021
Amazing time!!! Great campground
May 11, 2021
False advertisement. No lake view. Chardonnay area is completely dry. No grass. No shade.
May 11, 2021
Good family fun, we didnt know the area and thought we could access the lake so that was a bummer, staff was friendly, store was nice, bathrooms nice, pool nice! Thank you
May 11, 2021
Park was great, staff was on top of everything. The only thing that did not meet expectation was WiFi. upon check in you were given a Wifi pass word for 1 device. Tried to get on and the network did not even show up. Need a better service.
May 11, 2021
Always a great time!
May 11, 2021
When we arrived, there was a problem with our site and the office was quick to move us. If telling others to have masks on in the cafe, employees should have to have theirs on and not eat behind the counter where making food. Also, change gloves and wash hands after touching face/hair/eating (if worried about being sanitary). Otherwise, we had a great time and it felt safe which was important.
May 11, 2021
Crowded, loud late night neighbors, not so clean bathrooms.
May 10, 2021
We saw your people driving around all the time in carts, which was nice in case we needed something. However it was very nice because they didn't hassle us or question us about anything. We did a little celebration for a college graduate and they didn't say anything. They smiled and "thumbs up'd". It was nice to have them happy and friendly instead of always bothering you like some places.
May 10, 2021
Loved it here! So pretty, and clean, and spots were a very good size!! Wish I was still there!!
May 10, 2021
This place has it all! We'll be back in August!
May 10, 2021
We were in the Arroyo section. It was a super area for the kids. We really enjoyed our weekend and will be back again soon. One suggestion, it would be helpful to have signs indicating the site numbers for each area.
May 10, 2021
Our first stay. The campground was beautiful. Loved the views, so clean and everyone so nice. Everyone seemed to be having a great time. Will bring our bikes next time but enjoyed long walks exploring the campground.
May 10, 2021
Everything was great, just wish cell service was better in Arroyo.
May 10, 2021
Great Campground nice sites and lots of family activities .. can't wait to go back
May 10, 2021
The campsite lot size was very good. Each night we were there, the quiet time after 10pm was ignored by fellow campers. I did call the front gate to report a raging party, the music got turned down by about 11pm but the noise and music prevailed. The gate personnel said a lot of calls were coming in due to the disturbance. I didn't bother calling the 2nd night as the park couldn't control it.
May 10, 2021
Great camping experience for the whole family! Loved it! Will be back again!
May 07, 2021
We have been camping here for years dating back to the 80s when it was called Butterfield Stage. Sites are always clean and well maintained. Staff is always friendly and helpful.
- Michael Buck on Google
May 03, 2021
Beautiful vistas, reasonable rates, full hookups, some wifi in the right spots. Facilities are a bit tired.
- Patrick McShane on Google