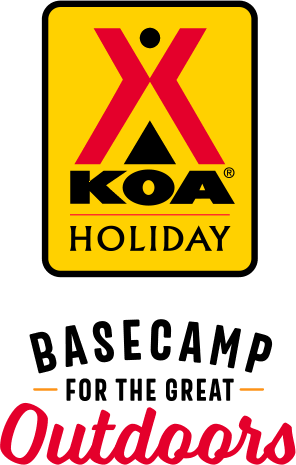 KOA Holiday Campgrounds
Whether you're exploring the local area or hanging out at the campground, KOA Holidays are an ideal place to relax and play. There's plenty to do, with amenities and services to make your stay memorable. Plus, you'll enjoy the outdoor experience with upgraded RV Sites with KOA Patio® and Deluxe Cabins with full baths for camping in comfort. Bring your family, bring your friends, or bring the whole group – there's plenty of ways to stay and explore.
KOA Holidays Feature:
RV Sites with a KOA Patio®
Deluxe Cabins with full baths
Premium Tent Sites
Group meeting facilities
Directions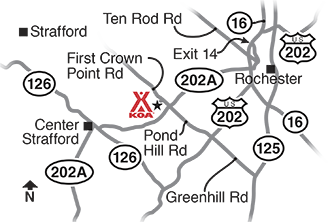 From Route 16 North take exit 14 Ten Rod Road. At the end of ramp bear right then turn right at lights. Go 1/8 mile between Home Depot and Burger King turn right on Twombley St. Go 4/10 mile to end. turn Right on 202A West . Go 2 1/2 mile to a blinking light at 4 corners go straight threw in 1/2 mile bear left on 202A go 2 more miles to First Crown Point road turn right. Campground is on your left in a 1/4 mile. (If coming from Route 16 south take exit 15 turn left at the end of ramp.)
GPS: N43.284099, W71.070311
Get Google Directions
Aug 22, 2020
As always the KOA's are the place to stay. Clean, Charming and relaxing. We are past the day of kids, but we had enjoyment watching the young families interact with all the site has to offer. We went to relax and that we did. This is our second time at this KOA and would come again. Jean & John C.
Aug 22, 2020
Camp ground was very clean, no bugs, quiet when it should be. Our sight was perfect. easy access to all the places we wanted to visit
Aug 21, 2020
Came to this region to visit family. This is one of the best campgrounds we've been to. It has so many things for a family to do! This is the greatest place for kids. It's clean and kept that way as staff is always working on it. Also the staff is super friendly and helpful. We'll be back for sure. Thank you to all!
Aug 21, 2020
The site was dirty when we got there, the table was disgusting, there was food spilt in the grass that had maggots on it. Ryan was awesome when a group was very rowdy at midnight. It made me feel important when I was leaving and the office knew who I was. Only other complaint would be kids on bikes out of control and unsafe! And renters with golf carts driving out of control.
Aug 20, 2020
Fun campground, awesome staff, Fun weekly themes.
Aug 20, 2020
This is one of my favorite places to stay. The staff is very pleasant and helpful. This year there seems to be a lack of rules. People IN the pool with glass bottles, kids taking toys on the slide, kids and adults playing ball in the pool making it difficult to swim. Children are aloud to rent paddle boats without an adult? We love it here and will definitely be back! Hopefully, no one gets hurt.
Aug 20, 2020
Beautiful location - well kept - great services. Only complaint is it is quite dusty and the rates are a little steep. All in all a wonderful experience !!
Aug 19, 2020
It was a very nice campground and the stay was wonderful. The only thing that would make the koa better and bring in more stays would be more in the arcade room for rainy days and maybe extending to have a place for fry baskets and making piazzas and burgers etc. the Lebanon koa has a ice cream and food place which helped for the days u didn't want to grill just suggestion! And moretoddleactivit
Aug 19, 2020
My daughter and I had a great time. She particularly enjoyed the waterslide and taking a ride in the paddleboat. The site was nicely raked when we arrived which was very much appreciated. The fire pit at site 26 was almost two feet deep, so we had to burn through a lot of wood just to get the flames high enough to roast marshmallows. The women's showers hadn't been cleaned recently.
Aug 18, 2020
We really enjoyed our stay! The sites were close to each other, but ours was good size! The playground and pool area were very clean! Lots of things for the kids to do! We will be back!
Aug 18, 2020
Awesome time beautiful campground
Aug 18, 2020
Great place to stay. We have been twice and have enjoyed it each time. Plenty to do for all ages. HIGHLY RECOMMEND!!
Aug 17, 2020
10,000 screaming kids, drinking,morning-dark 100 golf carts racing w little kids hanging on for dear life. I'm handicapped & walk with crutches, hit twice by golf carts, people not watching. Over 1 hr drive see Lake Winnipesaukee. Not once see 1 KOA patrol person in 7 days, except for clean up, policing the place. Worst? NO MASKS on anyone walking. I'm immune supressed so 90% in the trailer.
Aug 17, 2020
We always have a great time with our family at this campground. They have a lot of amenities and things for the kids. We have had a couple of power problems there but are able to work around it. The WiFi was non existent at our site and that was disappointing, especially to our grandkids who brought all their devices. The cable tv is the best we have had at many campgrounds.
Aug 16, 2020
We were in a back in site with full hook up (W-S-E 30amp) in a shady & spacious location. The sites are a combination of dirt & gravel unless in a deluxe site it is a gravel site with a cement patio with a swing. All sites have cable, picnic table, fire ring plus Wi-Fi which is very slow and spotty. Road within are all dirt, park is dog friendly, and they do have pull thru sites.
Aug 16, 2020
Amazing family oriented camping site. Extremely clean and up kept. Mat helped us out when we lost our pin to our Toll Master. Amazing fun stay we drove for an hour to Maine, and Hampton Beach in Connecticut.
Aug 15, 2020
Loved our site(125) very level and roomy. We would definitely rent this site again. Only drawback is the $5 daily amenity fee. With weekend prices $130-135 per night, I would not think it is needed. We don't have children, so we shouldn't need to support the kids activities. Overall a nice place, centrally located.
Aug 15, 2020
We had a great time. Staff is very friendly and always says "Hi" or waves when they pass the campsite.
Aug 15, 2020
We found the grounds very clean and staff very pleasant and very helpful.
Aug 15, 2020
Relaxing, peaceful. Friendly staff and clean grounds and facilities.
Aug 14, 2020
Super nice staff. Always greeted with a real smile. Nice place to camp. My site was clean and ready. I arrived early and was allowed to come into the camp ground without a problem. I also spoke with staff prior to my arrived. Staff were helpful and kind. Thank you very much!!
Aug 14, 2020
Our 10 and 12 year old grandsons loved the pool and splash park. The site was very clean and liked the fire pit. We felt it was a little expensive but we would consider coming back again.
Aug 12, 2020
It's a nice campground and we had a nice patio site, however, the roads are dirt roads and not paved, making it very dusty, there was dust everywhere! Please consider paving your roads!
Aug 12, 2020
Clean campground, friendly staff, great amenities
Aug 11, 2020
We would highly recommend this campground. It was clean, quiet and very well maintained. We will absolutely plan a trip back next year.
Aug 11, 2020
Loved our stay, only part was our site was back in which was fine, we knew, but also had to back in uphill which is challenging with a stick shift. Wish I had known it would be on an incline. (Site 13)
Aug 11, 2020
We were looking for a campground with amenities that would keep our active 2 year old Grandson happy and busy, that also had some amenities and conveniences that adults would enjoy. The playground and water park kept our Grandson very happy, and the golf cart rentals, trash pick up, and super clean bath houses made the adults happy! We would definitely recommend your campground.
Aug 11, 2020
Very nice campground. A little dusty, and something has to be done about the obnoxious screeching coming from the swings. Other than these minor things, would definitely recommend and stay again .
Aug 10, 2020
Another great week at Strafford Lake KOA! Will be back next year!
Aug 10, 2020
We love this campground especially the deluxe patio sites with full hookup , however, this time we were disappointed because when we booked we were clear we wanted all three sites together n were guaranteed it. Two friends were together n we had another camper between us which made it difficult for some of the things we planned. Kinda dissapointed
Aug 10, 2020
We love it here! So much to do and our grandchildren have really enjoyed it.
Aug 10, 2020
We had a great time with you guys! If we could offer any suggestions, your golf cart rate of $70 per day is high and the water slide water flow seemed weak and didn't really push bigger kids down the slide. Your boat rental rates were very reasonable. The sites were clean, game room was good, we enjoyed the pool and pond and the service we received from your young staff was awesome and refreshin
Aug 10, 2020
Friendly staff, well kept clean sites and grounds.
Aug 10, 2020
We came into and left early.
Aug 10, 2020
The only problem was at 11:30 I was awaken by someone hitting a Wiffleball and they continued to hit it and run back and forth retrieving it until at least midnight I finally had to shut my window on that side it was very annoying and quite surprising considering how quiet the campsite was when we went to bed at 10:00 I think their campsite was #83 I thought it might be something you should know
Aug 09, 2020
Very nice facility. We arrived in the middle of the tropical storm, but the second day was absolutely beautiful. Great staff that were happy to help!
Aug 08, 2020
It was pretty pricey for the amenities offered. Other KOA's are cheaper and just as nice.
Aug 08, 2020
Strafford Koa is nice and they have friendly staff. It's great for kids and overall was a low 4 on my rating. We had two issues during our stay. First was we were put on a very small site (8) for a 26ft travel trailer. There simply wasn't enough room to pull up and back in without pulling into the other sites. Then we had to bring my 10y/o to the ER for smashing her head on the splash pad.
Aug 05, 2020
We enjoyed our time at the campground. It was quiet and friendly. The staff was very attentive and always preparing the sites and keeping it clean.
Aug 05, 2020
We had so much fun and the staff was so helpful and friendly. It was like being at a 5 star hotel but with the stars as your ceiling. I tried tie dye for the first time. The bathrooms were spotless and the pool & splash zone were well maintained.
Aug 05, 2020
We had a wonderful stay on the most beautiful site. Everyone was friendly and we felt safe and can't wait to return next year!!!
Dec 30, 2020
We love it here staff are amazing😍😍🤩👍 bathrooms always clean! Speedy services. Yes services!! Pizza ice or wood they'll bring it to you! They handled COVID great
- Brittany McCabe on Google
Oct 17, 2020
Fabulous campground for a family with kids. Great water park. Had a nice cabin. Friendly staff
- Scott Patefield on Google
Oct 12, 2020
They out do themselves ever time. Went back for a second time in as many months. Will be returning next year. We found a place we really love to vacation at. Will be telling everyone about it.
- Brian Cannella on Google